Hey guys! I have been piecing together a retrofit after getting bored with my ebay lights. This is just a simple writeup of a rx330 retro.

RX330 AFS Projectors

I just want to give credit to Jesse and Brian for helping me along the way as well as Jesse for some of his pics and stuff lol.

Parts List (For my exact setup)

You can piece together a kit for well under 400 lol...
Here is your list of parts youre gonna need ... click on the links hahah
- Rx330 AFS Projectors (Best offer about 65 or 70 for the projectors he has taken that much for em for me)

- TSX-R clear lenses (i suggest getting the value lenses saves like 30 bucks and they are in near perfect shape... don't mess with output at all)

- 35w or 55w Hid Ballasts and
D2S Bulb Type (mine are from ebay but... go with some ddm tuning very solid kits. And might i suggest any bulbs in 35w are 4500, 5000 or 6000k and 55w are 5000 6000k or 8000k)

- Mounting Hardware such as bolts and washers and nuts and Some JB Weld
- E46-R Shrouds
So roughly
90-100 for projectors
65 for hid kit
35 for lenses
20 for hardware and misc. items
20- 50 for shrouds ( you can get cheaper on ebay too)
And if you are getting brand new headlights youll have to factor those in too. Depos are like 200ish bnib
Hope that helps...






Step 1: Remove Your Headlights (Borrowed this portion from JLude)
Remove the honeycomb grill (2 bolts and a couple plastic clips)

Remove the signals and sidemarkers

raise the front of the car enough to get under it and take the 6 bolts out that hold the bumper cover from underneath (all bolts are 10mm, use a socket ratcheting wrench)

Remove the two phillips-head bolts (8mm) that hold the bumper cover to the wheel well (you may have to pull the black plastic wheel well cover up some to get to this screw)

Use two people and slowly work the bumper cover off…there are 2 clips above the side markers that must pop straight out to come off and then it clips under the headlights, pull forward after you get the side clips free and off it comes! Now store it somewhere safe inside!

Unbolt the headlights! There are 3 stainless bolts:
1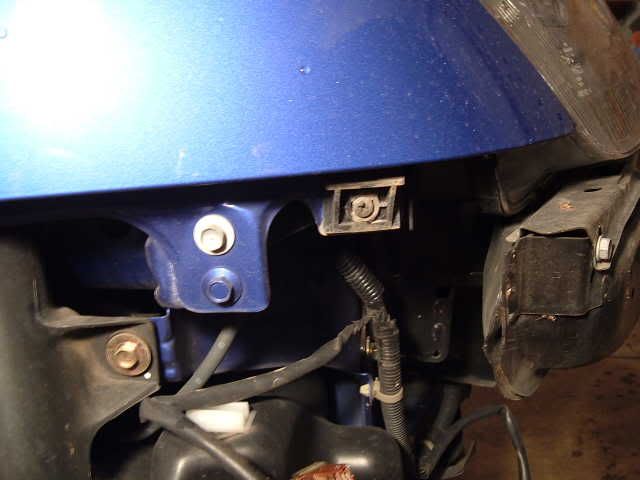 2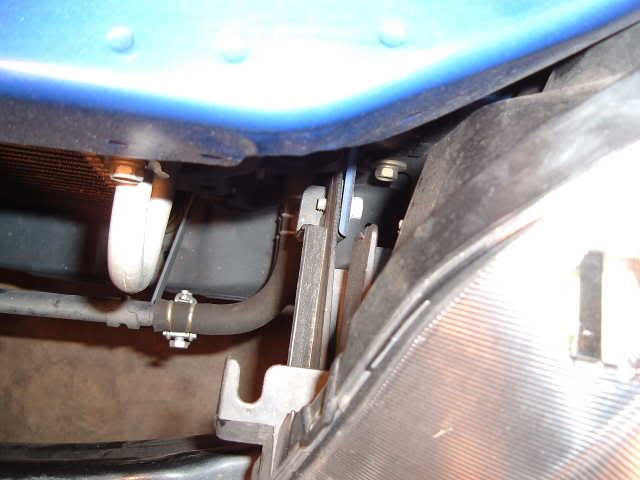 3


7. Unplug the headlight harnesses and Remove the headlights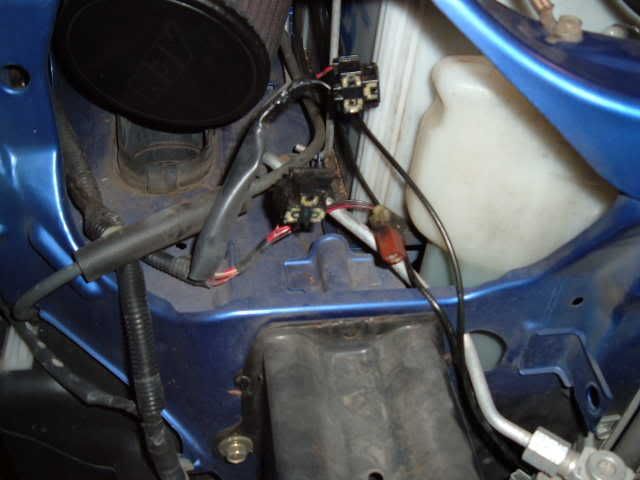 Now that Headlights are out move to Step 2

Step 2 : Baking w/ Josh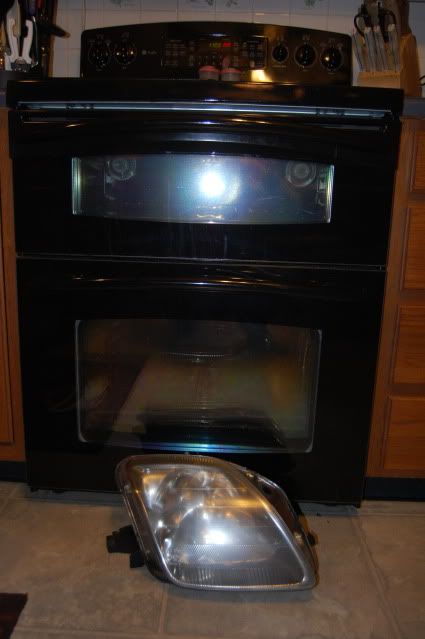 Time to turn on the stove. Preheat your oven to 200 degrees. Here you will need a baking sheet and a cotton towel. Place your headlight on the towel in the oven for 7-9 minutes. Remove the headlights (and sheet w/ towel).


After doing so loosen the clips around the housing and pry the lens free (cut the sealant while doing so).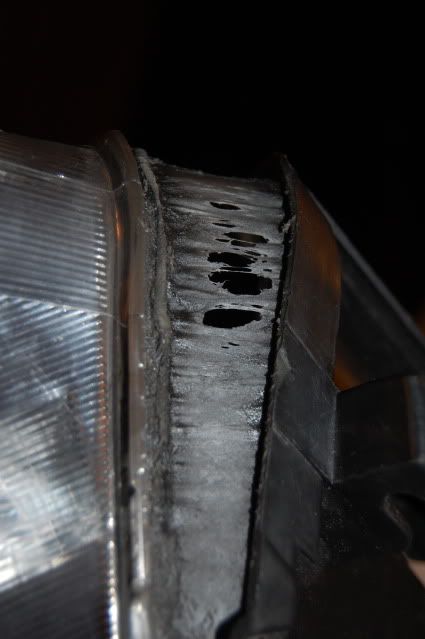 Step 3 : Removing the Reflector Bowl


After removing the lens, loosen (counter clockwise) the adjustment screws in the headlight alternately until the little ball joint has tension on it. Then use a large flat head screwdriver to pry the ball joint out of it's socket.


You should be left with this (back shot)



Step 4 : Cutting
MAKE SURE TO WEAR EYE PROTECTION AND A RESPIRATOR !! This stuff is very dusty when cutting and it hurts your eyes and throat. (and yes I'm eating the respirator)




Now that you have your headlight in pieces its time to begin to cut. This is by far the most tedious portion of the retro for me. The only trouble i ran into was during the actual mounting process. You'll want to start off by marking off your initial cut and go from there.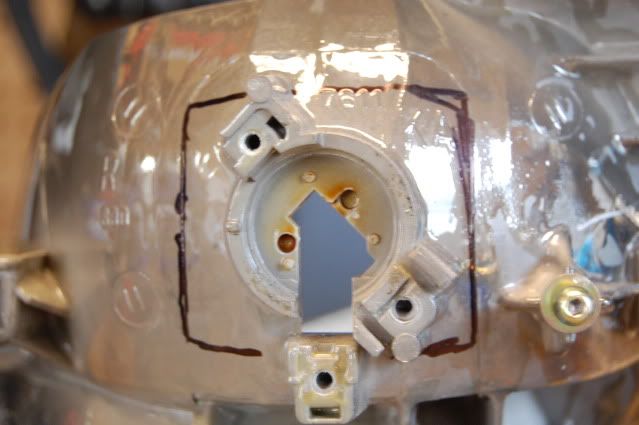 At any point you will want to prep your projectors so just remove any obstructions like so...




Once you have cut out the square you will want to begin to make your cuts for circular and test fit the projector often.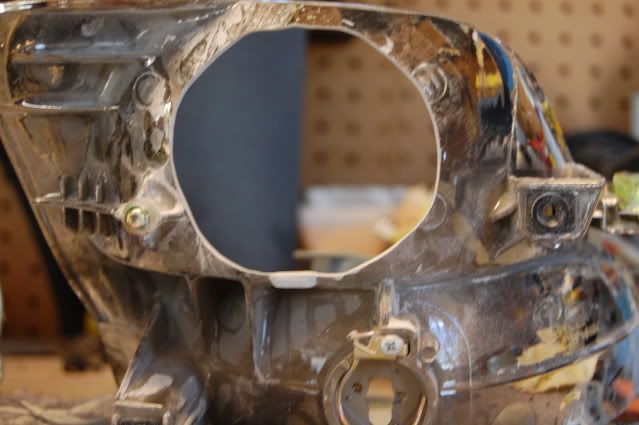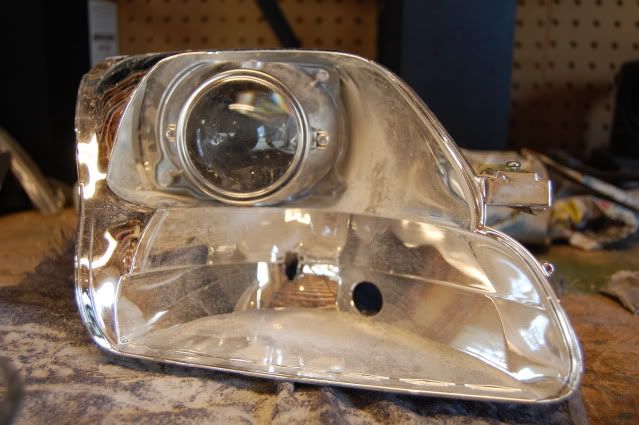 This is what i have accomplished so far (these are roughly mounted with duct tape.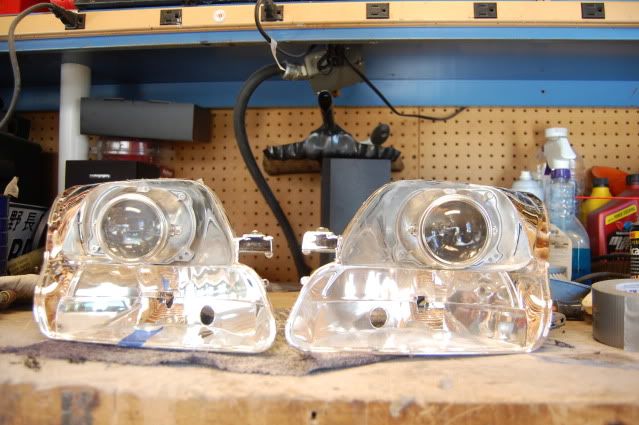 Side note: Be careful when cutting. The first time around i cut a little to large (nothing too bad i can still mount the projector) but practice made perfect and my second bowl was almost perfect.

Step 5 : Mounting

I have not finished mounting yet but i did run into a problem here. With the way i cut i managed to make one of the mounting points directly (like touching) the ball and socket. You will want to cut off the part that the two screws go into to hold the projector together and drill those holes out so that you can insert bolts though them to mount to the reflector. You will want to keep that little extra tab that's sticking out on the bottom corner, drill a hole through it and use it as a 3rd mounting tab
will attempt to find my way around this problem asap. More to come tomorrow!!

Mounting the lights is fairly simple... you just want to make sure when you are drilling the mount holes that you are keeping the projector level.
Bolt the projector to the reflector…I'd recommend that you put some little springs between the reflector and the bolt holes on the lens holder to keep tension so they don't shift or get loose
.
Set the flat bottom of the reflector on a flat surface and then look at the bottom of the projector and make sure the projector is rotationally aligned and then use the lines on the bottom of the high beam reflector to make sure it sits straight and no pointing off right or left. Then sit the reflector on a flat surface and make sure it is pointing out flat and not pointed up or down. (right/left and up/down can be adjusted on the car but rotational alignment cannot so it must be perfect at this phase…for the best alignment you should test the projectors on the car for proper aiming before permanently bolting them to the reflectors:

Here are pics of my mounting positions...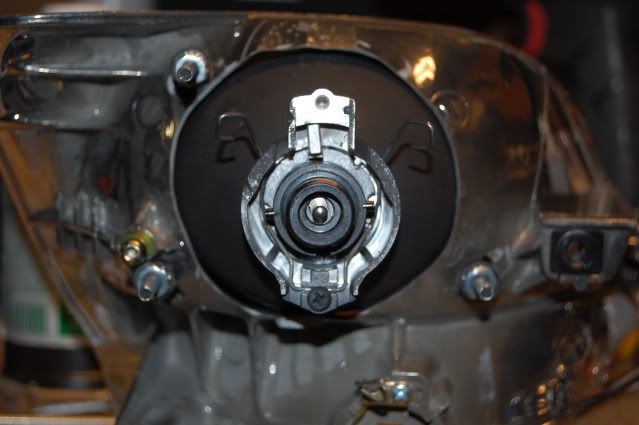 After you have the mounting position nice and level and are absolutely positive... you can opt to use some JB weld to hold the projector so it doesn't rotate or shake loose.




Here are some cutoff shots... of the mounted lights.

Rx330 Lens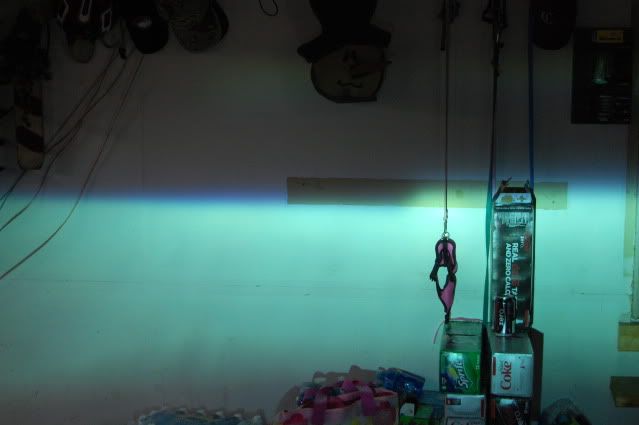 TSX-R Clear Lens (Using the Rx330 Lens Spacer)




After you have the projector permanently mounted i chose to use a shroud so mounting that would be key. Here is my e46 shroud all mounted up (silicon and or JB weld will do)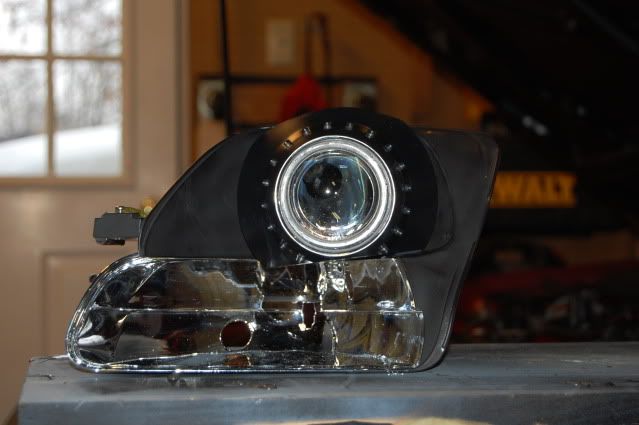 Final Steps!! Reseal and Reinstall

Well... the final steps are rather simple. After all of your adhesives and paints and what have you dry (allow about a day), you simply reseal the headlights (reverse the baking step) and then there you have it. A nice retro.

Time for pics ...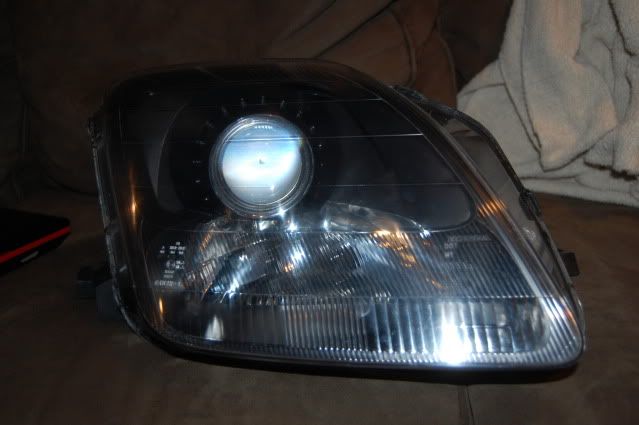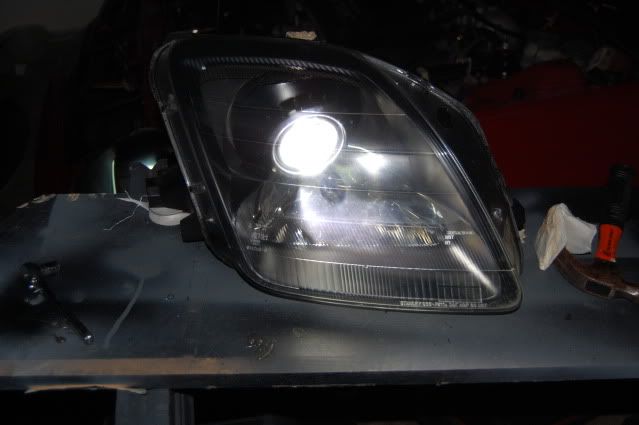 '

Final Output (only one headlight) w/ the sealed headlight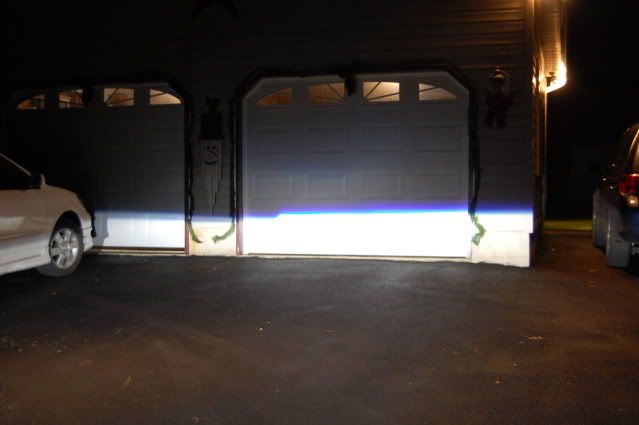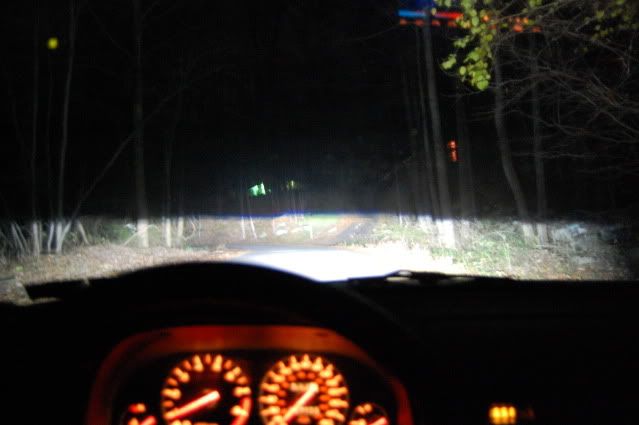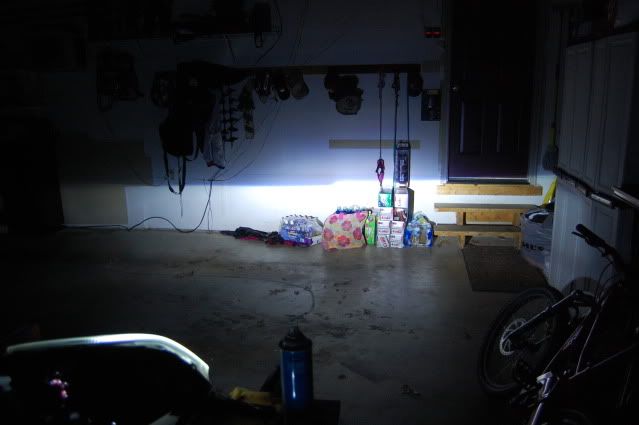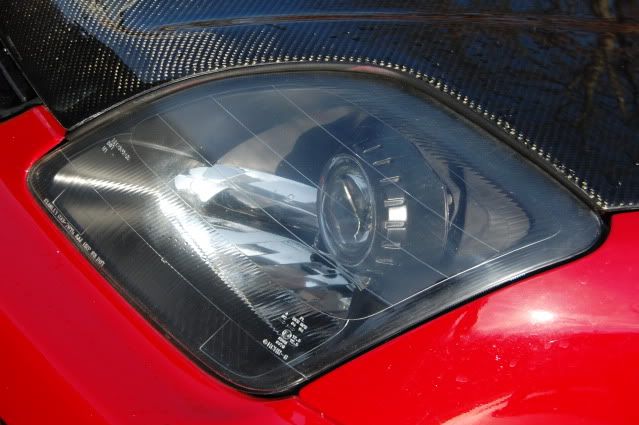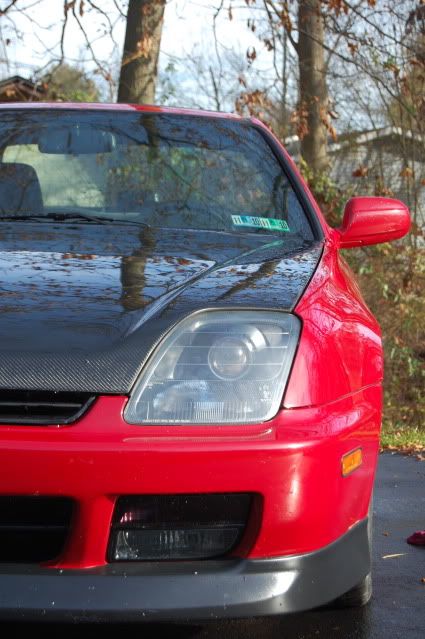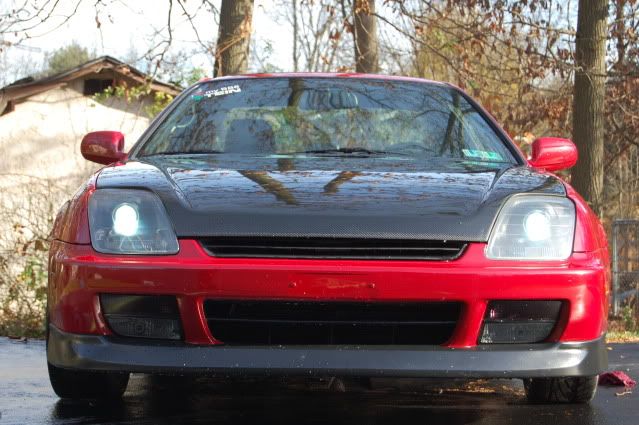 Side Note:

well due to lack of important parts i test mounted the projectors today... everything bolted up fine.
Oh looks like my custom shroud was fail. Too big. Oh well just gonna bite the bullet and get some e46 shrouds.
So lacking parts i decided to paint! Satin Black housing, high heat flat black low beam bowl, and projector.