So I pulled out the wire harnesses for the front of the car and want to make sure everythings labeled right and some I don't know. When I got the car... as for the lights... only one headlight was hooked up... and other things either not hooked up or I forgot to label. Then some that I just looked up in a online manual. And I kinda wanna know that since i'm taking out stuff like A/C and P/S on this car... can i pull those wires out when I rewrap them in tubing? Same for those relays?
Driver Side
My quesses for those not labeled are
1. Headlight
2. Radiator Fan
3. Turn Signal
4. Turn Signal
5. Fog
6. Headlight / Box for Grounds under Connector
7. Corner
8. Intermittent Whiper Relay
9. from a manual the throttle angle sensor is next to MAP... but i'm not sure... this one was connected to something right next to the MAP.
Passenger Side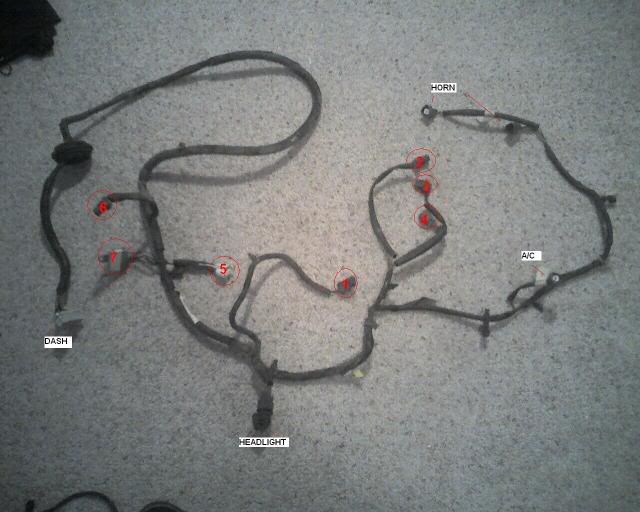 Guesses
1. Radiator Fan
2. Turn Signal
3. Turn Signal
4. Fog
5. Headlight
6. Corner
7. Box for grounds
hope guys can see the numbers fine...
probably if you guys saw the actually connectors up closer prob help more huh... if so i can get them up... just let me know. help very appreciated.