Update 7-26-2018:
www.amazon.com
offers both the Black and Red.
1. I found out that
www.JCWhitney.com
sells a set of 8 per the website for: $33.57 BL or Red
2.
www.jegs.com
3.
www.summitracing.com
Ok its official we have found the right part# from Prothane and Energy Suspension for replacement Upper Control Arm Bushings!
1. Prothane kit #8-213
2. Energy Suspension #16.3106R (R = red color)
Update:
Prothane Part# 8-213 (94-96 Accord - Rear bushings only will work for all four corners of our Preludes)
For
Lower shock fork
(outer) bushing:
Prothane 8-907
LCA inner bushing
:
Prothane 8-210
And yes, the box for
8-907 was labelled Accord fitment
.
Update 7-18-09: Prothane #8-213 kit
Ok I ordered my new bushing kit for the front, since I lost one on the road some where in WA state because I did not use bigger washers. And as discussed before its cheaper than the initial kit I ordered and there is no waste of the extra bushings that does not fit in our ludes anywhere.
Here is the kit and it costs only:
$26.55
+ $8.99s/h =
Total: $35.54
(per pair - front or rear) *
You must order the same kit twice if you are doing all four corners. - This kit is designed for the
90-96 Accords Upper Control Arm
To Fill the gap inside the Bushings---->

95649A256 UHMW Polyethylene Flat Washer 3/4" Screw Size, 1.32" OD, .05"-.07" Thick, packs of 10 $7.50


To use as the external washers on the outside of the control arm ---->
91090A115 Zinc-Plated Steel Large-Diameter Flat Washer 3/8" Screw Size, 1-1/2" OD, .04"-.06" Thick, packs of 100 $9.23

And for the Bushings ---->
x2 Prothane - Control Arm Bushing Kit
Part #: PTP 8-213 (Order two of this kit)
Here is the picture of the actual kit.
Prothane kit that fits are #8-213
kits.
Energy Suspension 16.3106R
is part # for their version.
The 94-96 Accord UCA kit fits perfectly!!!! Here are the pics to prove it...
Kit#8-205
Update: 6-25-2013
Another Prothane kit has been verified to work with the Upper Control Arm Bushings.
Kit# 8-204
(90-93 Honda Accord UCA).
The correct ones are the smaller bushings. The bigger ones are throw aways or sell them cheap to some 4th gen luder.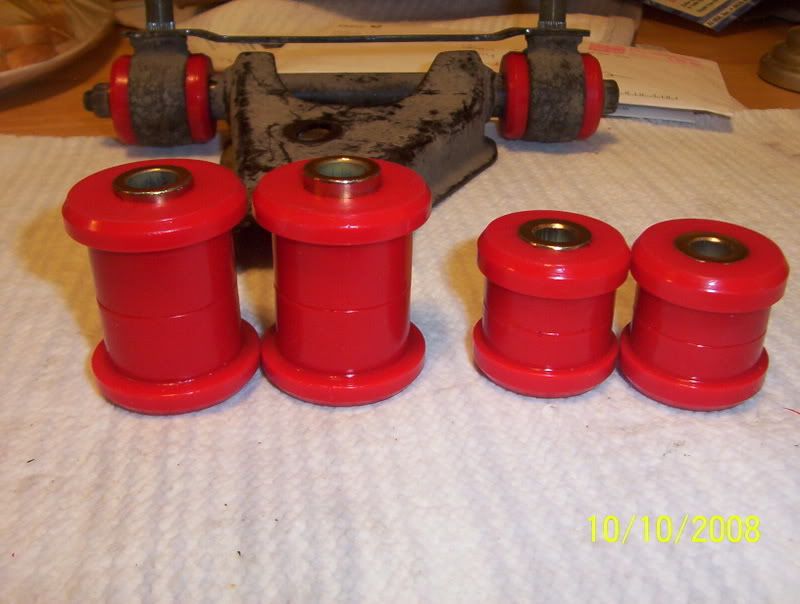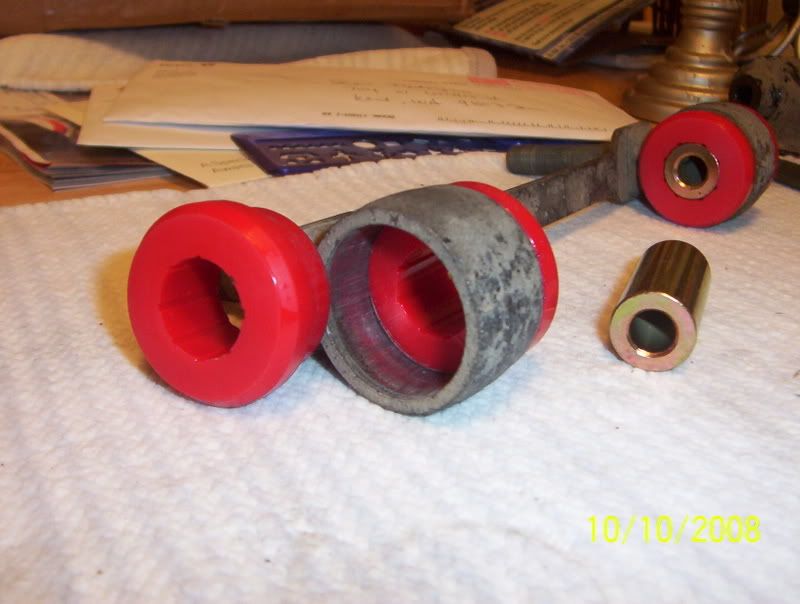 In this shot you can see the minor spacing inbetween the bushings. I measure it and it is only
0.12in
, which is nothing. If you must have something in there then I am sure you can find a washer or some other rubber bushing to fit in there. I feel its perfect for jamming a bunch of hte grease that comes with the kit to keep it lubricating from within.
Here they are after I push them in by hand.
So, after years of wondering with the help of few members, we have found the perverbial golden egg for low cost Upper Control Arm bushings that are off the shelf(so to speak) and made in the US out of Polyurethane!
This is sticked in the Performance upgrade thread, and I will ask Cuda to add and edit his "Final Polyurethane" thread to include this.
We have won!!!!!
:turn: :Rock: :smilejap:
For the
Front
and
Rear Outer
(Shock Fork) control arm bushings here is the bushings from Prothane that you can use to change them out:
Lower outer rear control arm bushing and rear lower shock mount bushing is the same bushing. This bushing is the same as the front lower control arm outer bushing.

Prothane #

PTP 8-907

$16.55

for pair

(

front or back

) or

Two pair needed for both front and back combined. $33.10 Total. These are taken from the 3rd gen accord only.
Reference picture below.
Update: Saftey Issue - 7-11-2009!!!!
After more than nine months driving on these bushings, something went wrong. I stand corrected about using washers on the outside of the bushings to keep them from sliding out.
I had no issues at all for a while until I was driving up to the WA State Meet on 7-11-09, when I started to hear a dull ratteling noise come from the driver side tire.
I could not check it until I got home and then when I jacked up the lude, low and behold!!!!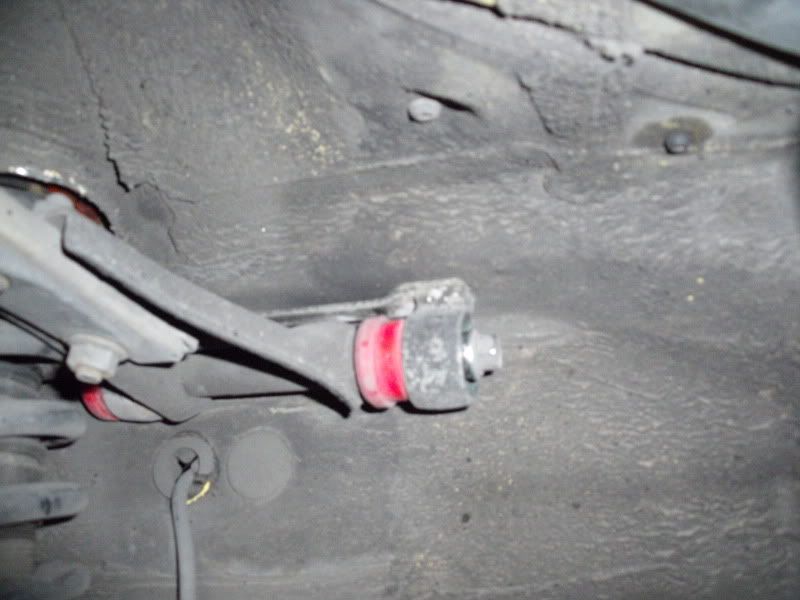 Needles to say, that all should get the big washers that fit the bolt and bushing diameters.
Edit: Here is the solution to prevent the poly bushings from running out the side:
In order to fit the metal washers on the outside of the bushings for inner and outer, you will need to grind the Upper Control Arm down little on either side and then you can fit those metal washers in between.
Having the plastic washers in between the two bushings is an option, I personally do not have those plastic washers and all is well on me end. There is no more issue with the Accord Upper Control Arm Prothan bushings since this solution.
-----------------------------------------------------------------------
Update: these civics bushings do not work, so just forget about them.
I received the Prothane 88-91 Civic upper control arm bushings in the mail today, and put them on for all to see.
The cost for these from
www.ajusa.com
is
$39.00
rounded up.
The bushings are just a tad shorter, but with 2-3 washers on either side and on the outside bolt it will work.
Here are the pictures:
With the OEM bushing and metal sleeve pressed out, the civic bushing is the right size on the outside diameter, but in the middle is where there is not enough bushing, so technically the outsides of the bushings are what will be supporting the UCA's.
Lower Control Arm Bushing replacement aftermarket:
I edited the picture and clarified so this is how it should look.
Ok so for a clearer understanding here is the breakdown:

For the

Lower Control Arm Inner Bushings

these are the correct Prothane replacements

Kit# b3130

:

And for the

Lower Control Arm Outer Bushings

these are the correct Prothane replacements

Kit# 8-907

:

So here is how it is being said and understood by all:

(Picture has been edited to reflect the correct bushing parts and manufacturers.)