'97 prelude Sh.
Just got home with her...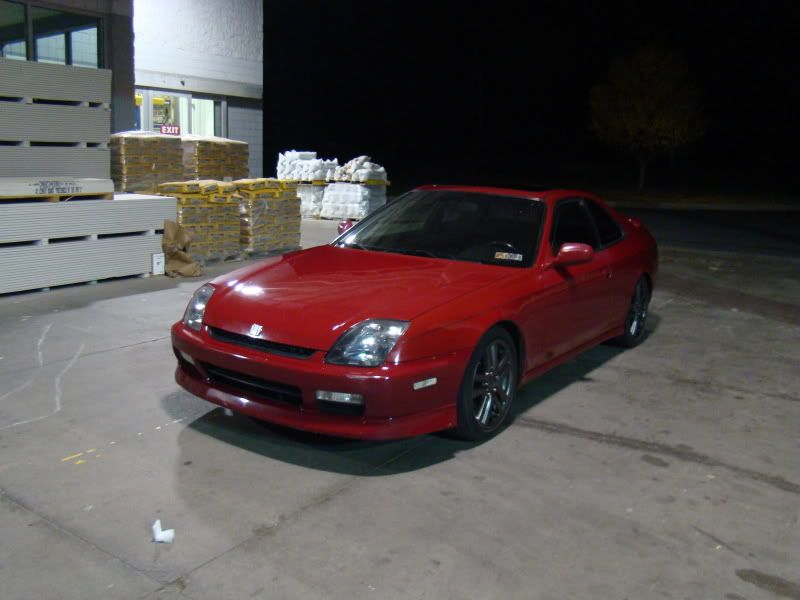 As she currently sits... as of 5/10/13
Older shots
Older shots
Ended up purchasing a '97 SH
for $4,000, this past thursday after my 3rd gen came into a sudden and aggrivating halt, due to engine problems. So they're gonna be getting put up in a storage unit for a year or two and then after im through basic and i finally get stationed somewhere permanant. then i'll get the 91 shipped to where ever i am and i'll begin fixing it or just swapping an h22 in.
The '97 is mostly stock with 145k. on it. & has been very well taken care of by only 2 owners. previously by a honda mechanic and a police officer before that. It has had most of the suspension parts upgraded or just oem replaced.
Besides the damaged pass. side door that has since been replaced, its in pretty good shape for its age. Has the common red/pink fade, some scuffs on the front bumper and a few nicks here and there.
It came with a ton of tires and wheels. It had newer accord v6 wheels on it with good tires... He gave me 2 brand new un-mounted tires for the accord wheels... the original Sh wheels w/ semidecent tires & a set of steelies with good winter tires.
This will be more of a thread for me to ask questions to learn about the 5th gen, and maybe do a few little things here and there. After im back from korea, i will prolly drop more rediculous amounts of cash on it.
Upkeep:
(following, is from reciepts given to me, & done by previous owner within the last 2 years)
PARTS FROM HONDA:
2- Rear strut collars 52728-s30-004 $16.23
1- valve ass 17130-pk1-003 $17.15
2- f. lower ball joints 51220-s30-N21 $105.56
1- Master Cyl. assem.46920-sm4-a03 $116.67
2- f. speakers 39120-sv4-a01 $23.57
1- Left tie rod end. 53560-s30-n21 $57.73
1- right tie rod end 53540-s30-n21 $57.73
2- End set. 53010-sw5-000 $120.64
1- A/M Front caliper wagcr128709e $90.60
1- A/M Front caliper wagcr128708e $90.60
1- new Battery 31500-sd4-100m $92.94
1- F.R. bearing. 44300- s84-a02 $75.15 replaced failed wheel bearing.
(head work below)
10- Bolt-Wash 90005-p13-003 $120.80
1- gasket kit 06110-p5m-000 $232.26
3- S/plg pz 98079-5614n $52.80
1- adjuster 14520-p13-013 $96.53
1- belt 70r 13405-PAA-A03 $21.92
1- belt 155 14400-p13-014 $72.47
1- Water pump 19200-p13-003 $85.17
1- Oil seal 91212-p0a-004 $8.07
1- oil seal 91233-pt0-003 $6.70
1- 4 angle valve job and resurfacing. $335.00 G.N. Automaching, INC. Doylestown, Pa.
Some other papers had work done but no prices were listed and not sure what the part numbers were for...
1- Sensor, O. 36531-p5p-014 $??? replaced failed sensor.
1- Husing, 30100 30105-p5m-a01 $???? found failed sensor in distributor, replaced distributor.
1- cylinder 46930-sm4-003 Replaced leaking slave cyl.
2- ball joints 04510-sL5-000 $ ?? Ball joint recall was never performed before. replacement done.
Parts from other places:
2- Powerslot Rotors right $97.95ea Summitracing.com
2- Powerslot Rotors left $97.95ea Summitracing.com
4- High performance brake pad sets $112.95 Summitracing.com
1- Coolant hose $17.33 Autoparts warehouse
1- Clutch kit #317-08805 $339.99 Jegs.com
1- DEPO headlights. black housing. $212.99
1- 97-01 front camber kit $60.00 ebay.com
1- Pass side door to replace damaged one. FREE.
********************************************************
Current mods:
... things not on, were purchased while im stationed in korea. Aug 15th 2010 - Aug 15th 2011
Motor/Trans:
-ESP motor mounts
-Hytech rep TRI-Y Header
-3" Kteller SS 6" flexpipe
-3" Kteller SS pipe kit
-3" Highflow cat
-3" Vibrant SS resonator
-Borla muffler
-Skunk2 valves, put in while the head was rebuilt
-3 angle valve job
-Exedy Sage 2 clutch
-OBX radiator hoses
-Mizu radiator fan (uninstalled)
-5th gear replaced
-Updated ATTS module
-Greddy Oil catch can (uninstalled)
-3-4" tapered intake pipe
-Blox Flowstack
-Batt. relocated to trunk.
-radiator cooling plate
Exterior:
-OEM Honda Bra
-OEM Honda car cover. (....not on.)
-OEM Honda Sunroof visor
-JDM Honda Access window visors
-Depo black housing headlights
-New oem Mudflaps.
-HID kit
-USDM fogs
-Atts badge
-Bennen rear tow hook
-JDM Power folding mirrors (uninstalled)
-WingsWest RS side skirts (uninstalled)
-valuesport-ish replica front lip (uninstalled)
-Azect rear valances (uninstalled)
-S spec mid spoiler. (uninstalled)
-c/f ...painted... Eyelids. (Uninstalled)
-Amber corner markers
Interior:
-Pspec Short shifter
-Chrome Gauge rings
-Aftermarket speakers & cd player
-Blox 490 shift knob
-Wedge seat brackets (not installed)
-APEXi vafc w. Boomslang harness (uninstalled)
Suspension/Brakes:
-Tokico whites struts 5way adjustables.
-Ground control Coilover sleeves
-Powerslot front rotors
-Tokico Front and rear Strut bars
-Goodridge SS braided brake lines
-Tanabe Sustec underbrace (front)
Wheels/tires:
-
SH wheels. basic tires
-17x8 SSR DeColte GP Theta's +47 (discontinued/need tires)
-Nitto NT 555 ZR (size 225/40/ZR17)
-Muteki lugnuts
-18x8 & 18x9 Work Meister S1's (currently refinishing)
- bfgoodrich g-force t/a kdw 2's 225/40/18 (rear) 215/40/18 (front)
-Work lug nuts. -black closed end.
Other/old wheels:
accord v6, ap1 s2000's, rota boost's, steelies
SOME PLANS, FOR NOW...
-Vanity plate....
Other misc. upkeep records:
Fluids flushed @ 152,600 8/20/2011
Oil change @ 152,600 8/20/11
Oil change @ 156,325 1/13/12
Oil change @ 160,000 4/7/12
Oil change @ 164,900 8/17/12
Oil change @ 169,012 5/3/13
New brake pads, plugs and fuel filter @ 172,000 5/15/13
look forward to talking to a bunch of you and gaining some knowledge.
THANKS