So a few days before x-mas there was an ice storm where i live in indianapolis. I had dropped my lude off @ a dealership in the ghetto part of town to get my idle pully fixed(pully separated from bearing)$150. Well the dealership people wanted to leave early because of the bad weather so i told them to leave my car unlocked and to place the key under the mat in the trunk because i had left my spare up @ school. I would have left my car there if it were locked, but they wouldnt be open for 4 days, i needed transportation and i wasnt gonna leave an unlocked honda in the ghetto w/ a key in it. So i went and picked her up. On the way home, while driving about 15-20 in a 45mph zone i slid into a 6 foot deep ditch and turned the car off immediatly to avoid oil starvation/ fluid leak of somekind. Using my dads truck we tried to pull it out but we couldnt so i let it sit for 12 hours until morning. It took the towing company 50 minutes to get it out. they had to use 2 wenches. Luckly the tow guy cut me a deal of $90 (was quoted @ ($150-175).
ever since i got the vehicle back on solid ground there are a few things that i have noticed different about the car.
1. it seams to smoke more, but is not consuming oil nor coolant
2. my gas guage seams to read @ the "E" level after about 250 miles, but when i go to fill up it only puts in like 10-11 gallons.
3. my pass seatbelt light refuses to go off even though the blet is plugged in.
I have checked all the fluid levels(except trans) and done a complete tune up since the accident, took it to an alignment shop to see if anything was bent and all is ok.(except the bumper, bumper beam, fender, combo light)
is there anything else i should do/be worried about? i know cars are made to sit parallel w/ the ground. and letting one sit @ a 45* angle for 12 hours isnt good for it
here is a cellfone pic about 35 minutes into the recovery. my car was completely in the ditch to start, with the front pass side being the side that took the impact.(no those arent my skid marks)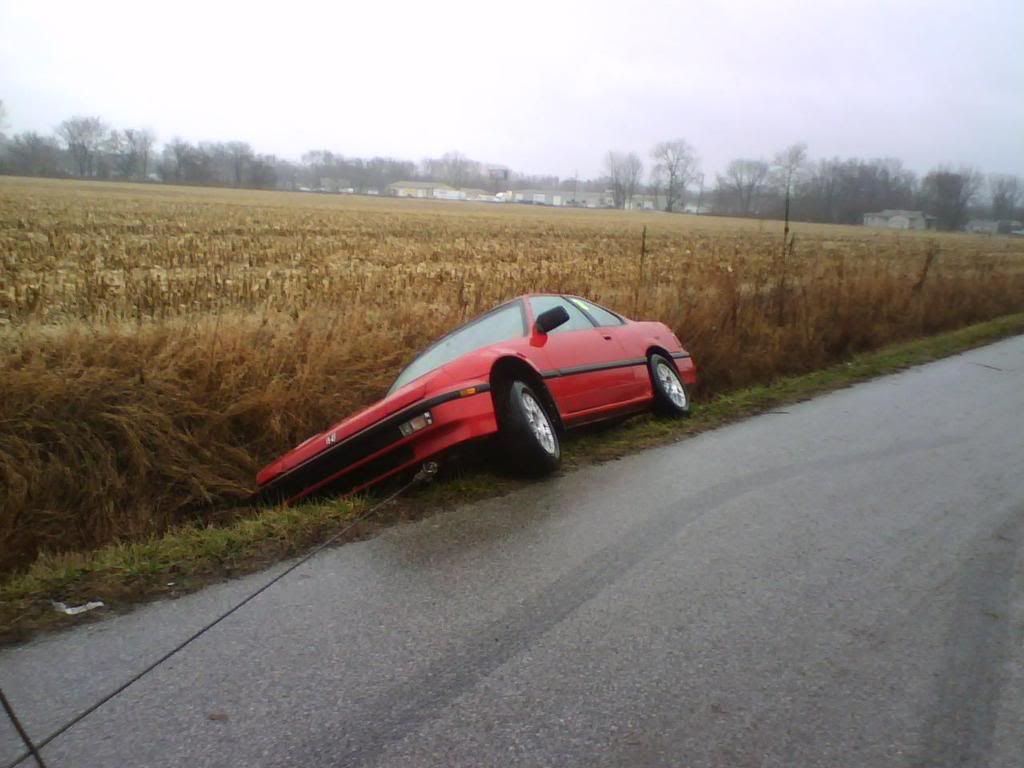 Basically i ended up w/ a paint scraped and slightly bent fender(which i bent back), a broken combo light(replaced), a scraped and paint chipped bumper, and a broken bumper beam which i have come to find out is very rusty and basicly fell off