This is a guide on how to fix the notorious clunking noise (Shock Knock) that is generated from the rear on 5th Gen Preludes.
BACKGROUND:
The clunking noise being addressed in this guide is caused by the shock collar found at the top of each rear shock assembly. It is commonly referred to as "Shock Knock" and is experienced by nearly every 5th Gen Prelude owner. This issue was addressed by Honda and suggested repair was released as TSB 00-090. In this TSB, Honda calls for the replacement of the shock collar by a new collar that is shorter in length. I purchased these new collars for around $10/each at my local Honda Dealer. The part number can be found below. You will need two new collars (same part number). After performing these steps, I experienced zero clunking noise from the rear.
DISCLAIMER:
I am in no way, shape, or form, responsible for you screwing up your car, taking it apart to a point where you can't get it back together, or burning your garage down. It is up to you to diagnose what parts are causing your noise. This guide will only remedy the issue caused by the collars. Perform this task at your own risk. If you are not comfortable working on your car, find a friend to help you, buy a friend to help you, or spend your life savings at a certified Honda dealership for them to do it for you.
BASIC INFO:
Difficulty Scale ( 1 (easy) - 10 (difficult)): 2
Time Required: 25 - 35 mins
Parts Needed: Shock Collar 52728-S30-004 (Quantity x2)
Tools Needed: 5mm Allen Wrench, 14mm Wrench, Pliers, Flat Head Screwdriver, Vise Grips, Lube/Grease
NEW SHOCK COLLAR (TOP) VS OLD SHOCK COLLAR (BOTTOM)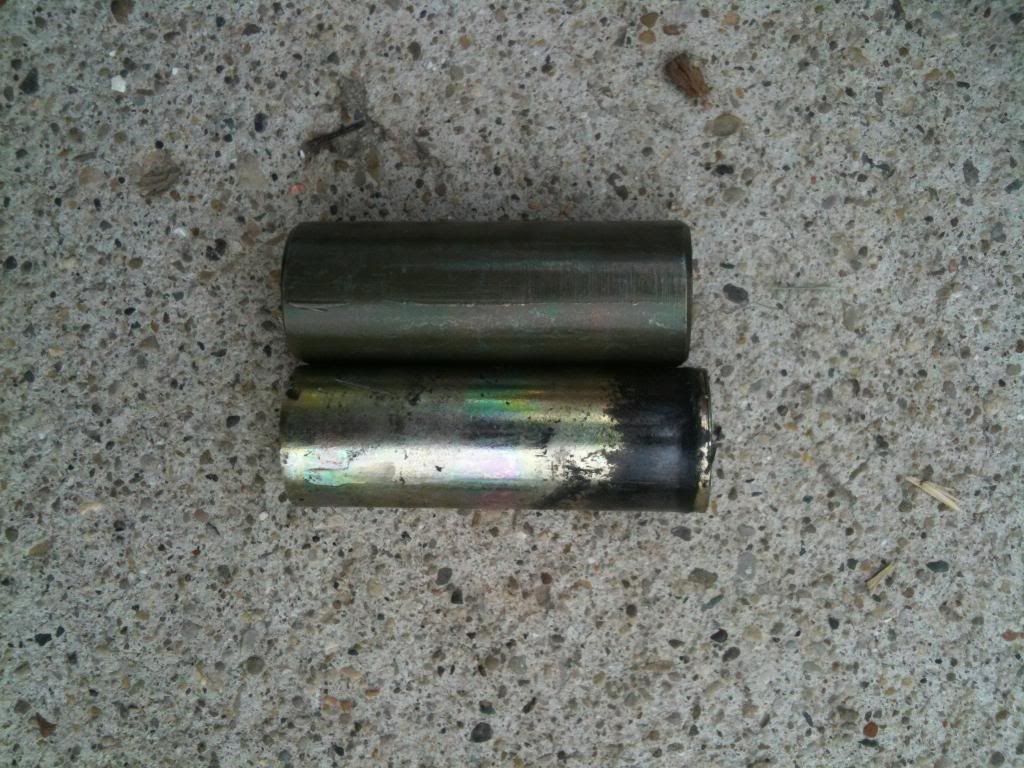 NEW SHOCK COLLAR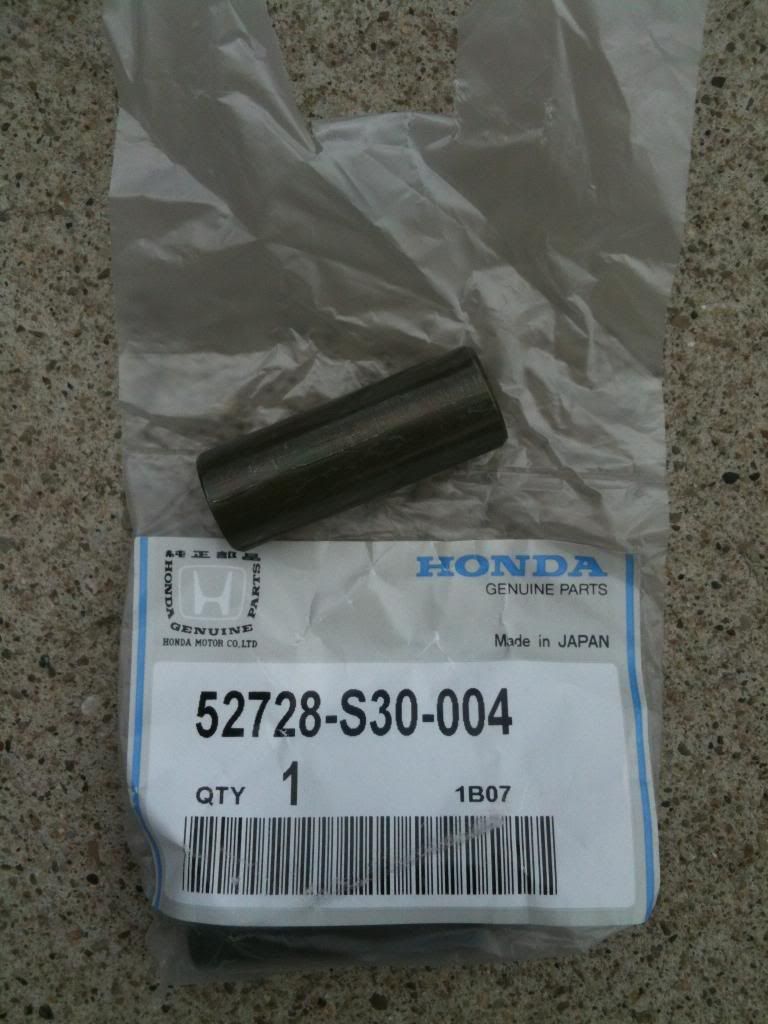 TOOLS NEEDED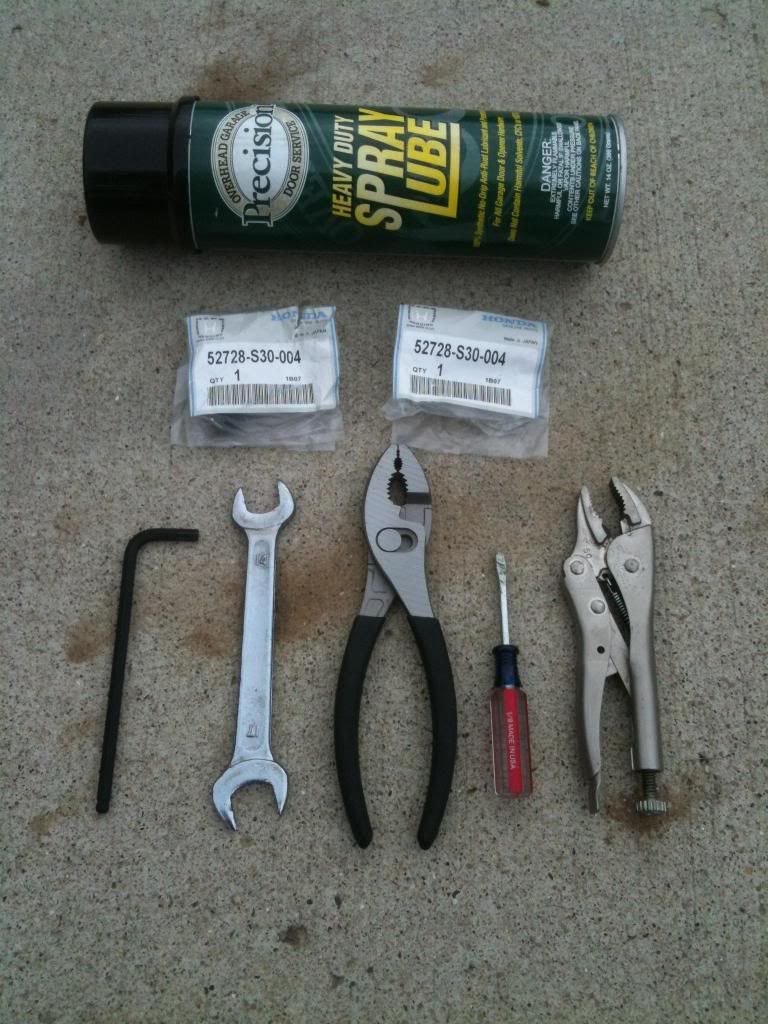 LETS GET STARTED:
STEP 1:
Remove your trunk liner pad. You simply just lift it out.
STEP 2:
Remove the plugs holding in your trunk liner. There are three plugs on each side of the trunk. Use the flat head screwdriver to pry them out a little bit. Then grab with pliers and pull them completely out. Once all plugs have been pulled, peel back the trunk liner till it's out of the way and you have access to the top of the shock assembly.
STEP 3:
Place your 5mm allen wrench in the end of the bolt and use your 14mm wrench to remove the nut. The allen wrench prevents the bolt from turning in place when loosening the nut. It may take a bit of elbow grease to get the nut off. Place the wrenches as shown in the second pic below and squeeze to break it loose.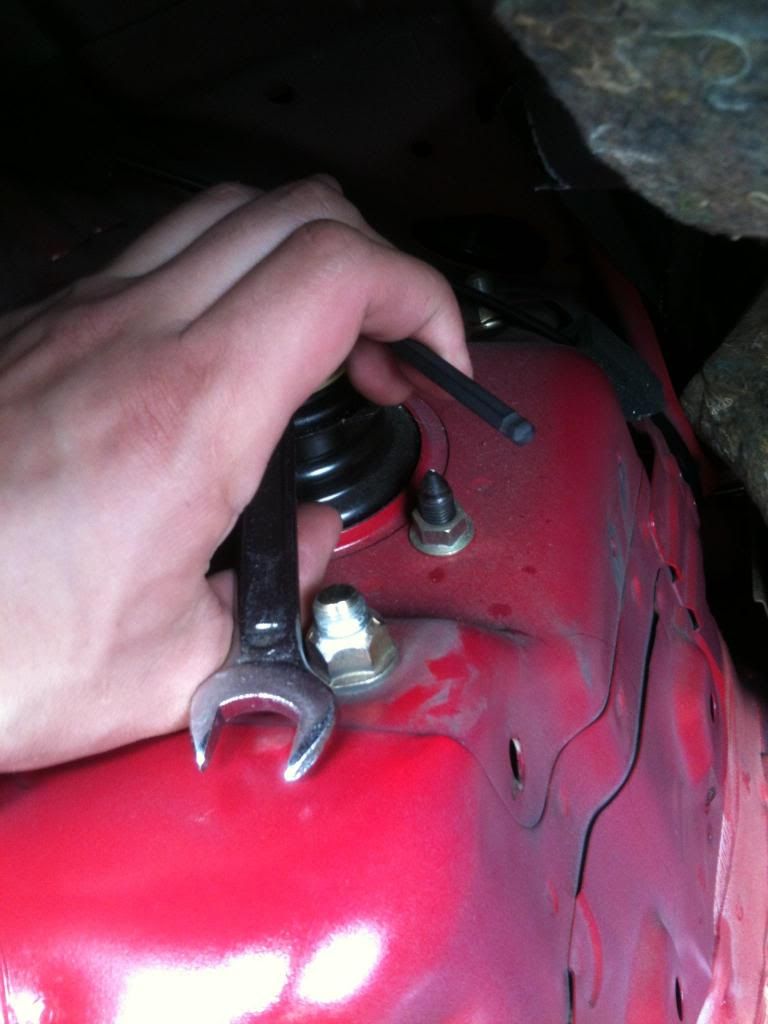 STEP 4:
Once you have removed the nut, also remove the metal washer under it. You now have access to the rubber bushing. Use your flat head screwdriver to pry the bushing up and out. Work around from all sides prying it up a little bit at a time until it pops out.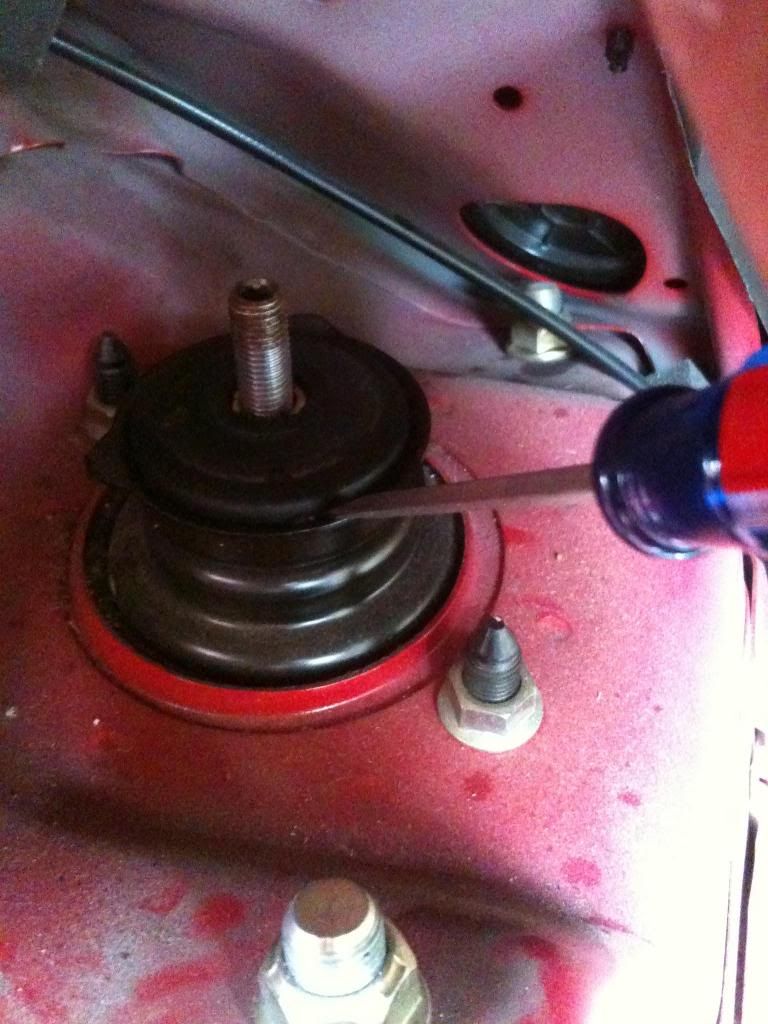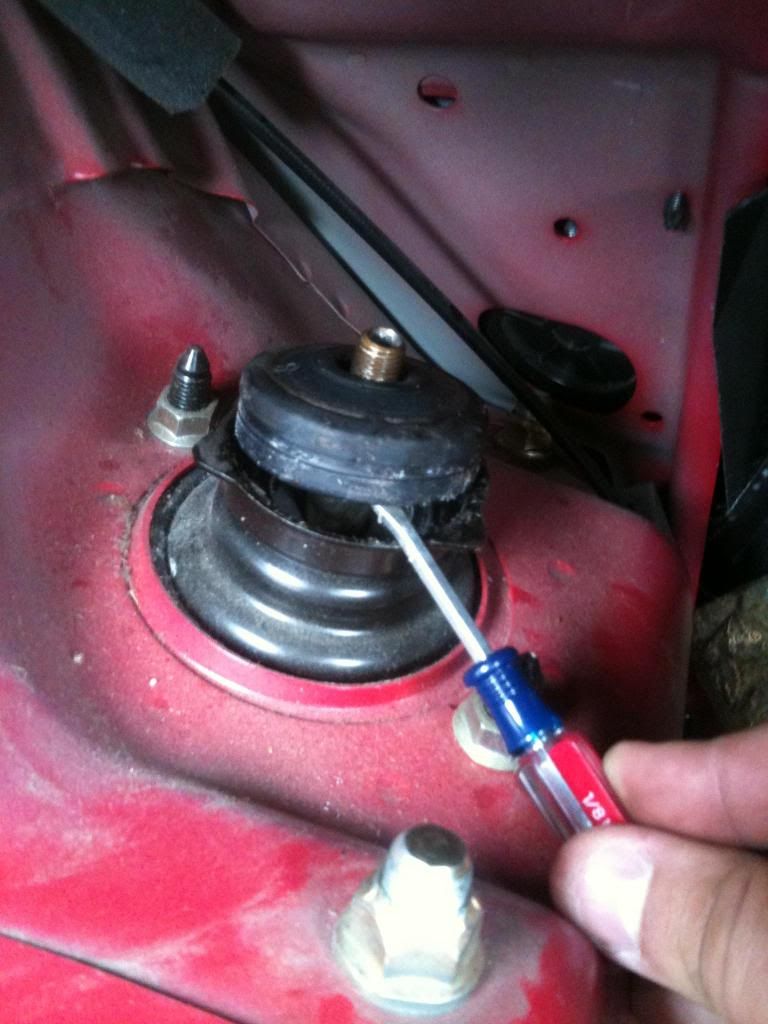 STEP 5:
Once the bushing is out, you now have access to the shock collar. Use your vise grips to clamp on to it. Move it back and worth while pulling up to remove it. The only thing holding it in at this point it the lower rubber bushing.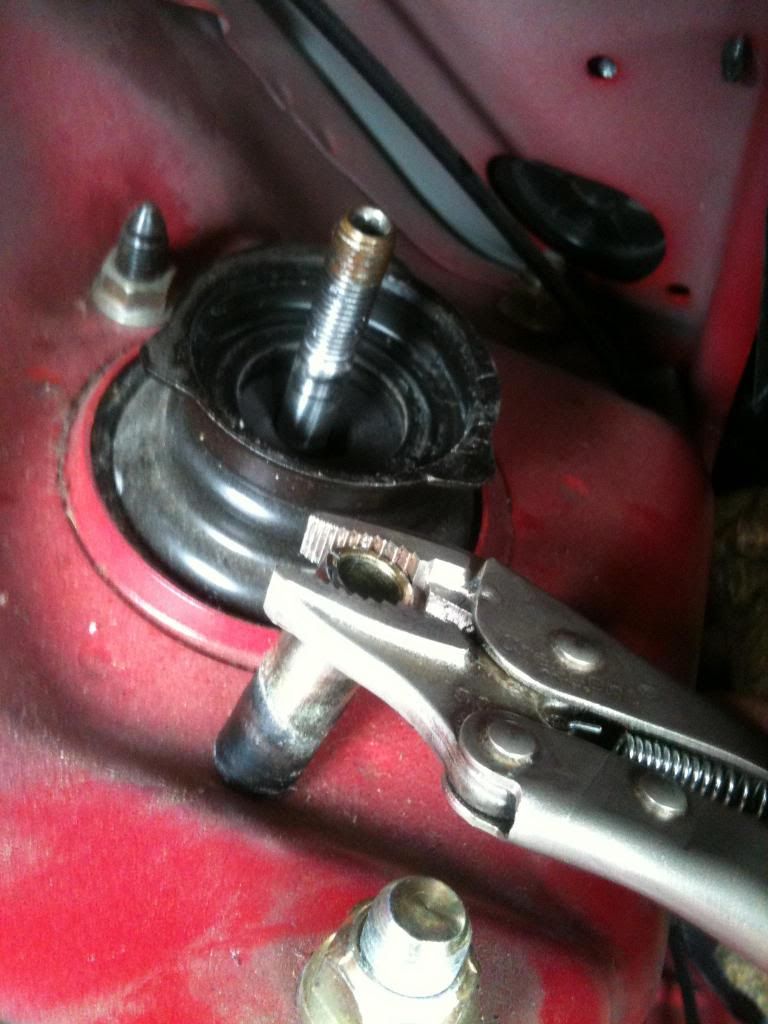 STEP 6:
Now replace everything in the order in which you removed it. Grease/Lube the new shock collar and put it onto the bolt. Then place the rubber bushing and metal washer onto the bolt. Finally, place the nut back on and tighten everything down. Repeat this same process for the other side of your car.
If you have any questions, comments, or concerns, keep them to yourself. Seriously though, let me know if you do. I'm more than willing to help.