mikes87lude Turbo Build Thread
I originally purchased my Prelude in 2006, I think sometime in July. The registration sticker on it was from 2002. I assume from the condition it was in that it had been sitting under the same tree for those 4 years. I didn't think the condition was too bad, considering I only paid $500 for it. That is, until I got it home and started trying to drive it on a daily basis. The first time I drove it to work it made it there with no problems. Driving home was a completely different story. About half way home I started hearing a faint knocking, the muffled sort of knock that only comes from the bottom end of a motor. About two blocks from my house steam started to pour out from under the hood. I made it to the driveway, shut her down, and opened the hood. The upper radiator hose had a split in it about an inch and a half long. Great. I went back to walking to work for about a week. When I finally had time to work on it I pulled of the blown out hose to find that the cooling system had oil in it. It just keeps getting better. Because the oil had been setting in the cooling system for so many years ALL of the hoses were soft and swollen. I walked to and from work for about another month. Then a really good friend of mine offered to buy me a more reliable car, and I could pay him back. He shelled out $4600 and bought me my Accord. Just from the few times I was able to drive the lude, I fell in love with it. It's hard to describe, it just feels right when you drive it. Anyway, now that I had a daily driver I decided to make a project out of the Prelude. I had no idea what I was getting myself into.
I knew that the head gasket was shot, so the top end was going to need to come off. Why not have it ported and polished? I found the answer to that real quick. Because it's expensive as f*%k. Unless, of course, you do it yourself. I read everything I could about head porting, and decided to give it a try.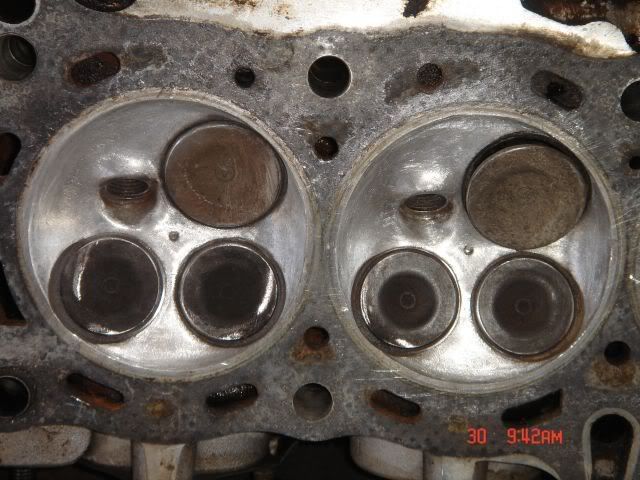 I port matched the intake manifold while I was at it.
I'll be the first to admit that I did a half assed job with the port work. I didn't even remove the valves, just worked around them. What I did, did make an improvement though… honest.
And I just couldn't spend all that time without making the motor look pretty on the outside too.
I installed a full Pace Setter exhaust to help the newly open up head breathe.
When I was finished with this first build I just had to run her down the track. I made the mistake of taking off the extremely light stock rims, and raced it with bigger heaver steelies. I have no idea what I was thinking.
She was nothing to brag about going down the drag strip, but when driving on the street through some twisties… man! I believe you would slide out of your seat before the tires slid on the street. Never the less, she just wasn't quick enough. I've driven some powerful old muscle cars, and love the power that tries to push you into the back seat when you put your foot in it. The bottom end still had that slight knock to it once it got warmed up. And for some reason I was still getting a little water in the oil, even after replacing the head gasket for a second time. So I decided to go ahead and do a complete rebuild. She sat in the driveway for another year while I saved up money for the rebuild. During that time I came across a great deal on a turbo kit for a B18/B16 that I couldn't pass up.
I got my Enkei rims from the same dude.
I searched the internet and found an exhaust header flange for an A20. I planned to use the flange to modify the header that came with my turbo kit. I wish I could remember where I found it, for the benefit of other, but I don't.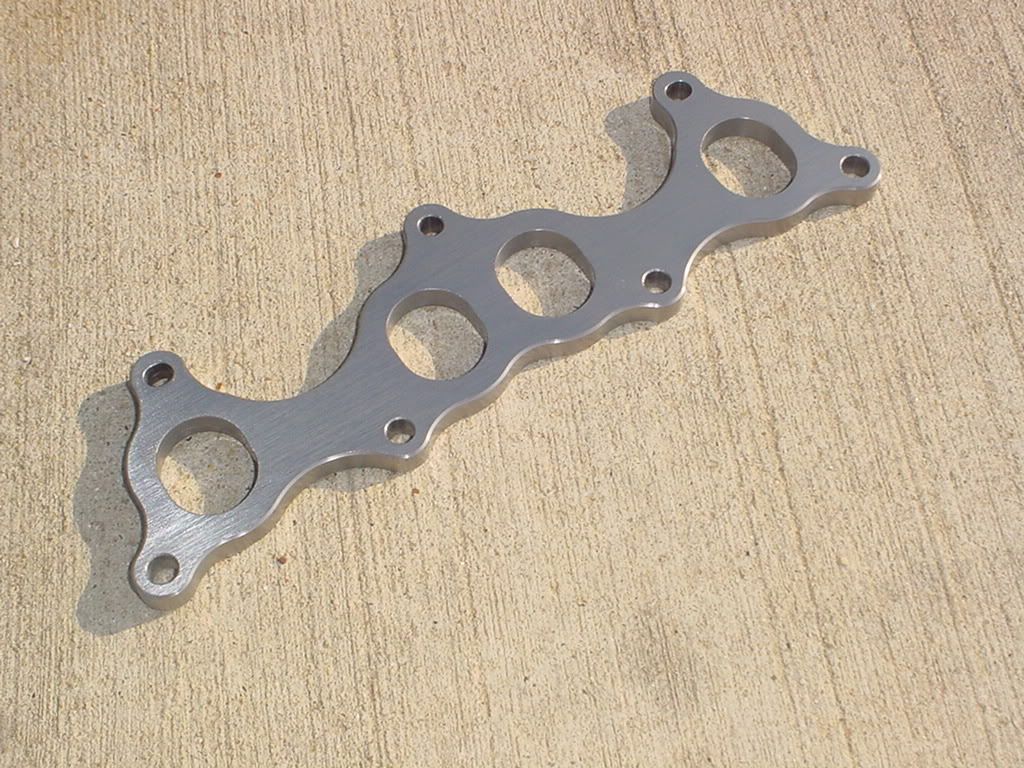 I also did a few minor aesthetic alterations while she sat.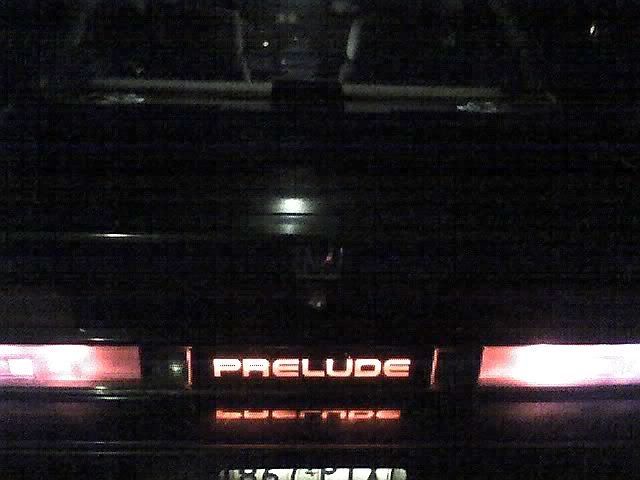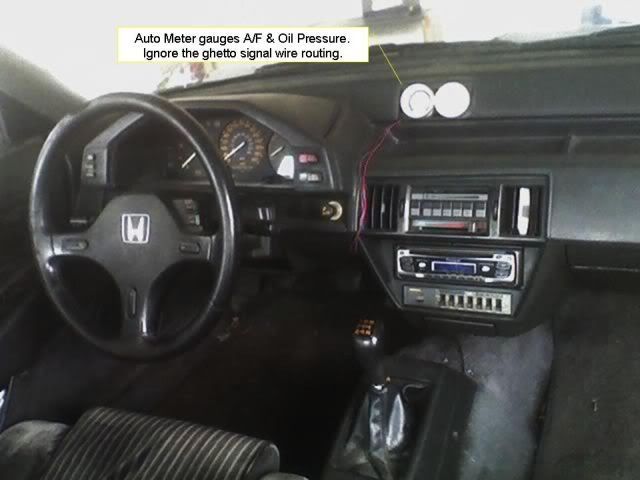 That brings us to my current build. Because I now planned on adding a little boost, the factory engine management just wasn't going to cut it. After some searching I decided on the MegaSquirt ECU, for it's almost endless customization options. I ordered it as a kit. It was not a simple process assembling this kit, but it wasn't all that difficult either. Mainly it was just time consuming, it took about three days of soldering components and testing before it was complete.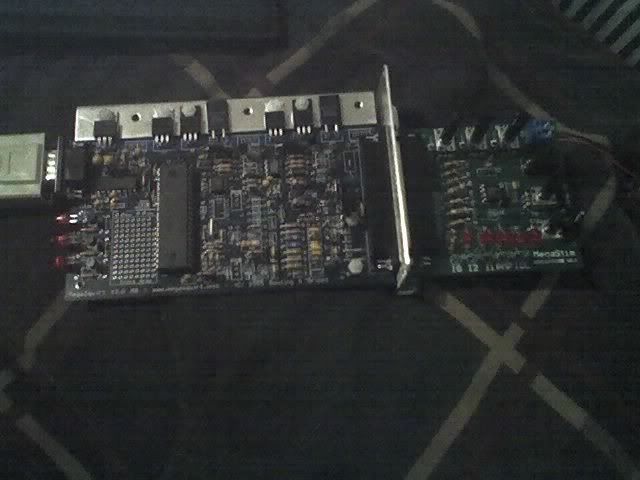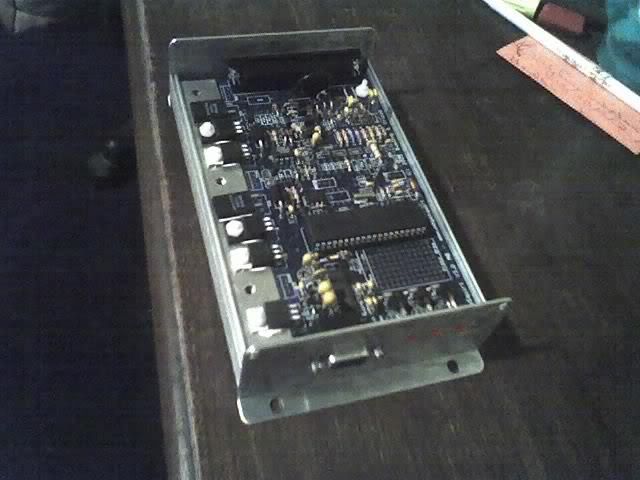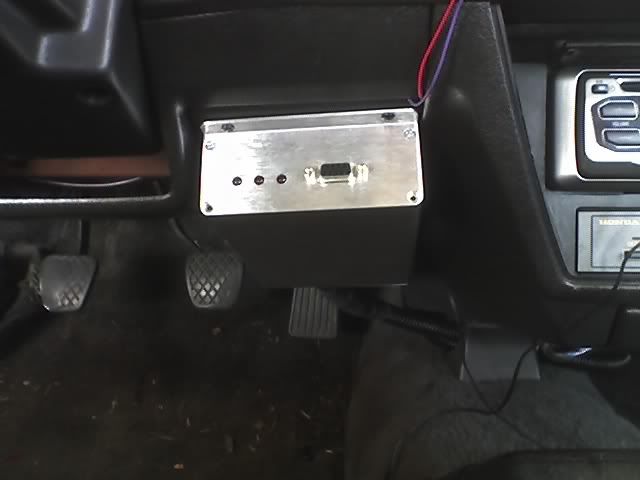 Another big plus, to me anyway, was being able to rid the engine compartment of the infamous black box.
When I tore down the engine this time I took the head to a different machine shop than I did the first time. This shop found a problem that the first one tried to "fix" but neglected to tell me about. There was a crack in the head between one of the bolts that secure the rocker assembly and a coolant passage. The first shop had covered the bolt in what looked like thread lock to "fix" the crack. Apparently this is the reason I was still getting water in my oil. Cool, that gave me a second chance to do the port and polish correctly. This time I pulled the head completely apart.
I spent about two months getting it as close to perfect as I could.
After pulling the transmission…
I yanked the motor out in pieces because I didn't have a cherry picker.
When I pulled apart the block…
I found the source of the knock.
Eeekk!!!!
What could cause such destruction to a forged crank shaft? It didn't take much searching to figure that out. I wish I had taken pictures because this is kind of hard to believe. The paint on the inside of the oil pan had flaked off, and clogged the oil pickup screen. After seeing that I couldn't believe the motor ran as good as it did. That just made me love the car even more. The damn thing is bulletproof! With such extensive damage to the crank, I decided to take it to a machinist who specialized in only crank shafts. He had to turn it down to the minimum specs to get it cleaned up, but he did it, and it only cost me $80.
I polished the valve cover even more, and repainted.
I also painted the block before I reassembled everything.
After getting everything back into the engine bay, I decided it would be best to leave it N/A for the duration of the break in period.
If I hadn't already decided to add boost I may have left it N/A. She had new life. I just couldn't believe the difference. I left a twenty five foot black mark in the parking lot at work in first gear. The shift into second added another ten feet before it quit spinning. Of course it was only the passenger side tire that was smoking, but these are sixteen inch Falcon Z series tires. Needless to say, I was very pleased. People in the shop next door gave me dirty looks, but f*%k 'em.
She has been sitting in my garage for almost two years now while I have been piecing together and fabricating the turbo system. The first thing that had to happen was to modify the B18 turbo header to fit an A20 head. A friend of mine was kind enough to tackle this challenge. He is a licensed welder and just happened to have the special type of welding rod required to weld the mild steel flange I purchased way back when to the stainless steel header pipes. The port spacing on a B18 is quite a bit different than those on an A20 so he had to heat the pipes and bend them to line up with the flange. This process ruined the nice shiny finish of the stainless steel, but I had planned on wrapping the pipes anyway.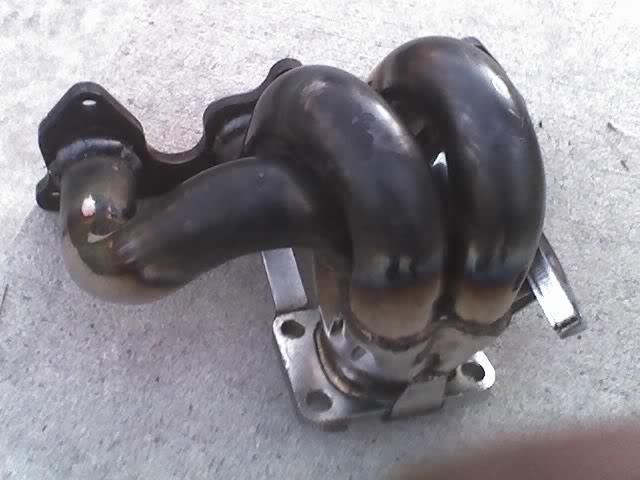 The down pipe required a bit of modification also, because the angles of the bends were all wrong.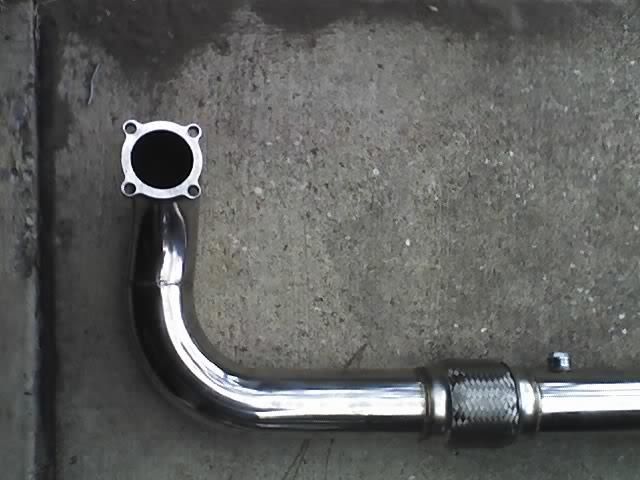 At first I attempted to make a new one from scratch, It didn't turn out too good. Not only was it ugly, but when I test drove it to see how it sounded you could just tell that the motor didn't like it. It sounded cool hearing the turbo spool, but it felt like the car was driving through a lake of molasses. So with some help from my neighbor, we modified the three inch stainless one. The one on top is the one I made, and the one on bottom is the one that is currently installed.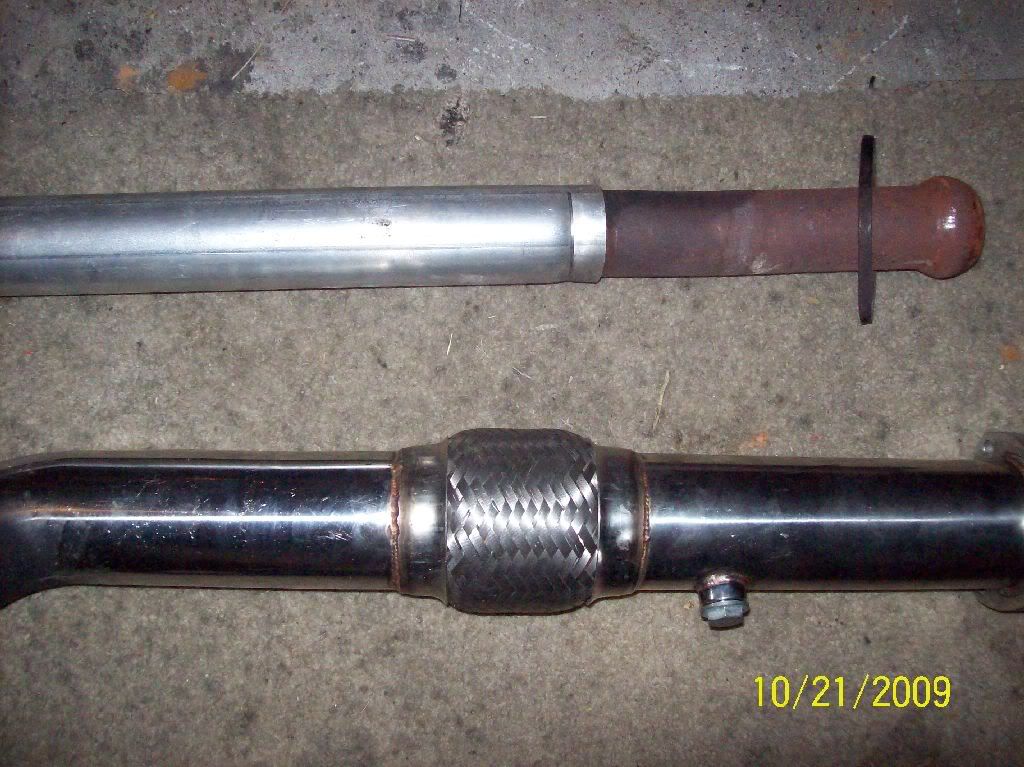 I didn't want the waste gate to vent straight to open air. I figured it would get annoying after a while, not to mention the attention it would draw from Johnny Law. So, I decided to vent it into the exhaust. To do this required more fabrication because I have the turbo mounted backwards to accommodate the front mount intercooler. Usually the waste gate would be directly above the down pipe, but like I said I mounted the turbo backwards. Because of this I had to run a pipe from one side of the header to the other. The waste gate is bolted to this pipe and another pipe that is welded to the down pipe. I don't think it looks too bad, a little odd maybe.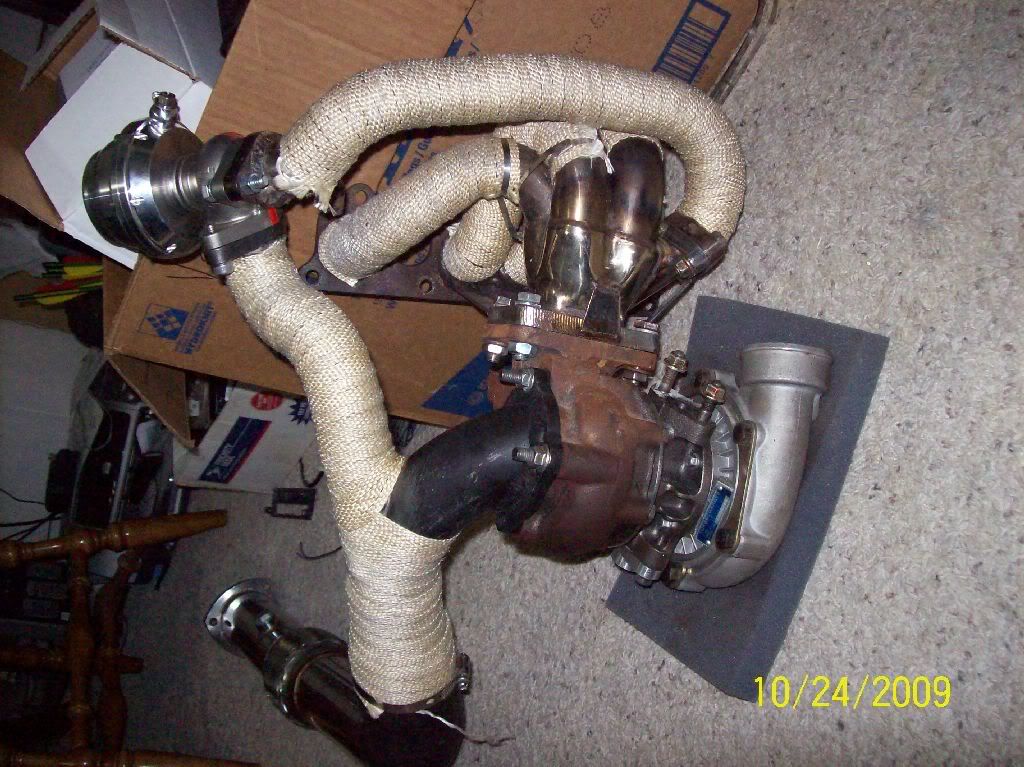 It does come pretty close to the radiator, but I don't think it will be an issue.
To make it look legal, for those people who would get under the car and look, I bought this nifty piece.
It looks like a catalytic converter on the outside, but inside it's just a three inch pipe.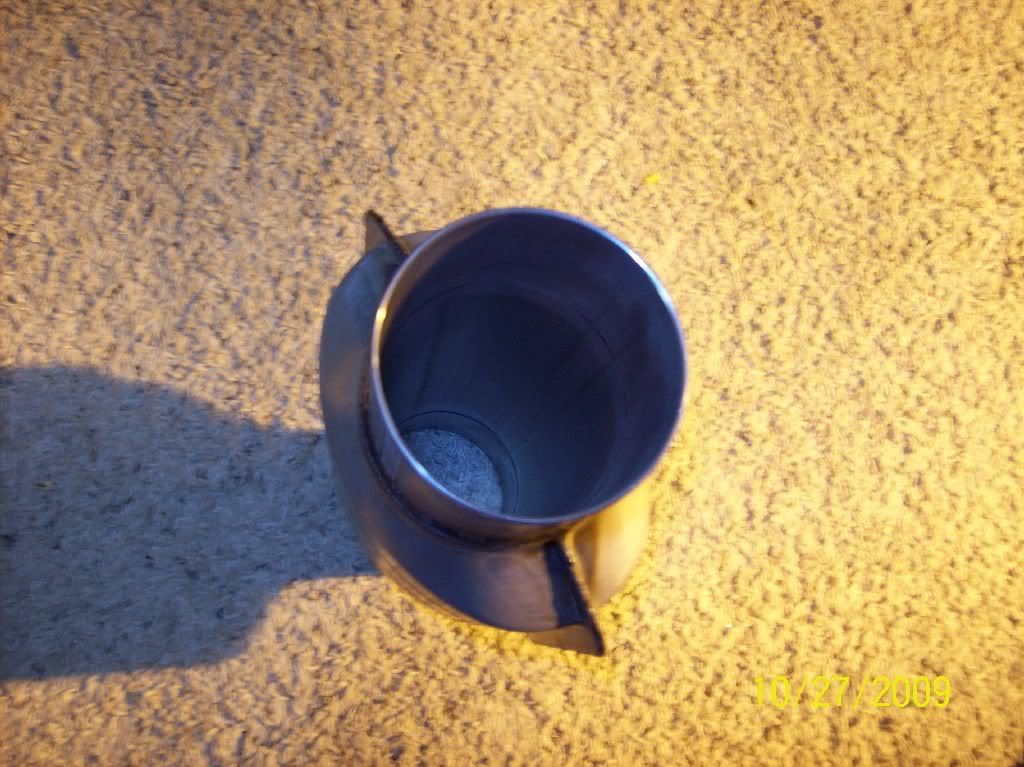 Really I just bought it because I thought it was cool, if they pop the hood I'm toast anyway. You can tell that the motor is definitely not stock.
To feed this beast I bought a Walbro 255 LPH fuel pump and installed a B&M command flow adjustable fuel pressure regulator. The FPR is a universal piece that requires you to basically destroy your factory FPR but in a controlled fashion. I had to use a cut off wheel to cut the top half off of the factory unit, then you bolt the B&M unit to what's left. It's actually pretty ingenious, more importantly it works.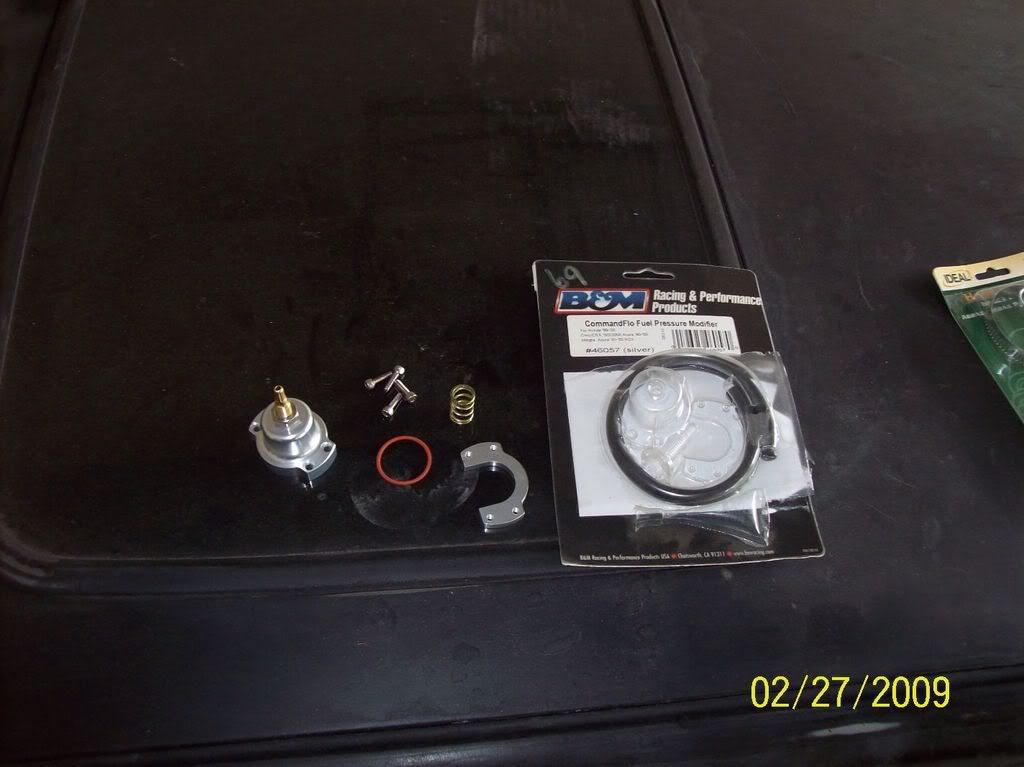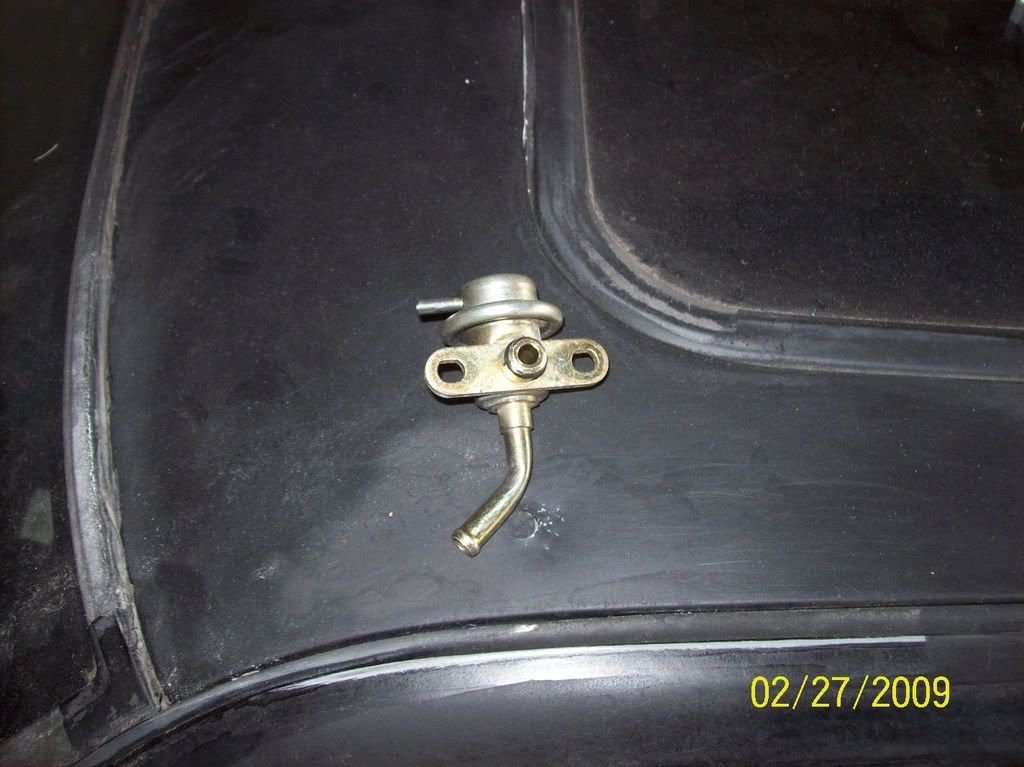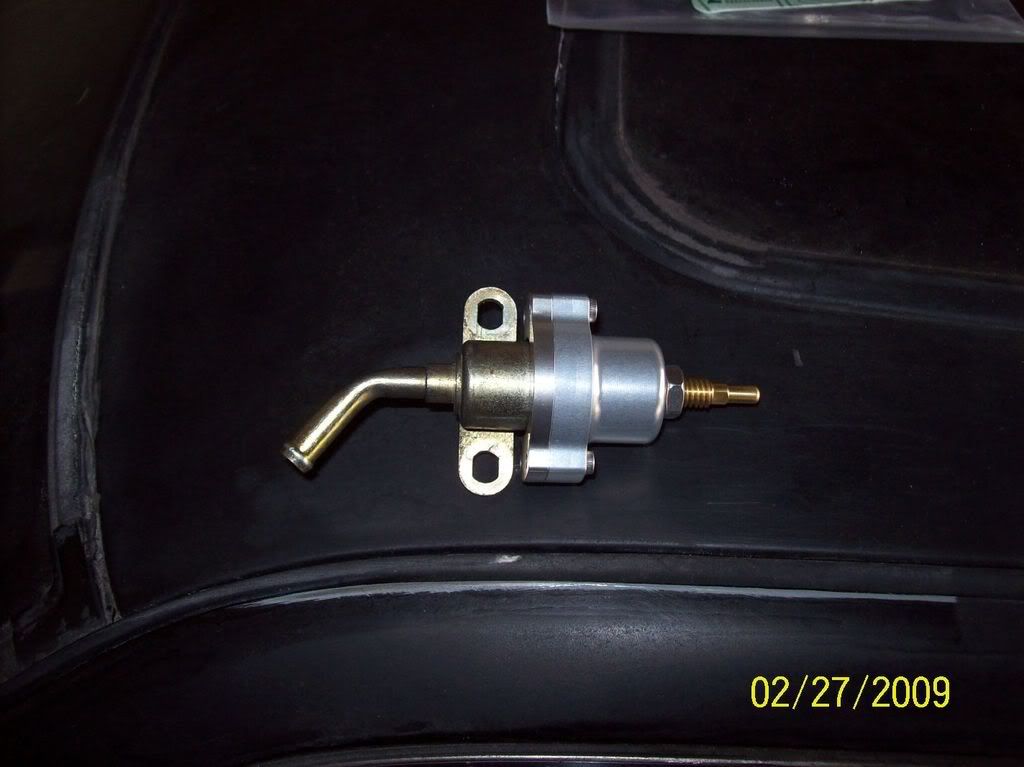 I decided to use a nylon reinforced silicone intake tubing to get the compressed air from the hot snail to the intake. There were a few reasons for this decision. The main reason was ease of installation. After all the cutting and welding on the exhaust I really didn't want to fabricate a stainless intake system. Another reason is that the silicone tubing comes in a blue that matches the blue already under my hood.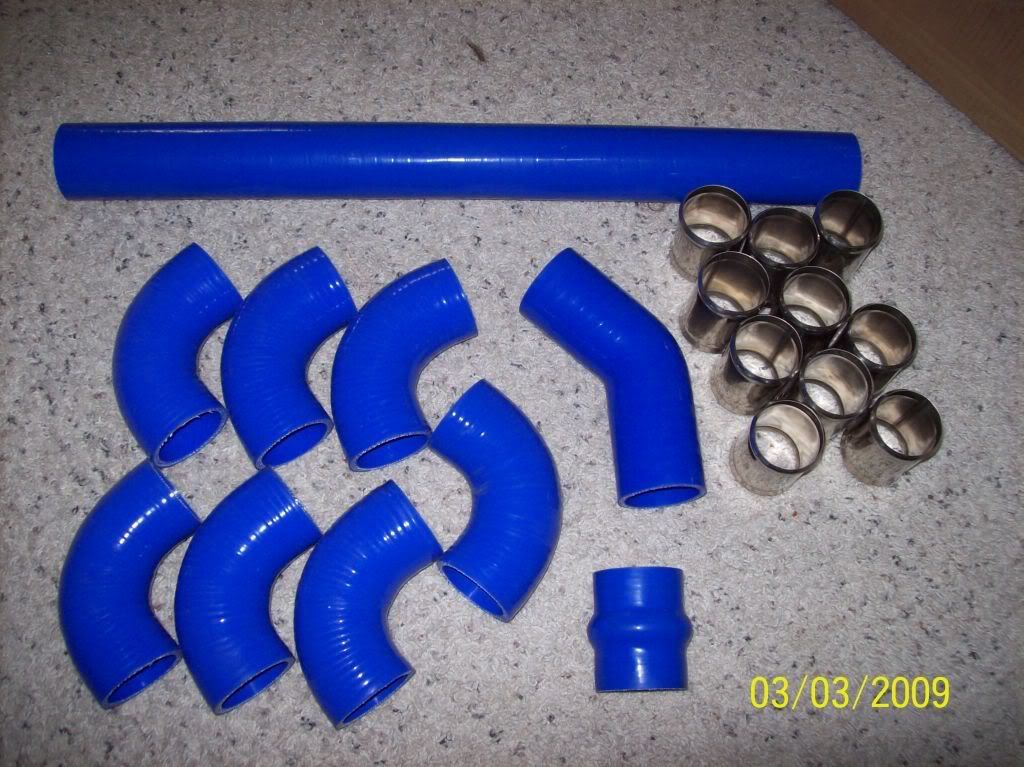 I still need to clamp it all together.
That's it for now. I still have some work to do on the ignition system, and I need larger fuel injectors. The exterior also needs a bit of work. It is very close to completion now. I will keep this post updated as I progress to my ultimate goal.
-------------
EDIT: 12/5/10 ----------------------------------------------------------------------
No new progress to report, just figured I'd add some stuff that I didnt put in the first time.
I added an Innovate Motorsports LC-1 wideband O2 controller. This unit allows me to use a wideband O2 sensor, instead of the factory narrow band sensor. A wideband sensor is far more accurate than a narrow band, which helps with tuning the fuel maps. It also allows the ECU to make minor corrections to enrichment.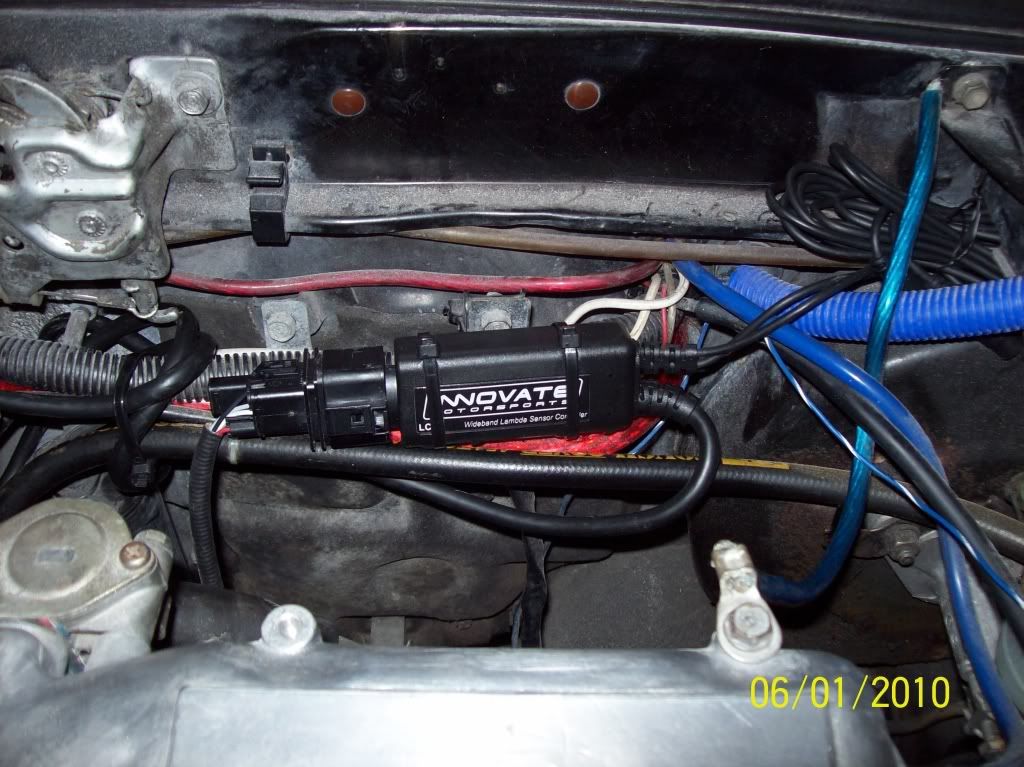 I have also rid the motor of the vaccume advance distributor. I cannot thank Chris enough for his help, and patience, in doing this. The ignition system is now a Ford EDIS ignition. This required a modified crank pulley, and custom brackets to mount the VR sensor, and coil pack. Again thanks to Chris.
Factory pulley left, mod pulley right.
Pulley painted and installed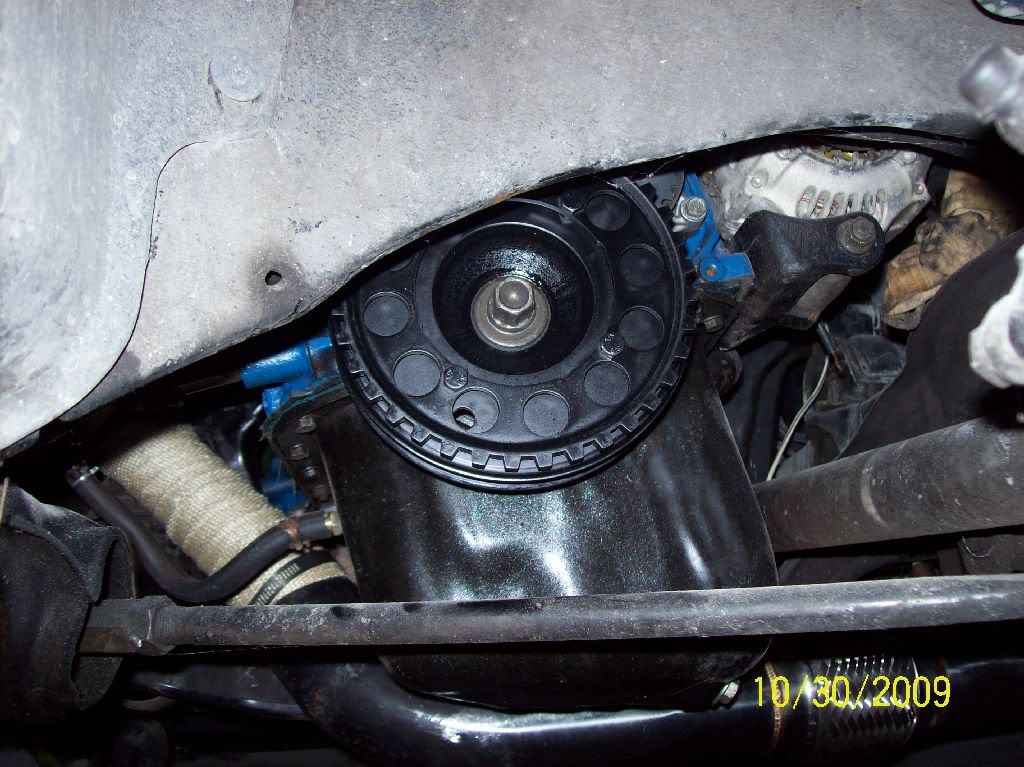 VR sensor and bracket installed.
I mounted the ignition module where the old coil was.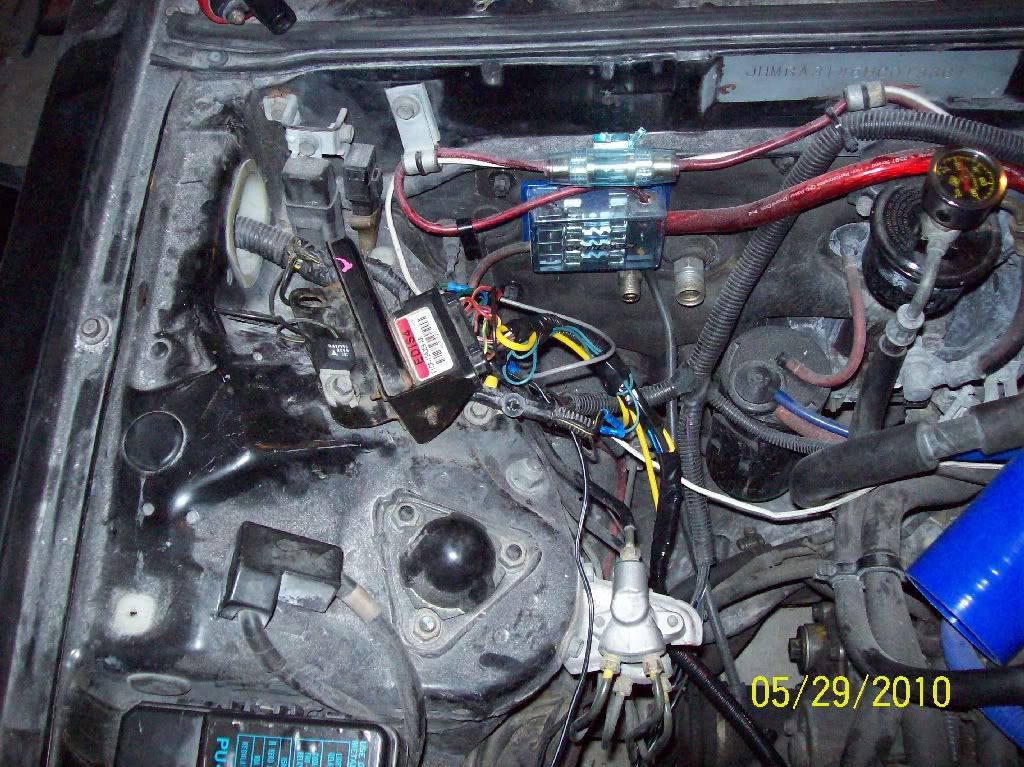 No more distributor, and 2 fewer vaccume hoses.
The purpose was not to get rid of vaccume hoses, or to make the motor look cooler. The purpose for this modification is to give complete control of ignition timing. For the first time in this motors life, it can be precisely tuned.
Durring the process of tuning the motor, the fuel pump went out. So, I havn't heard it run for more than a few seconds with the new ignition. I am certian that it will run once a new pump is installed.
Here is a teaser video. I made this video when I first installed the turbo. I was test driving it to make sure the oiling system to the turbo was sufficient. The turbo piping is not ran to the intake, so the motor isn't running under boost. Also this vid was taken with the first downpipe I made installed, it is much louder now. There is no BOV poping off, because the is not one installed yet in this vid. Also, I must have been high, because I mounted the camera to the steering wheel. I just like the sound of the turbo spooling.
Thats all for now. Hopefully more to come soon. A failed business venture, and change of address has the lude in temporary storage. I hope to have a new house to bring her home to by May or June.
-------- EDIT 12/9/10 --------------------------------------------------------
I forgot that there have been some cosmetic changes also. Most of it is in progress at this time. But I'll show what I've got.
Factory rims were on for a while when I first got her. I ran 14 inch steelies once at the track, they were way heavier than the 13 inch aluminum. Mistake.
The Enkeis have been on every sence I first put them there. They are heavier, and 16 inch, but ... well you know.
This is how she has looked most of the thime I have owned her.
I started the bodywork by examining the existing bodywork on the passenger side. Not pretty. I don't know why they put forth so much effort with body filler. So, basically I need a new passenger side door and fender.
Hood had a few dings.
The drivers side fender was good, one little ding. I'm not going to put side molding back on. So I filled the mounting holes, and kinda molded the flare to smoothe the transition. That way it isn't as noticable that there should be molding.
I sprayed a test of the color I plan. It's Frost Blue Pearl in clear sprayed over a black base.
Then comes the roof. The sunroof has never leaked so I'm good there. A little rust had to be sanded, touched up with metal glaze, and primered. But the roof... My best guess would be that kids had played on it at one point in time. Dents everywhere, glad it's small. While I was at it I shaved the rain channels. I never have liked those.
I also shaved off the antenna, and put an amplified one in the car. I don't have a pic from while I was doing it, but it would be in the roof where the FPR is setting in this pic.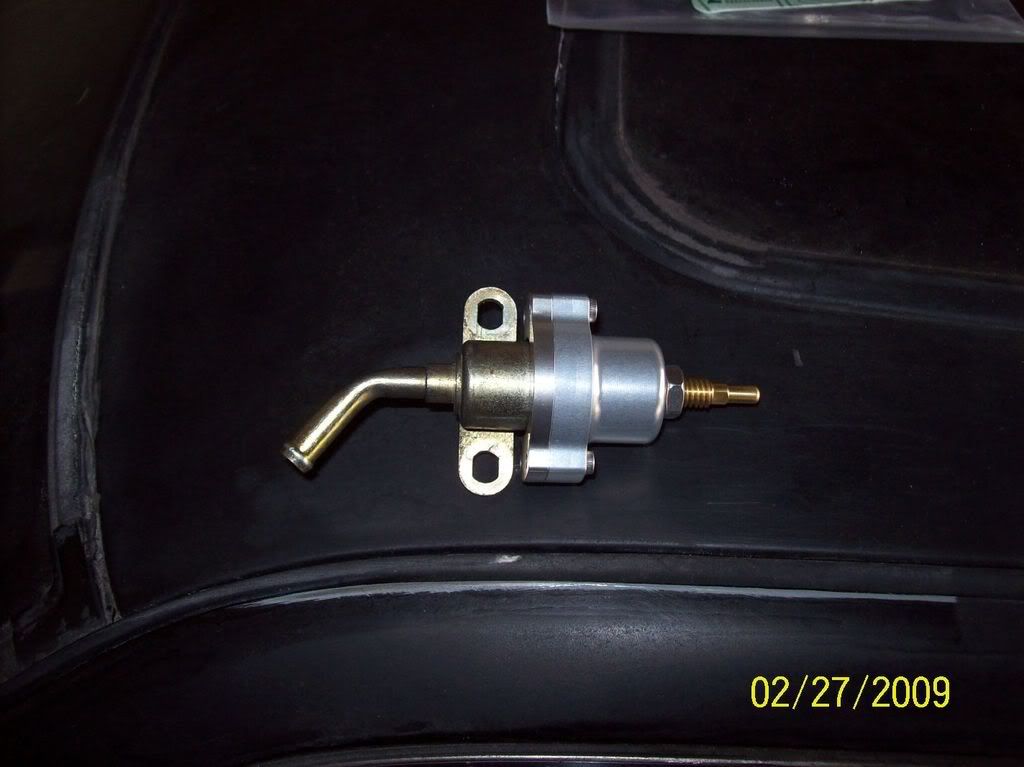 I most likely won't shave the door handles, but the gas tank door has always been off lined and recessed. So, instead of just trying to fix it, I shaved it, and relocated it to the trunk.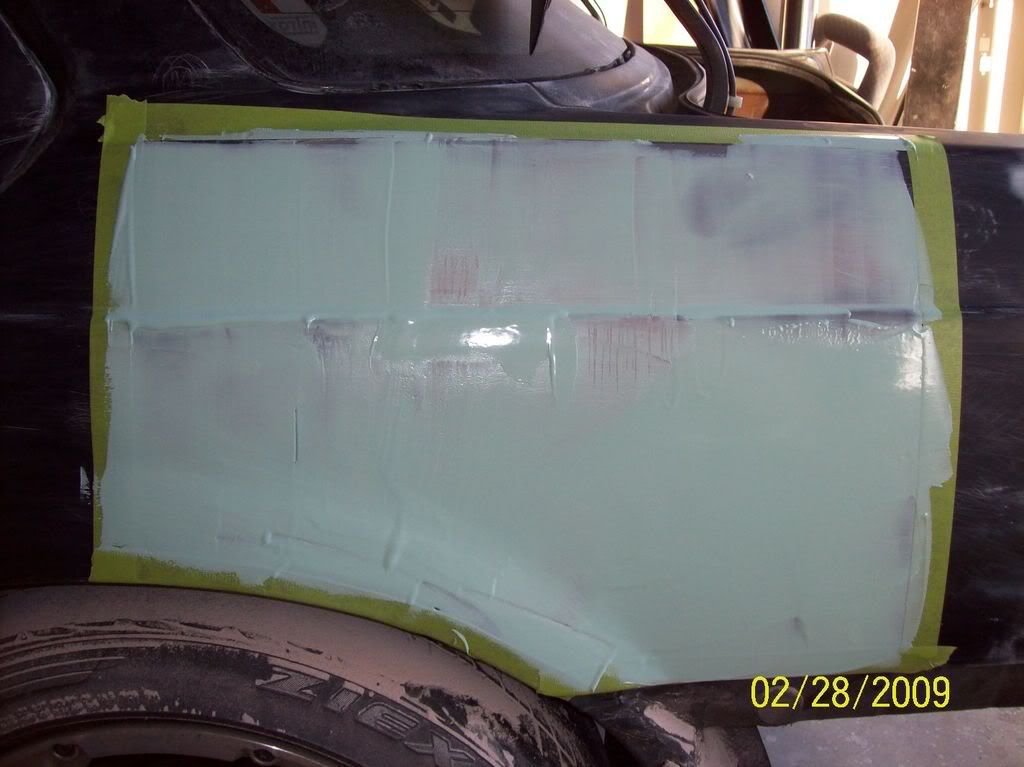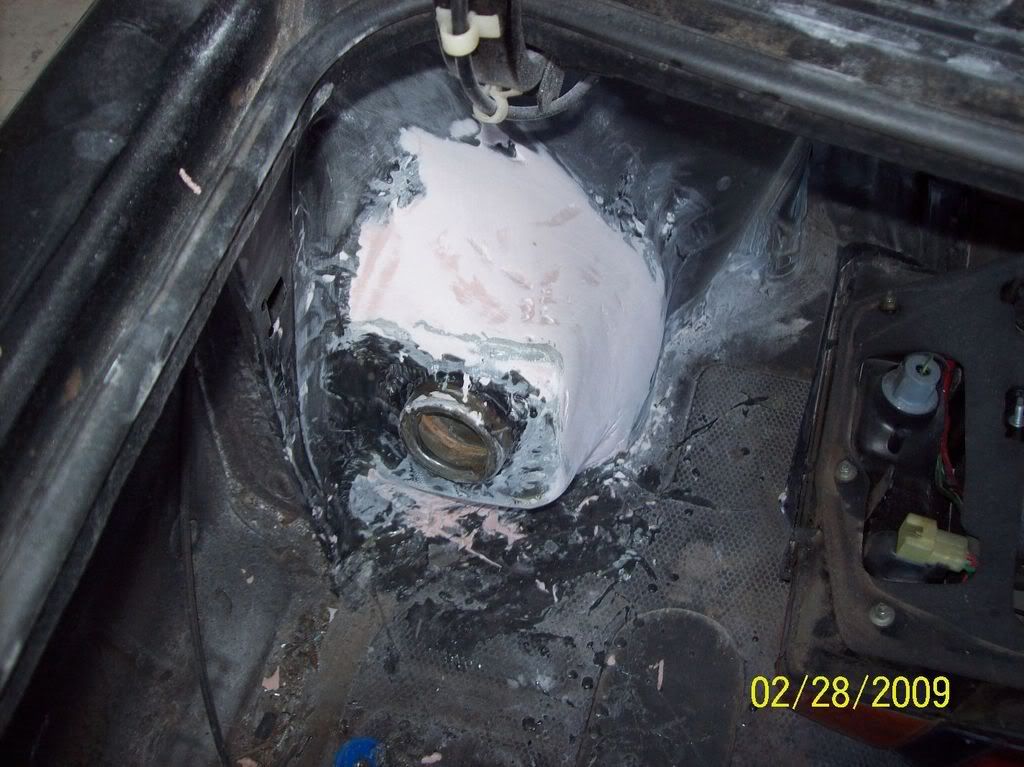 I don't have any pics of it, but the trunk lid got a shave too. Also, no more si spoiler, and no key lock.
I figured that my under hood temps would probably get high, from the turbo. I decided to make a vent in the hood. I wanted somthing like this....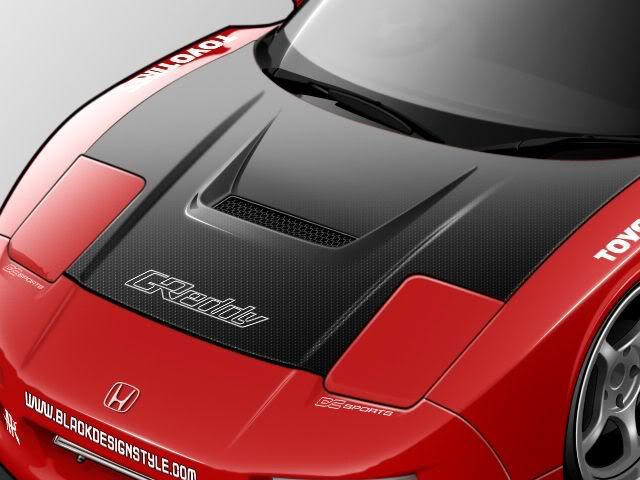 but I couldn't find one. So, I figured I could make somthing like this.
I like NSX by the way. Anyway, me and a couple buddies hacked up my hood one day.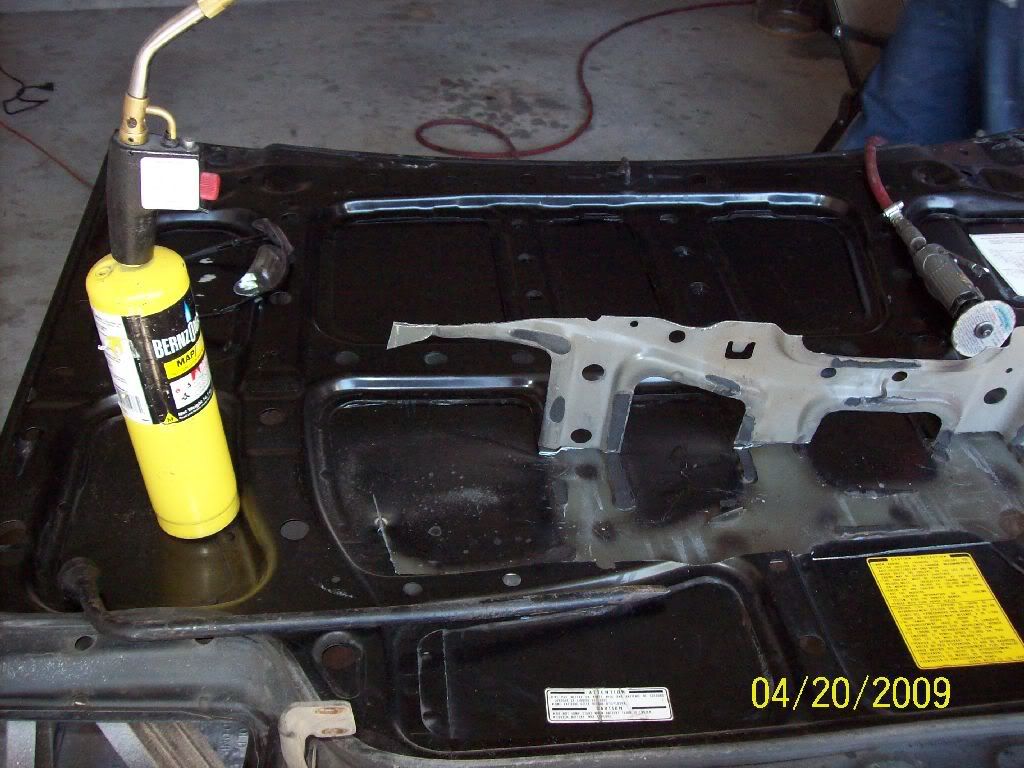 sorry cellphone pics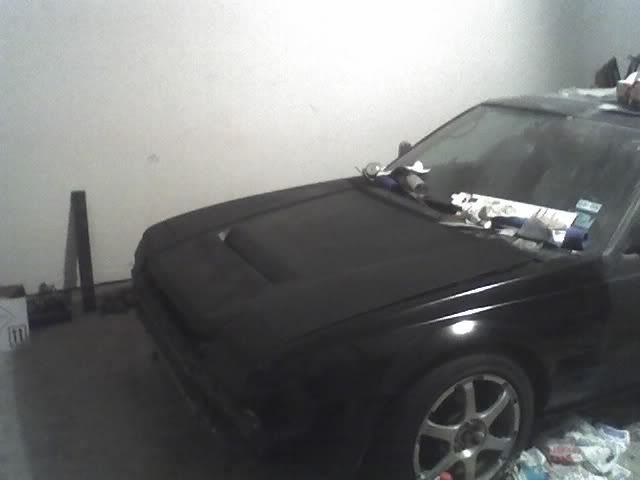 That's it for this update. I'm sure I'll remember somethingelse later.