Discussion Starter
·
#1
·
Sorry guys, I know this has been discussed a lot in the past, but from all that I have read there has never been a clear solution to the low heat/ operating temp issue. I have changed my stat out to a 190 deg (aftermarket unit... Just can't justify spending $45 for a stat from the dealer, especially if it doesn't solve the problem) and the car still takes a long time to warm up. That just sucks during the winter. (Yes, I have the correct antifreeze mixture, and the control valve works fine. The fans rarely come on, but work fine. I have good heat in the summer :smile: )
My car has AC and is from California, so I imagine the rad is a HD model. No doubt this compounds the issue.
Anyhow...
I have been looking at a few different stat from parts suppliers, and have found two different types listed for our cars.
http://www.car-stuff.com/store/?N=9253+10610+4294965656+1631+11921
Stant makes a #13869 (reverse poppet)
and a regular #45869 type.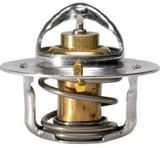 Does anyone have a pic of the factory OEM stat?
I'm curious about the "poppet" bypass stat.
"The primary valve operates
exactly the same as the non-bypass thermostat and opens allowing
coolant to flow to the radiator when the engine is at normal operating
temperature. The secondary valve allows coolant to be circulated
back through the engine during its warm up stage. The temperature
of the engine is able to rise more evenly, minimizing hot and cold
spots in the engine. The primary valve begins to open and the
secondary valve closes when the engine temperature rises. All
coolant is then directed through the primary valve to the radiator
ensuring that the correct operating temperature is maintained.the primary valve opens"
Does our motor have a bypass setup?
Thanks,
Paul