L.E.D. Taillight Mod for 90-91's Ludes (Almost same process for 88-89 ludes)
Tools used:
-Screwdriver(s)
-Solder gun
-Solder
-Electrical Wire (preferably 16-18awg with about 10 strands)
-Resistors
-S.P.D.T. 12v relay
-L.E.D.'s
I got all of my Led's off Ebay thanks to danny.. I found out that ones coming directly from Hong-Kong to be the best.. i got screwed from one guy from usa being the specs he had were way off.
http://cgi.ebay.com/Red-LED-100x-14000mcd-LEDs-Ultra-Bright-Light-Free-S-H_W0QQcmdZViewItemQQcategoryZ26207QQitemZ7542704944QQrdZ1
I got these ones.. if the link doesn't work anymore they are 5mm 12,000-14,000mcd.. the other 6,000mcd led's i have light up exactly the same as the 14k ones.
-Dremel (cutting wheel)
-Pencil, scissors, cereal box cardboard, hole punch
-Epoxy, toothpicks
First off start by taking off whichever taillight you wanna start with.. this project may take a while so do one at a time. Unscrew the bulb support in the corner (1 screw) and the black or brown sensor (2 screws). Take out the rest of the bulbs so your left with no wiring or components.
First thing you'll want to do is cut out the back of the taillight with your dremel.. (If your really hesitant to destroy your taillights.. then don't bother so you don't make yourself trouble) since I'm crazy I went right ahead and started hacking away at my tails that i can't seem to find anywhere.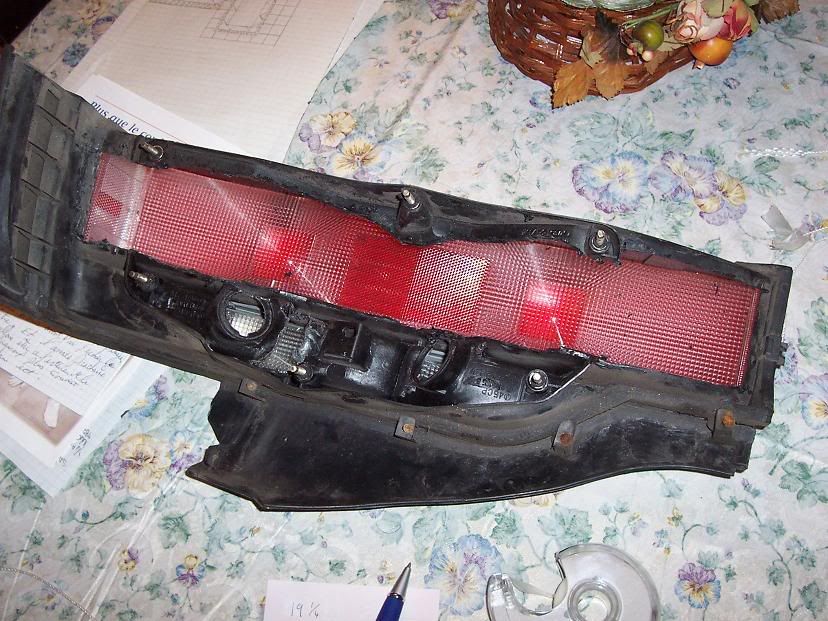 You can sort of see the marks i left with a pencil of where to drill the holes. I make all the holes with my dremel with drill bit.. i didnt have the exact size drill bit so it took a while to have each led fit nice in each hole. You don't want your drill bit to go right through and punch through the clear lens on the other side either.. so i put a couple washers and duct tape to act like a spacer on the drill bit.. this way it wouldn't get far enough to reach the clear red lens. Once you finish drilling all the holes (and remember you still have another one to do.. argggh), start mixing some epoxy. Use a toothpick to simply smear a tiny bit of epoxy OVER the holes.. not in. Then put the Leds in one by one. This way if you short out your Led's or there's one burnt out.. you can simply pull them out with some needle nose plyer's.. but there'll still be enough to hold em tight. Remember that Led's only work one way.. there's one long pin and a shorter one.. the long one is positive and the shorter one negative. Here's a link to some info on Led's
http://acept.la.asu.edu/courses/phs110/expmts/exp13a.html
Place all the long pins all on the same side to make things 100 times easier when soldering.
Now comes the Diagram..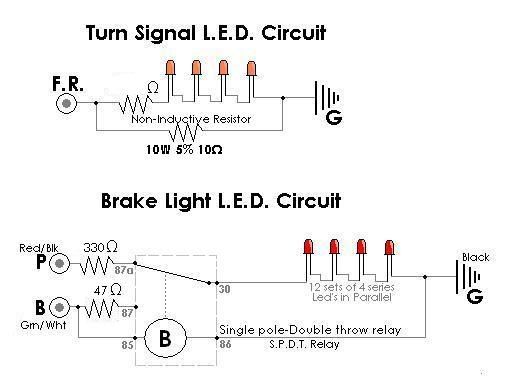 You want to wire the Led's in a series of 4.. therefore if you have lets say 12 led's in total.. you want 3 sets of 4 series led's.. the 3 sets will be in parallel to each other. You could make them in 3 series if you wanted to.. but then you'll have to figure out the resistors to use as it'll be different.
Basically this means when choosing the number of Led's to put.. try to put a number that has a factor of 4.. notice 48 divided by 4 = 12.. but 50 divided by 4 = 12.5.. the last 2 led's will have to have an added resistor or they will blow up. This is just for the sake of it being easier.
Now put the pins of the leds next to each other like in the last pic I showed has them. Keep doing this to all of them and solder them together.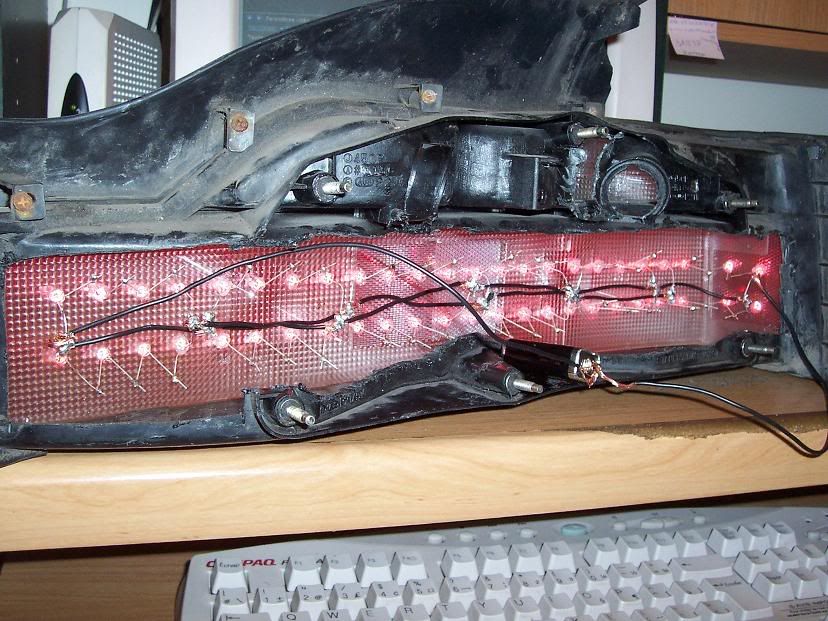 Notice i used silicon instead of epoxy the first time.. don't use it.. it doesnt stick and it only makes a mess in the end. Notice I have the bottom left 4 series and the top left 4 series directly in parallel with the pins.. this minimizes the use of wire.
If your doing this then you more than likely have some sense in electrical so I'm not going to bother with a how-to on parallel wiring as it's pretty easy.. and if you already know it then you'll understand this picture.
Ok all the negative end connect to each other and all the positive connect to each other.. easy as that.
Then have a wire go to the negative (anywhere) and another to positive (also anywhere) and have them long enough to be able to work with (like 10"). You can test your setup with a 9V battery without having them blow up.. if you put an led directly to 9v theres a good chance that it'll literally blow in your face.. dont do it.. but if you read this then you'll probably do it anyways.
Mine looked like this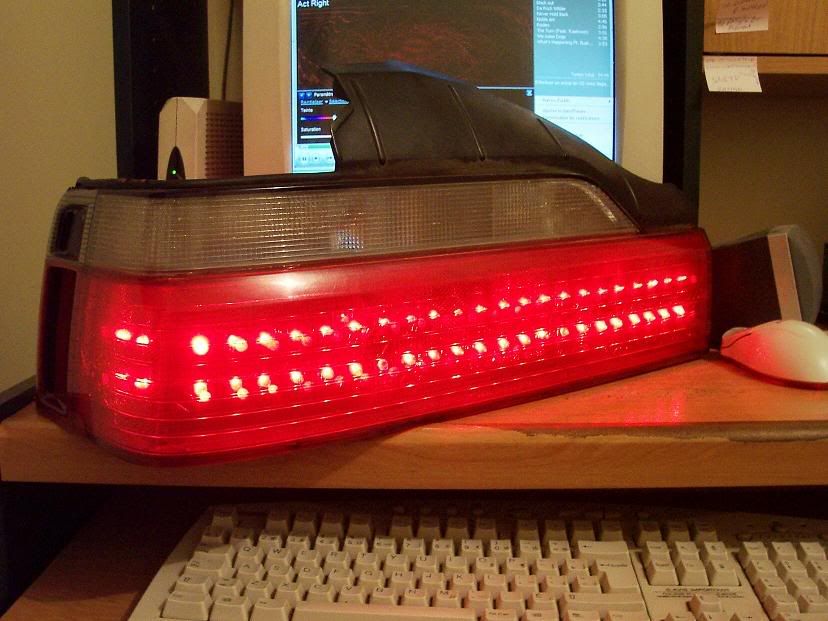 Now the Diagram comes back to us.. here it is again.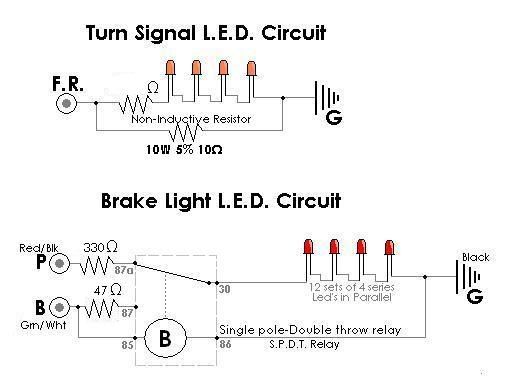 Relay's are super simple.. there is 5 contacts on a spdt relay (Single Pole, Double Throw). The B is the magnet (Coil in french is Bobbin) and when it's activated you could say it pulls on the "pole" to switch it to the other contact.. when theres no more current to the magnet a spring pushes the pole back into its original contact. Now take your brake/turnsignal/reverse light wiring harness. Cut out the 3 brake light bulb sockets.
You'll notice they all connect to one area so you can cut the remaining 2 wires since you only need one. Now you'll have one red/black (PARKING), green/white (BRAKE) and black (ground) wire. From here on you can use the diagram to do the rest of it as there's no point in me explaining it.
When the parking light is on.. the current passes through the pole.. but once the brake is pressed the magnet is turned on and the pole switches sides.
Here's a link to the resistor colour codes;
http://xtronics.com/kits/rcode.htm
You can't simply wire the parking wire with resistor to the brake wire with resistor directly to the led's. If your parking lights are on and you press the brakes.. it'll still light up with 330ohms because the parking wire has current.
Now you that got the wiring for that done.. time to seal everything back up and make it nice n neat.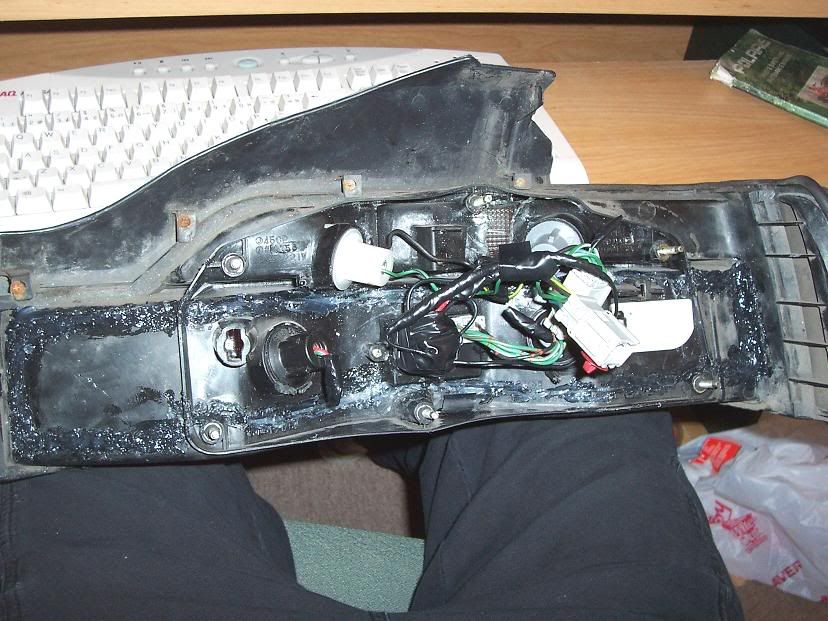 You could call it "neat" or "ugly" but who cares. Notice I kept the old bulbs so there's something plugging the holes up.
Remember there's a gasket for the taillights.. notice the trim that sticks out all around.. where you cut it, use the solder gun to melt some plastic back in and form the old shape back into it. You can also use the solder gun to "tack" the plastic piece into place. Use silicon and/or epoxy to seal everything up.
Melting plastic with the solder gun will ruin the soldering "abilities" of the metal rod though.
If you did everything right then it should light right up when plugged back into the car.. if it doesn't.. then it could be a number of things like; wrong resistors, bad relay, bad led, misplaced wire, etc.
Here's some pictures: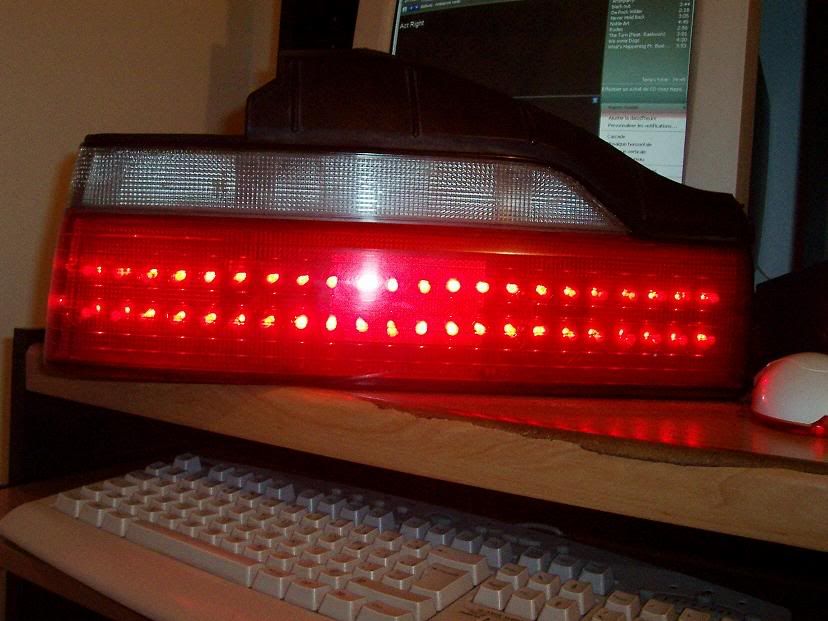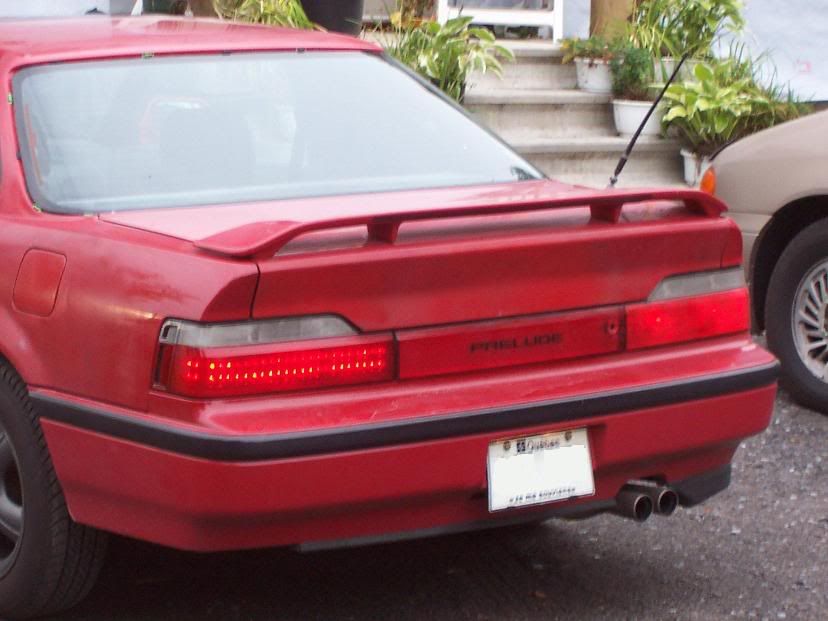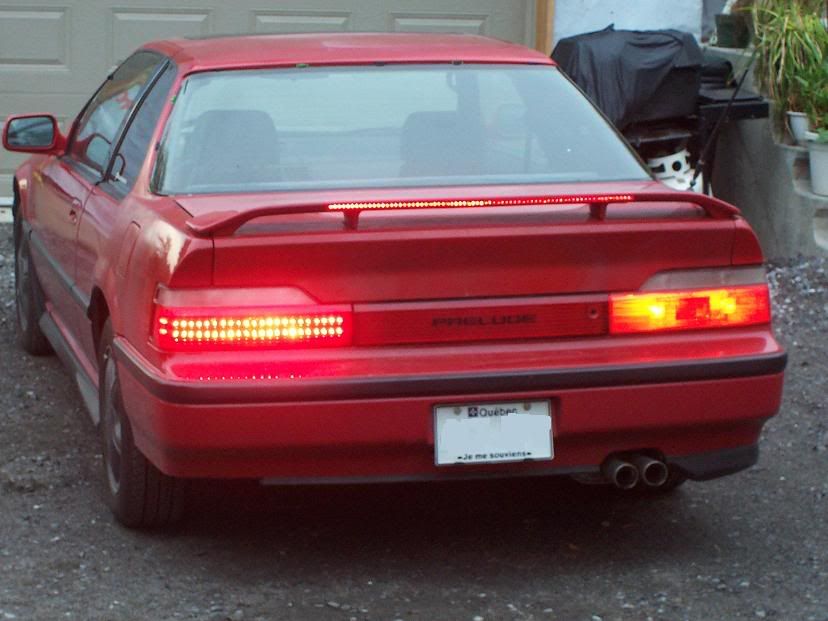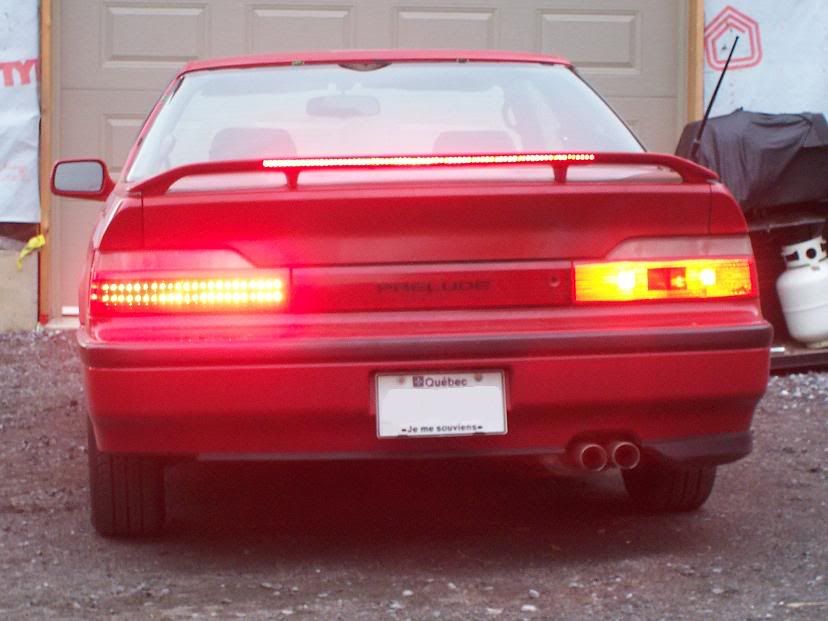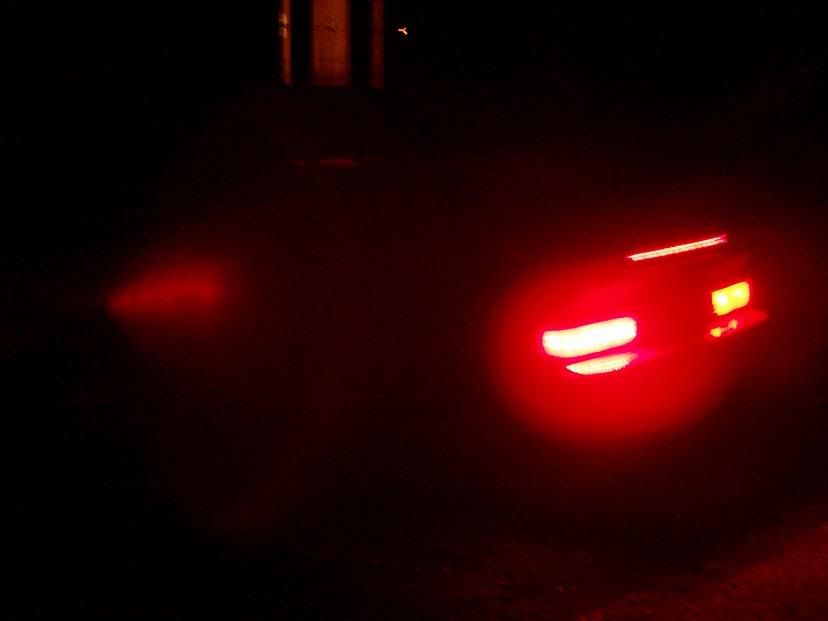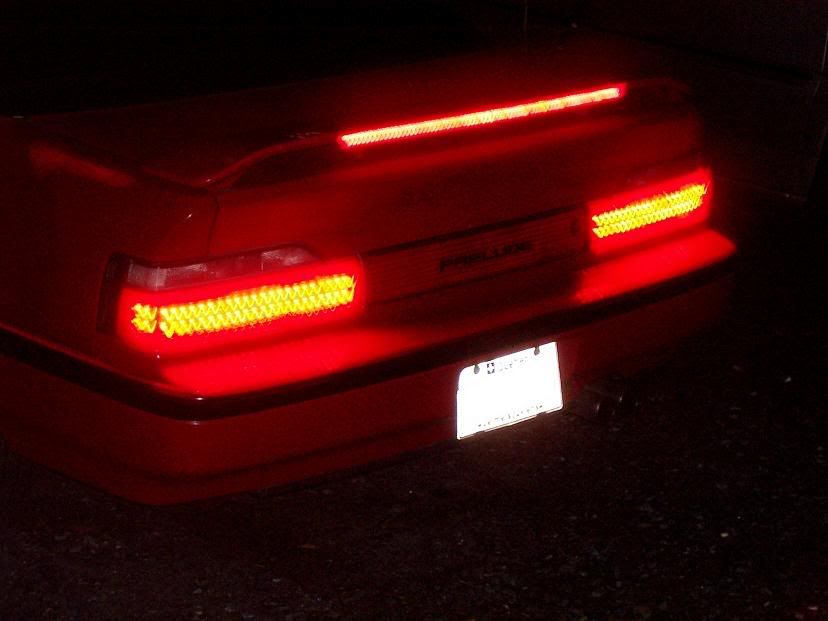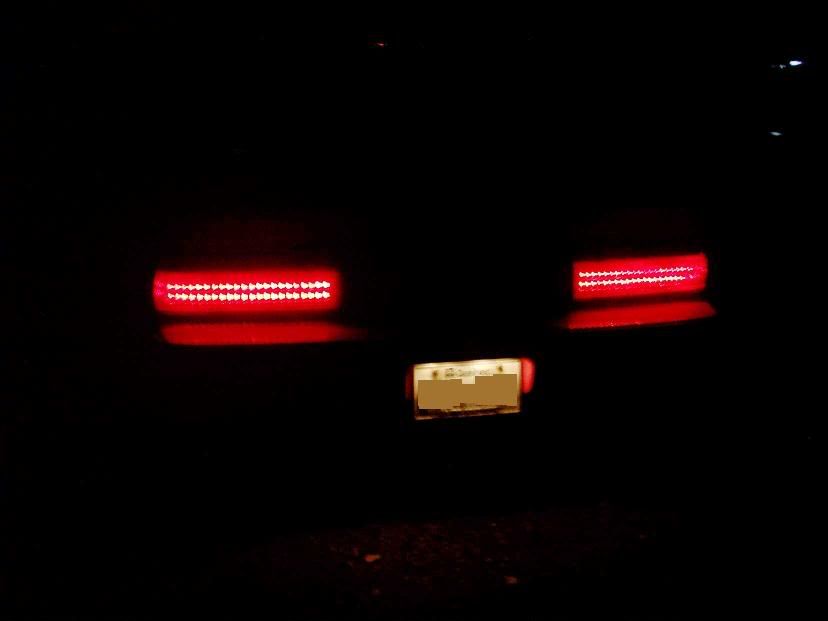 The Pictures don't do much justice either.. basically the only reason of making these is for the cool factor.. they DO light up brighter than stock.. and the reaction time to light up is instantaneous compared to bulbs which seem like turtles compared.
I won't make a write-up for the turn signals since it's almost the same thing. If you understand the little diagram i made then you'll know how to wire the turn signals. The only thing I left out while doing the brakelights is a non-inductive resistor for each side (like the turn signals to slow them down).
I have the brake warning light turned on all the time.. i don't notice it anymore but I would've added the resistors if I would have thought about it in the first place so that the light would still work (led's would burn out.. light comes on). But with my remote starter i can tell if they're still working or not anyways. I've had them for about 6-8 months now and no problems at all.
Here's more pictures..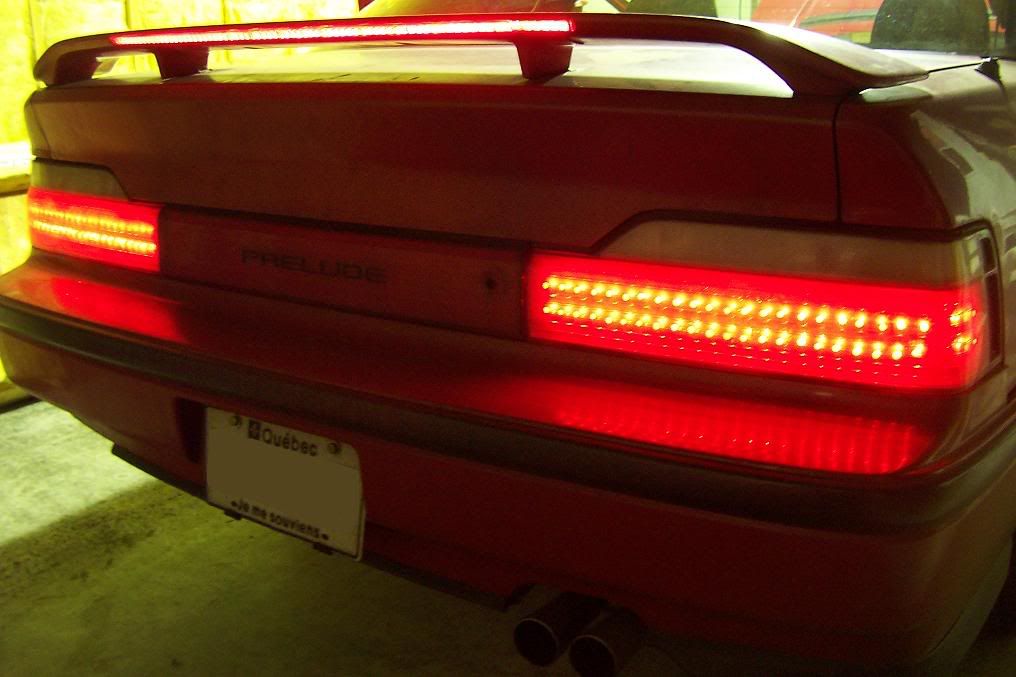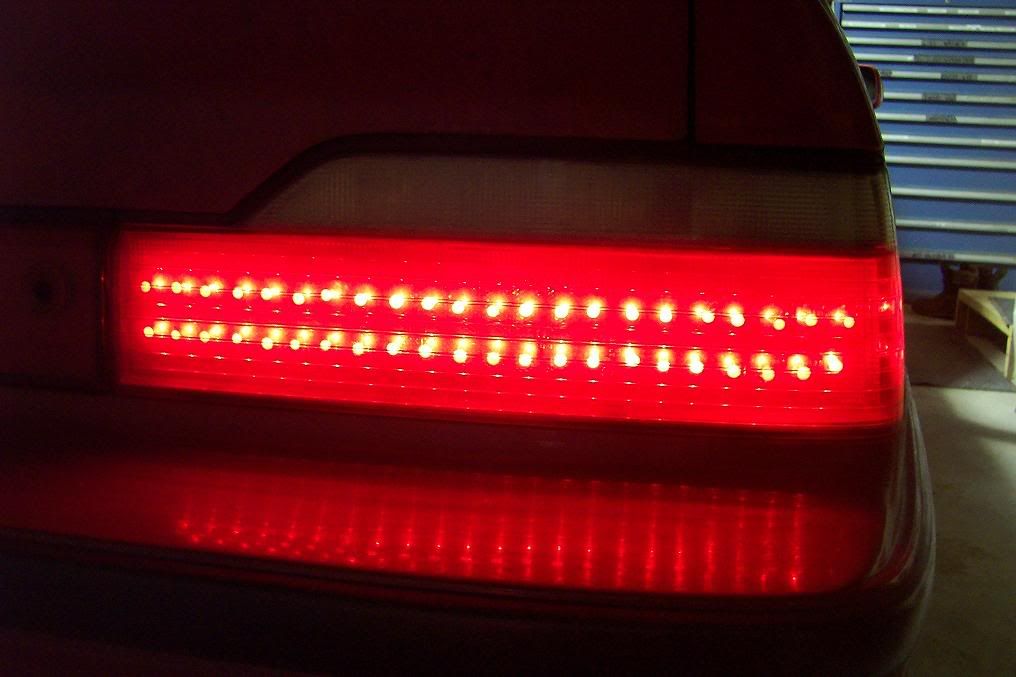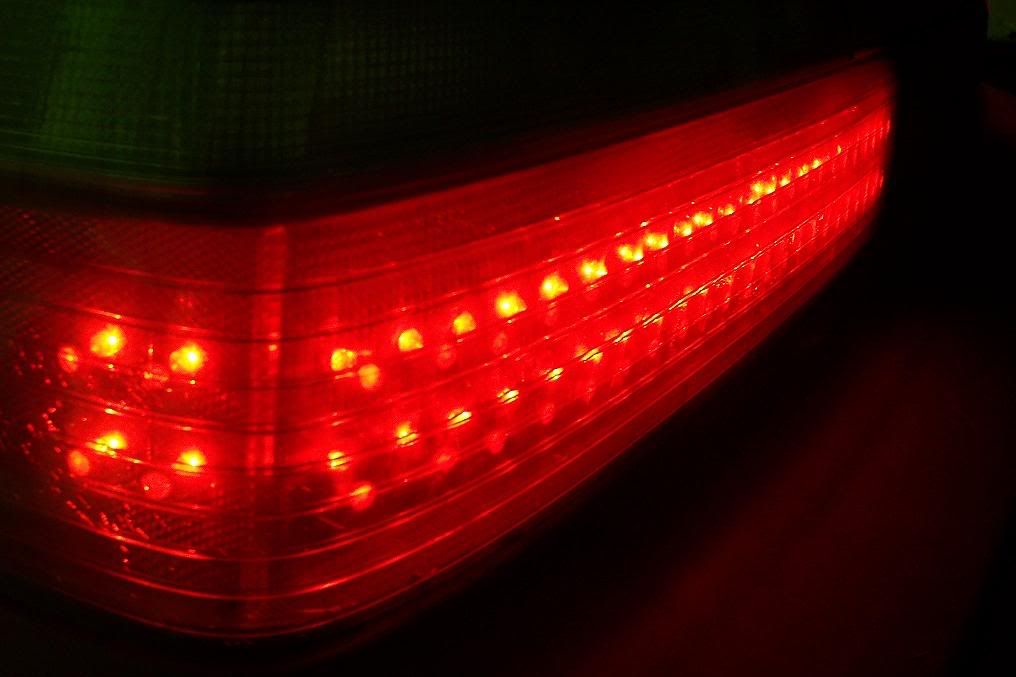 mmmm.. tiny sun cracks.
Here's an animated gif i made of the turn signal.. right is normal bulb n left is led.. obvious difference. Ohh i made the corner parking light red and orange.. but its basically just red.. ugly as hell.. so i didnt bother taking pics.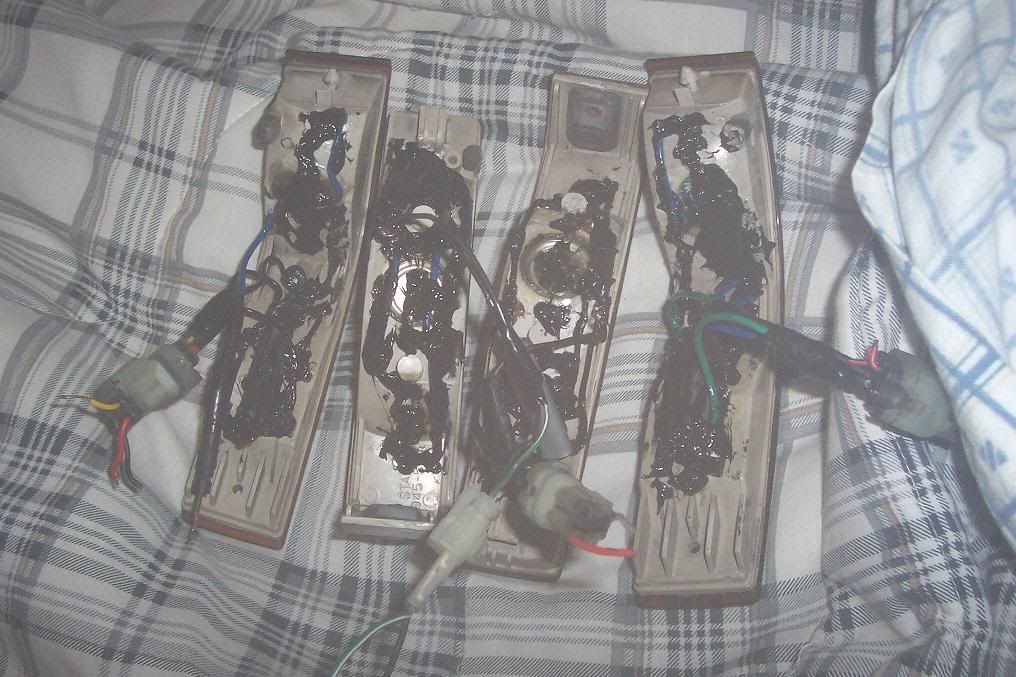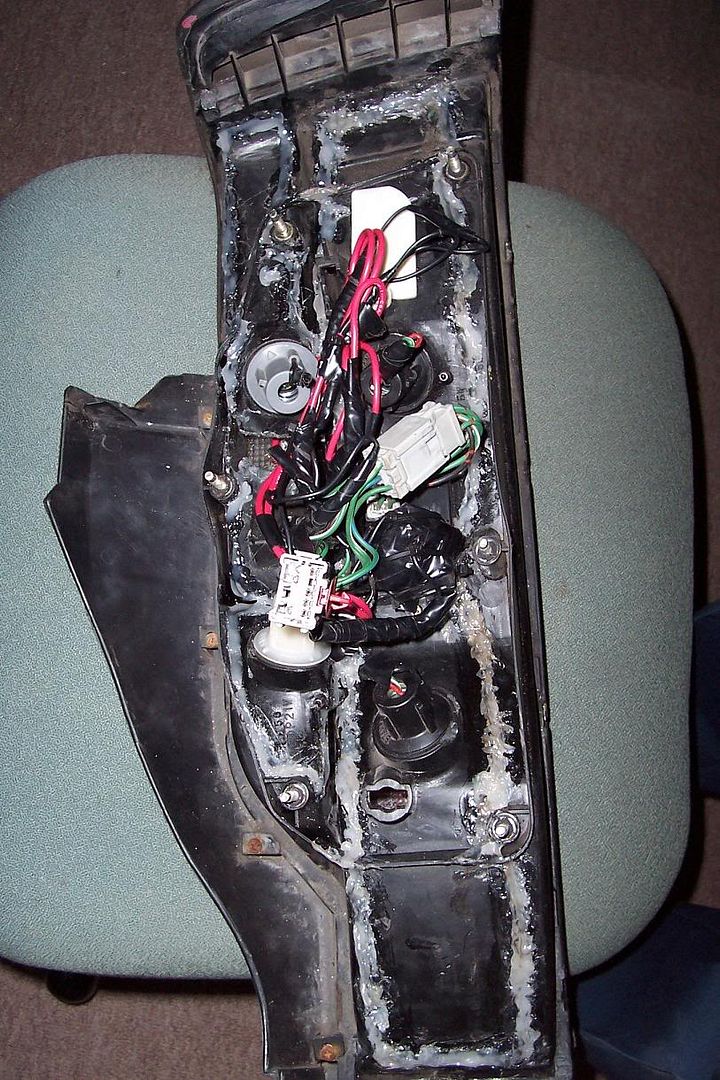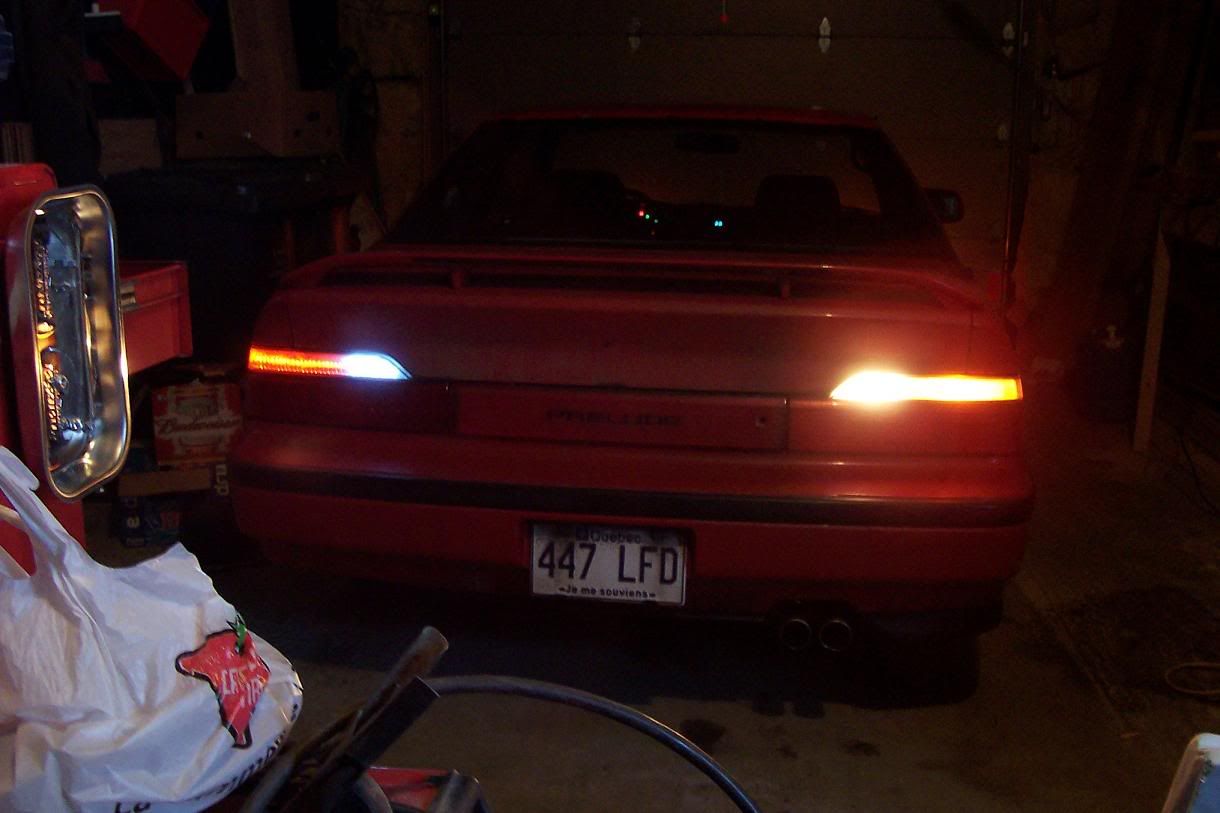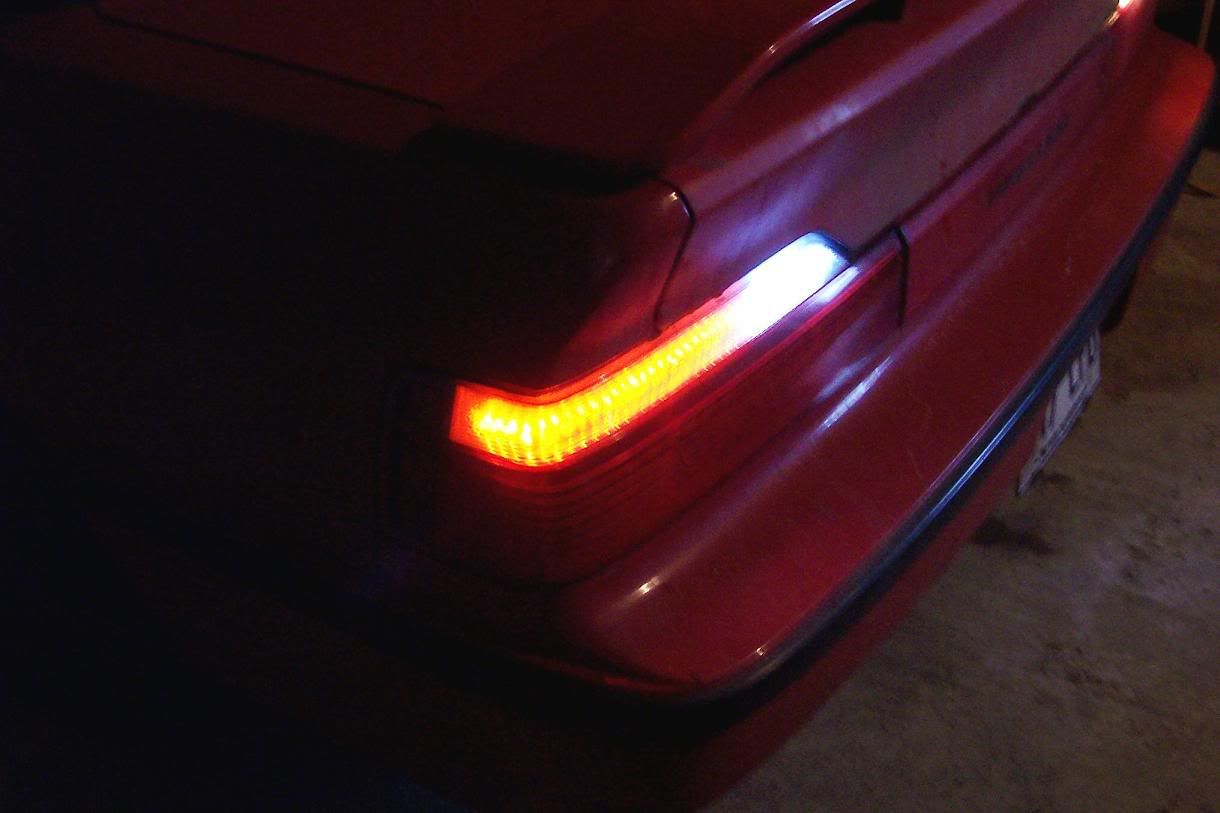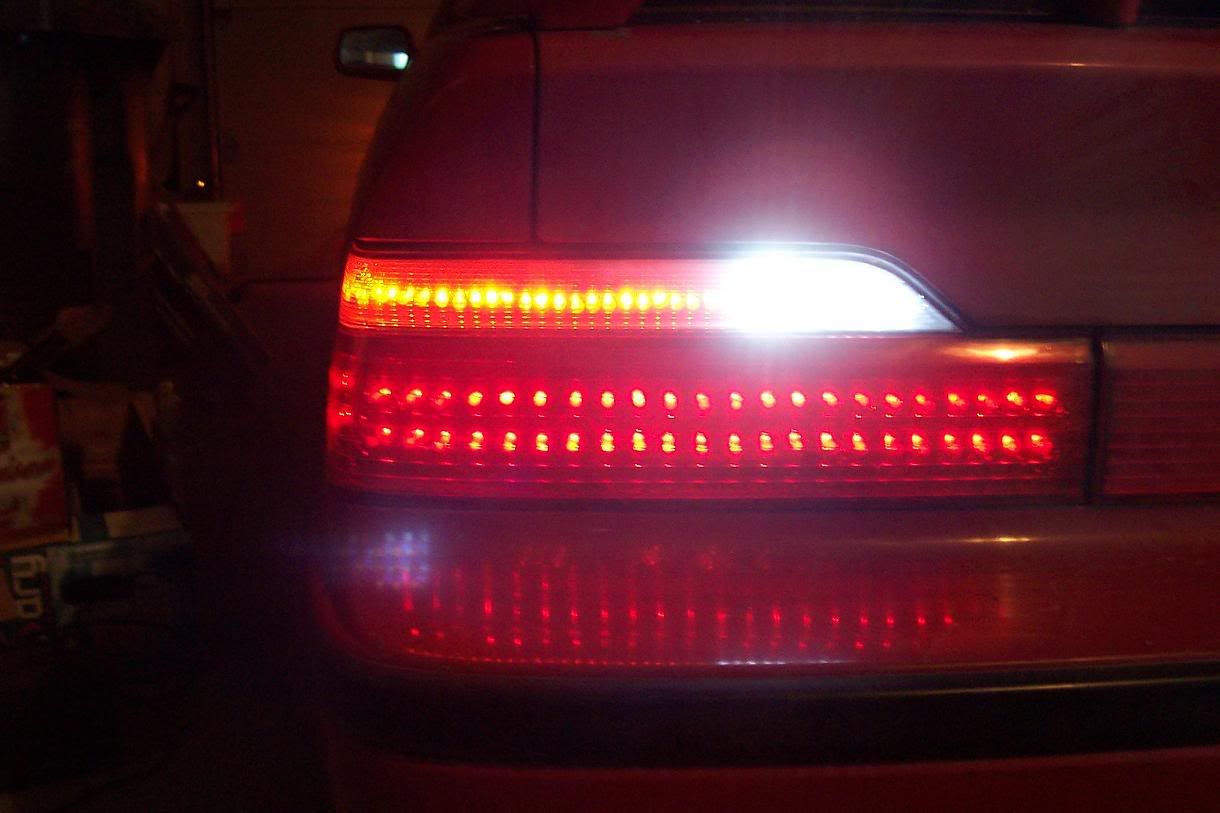 They flash at almost the exact same rate as stock.. but I feel that once I install the fronts ones they're gonna be much faster.. I'll have to wait and see. I can just switch out the resistor to a lower ohm value.
With the reverse lights at night.. They actually act as like actual bright ass lights that let me see everything in back of me for a pretty good distance.. That's only with one side right now too.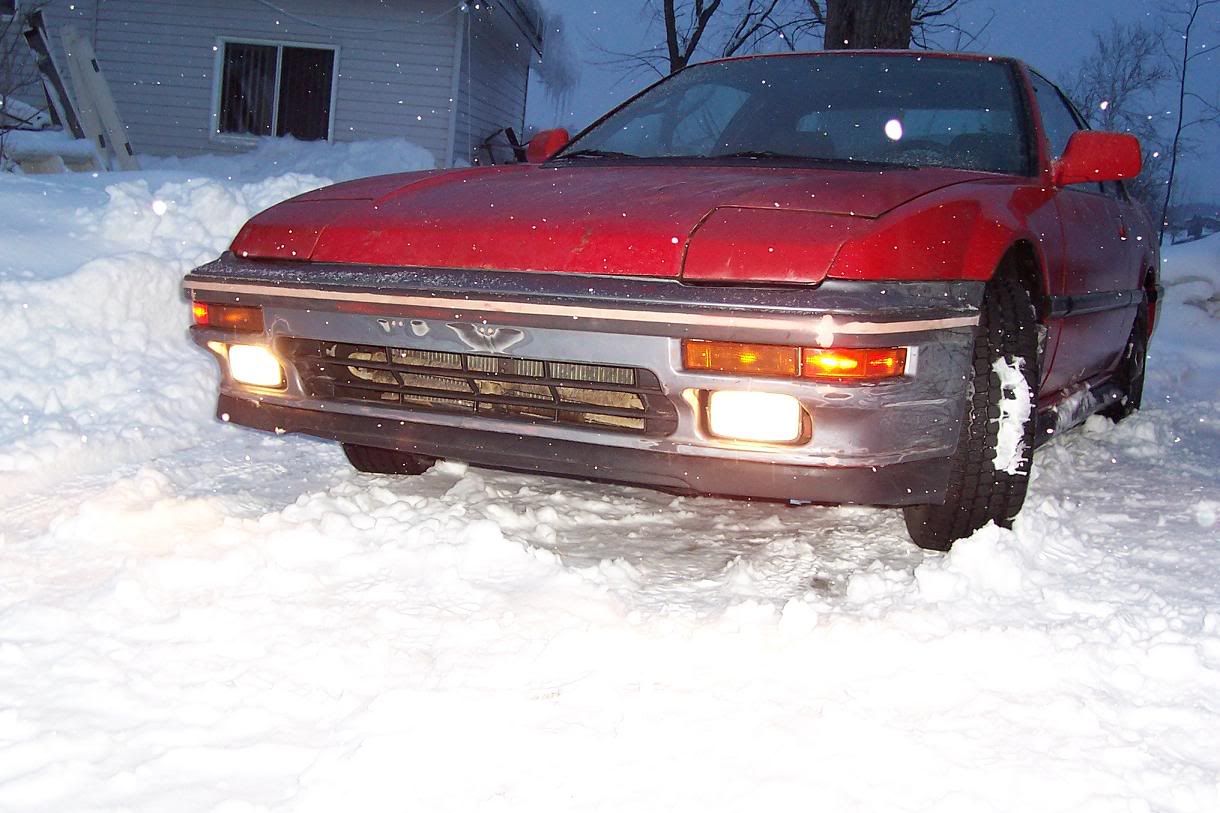 I problem came up 2 weeks ago.. one of the signals stopped working.. for some reason I used a 1/8w resistor instead of the 1/4w resistors and it blew. I suggest using something like a 1/2w or 1w resistor instead.. I'm not even sure if they make them but I figure it'd be much better than a 1/4w resistor. I'm not a electronic technician or anything so I'm not sure really.