Discussion Starter
·
#1
·
Its tax time and a good to time to get a new or replacement suspension! I am offering the 4th genners the
Ksport Kontrol Pro
kit for:
$850
- shipped Domestic
$885
- shipped Canadian
$830
+ shipping international
I run these on my 88 Prelude and have owned and used them since January of 2008, and I love them! Best investment into suspension I ever made.
Best part of this is, these kits will last you pretty much a lifetime, because after your one year warranty is over and you want to replace the parts, you can order replacement struts at $120 for fronts and $100 for rears, and replacement springs at $50 per spring(
prices subject to change at anytime
).
So as long as the rest of your kit is in good condition, you can replace the parts for the rest of the time you own your lude.
This group buy is open, so you are not held back by anyone to purchase right away. Just email me at my business email with your order info:
PP.com ID:
Full Name:
Complete Address:
Phone:
Email:
And when you are ready to pay I take payment and your order will be processed.
I will run this until end of April.
If wanting to use paypal then all fees apply, other then that I accept money order. All international payments are required to use paypal or western union money transfer.
Paypal Payment can be made at:
[email protected]
or Money Order mailed to:
Sean Tydingco
1FunRyd Performace
1145 22nd St NE
Unit A
Auburn WA 98002
(206)304-4095 cell
Email:
[email protected]
(Sample picture, this is the 88-91 Prelude kit I had designed for the 3rd genners)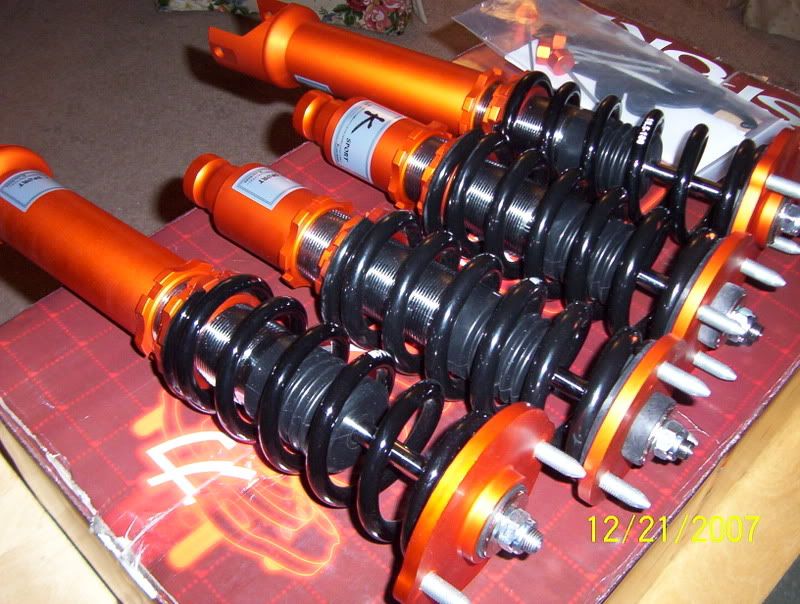 Quote:

Kontrol Pro Damper System

Quote:

Ksport

Kontrol Pro Fully Adjustable Coilover Kits provide the ultimate in suspension technology for your street or track car. 36 levels of dampening adjustment allow you to fine tune the ride to your handling and comfort needs. The dampening adjusts compression and rebound simultaneously for ease of adjustment. Pillow ball top mounts in the front and rear on some applications allow you to maintain vehicle manufacturer suspension geometry design. The pillow ball top mounts also allow you a more direct feel for solid driver response. Camber adjustability is included on pillow ball top mounts that allow it for the ability to adjust camber from the actual coilover, instead of a separate camber kit.

Most applications utilize an adjustable lower mount, which means you adjust height without losing suspension travel like some other coilover designs do. With the mounts and most pieces of the coilover being designed for 6061 billet aluminum the kit is lightweight, durable, and rust resistant. The steel shock body is electroplated with zinc to resist rust and the elements. The valving of each set is matched to the springs installed for unmatched ride quality and reliability.

The

Ksport

system uses a Monotube design in which the oil and gas are separated within the cylinder. When compared to twin tube designs the Monotube dissipates heat better, allows finer dampening adjustments, and requires more expensive design process. Aeration and cavatation are a lot less common in a Monotube design, which results in a better ride.

The

Ksport

Kontrol Pro Coilover kit has been designed with professional road racing in mind offering extremely high value and performance.
Key Features

36 levels of adjustable dampening
Made from high quality 6061 aluminum with T6 for increased hardness
Compression/Rebound adjustable
Adjustable spring perch for height adjustment
Adjustable body allowing maximum suspension travel
Pillowball top mount with adjustable camber (not available for some models)
Monotube high pressure design reduces oil leakage
Electroplated body for protection from corrosion and rust
One year limited warranty