Discussion Starter
·
#1
·
MNludeDVR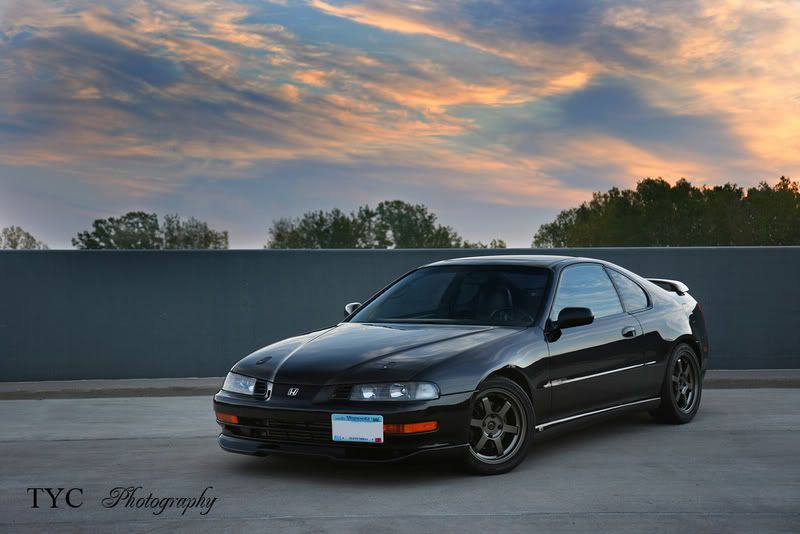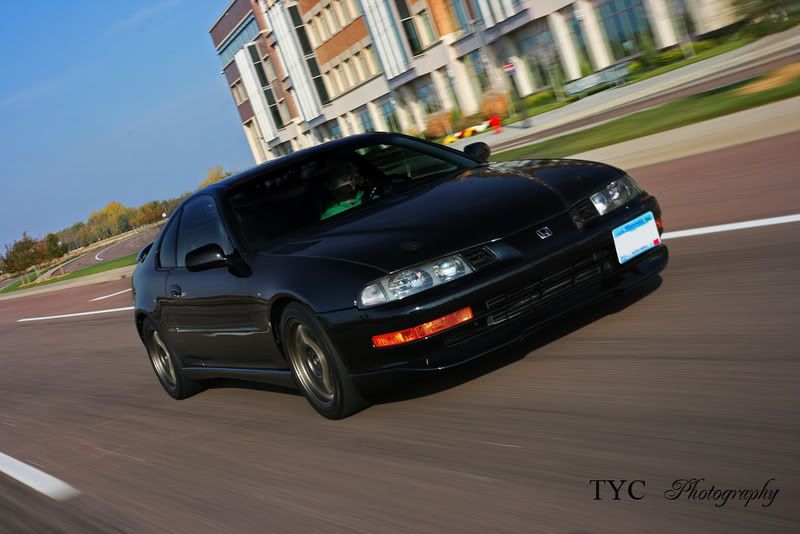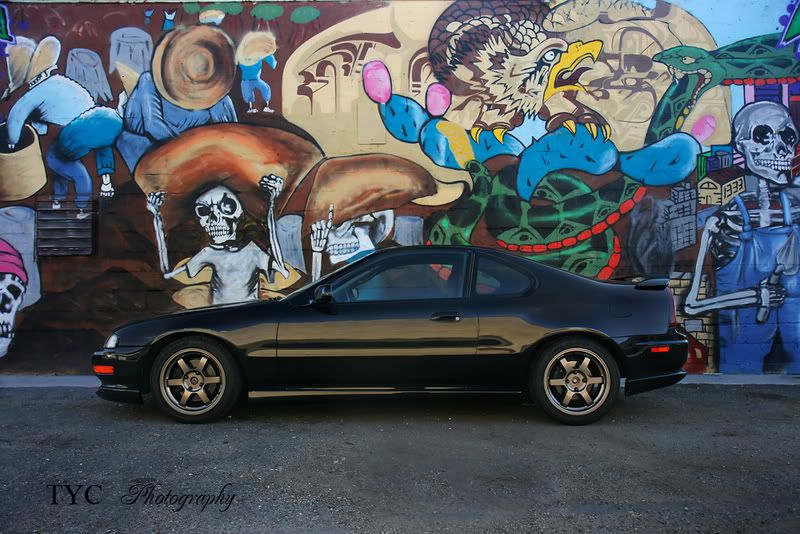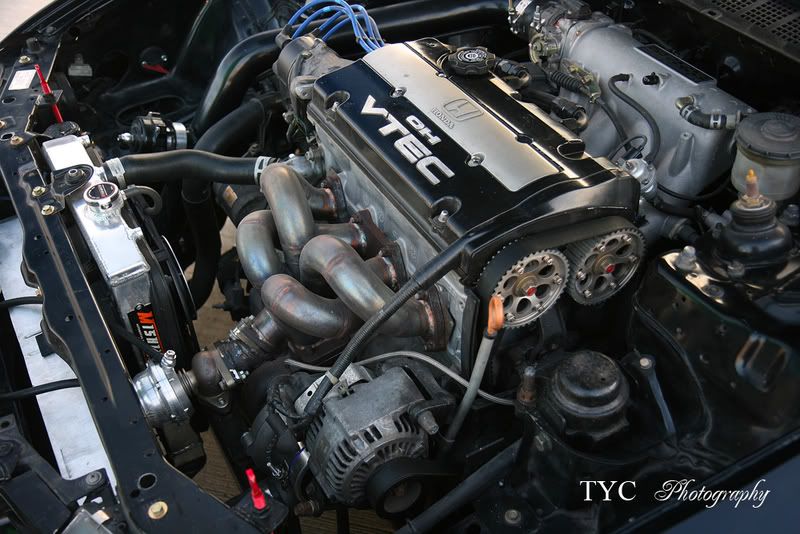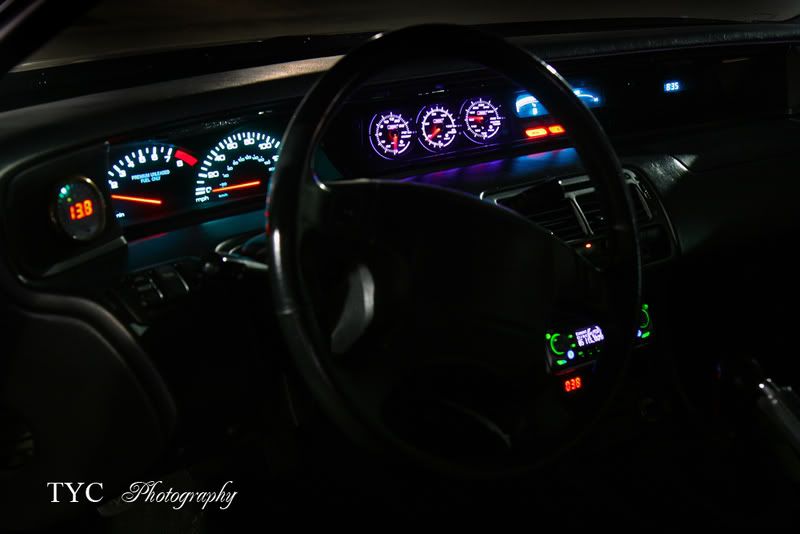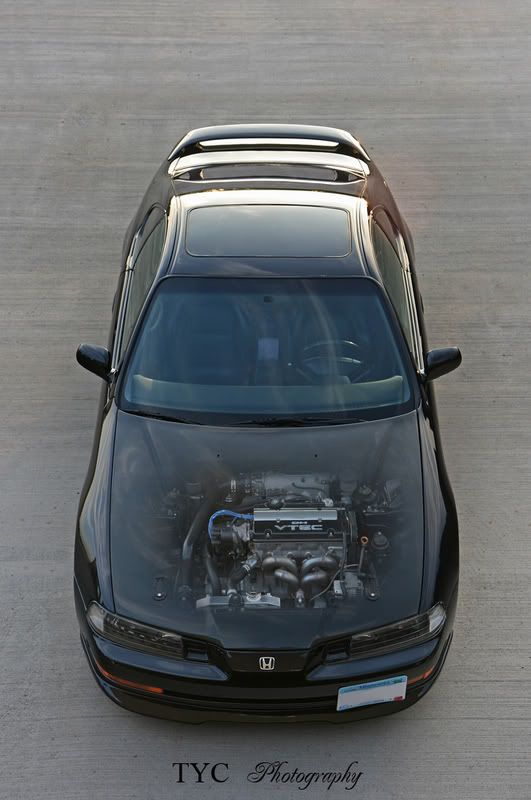 Interior Work:
Forbidden short shifter
CTR red stitched boot
Prelude Type S red stitched shift knob
Prosport boost, water temp, and oil pressure gauges mounted in dash
Innovate Motorsports XD-16/LC-1 wideband mounted in left tweeter
Dynotune.org digital fuel pressure gauge mounted in cubby
Gutted heater core, removed AC
Gutted interior awaiting cage
Premier head unit
Focal 6.5"s in door
Exterior/Suspension Work:
Rear emblem and antenna shaved
16x7 Rota Grids in Bronze
215/45/16 Falken Azenis RT-615
JDM black housing headlights
ExplicitSpeed Performance Traction Bar
Ground Controls & Koni Yellows with custom rates 450f/550r
SPC Adjustable ball joints all around
Resprayed 5/08 in Nighthawk Black Pearl (B-92P)
Kaminari lip kit with emblem area on side skirts shaved
Seibon OEM CF hood
AeroCatch hood pins
JDM amber bumper lights with corner light converted to signal
Rear amber bumper lights
Nokyo "JDM" Yellow highs
Rear Progress adjustable sway bar
Removed ABS
Ran all new brake lines with Adjustable prop valve
Converted steering rack to manual
Engine/Transmission Work:
Energy Suspension rear motor mount insert
Poly filled side mounts
H22a1 block sleeved by AEBS to 87mm
Copper O-Ring
Race Prepped Crank (oil passages opened, cleaned and re-plugged, micropolished, and balanced) by R&D Dyno
ACL Race Rod Bearings
Manual tensioner conversion
87mm 9:1 CP Pistons
Manley Turbo Tuff Rods
AEBS head studs
Kaizenspeed balance shaft eliminator kit
OEM h22a1 HG
Custom oil pan baffling
Marcucci Motorsports magnetic oil drain plug
h22a4 head with Crower springs/ti retainers, ported and polished
3 Angle Valve Job, new valve seals
h22a1 OEM cams
Skunk2 Pro Series cam gears
Accord Euro R crank pulley
B & R Fittings oil catch can with -10AN lines tapped at rear of valve cover
Mishimoto 1/2 size radiator
FAL radiator fans (1 push, 1 pull)
AEM Fuel Rail
AEM FPR
AEM Fuel Filter
Walbro 255 Fuel pump
Precision 1000cc injectors
Custom coolant reservoir
Stealthmode oil feed line kit with custom return
Custom battery tray/tie down under where intake used to be behind bumper
Home Depot lawn mower battery and cutoff switch
Valve cover modified to say OH VTEC and cam gear side cut
Neptune RTP EMS with PWM Boost control (MAC solenoid)
GM 3 bar MAP
Competition Clutch Stage 4 - 6 puck sprung
Custom lightened flywheel
M2S4 h23 tranny
OBX LSD
Intake/Exhaust:

Skunk2 Pro Series Intake Manifold
Hondata Intake manifold gasket
Performance Products TB 71mm tapered to 68mm - Bored by DH-Racing
Peakboost h22 Ver 1 Turbo Manifold
Tial 38mm WG
Tial 50mm BOV
Greddy Intercooler for S14 modified to back door by Full Blown Motorsports
Garrett GT3076R .82 A/R with 3" vband
Xenocron turbo screen
2.5" custom intercooler piping
3" custom downpipe/exhaust
3" Vibrant StreetPower flat black muffler
Power:
422whp, 305trq on slightly different setup at 17-19psi
Tuned on 91 pump
Why you should be nominated for this months POTM?
I simply have a love for preludes. I love to give preludes the much needed respect that they deserve. Hours and hours of fabrication work was done by myself and a few friends. It has taken me 3 years and 2 shells (1 shell was two cars welded together) to finally get it to a point where I would go out and drive it. I daily drive and autox this car. It just doesn't sit around looking pretty, it gets abused and driven like it should! Videos are in my other thread. My goal was to have a mean ass street/track car and still keep it clean, low key, reliable, and to build it myself. I love feeling the accomplishment of doing something yourself hands on and seeing it through to the finish! Thanks in advance for all of the votes guys!
________________________________________________________________
MeNmyType-SH
ENGINE:
AEBS Triple Cam Seal
AEM Fuel Pressure Regulator (silver
AEM Fuel Rail (silver)
AEM CAI w/ K&N Hi-Flow Cone
ARP Head Studs
ARP Rod Bolts
ARP Flywheel Bolts
ACL Race Bearings
Raver Motorsports Balance Shafts Delete Kit
ClutchMasters 7.5lb Flywheel
ClutchMasters Stage 4 4-Puck Carbon-Kevlar Clutch (included with FW)
Complete Race Headwork by Precsion Customs
Diamond-G
Exhaust System w/ 3" piping -
Greddy Carbon-Kevlar Timing Belt
HONDATA Intake Manifold Heatshield Gasket (Port Matched)
Hot Tanked, Debur block & Head, Re-Surface deck
Wiseco 13.5:1 Compression High-Dome 90mm Pistons
Magnecore 8.5mm Wires (red)
Micropolished and Custom Crankshaft work (h23 Crank)
Wiseco Rings / Included with Pistons
ProDrive Oil Pump
ProDrive Water Pump
New OEM Throw-out Bearing
Cometic 90mm Headgasket
Probe ULTRALITE Rods
Prodrive Billet Oil Pump Gear
RC 440cc
SAT. Injectors
Contemporary Auto Machine(RS Sleeves), RE-Overbored to 90mm
CROWER Titanium Valves +1mm OS
SKUNK2 Intake Manifold (Port Matched)
CROWER Custom 230LB Race Valve Springs
SKUNK2 Silver Adjustable Camshaft Sprockets
CUSTOM 512* Lift DRAG Cams / Rough Idle 318/320D
CROWER +.060" Titanium Retainers
SKUNK2 70mm Throttle Body
Walbro 255lph High-Pressure Fuel pump
Precision Customs Race Header w/ 3" collector
Unorthadox Crank Pulley / Polished
3" QTP Exhaust Cutout
Mishimoto Aluminum Radiator
Converted to Manual Timing Tensioner
A&N Fittings / SS lines / F&F Filter
A&N Fittings / SS lines / Catch Can
Innovative 95A
RACE Mounts


EXTERIOR:
Mugen Front Bumper
Mugen Rear Valances
Mugen Side Skirts
Mugen Rear wing
Sport Max 962's +38 offset (17x7)
»» Yokohama Parada Spec 2; Low Pro; 215/40ZR
Carbon Fiber Hood
JDM Type-S Foglights
INTERIOR:
Bride Brix 2's w/ gradation
Custom Silver Mugen Gauge Bezles
RCI 4-point Race Harness
Sparco Sliders
Type-S Shift Boot
Mugen Weighted "New Style" Shiftknob
SUSPENSION:
Neuspeed Front Strut Bar
Neuspeed Front Sway Bar (Poly bushings)
Neuspeed Rear Sway Bar (Poly bushings)
Tanabe Rear Lower tiebar (tein Green)
TEIN EDFC
TEIN Super Street Coilovers
Drive Shaft Shop Stage 3 Axles
Brembo Front / iROTOR Rear Rotors & Posiquiet Pads (F&R)
SPC / Ingalls Front and Rear Camber Kits
TRANSMISSION:
P-Spec True Short Shifter
Quaife Differential
Carbon - Kevlar Coated Synchros
Heat-Treated Gears
Cross-hatched input shaft
Accord 4.066 Final Drive (orig lude - 4.640)
ELECTRONICS:
RC Engineering Liquid Filled Fuel Pressure Gauge
BOOMSLANG OBD2a - OBD1 Harness
AEM EMS Standalone
AutoMeter Dual Guage Pod
AutoMeter Oil Pressure Guage 0-100PSi
AutoMeter Shiftlight
AEM UGEO Wideband
Well, I bought the Prelude in December of 2004. I never really wanted one in the first place, but I was selling my 02' Works Mini Cooper S, and I had recently got into an accident with my other lil' sportscar. The Prelude was cheap, looked half-way decent, and was RIGHT THERE – I couldn't pass the deal up. The first time I drove it, I was like "Whoa its pretty quick for a HONDA!"; But I'll have to admit, I still thought it was kind of a piece of crap, and I was only going to buy it as a Transpo car.
So, Mini goes bye-bye and I have the Prelude. I had some fun with it when it was completely stock, but then – it wasn't enough. It was too high off the ground, it was to quiet and it just needed to be "spruced up" a bit. I went online and I found HPOA and then SoCalPrelude, and that was the first Honda Forum that I was on, I learned afew things, and I decided that I was going to lower it at least for the first thing, and at the same time I put on some 17" wheels and an OEM front lip…so I kinda had the looks down, so lets go to performance!
It started off with a polished long-ram intake, and a Greddy Evo 1 exhaust – still not enough. I knew the motor was starting to go down hill at about 114K miles (probably due to the severe abuse it took from my foot), it included blowing a lot of black smoke and burring about 1qt of oil a day (didn't leak anywhere though). At first, I took the easy was out and I bought a built motor from a guy in So-Cal. Well. Ya. Im not going to go into detail, but whoever built that motor didn't know how to clearance anything, and the ONLY thing that im still using from that orig. motor is the BLOCK! But when I got it, the sleeves were 88mm, and now they are 90mm. But oh-well, lesson learned. Anyways, I have to say that my car became the Spawn of Satan after the built motor. I've broken Input shafts, Flywheels, Axles, Motor Mounts and other misc. bullshit. The first time I ever launched that car on OEM axles, it just sheared the CV joint in half. So, PLOP, in some high-performance axles…I could go on all day, but the Majority of you know what its' got or been thru.
I think the most recognizable aspect of my prelude is the Engine bay. I have to say, I think that my engine bay is the most shaved /tucked in a 5th Gen so far. I may be wrong, but im just saying from what I've seen (or haven't seen! Haha). I never planned on it though, it was more of my friends project than mine, I basically just footed the bills to pay for it, and stood there and watched them do it. I mean, I did have a helping hand from time-to-time, but they did 95% of the grinding and welding. I personally wanted to use NO bondo / body filler, but Honda metal sucks to weld with and there were afew small pits and such. I'll openly admit that its not perfect, but I think it looks pretty damn good!!! It took about 3 ½ months to complete – and im talking about 5 or 6 days a week working on it. I estimate that we have around 750 man hours in that engine bay/harness tuck. When I can I'll have to take a picture of my harness. Its so small now (we took so much shit out of it) and it only has 3 plugs now instead of the 4.
It sucks, but the car is currently Out-of-Order, its getting some head work done (again) and some new valves. And also while its out, I have a secret project for it, but Im going to blurt it out – Alcohol Injection. >:smile:
___________________________________________________________________
Nismo2Honda
1997 Honda Prelude SH
- Engine
AEM Tru Power pullies (blue)
K&N drop in filter
Megan Racing header
Megan Racing test pipe
Tsudo N1 catback exhaust
Hondata intake manifold gasket
Exedy stage 1 clutch
Fidanaza 8 lb. flywheel
NGK IX Iridium spark plugs
NGK spark plug wires
Blox magnetic oil drain plug
Blox 02 sensor CEL light eliminator
Spoon 1.35 radiator cap
Energy Suspension motor mount inserts
Samco radiator hoses (blue)
JDM ITR oil cap
Yellow valve cover
Password JDM kevlar spark plug cover
Spoon reservoir covers
- Interior
JDM Type-S seats (front and rear)
JDM rear ashtray
JDM cup holder
JDM Type-S carbon fiber gauge cluster
JDM ITR red stitched shift boot
JDM road flare
Red stitched Type-S shift knob
Neuspeed short shift adapter
OEM carbon fiber trim kit
Apexi VAFC
Head liner done in black suede
Various trim pieces done in Louis Vuitton fabric
Trunk fully gutted
- Exterior
JDM Type-S front lip
OEM optional rear lip
JDM fog lights
JDM Type-S ATTS emblem (grill)
JDM red "H" emblem (front)
JDM ITR (DC5) red "H" emblem (rear)
Rays lug nuts (red)
Shaved license plate holes (front bumper)
Headlight retro fit (Valeo projectors from an Audi S4)
6000K bulbs
Lexus IS300 yellow capsules retro fits (fog lights)
Luminics Yellow high beam bulbs
20% tint (all windows except front windshield)
Blacked out side markers
Brake calipers painted black
Python alarm system
-Suspension
KYB AGX shocks
Tein S-Tech springs
JDM Type-S front strut tower bar
Megan Racing rear strut bar
Megan Racing rear lower tie bar
Energy Suspension sway bar bushings
-Audio
Pioneer AVH-P5700DVD
Infinity Reference 96131 6x9 speakers
Polk Audio DB6501 6.5" component speakers
Alpine MRP-F250 (running the speakers)
______________________________________________________________________
slicklude83
Interior Work:
- 97+ Sunroof swap
- 94-96 Electro Luminescent Gauge Cluster Wrap
- 94-96 Center Console & E-Brake Swap
- Recaro Lancer Evo VIII seats w/ fabricated mounts
- Takata 4 point harness
- Defi BF White Tach w Shift Light
- Defi BF White Oil Pressure Sensor
- Defi BF White Exhaust Gas Temperature
- Defi BF White Water Temperature
- Defi Control Unit II
- NRG quick release hub
- NRG quick release steering wheel
- Autometer Cobalt 60 PSI Boost Gauge
- Innovate XD-16 Standalone Air/Fuel Gauge
- Tein EDFC controller
- Custom Blue LED Climate Control
- Pioneer Avic-D3 DVD/Navigation Headunit
- Realm Audio Component speakers
- Audison VRx 1.500
- Audison VRx 6.430
Amplifier
- 2 Polk Audio Signature Reference Subwoofers in Fiberglass Enclosure
- Suede false floor and some 1/4 inche plexiglass lit up with white LEDs
Exterior Work:
- Gemini Carbon-Kevlar (blue) Hood
- Spoon Sports Carbon Fiber Front Lip (authentic)
- Wings West Polyurethane Side Skirts
- Wings West Polyurethane Rear Lip
- Custom Green Paint with Green Metallic Flake
- JDM 1-Piece Headlights, TSX Projectors and BMW M3 Bezel
- Shaved Badges
- Sunguard 20% Tint Rear Windows
- Sunguard 50% Tint Driver and Passanger Fronts
- PIAA Fog Lights
Suspension:
- Explicit Speed Traction Bar with Front Torque Bar
- 17x8 Volk Racing GT-7
- Rays Aluminum Racing Lugs
- Tein Flex Coilovers with EDFC
- Spoon Sports 4 piston Calipers
- Hawk HPS+ Brake pads
- Powerslot Big Brake Rotor with relocation kit
- Brembo Crossdrilled Rotor (rear)
- Neuspeed Front Tower Bar
- DC Sports Rear Lower Tie Bar
- SPC Camber Kit Front + Rear
Engine Work:
- Explicit Speed Solid Motor Mounts
- Evolution Performance and Sound Custom Fabricated Turbo Manifold
- Evolution Performance and Sound Custom Fabricated Down-Pipe
- Evolution Performance and Sound Custom Fabricated Intercooler Piping
- Evolution Performance and Sound Custom Fabricated Test-Pipe
- Fidanza Light-weight Aluminum Flywheel
- M2Y4 Transmission w/ Gear Speed Carbon Syncros
- ACT Xtreme Clutch
- WaveTrac LSD
- HKS Carbon Titanium w/ custom fabricated 3 inch exhaust piping
- Garrett GT35R w Tial Stainless Steel Housing
- Golden Eagle Intake Manifold (Polished)
- Benson Sleeved Block with Darton Sleeves
- CP 9:1 pistons 88MM
- Eagle Connecting Rods
- IPS Built, ported, polished head, valve job
- Supertech dual valve springs
- Supertech .5 oversized valves
- Supertech Titanium retainers
- Bronze valve guides
- Skunk 2 Pro1 turbo cams
- Kaizenspeed Balance shaft eliminator kit
- Moroso oil pan
- Tial Sport 38mm Wastegate
- Tial Sport Q BOV
- Autometer Fuel Pressure Gauge
- Walbro 255lph Fuel Pump (Thinking of upgrading to Aeromotive A1000)
- Precision 999cc injectors
- Kinetik HC1800
- Carbon Fiber Spark Plug Cover
- Forbidden Motorsports Radiator Shroud
- Forbidden Motorsports Shortshifter
- Carbon Fiber Hood Dampers
- Goodridge Stainless Steel Feed Line
- Fast-Turbo Return Lines
- Spearco Core Front Mount Intercooler
I believe I have the most COMPLETE car out there. I could have very easily put all the money in performance 'Go Fast' parts. Instead, I elected to have a more balanced car which looks good, sound good and out perform 90% of the cars in the road. Same goes for the 'looks' side of things. I've taken the time to plan out each and every modification to suit each other. The car is still a 'work in progress' but it has come a long way from being stock just 2 short years ago.
_______________________________________________________________
edge2lyfe
1998 Base Model Nordic Mist Metallic, 5 speed.
Interior Work:
Custom leather seats with suede inserts & "H" logos. Custom consolse cover with red stitching (not pictured). Redline Goods leather shift boot with red stitching. Full
Honda
simulated carbon fiber trim accessory kit. JDM simulated carbon fiber gauge surround. JDM Type-S cupholder. Alpine 9383 headunit with Accord under radio pocket. Mugen aluminum sport pedals. Wayden one-fab aluminum matching dead pedal. Spoon sports rear tower bar. Genuine Honda trunk mat.
Exterior Work:
17x7 Borbet Type-fs wheels with Yokohama 215/40 S-drive
tires
. Full OEM under body spolier accessory kit. OEM trunk spolier. Clear side markers. JDM Type-S fog lamps with standard bulbs. UDKM 2.2vti badge. NC legal tint. Fully badged.
Suspension:
Tein basic dampers on all corners. Spoon sports F&R tower bars.
Engine Work:
Stock H22A4 with JDM Type-S intake. K&N air cleaner. Accord Euro-R blue valve cover with carbon fiber plug cover. Blue NGK plugs & wires. Cusco oil catch can. Removed cruise control. Wayden custom fender washers, hose clamps & hardware. Various parts Ceramic coated including header cover. Tein hood dampers custom retro-fit.
In Process:
New Brembo slotted rotors up front. Rebuild calipers, new seals, paint, etc.
Why should I be voted POTM?:
Because doesn't perfection deserve recognition??? :smile: