Discussion Starter
·
#1
·
Hello guys. Most of you probably know my PP.com personality Dex. If you do, you know I'm a hardcore luder(Haven't had a running lude since I've been here) but I'm also a performance vehicle enthusiast.
I daily drive a 1992 Nissan Sentra SE Auto. It sucks, and today, after 2yrs of faithful service, quit on me today. I was cruising along and the rpms fell, and the engine cut out after it stopped spinning. I thru it in N and coasted almost all the way home, pushed it the rest. When trying to start it it let off a foul odor as tho it had bad gas in it. We lwt it sit for a while. Then My uncle tested to see if the plug wires were arcing, they were not se we got a cap and rotor. The rotor had fused itself to the rod it rides on in the dizzy. If the dizzy wasn't broken, it is now. So I'm going to pick up one on Monday. If that doesn't do it, I'm not putting anything else into it.
I want to get the lude running but I don't have enough time before school starts. She will rise tho, no telling when, but she will.
So I own a lude, and drive a Nissan. That's 1 strike. I'm most likely getting another one soon, real soon. My budget is <=$3500, and I've been looking at Z32s. 90-96 Nissan 300ZX for the tards. I suppose that'll be strike two because that's a platform capable of supercar performance, and it has a pretty sizeable aftermarket, something us 1-3rd genners know little of. If it's any consulation, I wanted to chat it over with my family(ya'll) first.
This is the one I'm looking at the hardest. It's a Black/Black 91 TT 5 spd. That's right TT for $3500OBO. Currently the guy is putting in an injector and the car sat for ~18mnths while he was deployed. The car can't be worked on by the buyer where it sits so I told him if he gets it running, then we can pretty much close the deal. It's due for the 120k mile check up (2nd 60K timing belt, water pump, etc), and I'll change ALL fluids, shortly after I get it, if I do. Within the last 7k miles it's gotten new used turbos from an auto(slightly smaller so the auto could get moving and match the 5spd perf, so from the line it'll be beastly), heater core, radiator, Eibach prokit springs, Stillin front adjustable upper control arms, 3 injectors, Fan&fan clutch(V8 style engine driven fan), tension rod bushings (polyurethane), aluminum subframe bushings, Split downpipes and testpipes, and Apexi intake filter.
Here's a few pics and the actual email. It needs some TLC but for a TT in good working order, this is a great deal. As long as the heart is strong I can deal with the cosmetics, body parts are no biggie to me, my thing is engine/drivetrain/straight chassis/suspension, if these are in good order, I can work.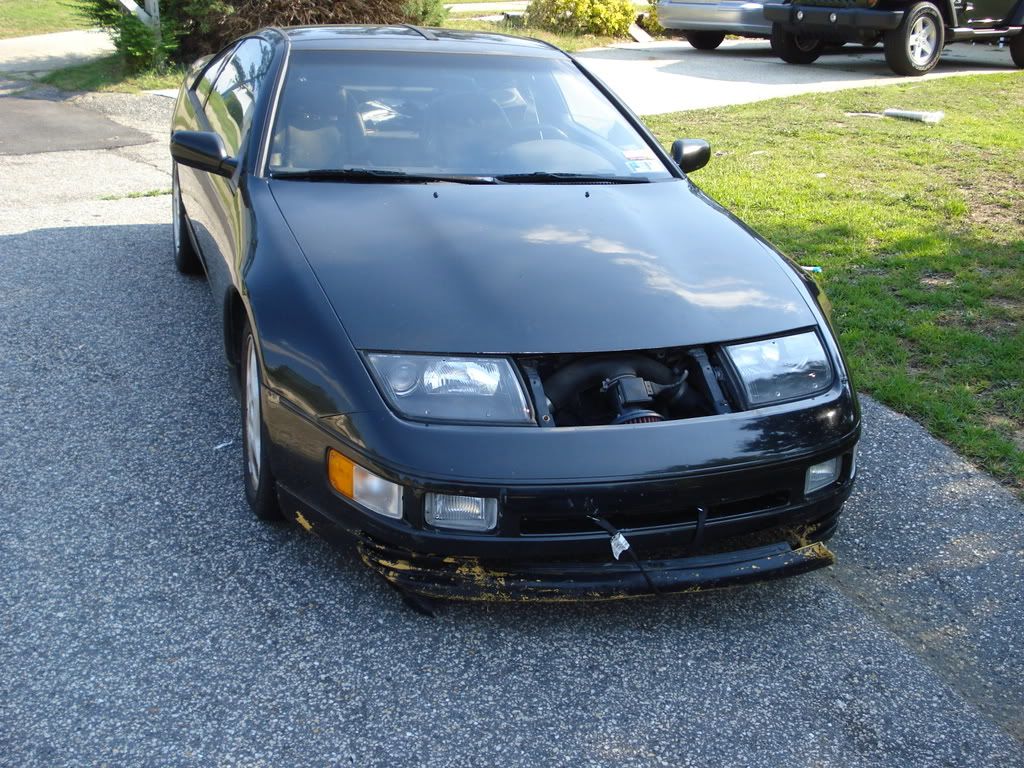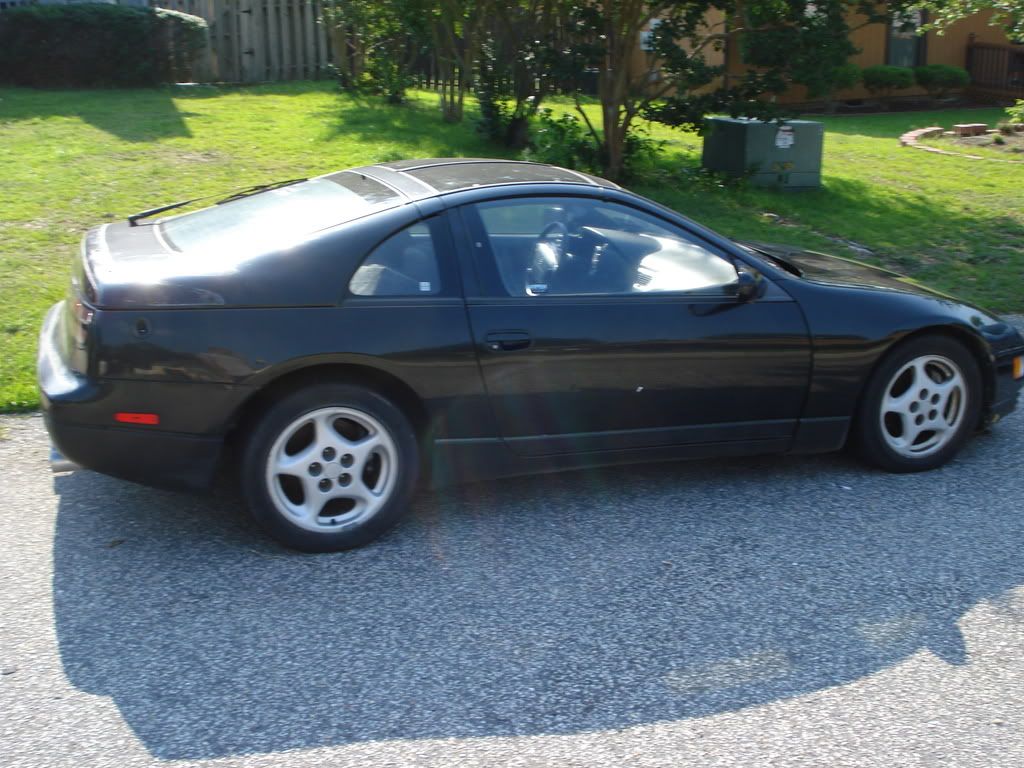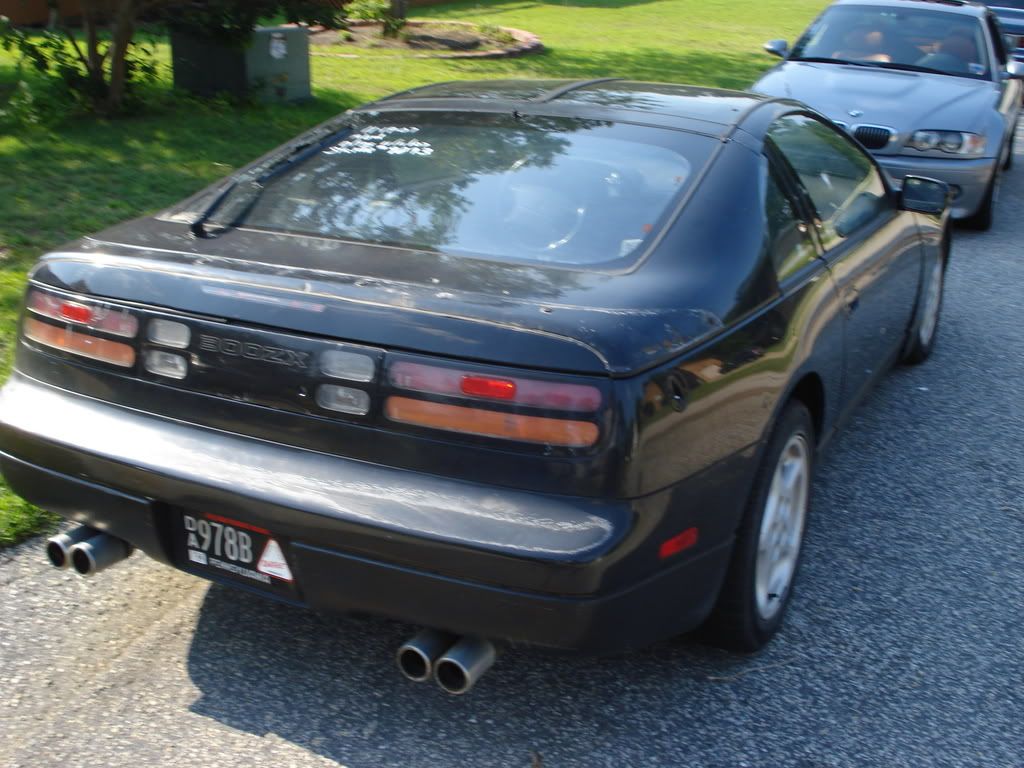 This is the actual email he sent me, and four other people.
1991 300zx Twin Turbo 5 speed
Black on black
12x,xxx miles
needs work because it sat for a year and a half during mydeployment. Prior to the deployment it ran fine and compression on allcylinders was good. Some minor mods were done.
The car was running before I started the injector change inMarch. I just don't have the time or motivation to work on this project. I livein an apartment and do not have room to work on it here so the car is taking upparking space at my friend's house. We would really like to see this thinggone. The AC and heater work fine along with all the interior control pods,radio, windows, etc.
Parts replaced with in the last 3 years or so (less than 7kmiles on these parts):
Turbos (replaced with a used low mileage pair)
heater core
radiator
springs (Eibach prokits)
front upper control arms (Stillen adjustables)
3 injectors
fan clutch and fan
tension rod bushings (polyurethane)
aluminum subframe bushings
Split downpipes and testpipes (the car has NO cats)
Apexi intake filter

Car needs:
Finish the injector change (installing a used injector)
120k maint. (timing belt, water pump, etc.)
Ring gear replaced on flywheel
Battery
Tires (tread looks ok but it has been sitting for a while,your call)
Drain remaining gas would probably help
Change all the fluids
I planned on installing a 99 jspec front bumber and atransmission from a new jspec model. I have heard that the transmission isstronger
$3500 OBO
The bodywork:
I removed the spoiler because it was taking on water and wasso heavy that the struts wouldn't hold the hatch up. I installed a non-turbo 3rdbrake light but never had the holes properly filled and painted. I wouldrecommend getting a used hatch and just have it painted. If it is from anon-turbo model swap out the 3rd brake light because chances the oneon the my car is newer and not faded.
The car has scratches, dings and dents it is a 1991 afterall. The lower portion of the front bumper has been broken from one side. I'mtalking about the lip that the turbo models had. Easy fix if you want to keepthat bumper on there.
The car did hit a curb (previous owner) and pushed thedriver's side shock tower in a little bit. It was repaired and there are noissues with getting it aligned and no uneven tire wear.
My number is xxx-xxx-xxxx feel free to call me and setup a time to see the car
thanks for your interest
ed
If I don't get this one, I'll most likely pick up a N/A, I don't see an running turbos going this cheap. Hell, tthere's a N/A on Auto trader for 3gs with the Engine apart in the hatch.