HOW-TO - Install a piston into a B20a5
Here is a pic how-to. Pretty soon, I'mma need to upgrade my photobucket account. $$
1.
Clean. Install the bearing, then put assembly lube on it. Use rubber hose to protect the cylinder walls from the rods.
Also, mark an arrow pointing the same way as the arrow on the piston top.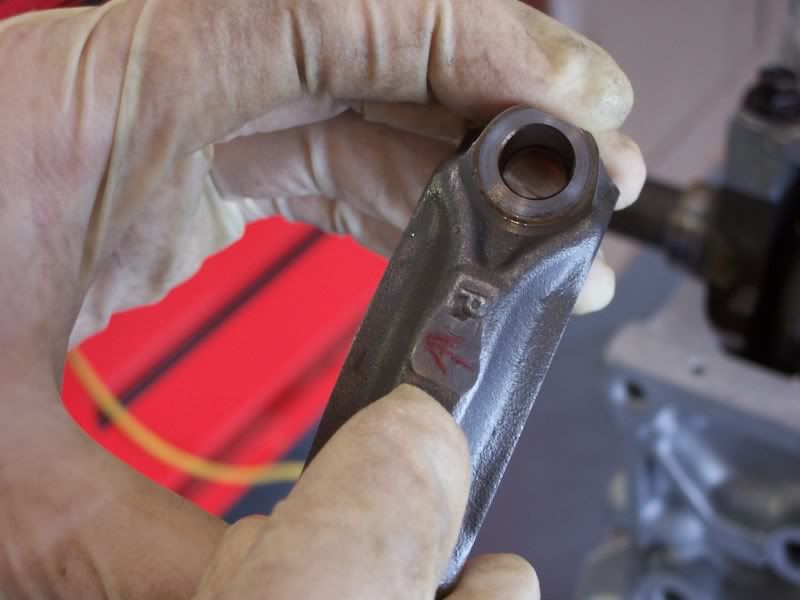 2.
Clean the cylinder walls. Lint free!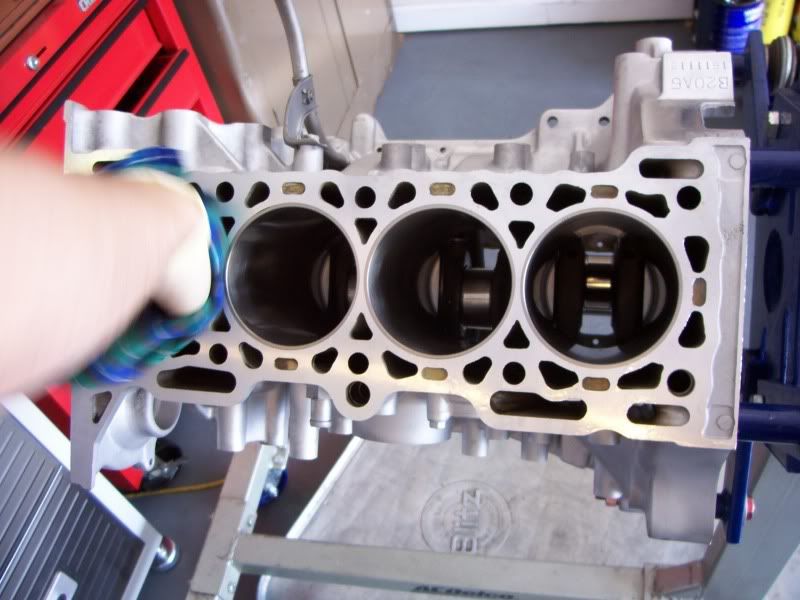 3.
Lube the cylinder walls with oil.
4.
Rotate crankshaft until
this cylinder
is at BDC.
5.
Lube your piston and rings. (*)Check the piston ring gaps. The top two rings should be 180* oposite of each other. The bottom 3 rings should be about 1 inch away from each other. (*Note: Thanks to konvict_1 for pointing this out.)
6.
Attach your ring compressor. Keep the bottom piston tabs out to line up with the cylinder.

7.
Stick `er in thar and do eet. Careful not to scratch the cylinder walls.
8.
Respect the arrows. Arrows should point at the timing belt side.
9.
It's hammerin' time!

10.
Line it all up and get the ring compressor flush with the cylinder. Now you can begin to tap the piston in.
11.
Tap tap tap. Slowly and if it gets stuck, don't force it. It shouldn't get stuck unless it wasn't lined up.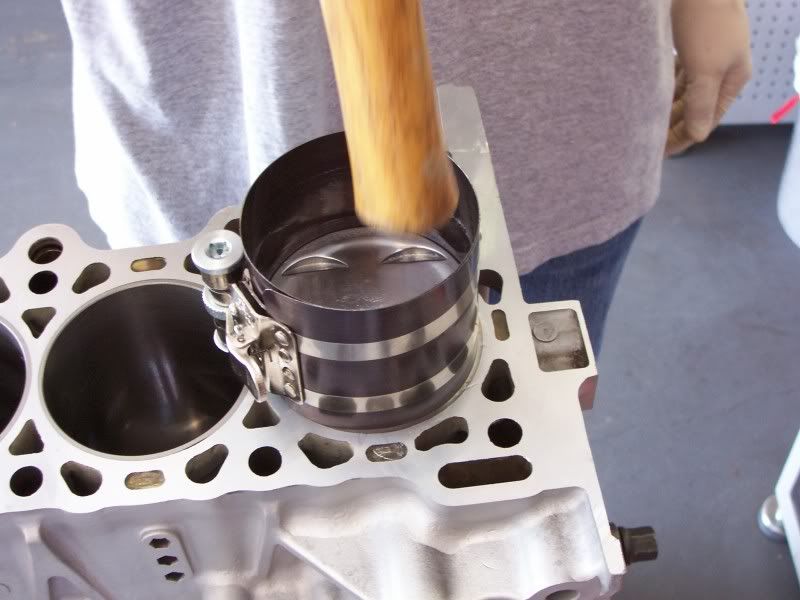 12.
Keep tapping. This isn't something you want to wack at really hard.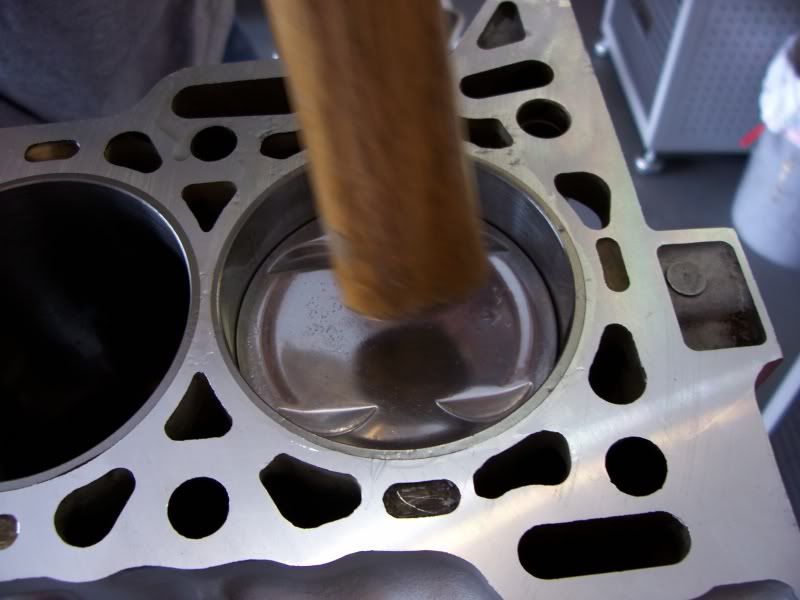 13.
Right about there is good.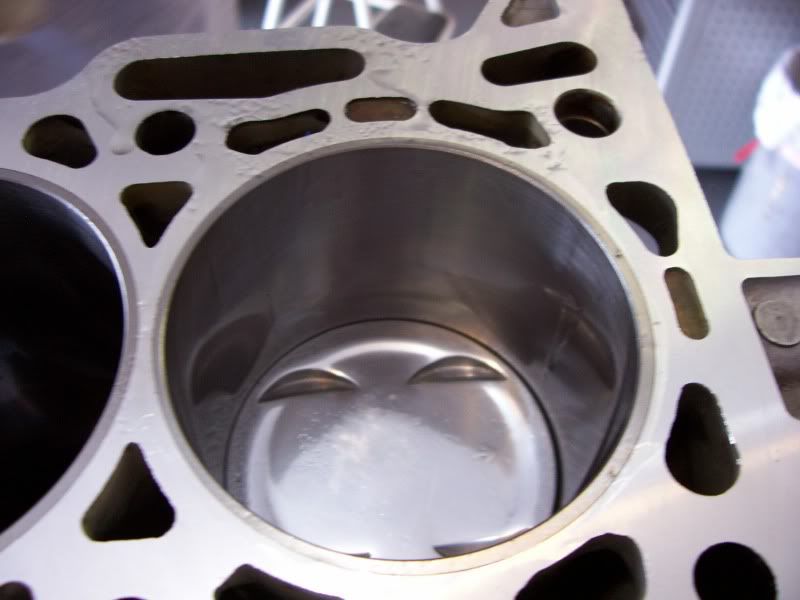 14.
Turn the block around and remove the rubber hose.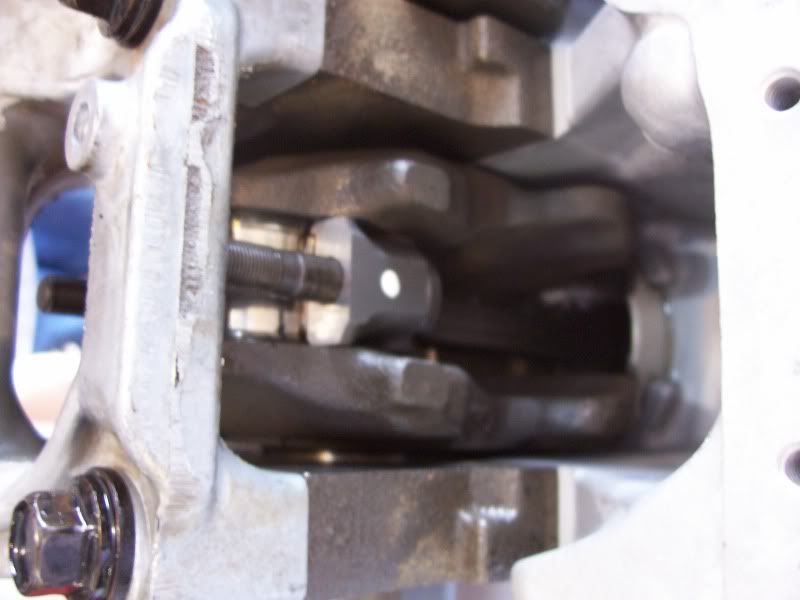 15.
Turn the crank to about this position. You need clearance for the next step.

16.
Get the rod cap out and clean the journal. Install appropriately.
17.
Assembly lube!
18.
Respect the arrow. It points to timing belt side.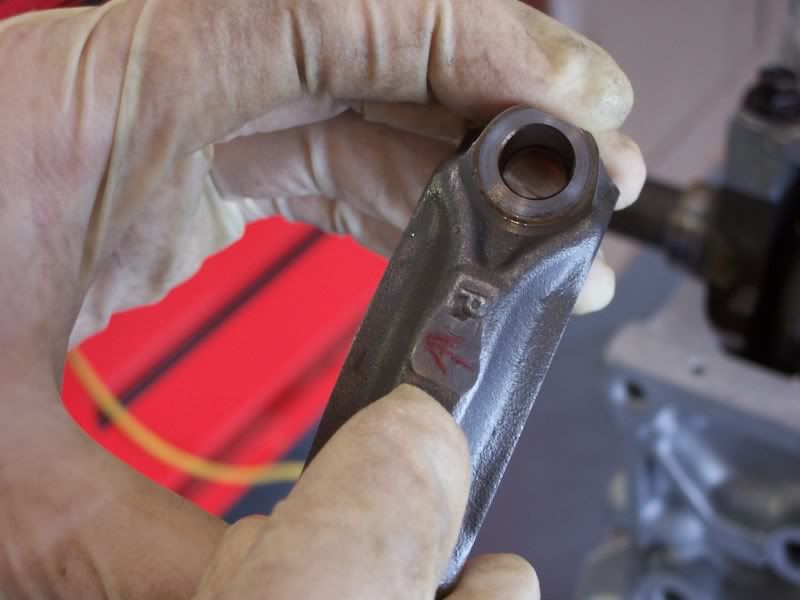 19.
With the crank in position (via step 15), the rod cap should go right into position.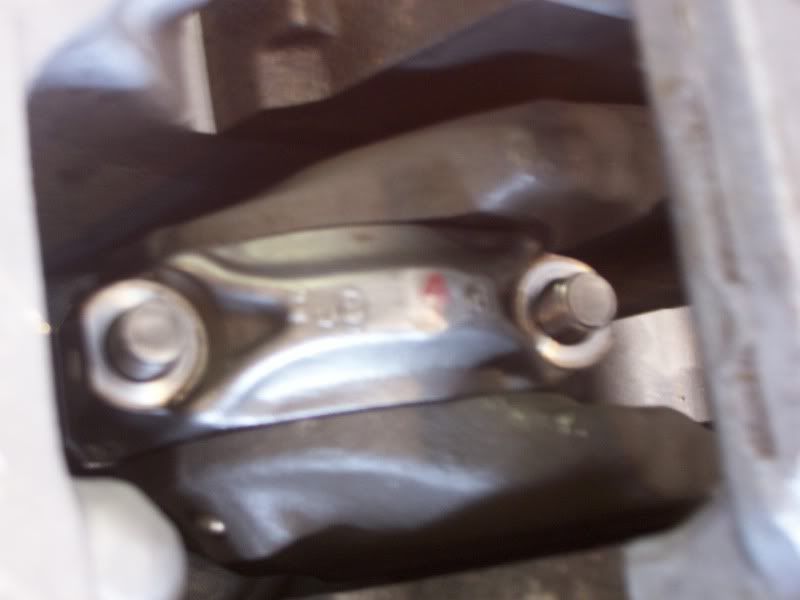 20.
Put the nuts on finger tight. Oh yeah :Rock: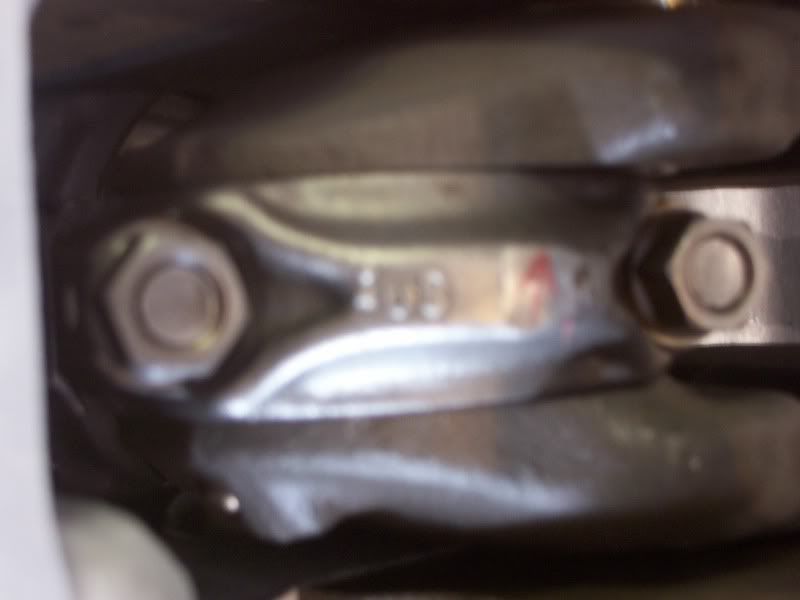 21.
Turn the crank to about this position for clearance. This gives best access to the nuts.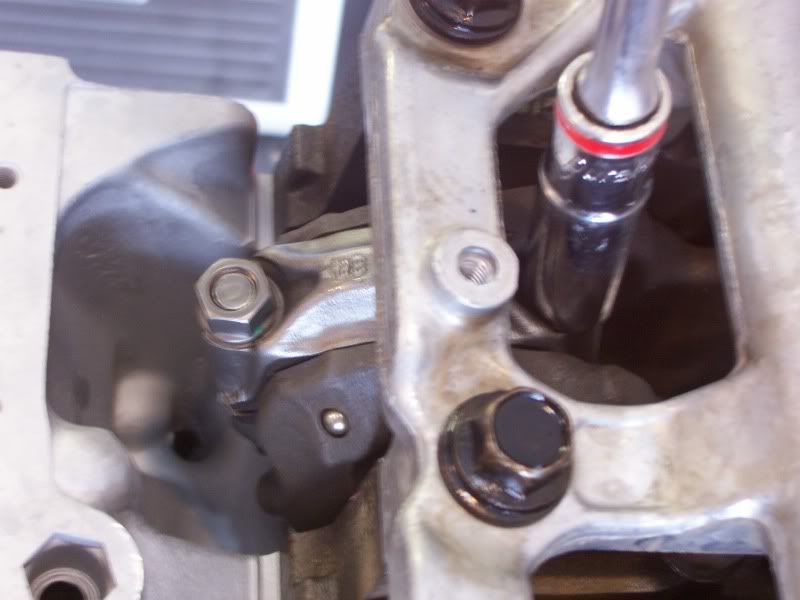 22.
Torque the nuts in a 3-step process. Total, 34 ft/lbs. I actually use a 5-step torquing process on the crank and the rods.
__________________________________________________
__________________________________________________
Here's some other pics my girlfriend took.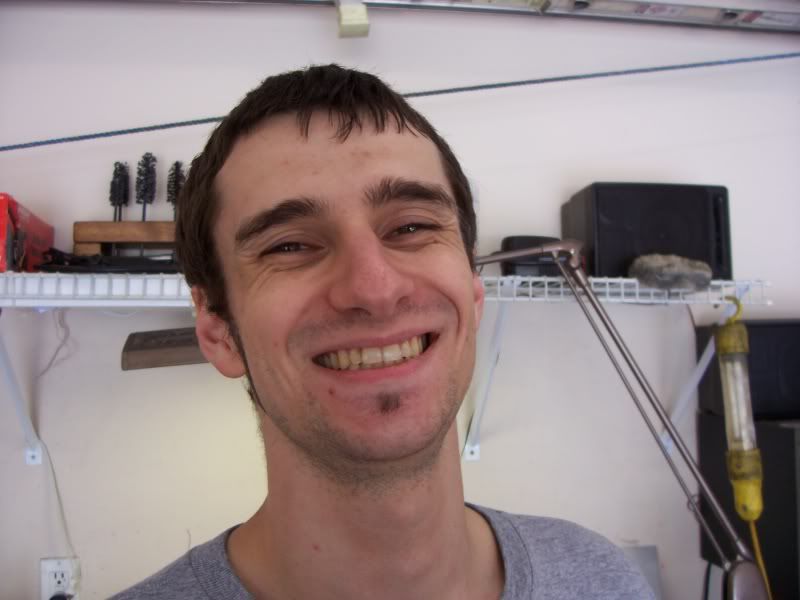 ____
Damn ring compressor sprung apart.
____
____
B20a5 block with B21a1 pistons and H23 piston rods. Now that's some high compression.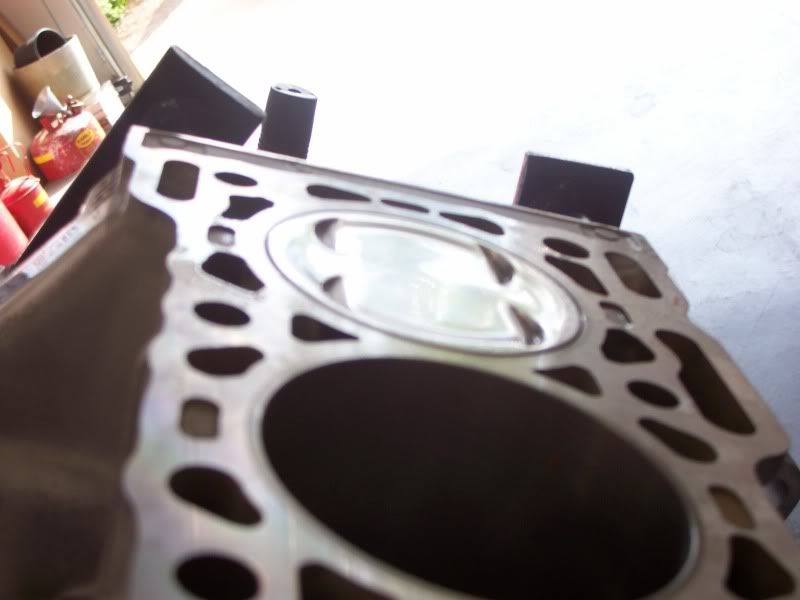 That should be enough pics. :smilejap:

If this helps, remember to rep me!