Discussion Starter
•
#1
•
Hi all. Thought it was about time we started showing you all what we have been up to recently with the Prelude Type S project from Hond-R in the UK. I have had a few members trying to persuade me to put up some images and a spec list of the project throughout its build. I have to admit, we were slightly lacking in a lot of the detailed pictures as we were pushing hard to get the build done as we tried to squeeze it in amongst our solid work schedule at Hond-R HQ in the UK but here it is finished....well nearly finished as there are still bits to do which I will do my best to keep you updated with. A project car is never really finished though right? The car is unreal to drive. Mapped by our out of house tuner Romain Levesque, the car produced 437bhp with 290lbsft and we detuned to 401bhp with 273lbsft for safety and reliability. Dyno used was a Dyno Dynamics.
I will post up some pics of the build and some pics that Phil Steinhardt (Banzai's top freelance photographer) took for us but please bear with me as there are quite a few
So here is the spec list as it currently stands:
Car:
1997 Diamond White Pearl Prelude BB6 Type S
Exterior:
Urethane Valuesports* Front Lip
Mugen (rep) Rear Spats
Motegi Side Skirts
New Genuine Headlights with 5k HID Kit
New Genuine Rear Lights & Seals
Shaved Boot Lock and "Prelude" Logo
Mugen Number Plate Bolts
New Genuine Wind Deflectors
New Front and Rear Screen Seals
New Weather Strips and Roof Gutters
Window Tints
CRX 1.6 16v Hood Bulge (clear charger pulley)
Sokietech Hood Dampers
Rolled Arches All Round
Genuine Mugen Rear Spoiler
Hond-R Decals
Custom "iVtec Dohc" Side Decals
Interior:
Red Carpet
Hond-R S2000 Cluster Conversion
S2000 Facelift Steering Wheel
Alpine Double Din GPS/DAB etc
Alpine 5ch Amp
JDM Alpine DD Drive Front Components
Alpine Type R 6x9 Rear Speakers
Full Superlite Dynamat Sound Proof Inc Bulkhead
Carbon Effect OEM Handbrake Surround
Recaro CS Custom Trimmed Seats
Bride Japan Seat Rails
Hybrid Racing Gearknob
Hond-R Gauge Pod
MMR Oil Pressure, Boost, Oil Temp 60mm Gauges
Chassis:
Tein Street Flex Coilovers
Tein EDFC Active Pro
Energy Suspension Master Bush Kit
New Track Rods, Ends, Ball Joints etc
Work Emotion CR KAI 17X8 ET32 Wheels
Yokohama 215/45/17 AD08R All Round
Muteki Forged Steel Neo Wheel Nuts
K-Sport Forged 330mm 8pot Brakes
Ferodo DS2500 Pads
Stoptech Lines All Round
ABS Delete with EK9 Brake Prop Valve
Toyota MR2 EHPS System
U.R Front Strut Bar
Full Seam Welded Bay and Turrets
Complete Underseal
New Rear Calipers and Carriers
New Genuine Brake Master Cylinder
Engine/Drivetrain:
Hond-R Custom Wire Tuck and Full Bay Smooth
2009 K20Z FN2 Engine (17k miles)
RRC FD2 Oil Pump and Balancer Shaft Delete
New chains, guides, tensioners
Skunk2 Black Series Chain Cover
Toda Anti G-Force Sump
MMR Sandwich Plate
TTS Shaft Drive Rotrex Brackets/Mounts
Rotrex C38-91 Charger
Cusom Boost Piping
Tial Blow Off Valve
A/C Delete
Mocal Charger Oil Cooler
Mishimoto Twin Core Rad
Mishimoto 12" Slim Pusher Fan
Mishimoto P/S Cooler
Mishimoto Baffled Catch Can
Hond-R Overflow
Hond-R Air Diversion Plate
TTS Front Mount Intercooler
Hond-R Custom Engine Mounts
Insane Shafts Axles
Walbro 255 lph Fuel Pump
Hondata KPRO-4
Injector Dynamics 1000cc Injectors
Hybrid Racing Fuel Rail
Hybrid Racing Fuel Pressure Regulator
Hybrid Racing Fuel Pressure Gauge
Hybrid Racing DC5 Shifter Cables
Hybrid Racing Modified DC5 Shifter Box
Hybrid Racing 70mm Throttle Body
Hybrid Racing Prototype Hall Effect TPS
Hybrid Racing Reservoir Covers
Hybrid Racing Race Spec Conversion Loom
Custom RSP Honda Intake Manifold
Hondata Thermoshield Intake Manifold Gasket
Modified 3" PLM Header
Titanium Heat Wrap
Custom Coil Pack Cover
Hard Knocks Speed Shop 3" Custom Mandrel Exhaust System
Hondata 4bar Map Sensor
S2000 Modified Clutch Master Cylinder
2004 EP3 Gearbox
MFactory Helical L.S.D
Competition Clutch Flywheel
Competition Clutch Stage 4 Sprung Clutch
New K20Z Valve Cover
Hidden Odyssey Battery
Relocated Fuse Box
Twin Pump Relocated Washer Bottle
Kill Switch and Boot mounted Jump Posts
Pretty much everything customised to suit.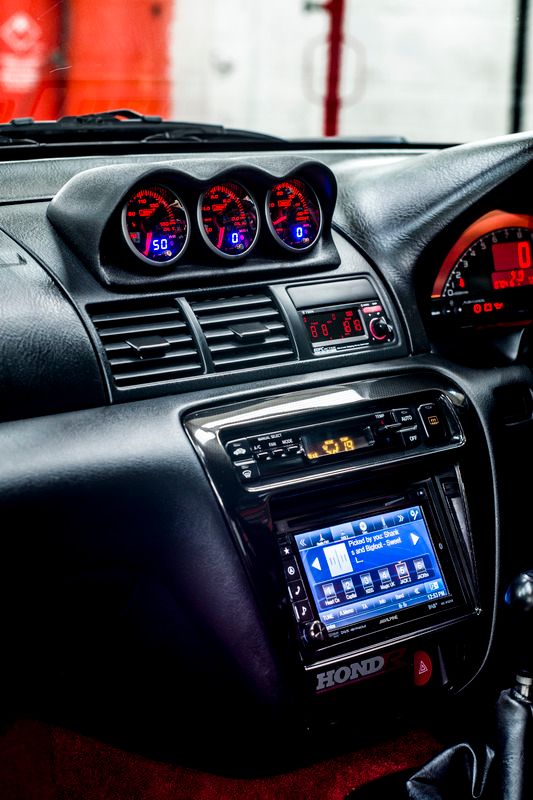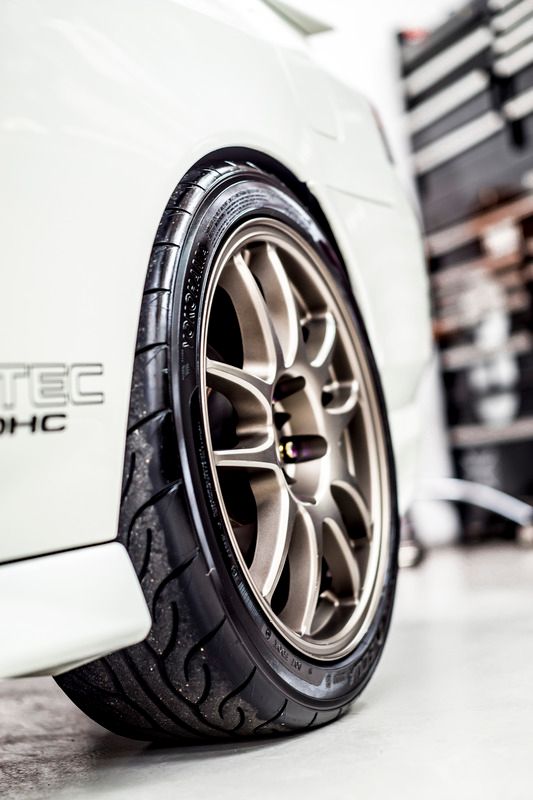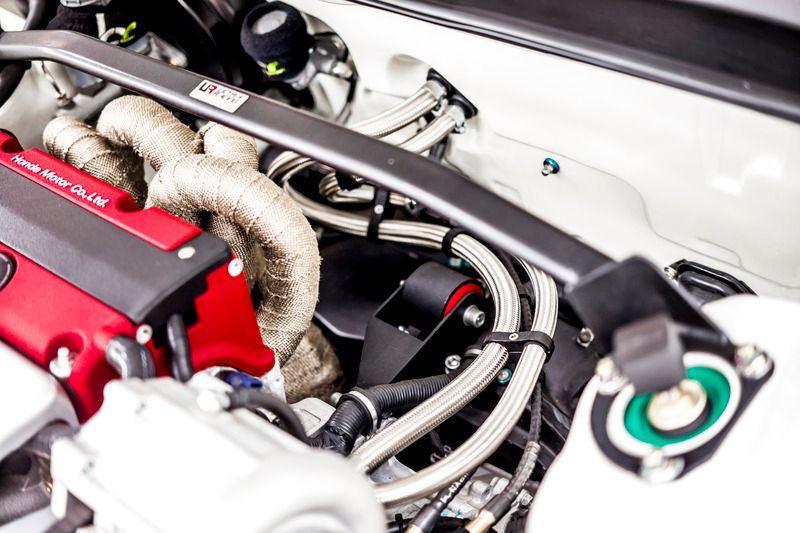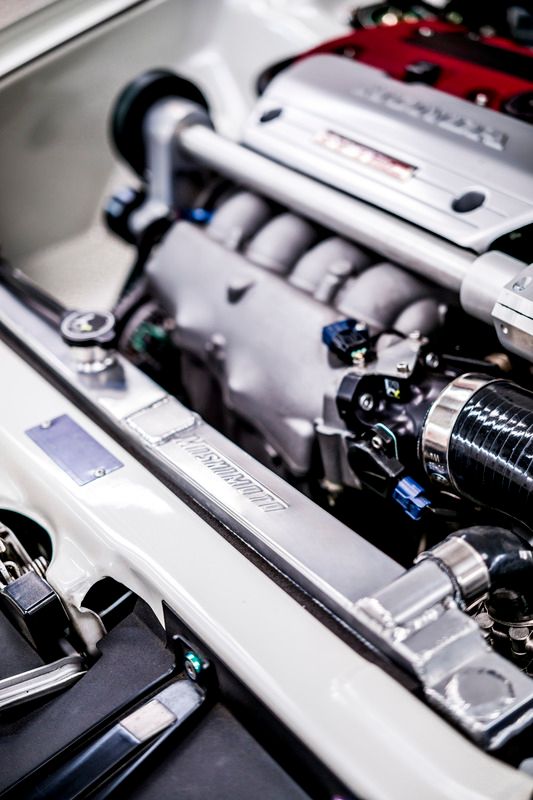 Now I suppose we should show you the extent of the build's engine bay. The entire car was stripped down to nuts and bolts (wish we had pics to show you) but as you can imagine, there was zero interior, body panels, lighting, trim etc.
Fully stripped bay inc all looms:
Starting the bulkhead smoothing process: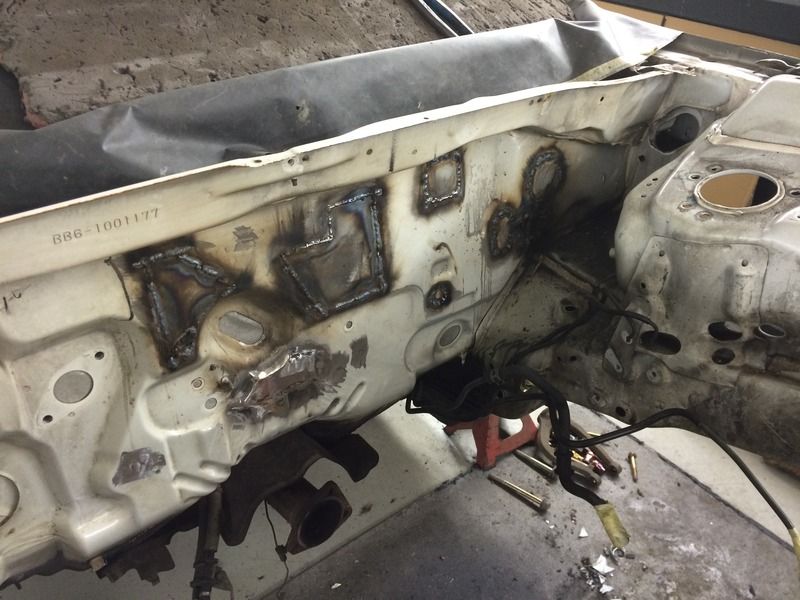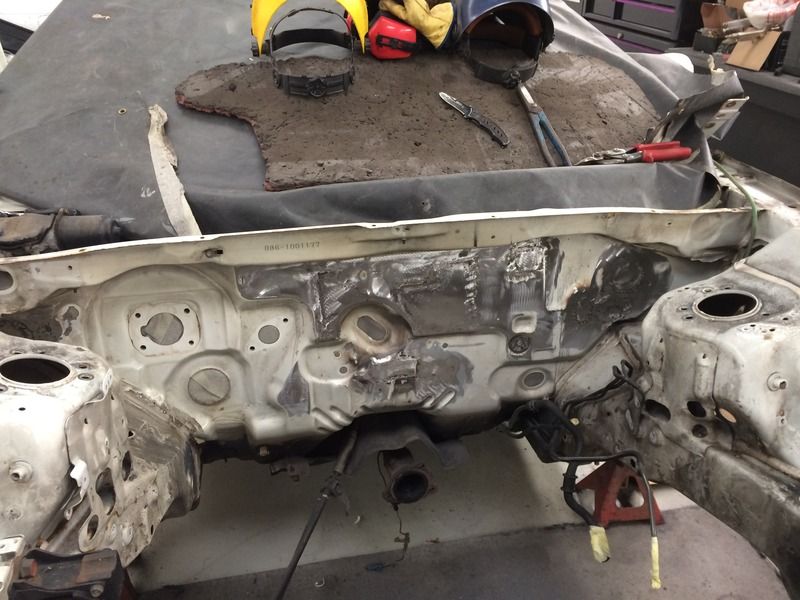 Horrible turret support brackets removed: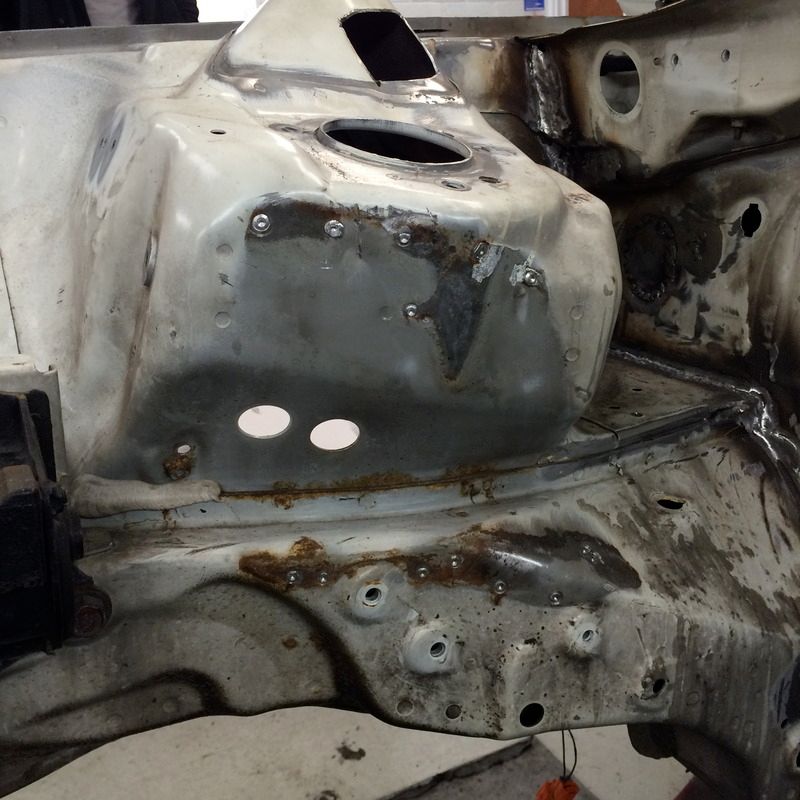 Lumps and bumps from Turrets and Chassis Legs removed:
Chassis Seam Welding and unused holes welded up (excuse the black staining caused by the remainder of sealant under the panels burning through):
First of the custom mounts being welded in:
Lengthy and time consuming grinding process and boxing in/bracing: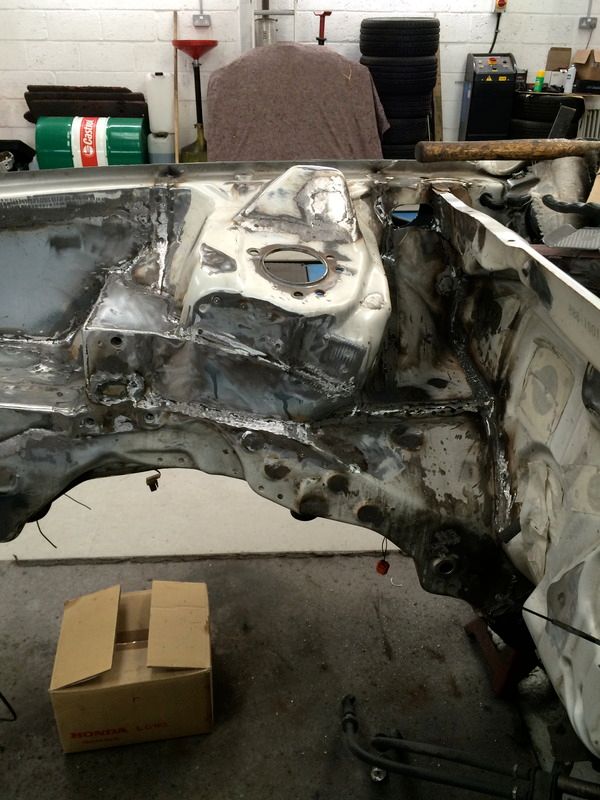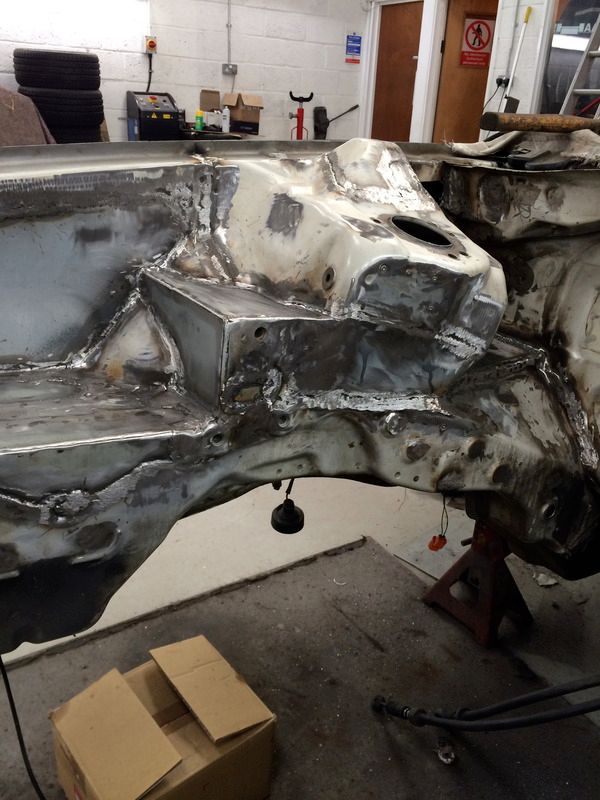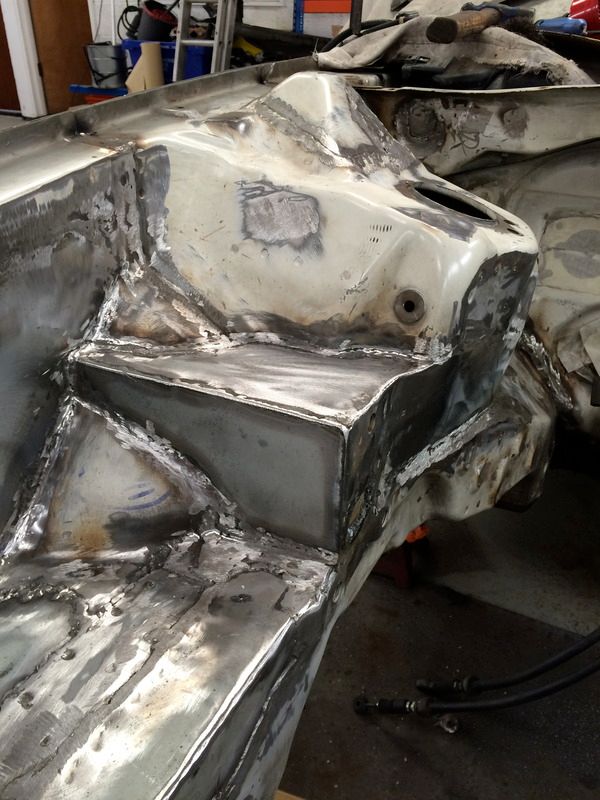 Whilst we were doing all of that, we were also preparing the engine and gearbox ready for the swap: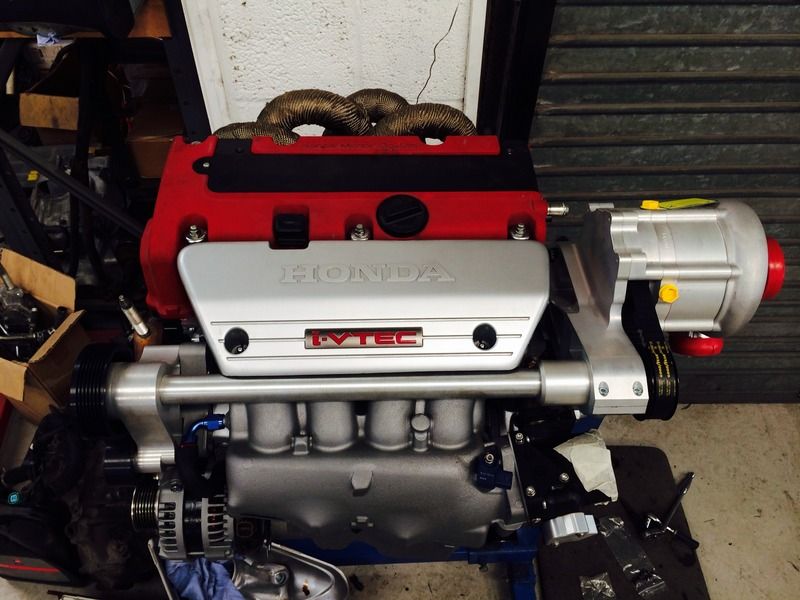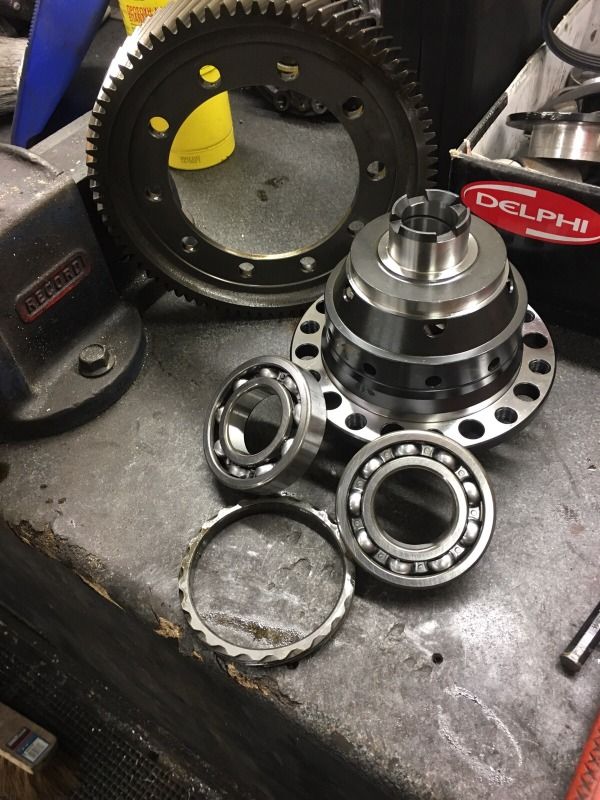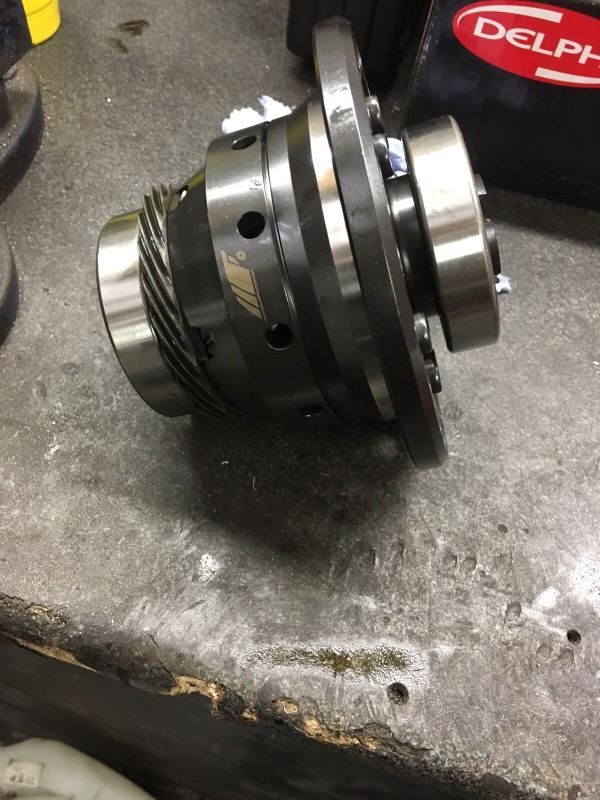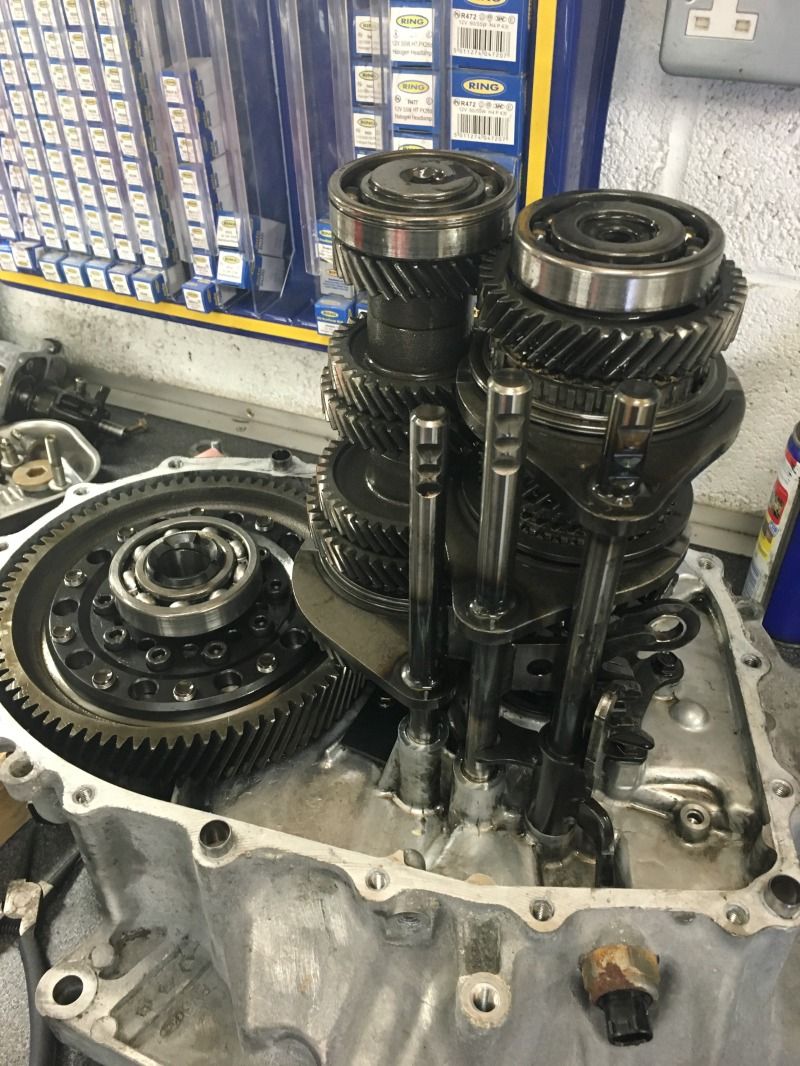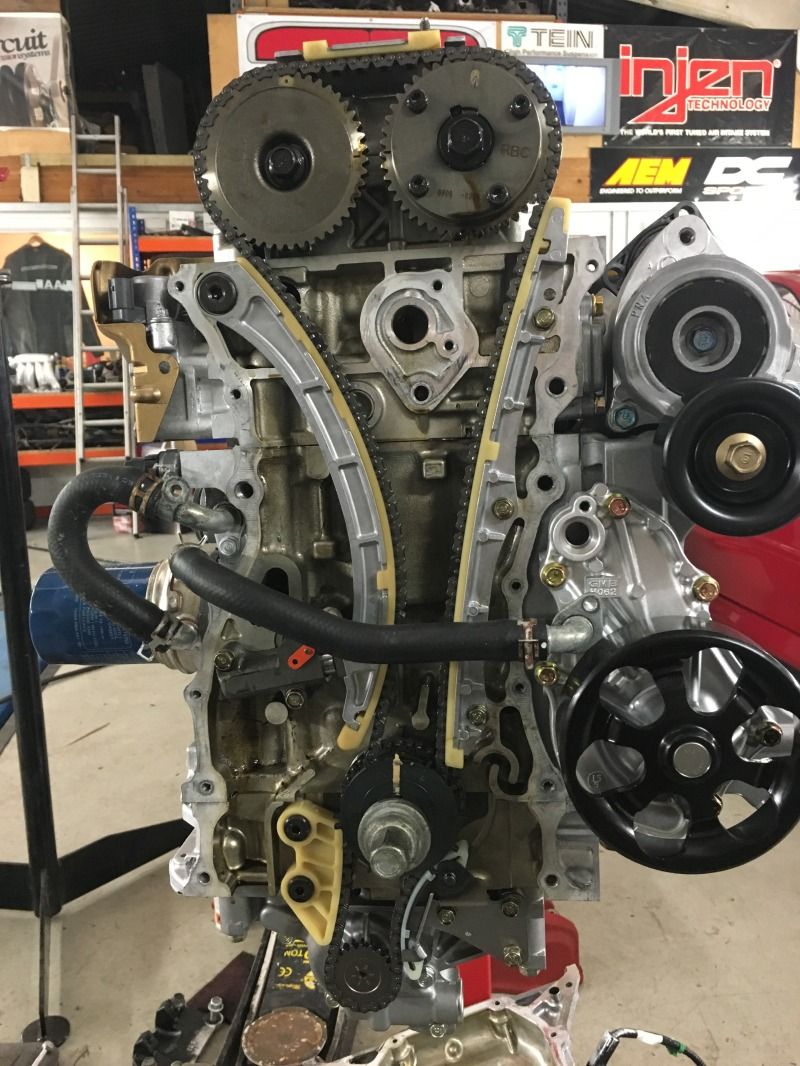 Every component was stripped, cleaned, painted etc of the engine and gearbox ready for the next bit....the test fit. Taking measurements with it out of the engine bay did show that we may have some "upwards" clearance issues with the charger setup...so best way to confirm this before the intricate bay work began was to do a physical test fit to check for clearance issues and to fabricate the engine mounts:
Slight clearance issue:
Solution from a mk2 crx 16.16: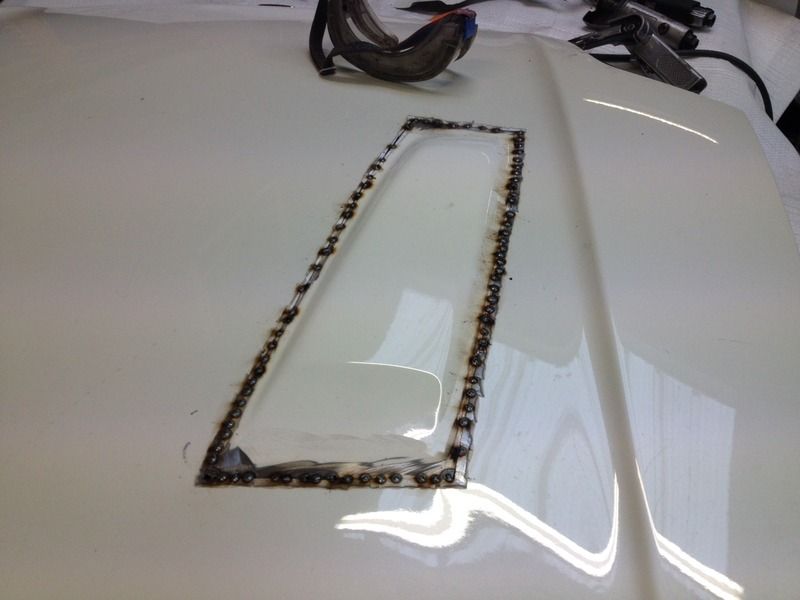 Now it was time to finish the bay with the smallest amount of filler possible, primer and paint ready for all the new parts to be installed: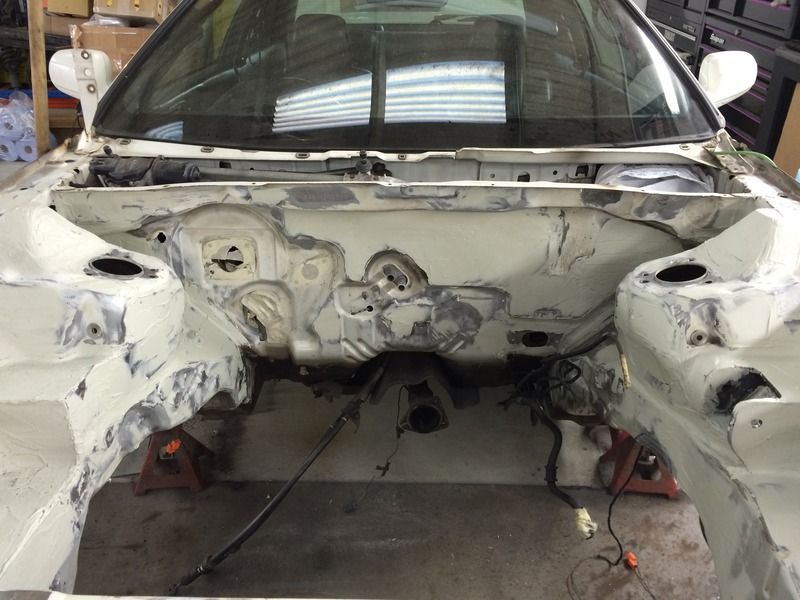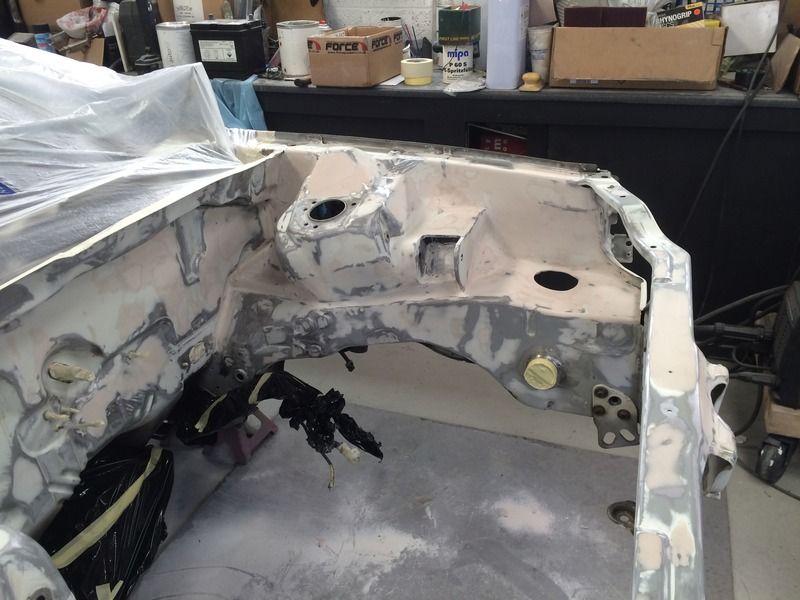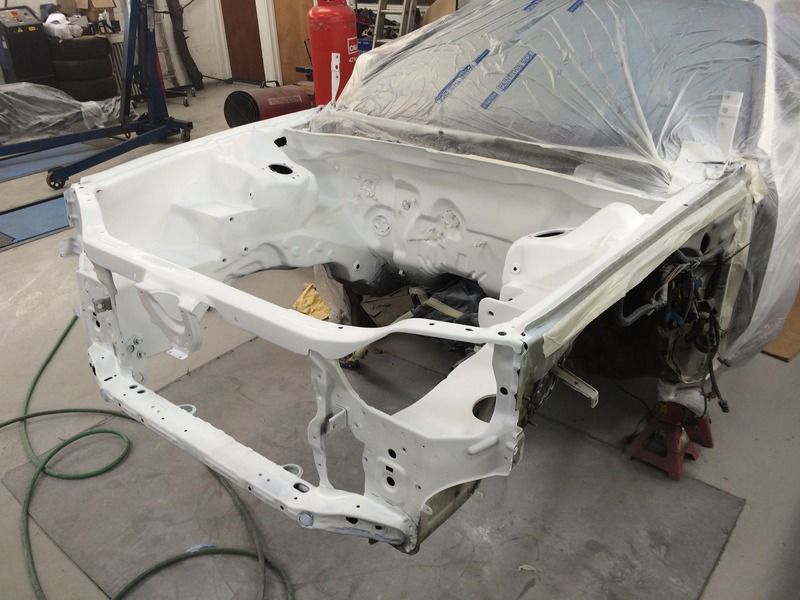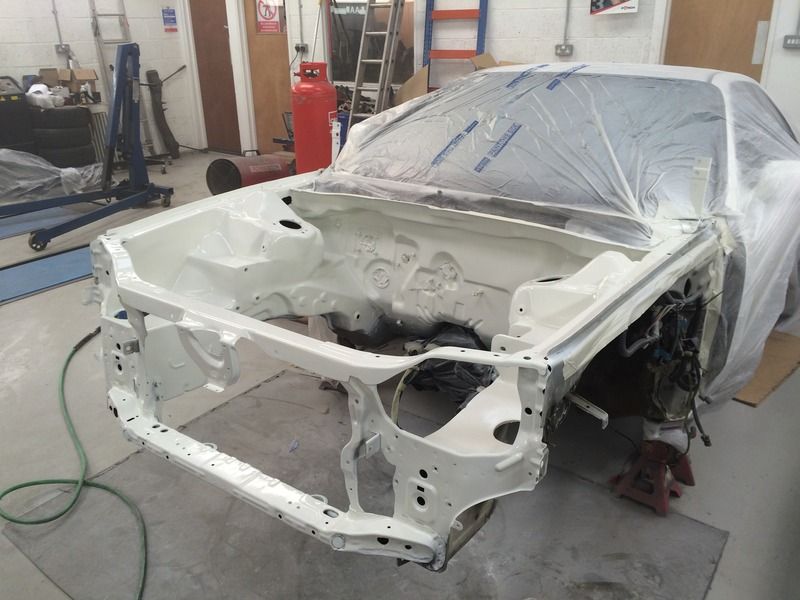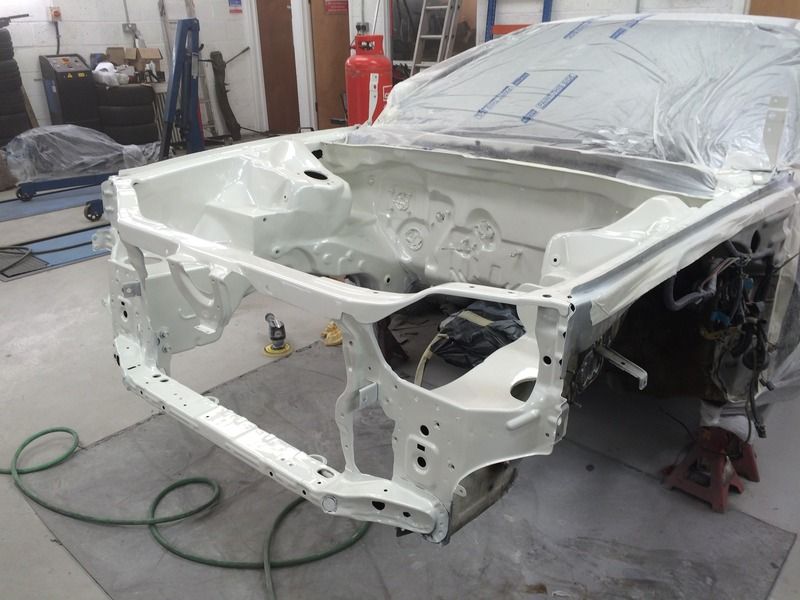 Now time to make it all fit. This took a very long time as every pipe had to be custom made as did bracing for the intercooler, radiator, oil coolers etc: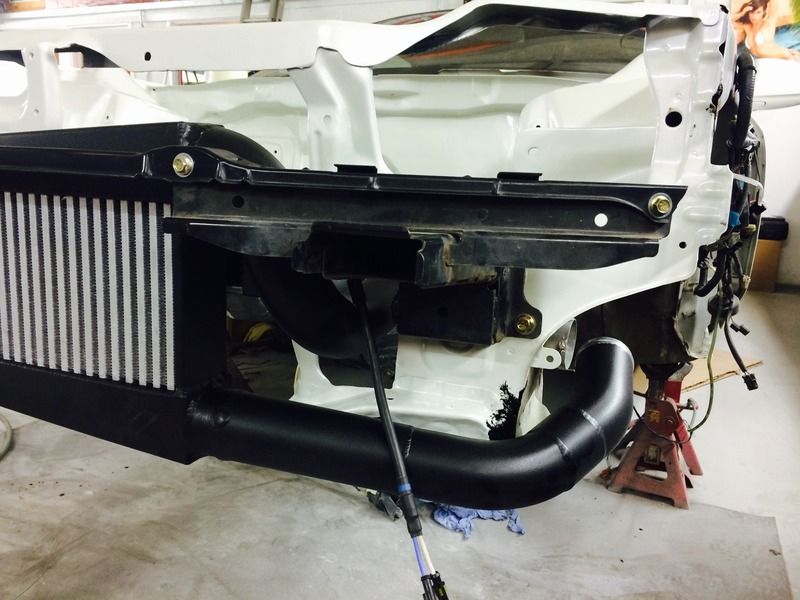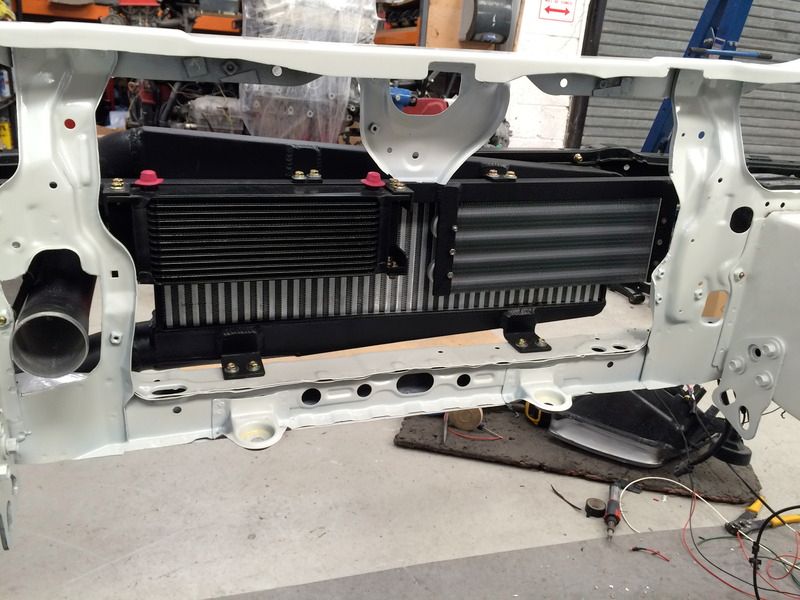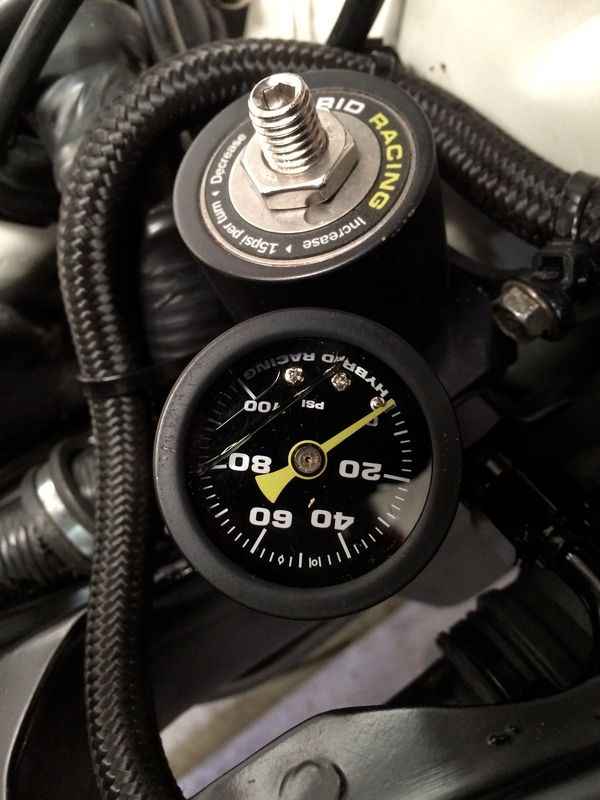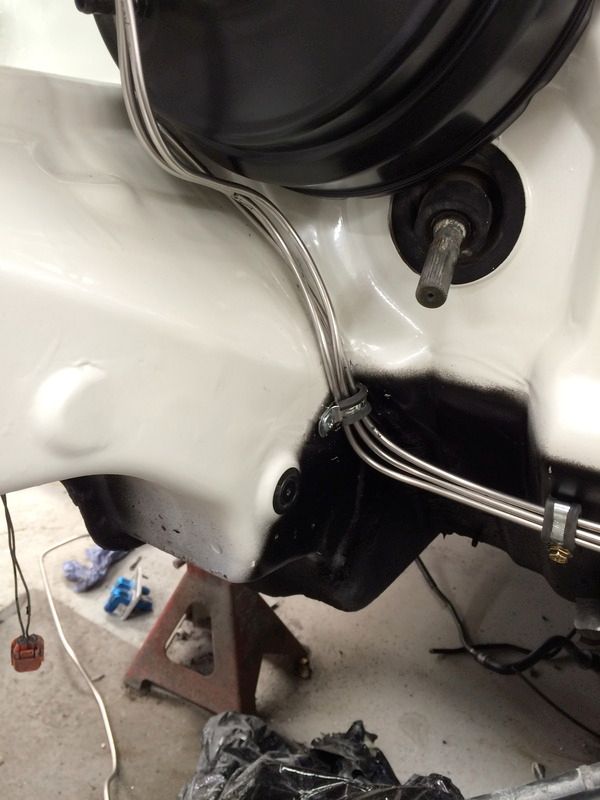 Missing a whole load of pictures somewhere for the rest of the build but here it is fitted in and complete. This was mated up to the mugen twinloop for a week or so before it went over to Hard Knocks Speed Shop for a custom 3" mandrel bent system with 2 centre boxes and 1 back box: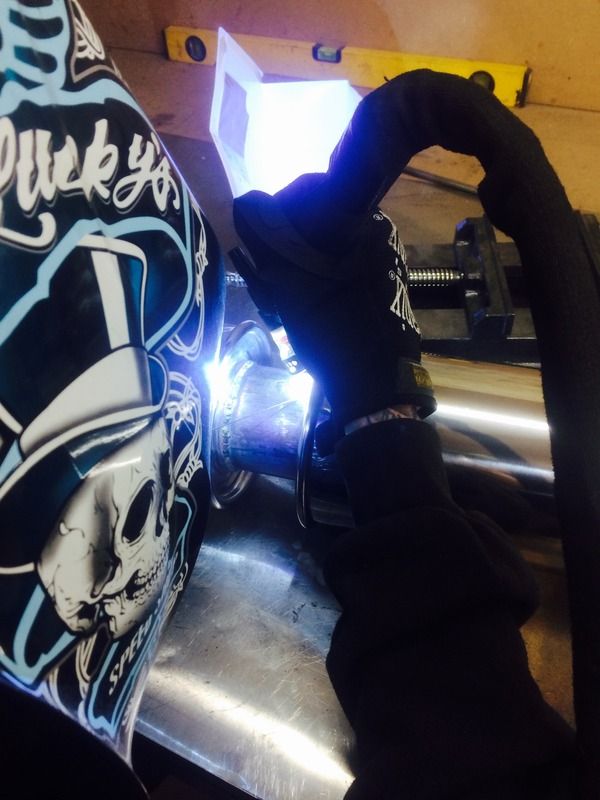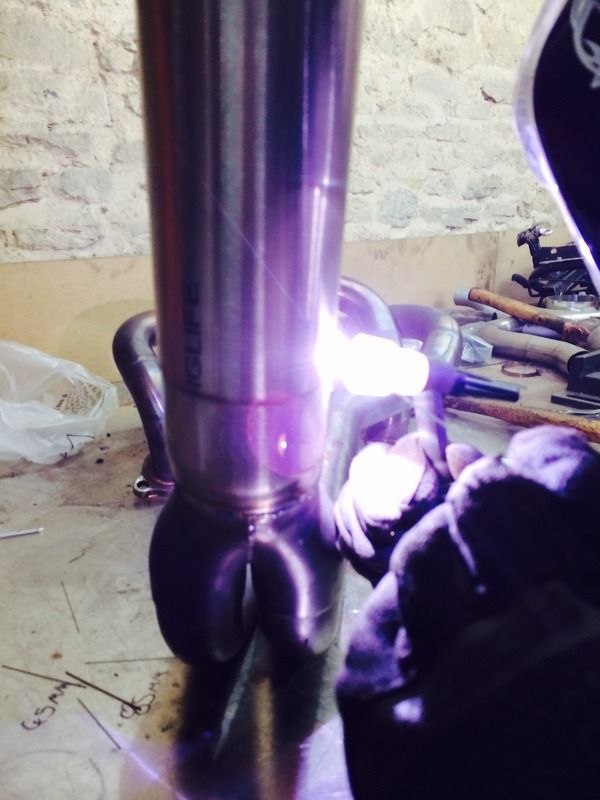 Once at the body shop to have the whole front end painted, we found a tiny spot of rust on the base of the rear 1/4. This was a chip that spread...best thing to do...cut it out and replace with fresh steel. Whole car was then undersealed as were the insides of each rear 1/4 and full sills.
Then bedded in and off to the dyno: