I am selling my h22a4 from my 99 Base Prelude.
Reason for selling: My timing belt snapped at around 35 MPH in 4th or 5th gear a few months ago. I immediately shut off the car. I did not run a compression test on the motor in the car, which I should have.I replace the engine with an h23aVTEC and now I have an engine that could still be in perfect running order. The engine had 160,000 miles on it and the head only had 60,000 since the last rebuild which included:
-Crower dual valve springs
-Crower stainless steel 1mm over-sized valves
-Crower titanium retainers
-5 angle valve job
The engine ran strong when I had it and it was always babied. I did an oil change every 3500-4000 miles with mobil1 synthetic 5w-30. I have used most of the pulleys and accessories from the h22a4 in my swap, so what you get is a pretty bare block. This motor is also missing a valve cover. My h23a valve cover was damaged in shipping, but I will include it with the motor for some top end protection. I will include a few left over seals and what not that I can find laying around. The motor has been stored on a pallet while it was not being worked on.
I also have these parts from an h23aVTEC:
-Intake Manifold
-Timing Belt
-Distributor
-Cam gears
-Exhaust Manifold
-Auto tensioner
Here are some pics:
Will come with stock h23a cam gears.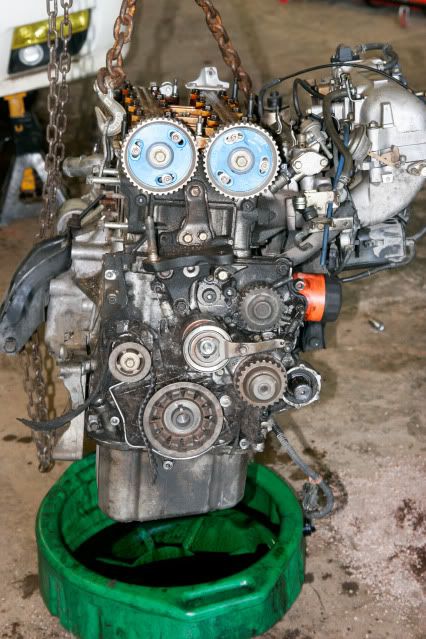 And in the car
http://www.cardomain.com/ride/3236587/1999-honda-prelude#32365870005
Price for the block and head is
$325 obo
+shipping/paypal/pickup
If you are close to the N.E. Oklahoma area, I will meet you within reasonable distance. I have pretty solid iTrader ratings on this site and positive feedback on eBay as Fildo33.
Thanks for looking.