*

88 89

90 91

ECU Codes

-

1funryd *




How to change a Timing Belt for the B20a5 and B21a1 Motors <---- Click Here


I felt with all the aftermarket that is up and coming and with some of the old info being revisited, that I should organize all of them into one useable thread.

I will update this as necessary

.

So, this should be useful to all us 3rd geners, hopefully we can get it sticked.

Sean

The only

Companies

that support the

3rd Gen

community are:

1. www.1funryd.com(Me) - Engine swap mounts

2.

www.lsdmotorsports.com

- Turbo kits & parts, Flywheel, custom intake, custom exhaust, upraded clutches.

3. DIY - Exhaust for 88-91 Preludes
No longer available only for reference


LSD

CAT-Back Exhaust

-

Completed!!

(
1 2 3 ... Last Page)
1funryd


4.

www.TEIN.com

-

Super Pro

Suspension Bushings


5. ****


7.

www.summitracing.com

- for miscellaneous parts such as aftermarkt headers, catbacks, msd ignitions, etc..

8.

www.

fastbrakes.com

- For Big Brake Upgrade with

Wilwood Calipers

and steel braided brake lines

9.

www.raceeng.com

- After market pistons and internal engine parts.

10.

http://in.teamprototype.com/?nav=estore&cat_id=4&scat_id=14&no_splash=1

-

Teamprototype

for

Carbon Fiber parts

and accessories Specifically for our

3rd Gens

.

11. Best site for 3rd gens ever: http://www.prelude3g.com/

12. Specialty Tools for the 3rd:
3rd gen Tools Oddballs and large


cudaboy

13. Conversion Harness for OBD0 to OBD1 for turbo charging or tuning

14. Tailored Prelude Floor Mats w/logo -

http://www.dstuning.com/88_91_honda_prelude_floor_mats.asp



15. 4WS Alignment Tool -

4ws Alignment Tool





16.

Auto

to

Manual

Swap -
Auto to manual (5 speed) swap writeup UPDATED - pics added back to first post (
1

2

3

...

Last Page

)

Daily Interlude






**Engine

weight Comparisons -
Orginially posted by

91OWNER

-

just a bit of facts about the weight of a b20 or

b18

vs the

h22a

.

i 'm in the middle of a h22 swap in my 91 lude . a friend did a b18 in his civic so i weighed the b18 at aprox 380 lb 5 speed tranny installed and sitting on a pallet on the scales.

my b20 at aprox 410 lbs auto trany installed and on a pallet.

now the h22a at aprox 445lbs 5 speed trany installed on a pallet.

i installed a 8lb flywheel which dropped about 25 lb so the h22a ended up at 420lb

so all are pretty close. -

Beginning of B18C write-up
Suspension

Bushing

Upgrade Thread:
The End All Polyurethane Bushing Thread!!!
cudaboy
Engine Mounts Aftermarket:



1FunRyd

:
H22 Billet Swap Kit * No longer available in billet *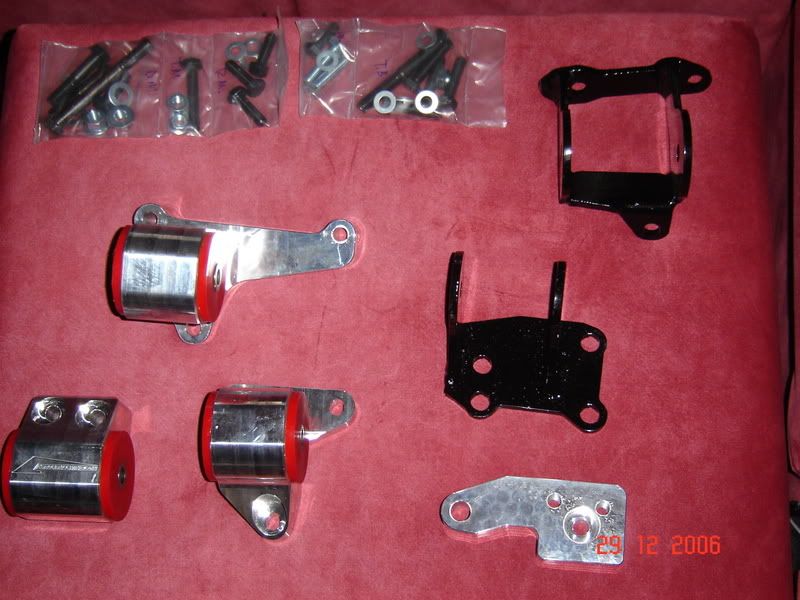 ​
New - 1FunRyd Performance - design for H22 kit (current):

B20/21 Mounts ​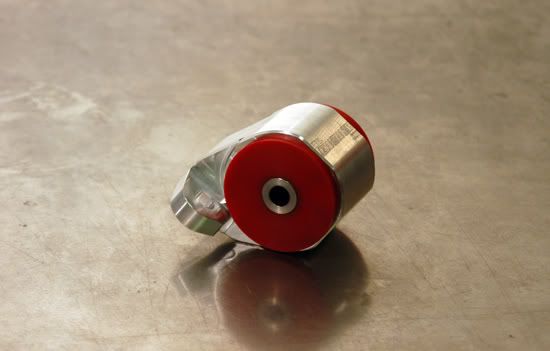 Billet H22 Swap kit - $475

​

Billet B20/21 stock replacement - $350

​

Traction Bar - $400 (Group Buy going on now)

​

All prices due not reflect shipping or paypal fees​
You are able to purchase thru me contact info below:​
Innovative
:
B20/21 Steel Welded Mounts
Updated Suspension:
Ksport Kontrol Pro Kit -

$820

shipped in the US, Canadianand other international shipping quoted only(Edit: KsportUSA prices are subject to change due to cost increases or decreases.)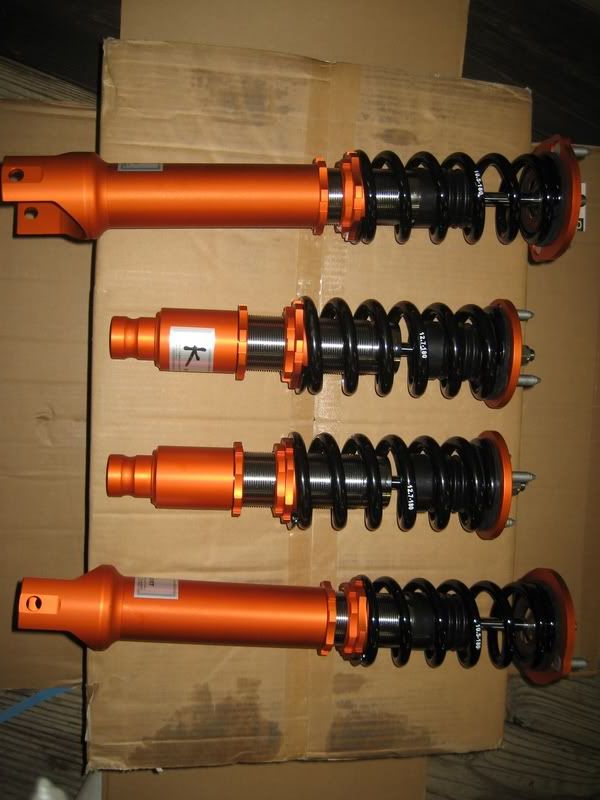 ​
36 way adjustable strut dampening

0" - 3" Ride height adjustablility​

T6061 Aluminum body​

1 year warranty​

The best suspension for all 3rd gens!!​
You are able to purchase thru me contact info below:​
Email:

[email protected]
Cell: (206)304-4095​
Or pm me at:
1funryd
Thermal Stainless Steel 2.25" Catback -

$450

+ shipping (Current Group Buy Going) Here:

Thermal R&D-2.25" Stainless Steel CatBack Group Buy

(
1 2 3 ... Last Page)
1funryd
Contact Michael Succar and tell him Sean Tydingco sent you at:​
Xenon Kits Still in Production




Link for details: Xenon Kits - 2008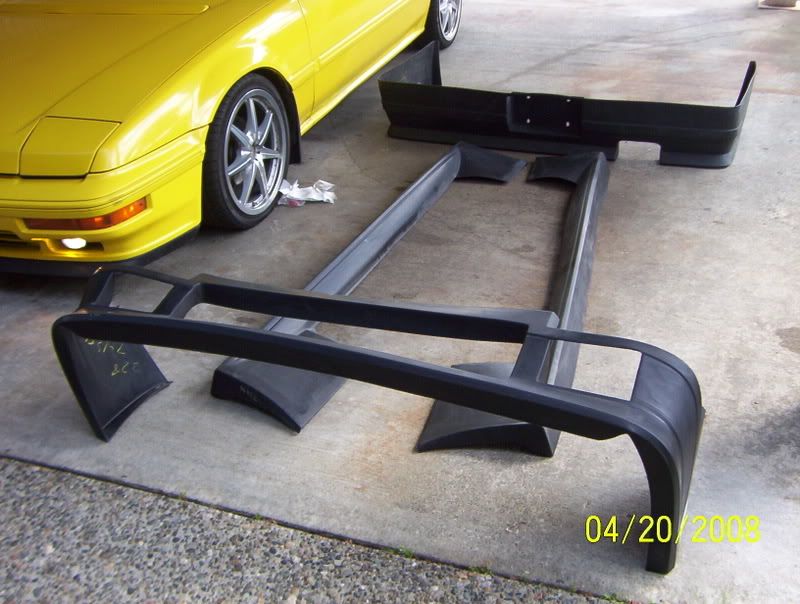 ​
--3rd Gen Body Kit FAQ's--
All Honda ECU Codes
(

<---

clik here)
1funryd
The only 3rd gen that has stated to be 200hp N/A:
Hitomi88 - JDM 88 Prelude
Performance Upgrades Old and New:
​
-----------------------------------------------------------------------------------------------------------------------
1. H22 Mounts - 2nd H22 motor mount Group Buy??? - by www.1funryd.com


Related info on mounts -

a.

AZ Race H22 3g Mounts Review



b. H22 Swap from Honda-Tech Write-Up*

c.

Long H22 Swap Write-up

H22 Vtec SWAP conversion WRITE uP; An Introduction. Long.

d.

H22 Write up

HugeDomains.com - TeamInterlude.com is for sale (Team Interlude)

e. Dyno Power on a Base H22 Swap - 1991 H22 Dyno Run

f. H22 Track Run on Base H22 - 1991 H22 Track Time: Numbers Inside


g. B20Lluda's - H22a dyno and pics...

h. Axle info on H22 conversion - FINAL WORD ON THE 3rd H22 swap axles...
i. AZ Mounts w/Powersteering - AZ H22 Mounts w/Powersteering -

j. Possible H22 Swap Problems with the AZ Race mounts (Actually a damage frame)

k. teams ranfla (H22 start up video on page 4)

l. 1991 H22 Track Time: Numbers Inside


m. H22 third Gen Time Slip: 14.7

n. More: 1991 H22 Track Times - Slips inside

o. H22 Engine Weight:

p. HELP A/C & P/S in 3rd gen w/H22 swap

q. Wiring for the H22 Swap - Rywire Harness(No longer valid since Rywire changed their support)

r. H/F Series Motor specs for the Engine swapper

s. Questions regarding OBDII motors for the H22 swaps - obd2 h22a info pls


---------------------------------------------------------------------------------------------------------------------------------------------------------------------------------




2. Wilwood - 3rd gen Big Brake kit, now available..!!!!!!


3. Aftermarket

Steering-Wheel Hub w/Cruise

- Group Buy for steering wheel hub with Cruise buttons

a.

HKB

Steering Wheel Hub 4. B21A1 Rebuild w/pics - B21A & Suspension Rebuild Progess


Related info to engine rebuild on the B21A1:

a. Timing Belt Installation

b. B21 and B20 Injector differences


5. 3rd Gens - OBD1 Conversion for Tuning and Fuel Management

a. How-To: Honda OBD1 ECU Chipping

b. Turbo charging an automatic 88-91 prelude - I am turboing an auto. Has this been done by anyone?


6. B16 Conversion on B20a5 Block Ludespeed-writeup

7. 4th gen caliper upgrade pics

8. Strut Bars designed by MustardCat - MUSTARDCAT STB (reproduction) --- GROUP BUY ---

9. ACS: DigiTach Group Buy!!

10. B20A3 to B20A5 engine swap write up 11. Cold Air Intake(Simple) - Write Up!! 12. B20B 3rd gen Prelude Conversion(old thread) 13. Tickin sound under Valve Cover

14. Write up: Blue Backlight for Gauges

**15. B18C5 Swap into a 3rd gen Lude - Beginning of a cool swapBeginning of a cool swap

16. 3rd Gen_ N/A Build B20A5 (W/Dyno Results posted...lots of Pics)

17. OBD1 Conversion People, I got a Questions??

18. K20 in a 3g lude w/pics

19. AutoCad pics of how a K will sit in our chassis: - K-series mount thoughts

20. Custom Bumper mod - Tommy's Prelude part 1 -lots of pcs 21. PowerSteering Oil Seal Replacement Write-Up

22. B20-VTEC Conversion Repost

23. THE OIL PUMP SEAL INSTALL THREAD (pics)

24. Group Buy for AZ RACE B20A/21 Mounts

25. Feeler for S&S Header Group Buy

26. SECLUDED PERFORMANCE ADJUSTABLE ENDLINK prototype is made. Sign up here for the GB

27. Filled Motor mounts

28. who wants a b18 intake cam? group buy... (never completed)

29. EXACT Stock 3g and b18 Camshaft Specifications

30. Compression test results on B21 block with B20 head...

31. 89 si auto, overdrive only when under load

32. HOW-TO: Convert Your Dual O2 Sensor Set-up To Single O2 Sensor

33. 1Funryd's - PowerSteering - ReRoute and Replacement

34. How to: Improve PS feel and maintainance

35. CADster's - sweet P/S line reroute how-to (56k frendly)

36. How I cleaned my EGR ports..pics

37. Budget custom cut floor mats, matching molded carpet +

38. Replacing Radiator Fan??

39. A/C Compressor Contol Unit & Fan Resistor

40. Front Lower Control Arm Ball Joint Write-Up

41. Axle Removal write-up

42. What You can do to your B20a5

43. Direct Swap for 5th gear from accord... for higher speed & lower rpm

a.

Shortened Gearbox

b.

H2A5 Gearset Swap 44. Information for Cams, Runner length diameter

45. LED Conversion Write-up

46. Mishimoto 1/2 rad


47. My SuperPro Bushings, Sway Bar, and (Seized) Strut Install

48. Front Endlink Replacement - Write Up

49. 1st Ksport Group Buy - Feeler for Coil Over System

50. C-Pillar bar ebay alternative

51. Engine Hesitation - Check List

52. Differences between Series engines: - F><H series?

53. Yellow Fog Light Write-up

54. C-Pillar Bar: Em Racing Official Group Buy Thread!

55. Individual Throttle Bodies for the B20A

56. Throttle Body Upgrade - WRITE UP!!! Integra Type R TB install (B21)

57. Upgrade Hangers - Blue Polyurethane Exhaust Hangers!

58. 3rd Gen Weight - 3rd Gen official weight thread started by Afterburners

59. Alternator Upgrade This also works with the H23 alterntor - 94 accord alternator

60. Seat Brackets for Aftermarket Seats - FINALLY...my mail-order BRIDE arrived! 61. Saggy Door Write up - Saggy Doors Fix! Write-up Inside! (pics)

62. Fix for 90-91 VSS Speedometer - Speedometer Issue.

63. LSD for our B20/21 Transmissions - LSD impressions / HOW TO!! - MustardCats link

64. Guessman's Wiring(Interior & Engine) Write-up with Plenty Pictures - SI wire harness photos whanted!

65.

Lower Control Arm Bushing

Replacement(

Prothane)

- My lower control arm bushing install

66.

TPS

Sensor

Information - Brand new tps sensors, without buying complete Throttle Body

67. Replacing

Lower Ball

Joints - Possible write-up (with pics) for front lower ball joints? (Search is down)

68. Another

LSD

Thread - New option for 3dGen LSD...read on


69. How to Remove

Tuner Lug Nuts

& Regular ones as well - stripped socket lug/tuner lug


70. Accord gears

71.Differences between

Clutch Kits

for

88/89

-

90-91

- Serious wrong clutch for the car....tranny/engine/flywheel identification help.


72. Cylinder Sensor Leak -

Fix by Cudaboy




73. How-To: Replace Brake Master Cylinder

74.

Red

A/C Light

DIY info - Red light on a/c switch

75.

Dash

Light

LED

Upgrade - Write up: Blue Backlight for Gauges

76. Motor Swaps - Thread...

77. Third Generation Prelude S (carburated)Performance Inventory!

78. Timing Belt Installation

79. Aftermarket Valve Springs

80. Clear Corners - 88-89 Prelude

81. B20a 3rd gen Prelude website in Japanese - 56k WARNING!

82. NA built B20a5 Result - getting dyno'd finally...

83. Integra Digital Cluster swap

84. B21a1 to B20a5/A Swap - Write up

85. Auto Trans to Manual Swap Guide

86. Overheating issue - Pinhole in Headgasket??

87. Another Aftermarket Flywheel - After Market Flywheel - aascomotorsports

88. Integra LS Distributor swap - LS distributor fits B21

89. Main Relay - Other Honda Replacements

90. Transmission Gear swap - Accord 90-93

91. Swapping from 88-89 Gauge Cluster to the 90-91 Cluster.

92. Aftermarket 2ws Rear Toe Arms 93. B18 cam modification to fit b20a5


94. Bouncing Idle Fix

95. Relocating the engine bay fuse box

96.UCA bushes, the myth, the theory, the truth..

97. Ball joints!!

(Rear Lower Ball joints)

98.Center caps

- (alternatives)

99. A/C Compressor Control Repair - (BrianK from NSXPrime - Email:

[email protected]

)

100. JDM Climate Control Pinouts

101. ALB Pump Replacements alternative - NSX

102. Upper Control Arm Bushings - Prothane Part# PTP 8-205 or 8-213

103.

Big Brake

Upgrade - 92-96 Prelude vtec 11.0" Rotors

104. 1FunRyd 88-91 Prelude

Front Lip

105. Auto Transmission Solenoid maintenance DIY procedure


106. Center Caps Options

107. Ksport install and feedback

108. B20a5 vs. H22a

109. 4WS Locking Tool

110. 88-91 Honda Prelude -

Molding clips

Front windshield molding


111. 3rd Gen_ 4ws Ryan Starts Fresh. New build thread.

112. B20a5 with

B18

pistons and h23 rods

113. ReyKe's fitting of

B18c5

pistons onto B20a5 rods

114. 1FunRyd - 88-91 Prelude

B20vtec

swap

115. 1FunRyd - 3rd gen

Rear Roof Visor

- Group Buy

116. NRG Wheel Hubs - Quick Release

117.

88-89

to 90-91 Tail light conversion

118. HKS Steering wheel hub with cruise control button's

119. Cooling System, Radiator Fan - Troublshooting

120. ARP Head Stud kit - B20a5/B21a1 121. 90-91 to

88-89

Front bumper swap and wiring write up 122.

88-91

Prelude 3D Printed clock cover, gas cap and holder, glove box handle

123.

90 91

Prelude VSS Sensor Replacement option 124. 1FunRyd - SeatBelt Constant Torque Springs -

88-91

Honda Prelude 125. B20/21 - Timing Belt and Water Pump Replacement 126. 1988-91 Prelude

Front Hub

Replacements 127. Custom Prelude

Embroidered Mat

128.

Removal of 90-91 Gauge Cluster 129. Write-Up: JDM Power-Folding Mirrors Install. 130.

Rebuilding

B20/21 Oil pumps

131.

Rear 2WS Toe Arms

-

Aftermarket 2ws Rear Toe Arms 132. Cometic MLS HeadGasket Original Project

133. Cudaboy's Trim Clips Door Bumper Glass Moulding Molding & Screw Grommets 134. CAM Positioning Sensor Seal Replacement 135. 4WS Rear alignment Tool 136.

88-91 Prelude

-

Rear wheel Bearing

replacement and

Sunrood Glass

removal(MustardCat video)

137.

88-91 Prelude

-

Fuel pump replacement

(MustardCat video) 138.

88-91 Honda Prelude

-

Automatic to Manual 5 speed swap

(MustardCat video) 139.

88-91 Prelude

-

Front and Rear Brake replacement and maintenance

(MustardCat video) 140.

88-91 Prelude

-

Disconnecting of Ball Joints: Upper, Tie Rod, Lower Ball Joints

(MustardCat video) 141. 88-91 Prelude - B20A/a5 and B21a1/A intake and exhaust valve sizes 142.

88-89 to 90-91

Gauge Cluster swap

. - 88-89 prelude to 90-91 prelude Gauge cluster swap

Exhaust Starter Information:

​

Headers:


​
Hedam - Chikara & Torque Step models. Flex pipe design(most popular, but make sure to torque it down correctly or will blow gasket)
Pacesetter - Pacsetter model - Ball joint design for connection(not very liked)
DC - No longer produced and according to them, they will not reproduce anymore.
Street & Strip Headers(S&S Headers) - Only for 90-91 models but they fit all 88-91 Preludes, just need to convert to the single [email protected] sensor(there is a writeup in the Sticky's-FAQ's)
CATback:​
LSDmotorsports.com - Custom mandrel Bent Stainless Steel w/ 2.25" (very quiet design and is the best in my opinion) ask for Mike Succar and tell them Sean sent you.
Thermal R&D Exhaust - 2.25" very similair to the LSD catback but with a different muffler. **Note must be ordered thru an authorized dealer.
Pacsetter Catback -2.25" mandrel bent as well with black paint finish that will burn off and is made out of mild steel. Best bang for the buck for low budget catback upgrade.
Catalytic Converter:
Magnoflow
Pacsetter
OEM
Universal aftermarket - must be welded with proper flanges and hanger from a professionl exhaust shop or DIY'er.
Prices vary, so you will need to research yourself by calling around or surfing the net.
I spoke to Marty this morning(3/28/08), and he informed me that the power rating on any axle is going to depend on the geometry of your suspsension, example:
How lowered is the car
What size diameter tires
Street tires
Sticky tires
Slicks
He stated he can do axles that range from a power range for 200-250hp for the same price as the H22 swap axles which are:
H22: $174 per axle
B20/B21 200-250hp: $174 per axle
The next step up for higher horsepower: $219.00 per axle
Now he wanted to emphesize that the axle will depend on the above factors when it comes to what power rating these axles can handle.
He is a very nice guy, just give him a call and let him know what you have done to your car how low are you and what type of tires you normally run them on and so forth.
Be as clear as possible so there is no confusion when ordering.
Sean
www.Raxles.com
(ask for Marty)
(888) 257-8192 or (800) 257-8192


8:00am - 6:00 pm Monday thru Friday


---------------------------------------------------------------------------
​
How to post up pictures you want show:
1. Go to

https://imgur.com/

and register(its free)


2. Upload your pictures. Once your photos are uploaded, just clik on the photo you want to link to your post or thread. Make sure to keep the thread open in a separate window so you will be able to "

copy & paste

" to your post reply.


3. On the upper right corner of the window you will see your username, click on it and then select images. This will take you to your gallary and then select the picture you want to insert.



4.Select "your pictuer and then a sub window will popup and then the links to use for posting on preludepower will be on the right side."



5. Click on "Direct link"(URL) example:



https://i.imgur.com/EWJl6bm.jpg



6. Right clik on the highlighted Address(URL) and clik "

copy

"



7. Now go back to the Post Reply window and clik on the "Insert Image" icon will look like this below.





8. Now just erase whatever is in the address bar, and right clik in the address bar and paste the (URL)Address into the address bar, and clik "

OK

"



9. Your picutre will be linked to your post. Now just repeat the process for anymore pictures you want to link.



Now hurry up and show us what you are talking about. We like pictures!!!?



Sean

​