That is not a secret for everyone, that the standard prelude brakes is not enought powerful. So here i'm gonna tell you how to install two piston calipers with minimum modification.
First
- do a research. Acura Legend Coupe 93-95 have two piston calipers with the same bot patter bracket. Also as i know Acura NSX calipers would work too.
You have two ways how to put two piston calipers on. You could run new calipers on your old brackets with stock rotors (23mm thick). Acura Legent rotors suppose to be run on 28mm think rotor, so make sure you will put new brake pads to keep them on place. Or you could install Acura Legend brackets and run your setup on 28mm thick rotors. I decide to go second way.
Second
- find all parts you need. I went with this setup:
- Two RAYBESTOS Remanufactured 1994 ACURA LEGEND LS 3.2L (Nissin brand; also comes with the brackets)
$150
RAYBESTOS FRC10628
RAYBESTOS FRC10627
for left and right side
- Two front 282mm in diameter and 28mm thick rotors (Prelude has 282mm in diameter and 23mm thick rotors in stock). I went with ebay drilled and slotted rotors for
$110
(i was happy with my and these al teast look the same)
- Brake Pads. I get Wagner TermoQuiet (i think this is the best brake pads so far; was happy with the same set on the stock brakes) -
$60
- Dot 4 brake fluid -
$10-20
- Caliper cleaner -
$3
Third
- you will need all that tools:
- Floor jack
- Jack stands
- 10, 14, and 17mm sockets
- Wrench
- Hammer
Fourth
- lets start!
Now when you got all parts you can say bye to your old brakes
(as you could see i have almost brand new old setup which I'm absolutely happy with; so i will tell you the reason why i decide to change the brakes in the end).
1) Lift you car and remove the wheel.
2) Turn the steering wheel all the way to the left in case if you work on the left side.
3) Using 14mm socket remove two bolts from the caliper, and put your caliper aside.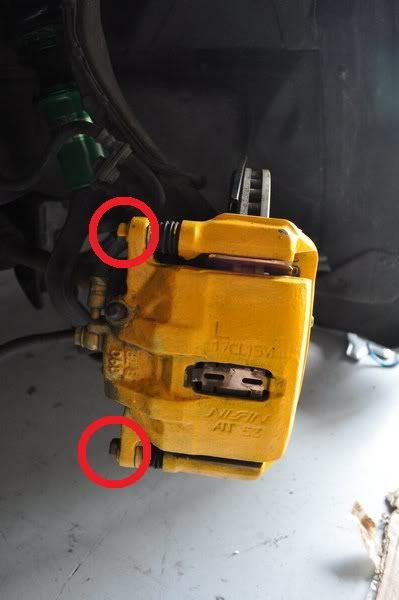 4) Remove your old brake pads.
5) By using 17mm socket remove two bolts as on the picture and remove your old bracket.
Here is the difference between your old and new bracket:
new one is for 28mm rotor and the old one for 23mm rotor.
6) Very carefully remove two small screws which holding the rotor. I would definitely recommend you put new screws later.
7) Carefully remove your old rotor (use hammer if needed,
but be very very carefully
) and clean the surface.
Differfence between the old and new rotors: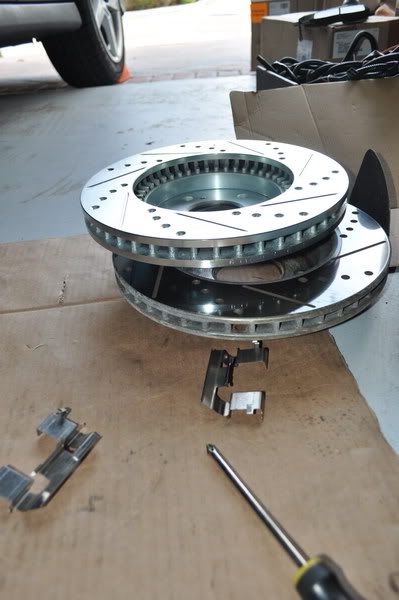 8) Now put the new rotor on.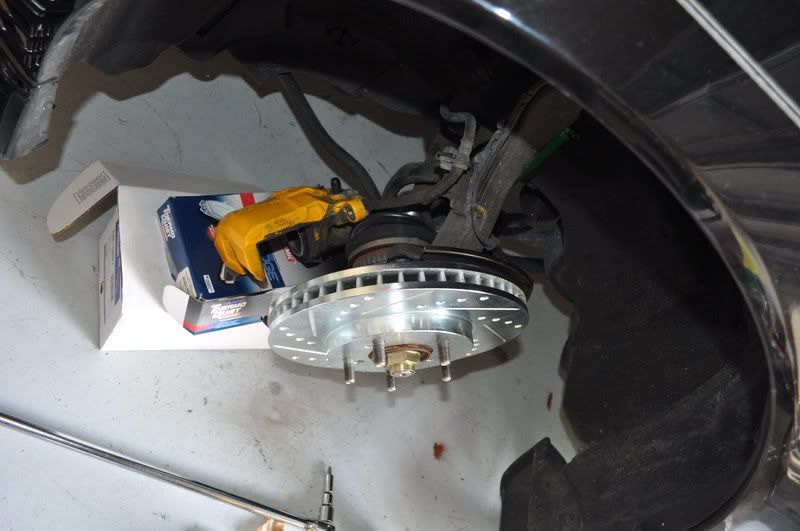 9) And remove the brake line from your old caliper by using i belive 14mm socket.
Here is the difference between the old caliper and new one:
10) Install the new caliper and bleed your brakes.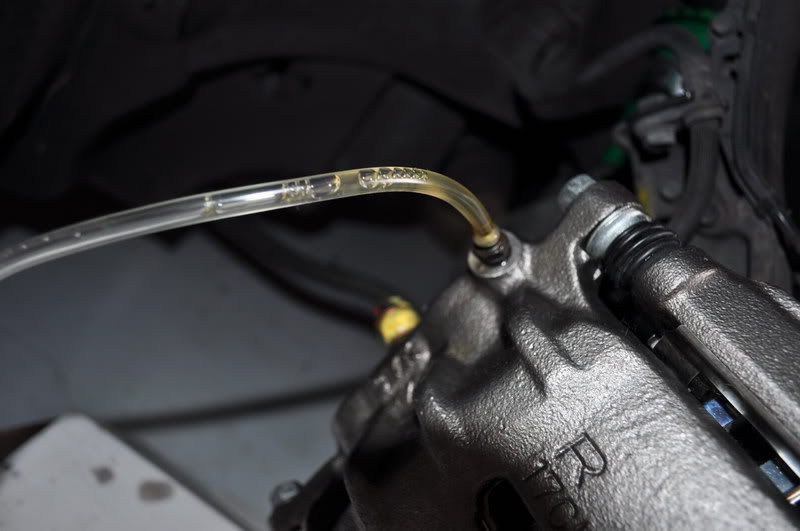 You are done! Do it the same way on the other side.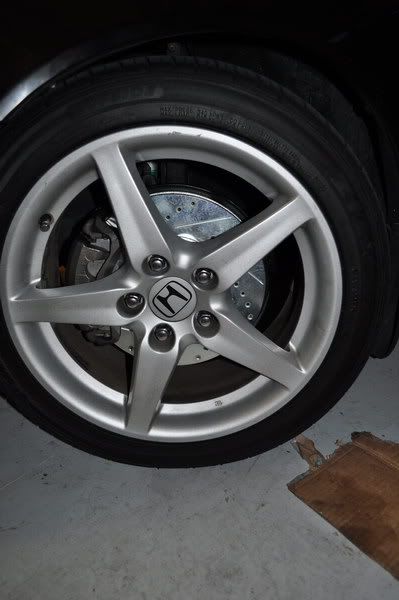 Here is the also few thing to know.
1) By doing this way you gonna keep your old master cylinder, it pretty powerful enough to handle two piston calipers, but it could be better.
2) You gonna be able to put 15" rims on your car.
3) Probably someone noticed on the left side that on my old caliper was L (left) index and on the new caliper it is R (right) index. There is nothing wrong with it.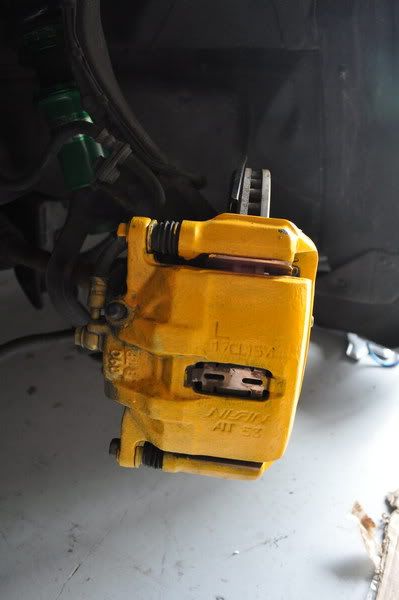 The reason is here: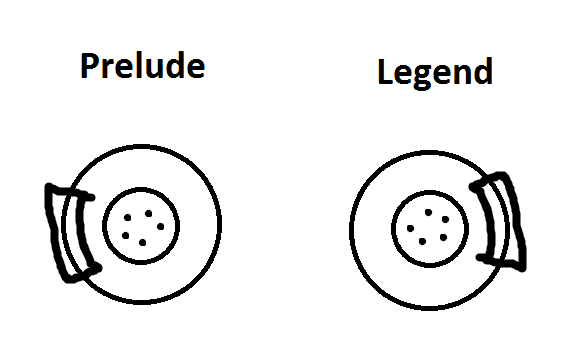 4) Helpful picture how to bleed your brakes right:
The caliper on the Legend located on the different side then on the Prelude.
5) Here is the different between the brake pads for stock setup and for acura legend calipers (both the same wagner termoquiet pads) - the same size, just a different pattern. Legend pad on top and prelude pad on bottom.
They does look just a little different.
In the end:
For $300 you not gonna find any better upgrades for your brakes, and also you could buy all those parts for a lot cheaper right from closest junk yards.
Why i did that upgrade?
I was absolutely happy with my old setup (it was same drilled and slotted rotors with same wagner termoquiet brake pads) - the brakes on my car was amazing. But my cal is pulling to the right a little and noone (i check tree different places) could tell me the reason why (my alignment is almost like on brand new car, just the caster, but the difference are minimal). And now, since i change the brakes and my car is still pulling to the right i think the the problem is in the caster. I decide to change the brakes first, because to adjust the caster on preludes you need to use shims, and noone, even honda dealership do that. So next i'm gonna change the caster by myself.