Discussion Starter
•
#1
•
So this is my first ever attempt at body work and first DIY. When I was searching the forums attempting to take this on I didn't any DIY's anywhere but I did get a lot of good information.
I was very nervous to take this on but after taking my time and knocking it out myself, anybody can do this.
Supplies:
Blue Painters Tape
50 & 100 Grit Sand Paper
3M Fiberglass fabric
3M 5895 2 part epoxy
3M Adhesion Promoter
Favorite can of primer
Here is roughly what it looked like before. The 16 year old owner befor me couldn't drive stick and ran her into a garage. Whoever repaired it used quite a bit of plastic cement and probably a whole bottle of touchup paint.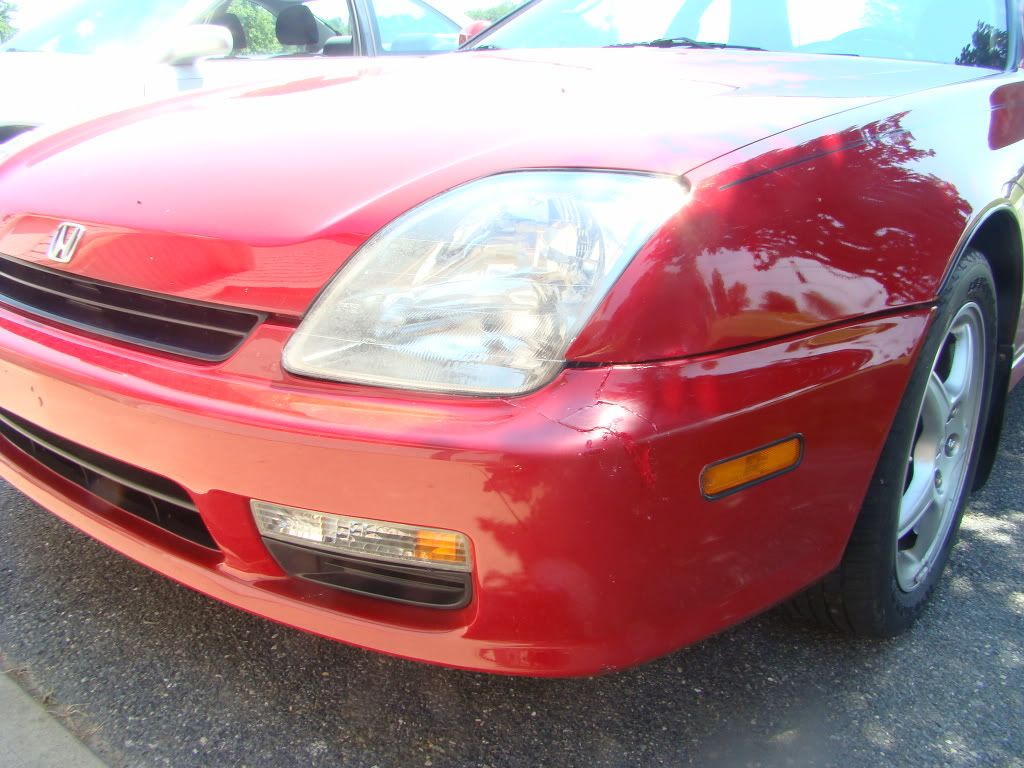 After removing the bumper (and all lighting parts, don't want them in the way) and setting up shop on some sawhorses and plywood I started to sand down the area with 50 grit.
Initially I was thinking I would need to use a dremel, but I didn't have one, so I carefully peeled back and worked around the crack rounding out edges and making as much space between the cracks as possible to epoxy to move through and seal with.
Front side: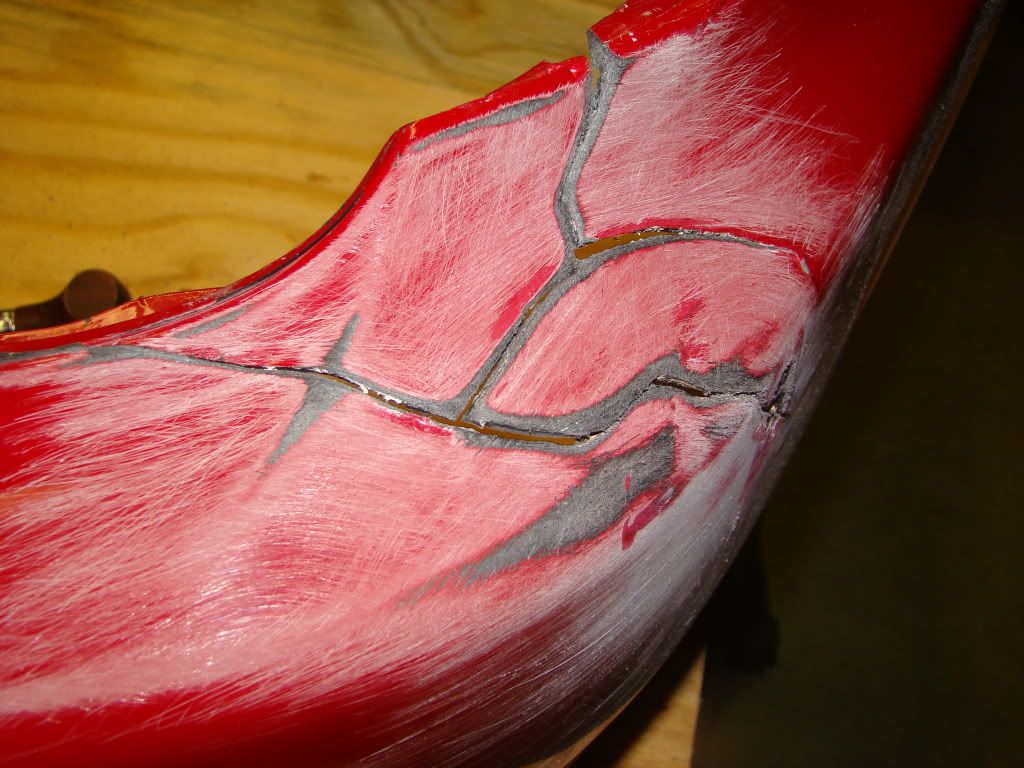 And back: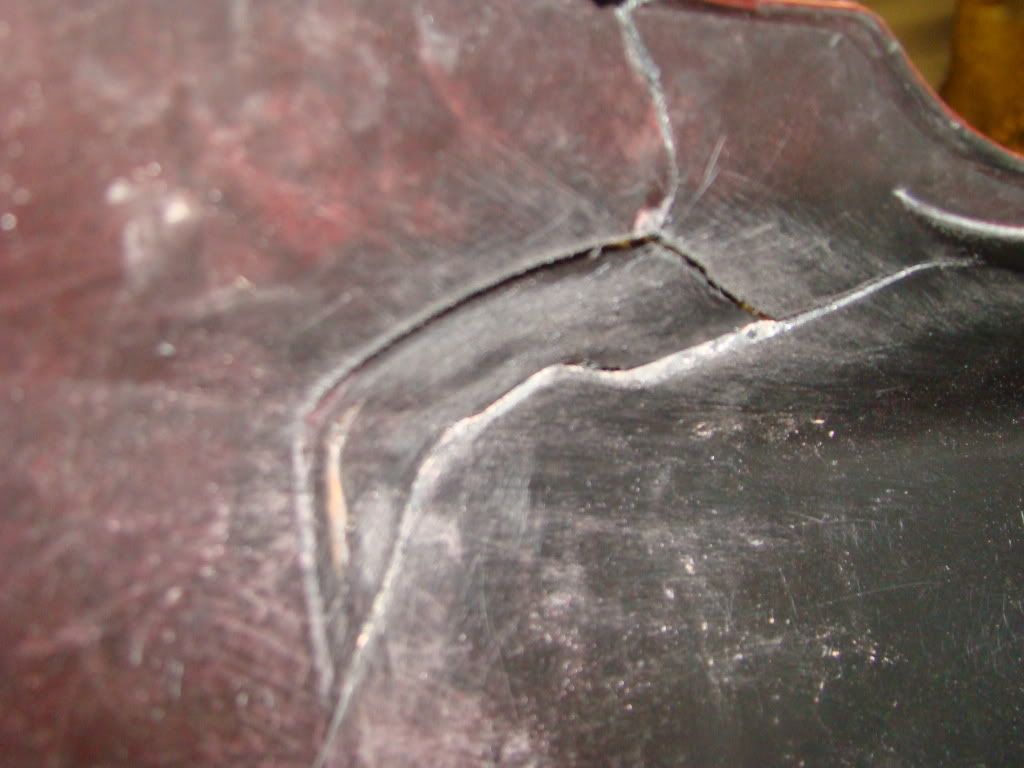 Once everything had been sufficiently sanded down smooth and plenty of area covered I used blue painters tape and taped down the front side getting as much of the original shape as possible. This is really important because while you're working on building a foundation on the back side you want to be able to press the epoxy into the cracks while warping the proper shape as little as possible.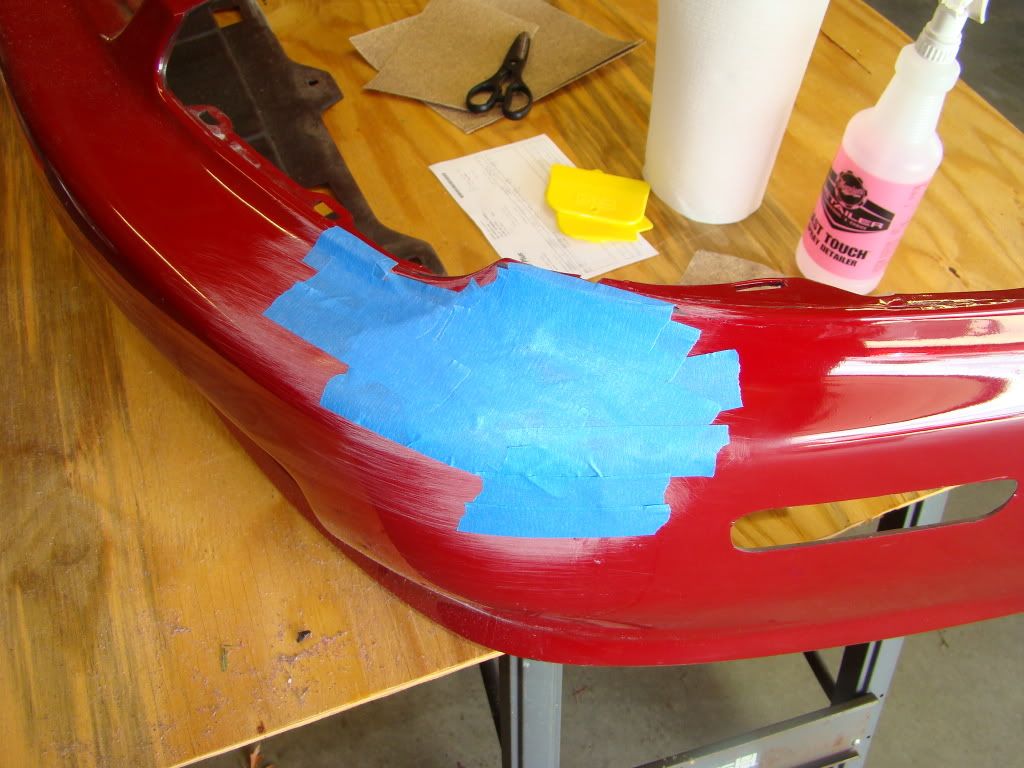 Before using anything, spray on a coat of adhesion promoter to the bumper and let sit for at least 5 mintues to ensure a good...adhesion lol.
The 3M 5895 two part epoxy has a 5 minute work time. So working quickly but patiently apply a coat to the inside of the bumper pressing the product into the crack so that as much goes through to the front as possible.
Then I used a piece of fiberglass cloth I had cut earlier, and pressed it into the epoxy saturating it as much as possible with the filler.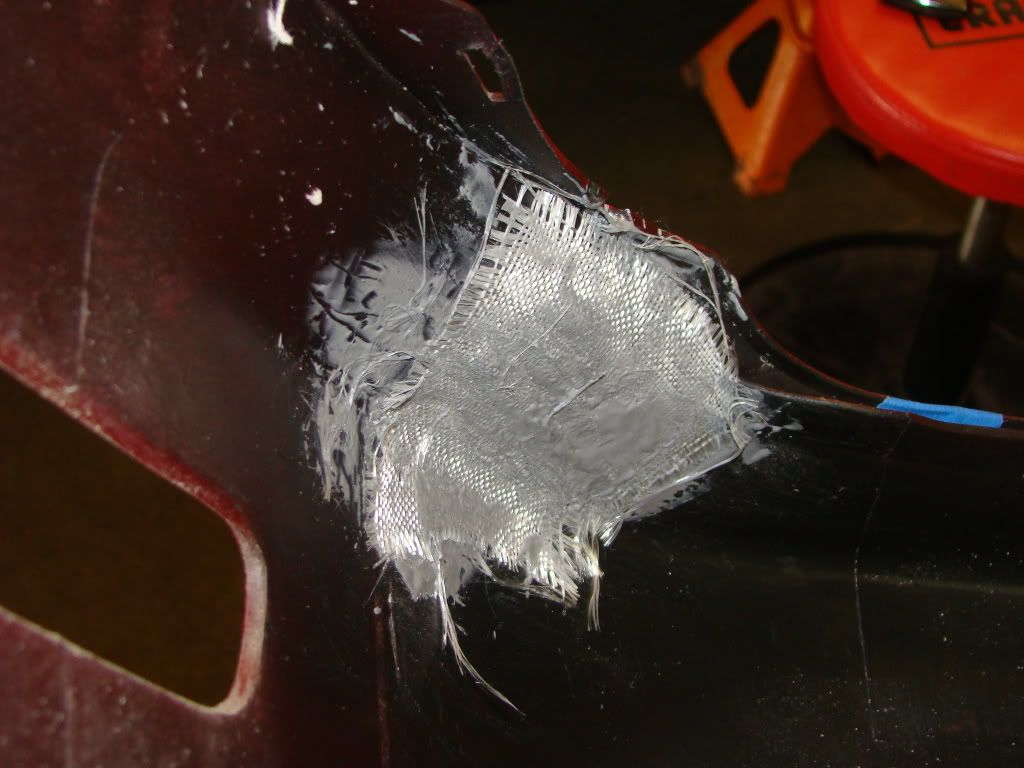 It's not pretty, but here it needs to be strong, the outside will have plenty of after work.
I ended up doing a second coat of epoxy there just because the crack was so severe and wanted everything to hold very well so I could do a lot of building up and sanding on the outside.
I waited the 15 minutes to sand time and went to work on the front.
Use your adhesion promoter on the front here too
Peel back the tape and sand away, again, all the epoxy that had come through from the back and shape as much as possible the front to the original shape (I still had a few pieces that weren't quite flush), it will make sanding the epoxy much easier.
Apply the bondo, again pressing into the crack, and smoothing out as much as possible, make sure you leave some to sand with but the thinner and smoother you can get it the easier.
This has already dried and been sanded down: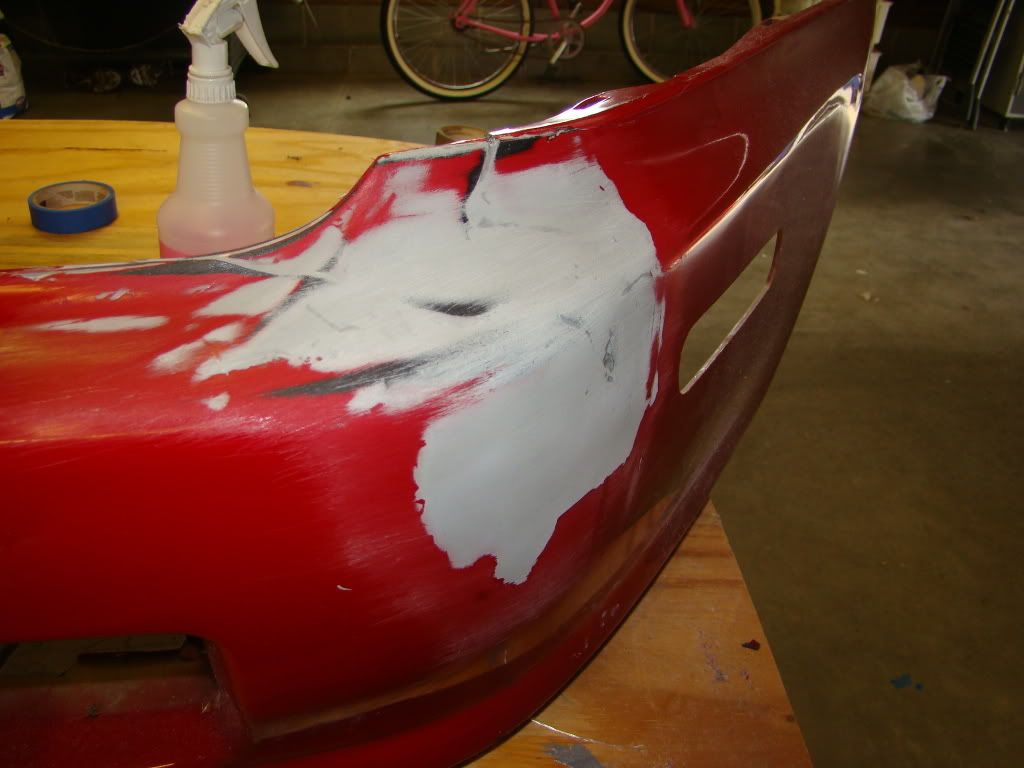 The most difficult part is feathering down the edges so that they run smoothly into the paint. I learned after my first coat of primer that any tiny edge left unsmoothed will show up very brilliantly under a thin coat of paint.
Here again I ended up doing a second coat of epoxy (after another coat of adhesion promoter) so that I could get as close to the factory shape as possible and get everything feathered down as smooth as possible.
Once thats all been done, spray on a coat of adhesion promoter and use whatever spray primer you like and spray a very thin coat over the worked area. I drove around going over serious bumps and riding it a little hard to see if any cracks were going to show up. They will be much easier to see in the thin paint than the plastered on epoxy.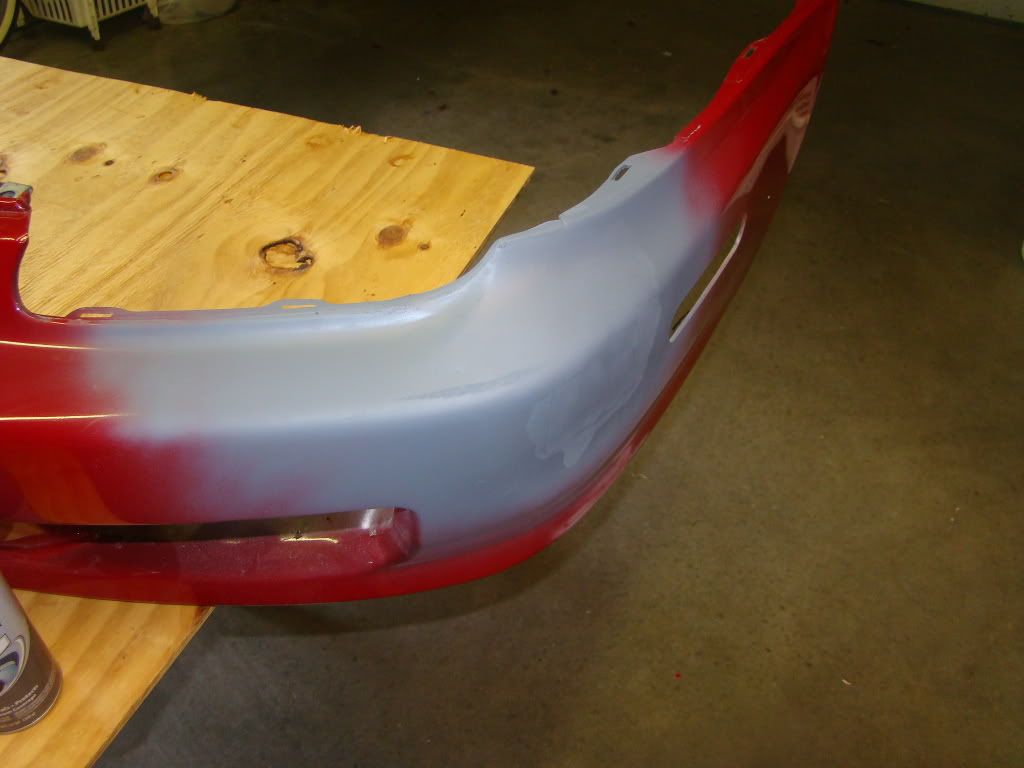 Then strap her back on :xmas: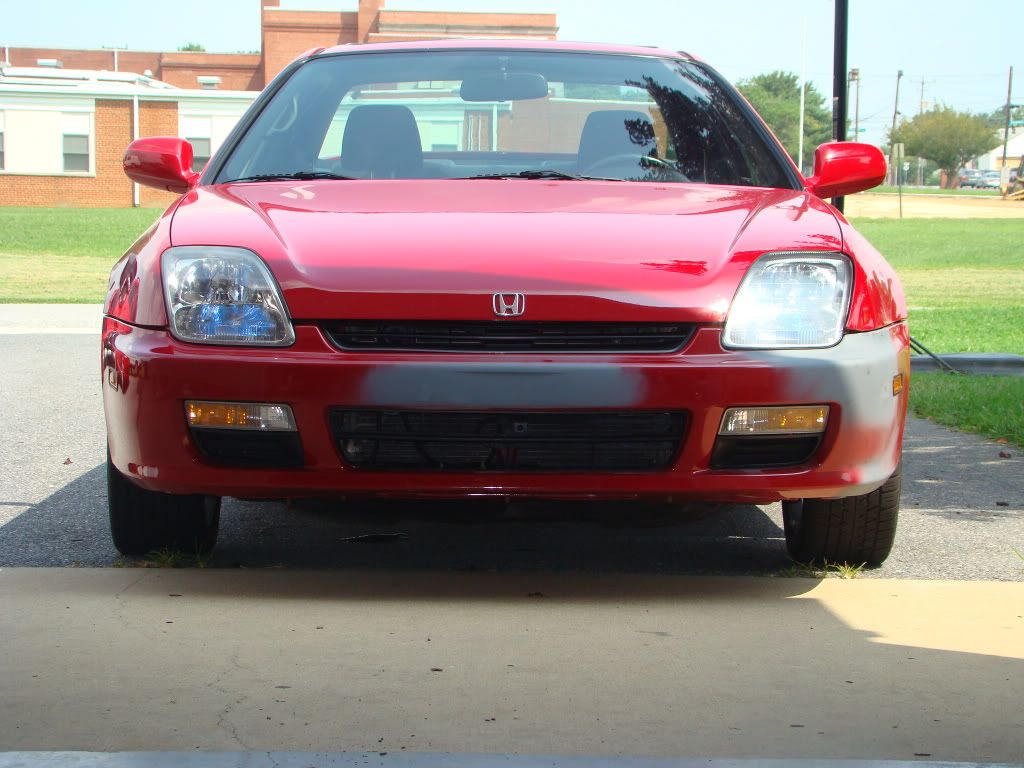 And if you're like me and not only can't paint but don't have the facilities for that, send her away to your little brothers friends for a new paint job.
I hope this helps at least one person, might as well try and do everything you can yourself, if a pro could fix the problem before you started, they can fix it when you make it worse. But pride beats the sting in your wallet of overpricing.