Discussion Starter
·
#1
·
Alright, this is a project that i've been eyeballing for a while now- custom fogs for those of us too poor to afford JDM or USDM fogs.
I have three ideas...
1. LED's.
Take three strips of surface-mount LED's, and mount them between the two "ribs" of the fog light plug, as shown: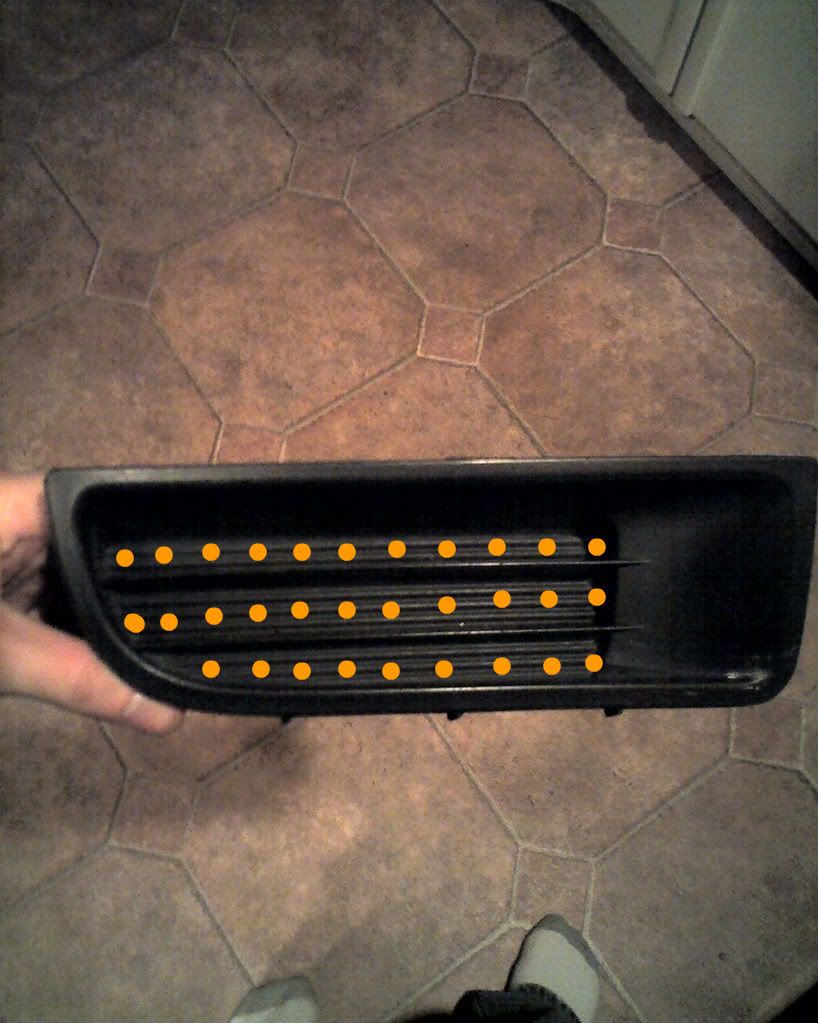 I would cut the slits out and mount the LED's accordingly. My question is, where would i get such LED's, and what would stand up to the elements the best?
2. Cut & Fab.
Cut out all of the material between the two ribs entirely, and place a yellow foglight behind it that's slightly larger than the hole- allowing the light to shine out, while being hidden behind the plug.
3. Retrofit some projectors.
Take a set of S14 240SX, a pair of Civic fog lights, or something of the sort and literally cut out a hole for them. (This has been done before, but my installation would be considerably cleaner) My question for this is, if i get an entire kit for a Civic, will the harness be usable at all? I want to keep it as clean as possible... i can get a full Civic yellow fog kit for ~ $30.
Also, does anyone know HOW to wire up fog lights to the low beams, or if it's even a good idea to? I plan on getting an HID conversion in the near future... i don't wanna stress out the wiring harness too badly! I can always go the different route altogether, and make a separate switch/wiring harness.
Another thing is, does anyone have a picture of their Prelude with the foglight switch? I can't picture where i would put it.
lain:
Thanks to all in advance who contribute anything! :colgate: I'm willing to do a DIY writeup on this if it works out!!!!