Discussion Starter
•
#1
•
This super easy brake upgrade requires no special tools and can be done with the most basic knowledge of car maintenance. Using all Honda parts you will go from 11.1" to 11.8" rotors and can still retain factory 16" wheels.
Parts list:
-99-04 Acura RL front brake rotors
-99-04 RL brake caliper bracket
-99-04 RL brake pads
The caliper bracket and pads can also come from any TL, CL, TSX, or Accord with 11.8" brake rotors. However, the RL rotors are the only ones with a 70mm hub bore. All the others are 64mm and would require grinding out the center to fit. Your factory calipers bolt right onto the new brackets so you don't have to worry about bleeding the brakes when you are done.
Necessary tools:
-jack
-jack stands
-12mm, 14mm, 17mm, 19mm sockets or wrenches
-c clamp or large channel lock pliers
-phillips screw driver
-brake cleaner
1) Park your car on level ground, lift with jack, and support with jack stands.
2) Remove wheels.
3) Remove one 12mm bolt holding the brake line to the knuckle.
4) Remove two 14mm bolts holding caliper to bracket and set the caliper out of the way, being careful not to let it hang from the line.
5) Remove two 17mm bolts holding caliper bracket to knuckle.
6) Remove two phillips screws from the brake rotor and remove the brake rotor.
By now everything should look like this: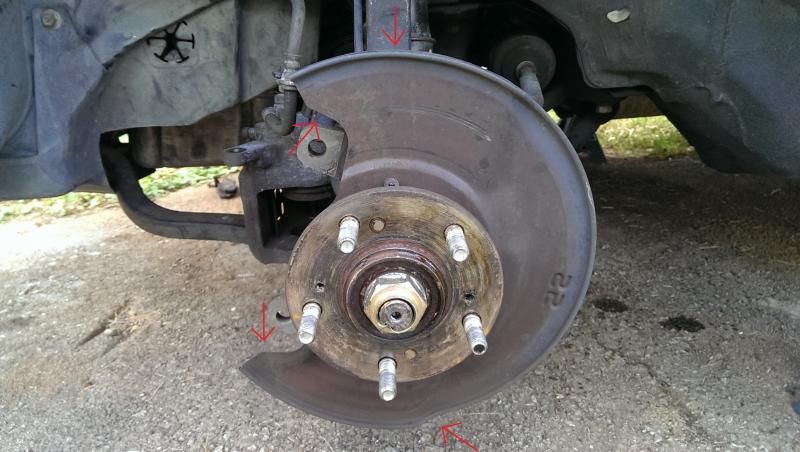 7) The only modification required for this upgrade is to bend the dust shield in the areas noted by the red arrows. Two spots by the caliper bracket mount and one at the 12 and 6 o'clock positions. Without these bends, the bracket will not slide on and/or the rotor will rub the dust shield.
8) Clean new rotor with brake cleaner to remove oils, install, and secure with screws. Spin the rotor back and forth and check that it doesn't rub the dust shield.
9) Install caliper bracket.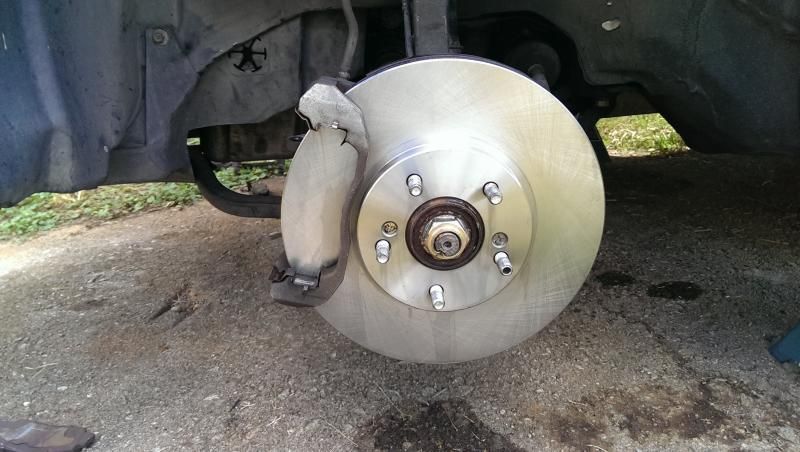 10) Carefully compress caliper piston with c clamp or large channel locks.
11) There is a metal spring clip in the middle of the caliper. Pop it out and toss it aside
12) Install brake pads into caliper bracket.
13) Attach caliper to bracket
14) Reattach the brake line to the knuckle
15) Pump brake pedal several times until firm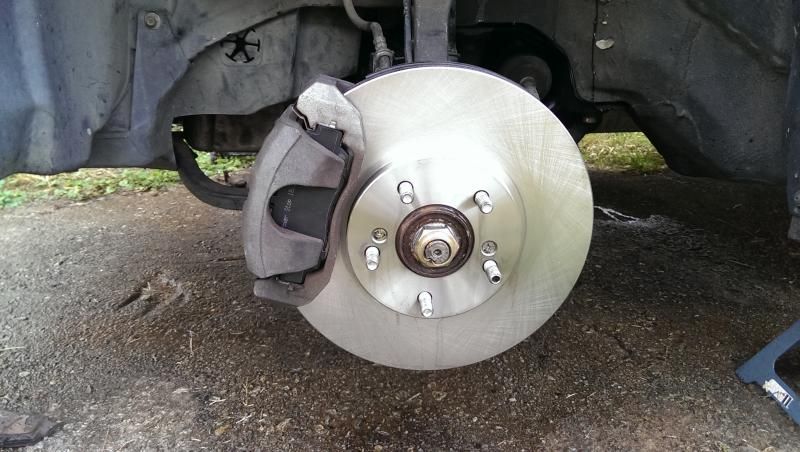 16) Install wheels
17) Lift car and remove jack stands
18 ) Lower car, make sure the wheels are tight, and test drive.
Be sure to follow your brake pad manufacturer's instructions for proper pad break in