So this dude wanted to run my Accord. I didn't want to run at all, but with my buddies kept bugging me, I said sure. So we went go to do some highway pulls.
Mods that I know of his:
-K20a2 w/6spd trans
-RBC IM
-Hybrid Racing Fuel Rail & FPR
-KPro
The teg made
201whp/146wtq
tuned and ran 13.5 or so on a quarter mile IIRC.
The K20a2 swap Teg:
My setup:
I made
204whp/157wtq
tuned!
Mods:
-'96 JDM H22A Engine w/ T2T4 LSD 5spd Trans
-Skunk2 Pro Series cam gears(+3*E,-1*I)
-Skunk2 Pro Series Stage 2 cams
-Skunk2 Pro Series valve springs + spring base kit
-Skunk2 Retainers
-Skunk2 68mm Throttle Body
-DSM 450cc Blue Top Injectors
-Rosko's Euro R IM
-Rosko's Thermal IM gasket
-Rosko's Thermal 69mm TB gasket
-Rosko's EGR valve block-off plate(EGR Delete)
-Hytech Replica Header
-Ebay 3" Intake Piping
-2.5" Hi-Flow Cat Converter
-NGK Iridium Plugs
-2.5" custom piping exhaust
-Apexi WS2 muffler
-Walbro 190lph fuel pump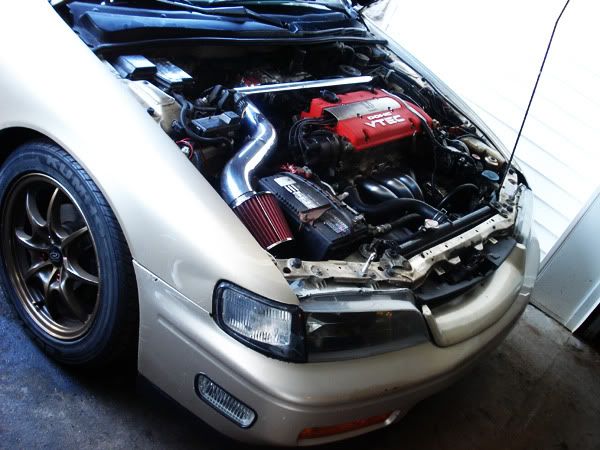 Just wait til I'm Mahle 11.5:1 CR equipped. :angry: I know I won't have chance against him anyway due to K-Pro, better gearings, and lighter chasis but it just gives me an idea where I'm at.