Discussion Starter
·
#1
·
I just did some digging on the B20-VTEC setup one of the members did a while back, so that newbies and oldies can get some ideas. If you want to know more about anuthing he posted just clik on his sign-on name and go to his profile and pull up all the threads he started and read....
This is a re-post for information purposes only, so don't ask me. Enjoy Luders!! Another 1Funryd Productions!!!:wink:
B20-VTEC Conversion:
(Original thread starter -
low12s
)
it's a ctr head with a dpr port and polish. It needs a new valve seat and valve. The conversion is very similar to a b20b conversion, but you will need a custom headgasket, b16 pistons, and aftermarket rods if you want to rev it at all. The redline is currently 10,500, I can go higher but the tranny wont keep up. It grinds as is. I probably won't ever dyno it because I have a 3rd gen rx-7 and I don't really care what the prelude puts down. If I had to guess I would say 300whp, but I have a ton of mods and custom parts to get that hp number.
...See how far the head hangs over the block? The bearings are toda race bearings, and they are good to 12000 rpms. I'm running longer rods and you need the b16 pistons so the valve reliefs will line up with the valves. I'm selling just the head and nothing else. Ok sorry guys I don't really have the time to answer all of the questions on here but if somebody buys the head I will give you all of the info and support you need to do this swap.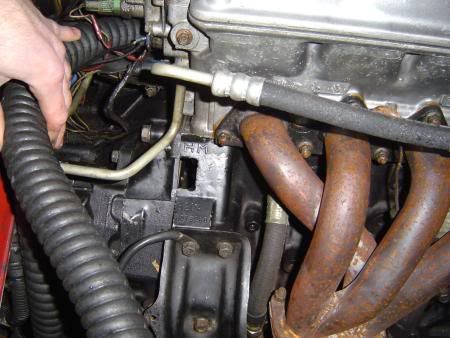 Gasket info
: ....it was a custom thing...its a hybrid gasket between the b20a and the b16
...tom coleman used to get the gaskets and sell them with the vtec head conversion
as far as I know, he is one of few that actually know what to modify to make this head work properly...
...I tried the ludespeed gasket but it didn't work out for some reason. So I made my own. It has been going strong for about 10k miles. My compression ratio is roughly 13.6:1., that helps out a lot in the midrange with the big cams. Race gas is my friend :smile:. But like I said I dont really drive it that much anymore, the rx-7 gets all the love now. Yeah the engine bay is messy I had to take it all apart a few times and mess with the motor mount. The pics are taken as I was putting it back together, you can see the air intake and the nitrous aren't completely installed in those pics. If anybody is serious about the head pm me. I'll give you the info and the price. Thanks for the interest guys.
Setup:
...Sorry guys I just realized that I never posted all of my mods or weather or not I am spraying. So just to clarify things I am spraying a 50 shot.
So I'll list my mods and I'll probably forget a few things like I always do. The car used to be turbocharged with the stock b20a engine by the way, but it isn't anymore. Ok so my mods are: b20 block sleeved, custom forged destroked crank, custom made long rods, custom made ross pistons, all arp hardware, toda bearings, ctr head ported and polished by dpr, 1mm oversize titanium valves, titanium springs and retainers, jg full race cams, adjustable cam gears, venom intake manifold, fuel rail, 75mm throttle body, rc engineering 440cc injectors, afpr, walbro 255, zex kit custom made header, 2.5" exhaust. Redline is 10k right now, I think thats all of it. If there are any doubts about this I live in nw washington and anybody who wants to come take a look or go for a ride just pm me. As for timeslips I have slips for my mid 12 runs and I think they are posted in imagestation. I don't know if I still have the low 12 runs and yes it was using turbo and nitrous. But seriously pm me and you can come take a look. I could really care less if people doubt this engine, I am not really that interested in it anymore, I have bigger and better things in the works so it doesn't matter to me. I just want to sell this head it's taking up valuable space. As for tuning this setup it's not that different from any other b20/vtec. It can get a little tempermental at times but the guy that tuned it knows his stuff. But seriously why do you think it would be so hard to tune? and I dont run b16 pistons. I have run b16 pistons in the past but this is the 3rd buildup of this motor. I had to work out most of the problems in the first 2.
---------------------------------------
Sean