Hi my name is Dave.
I was first introduced to the Prelude game by my cousin who had a red 5th gen back then in 2001, I was 11.
Just one ride in his car and it changed my mind, I instantly became the car addict that I am now. Over time I started to get interest into the 4th gen.
Then I got my license and had money for a Lude. Though I couldn't find any clean lude locally, because the 4th gen is over 15 years old and Canada's car are rusted to death because of winter and salt.
So, in 2007, I bought a clean 98 DC2 integra rs. I just started to mod the integra, but only 4 month after, the car got stolen…and I bought a civic ek coupe as a daily driver to replace it.
One year later, I started to look for a lude locally again and I finally found one that was worth it. No rust, the owner had it for 11 years, not winter driven, 185k km on the clock, almost un-modded exept for some altezza tails, riced 17's wheels and chrome tint windows…and old momo pedals and shifter yuck.
It ended up that the mechanic of the car was in bad shape; engine was knocking (H23) and suspension components feel old , crusty and direction was loose.
I own my lude since 5 years now and I modded it over the year the best I could.
Here is the part mod list:
Interior
96 SRV front leather seats
96 SRV rear leather seats
96 SRV rear seats divider
96 SRV leather door inserts (front +rear)
96 SRV center leather console + relocated e-brake
SRV 96 EL cluster
Skunk2 shift knob
OEM Type R shift knob stiched leather
Ubber rare 92-93 tweeter fog switch
Custom painted headliner + c-pillar+sunvisor
Oem dash cover
OEM prelude black carpets
Suspension
ZEAL(ENDLESS) coilover (like the JUN lude lmao)
SPC camber kit (front+rear)
MEGAN racing rear toe kit
ESP.net front torque bar with adjustable caster
Energy black Poly front swaybar bushing+link kit
Wheels + tires
Volk Racing 16x8 +35 wheels around (made a honda tuning front page feature on a silver 96 Si)
BFG KDW 225/45/16 all around
Brake
96 Vtec front caliper
Hawk HP+ brake pads
Brembo plain disc
EARLS SS brake lines
Blue dot fluid (something like that -_-)
Engine
F20B blue top Manual version (swapped) converted to OBD2..meanwhile
Type S air intake + custom 45* flange to fit 62mm TB
Vibrant new Tri-y headers 2.5"
Mandrel bent magnaflow exhaust line 2.5" + single 2.5" tip
Type R oild cap (dress up)
ESP.net Traction bar with front torque mount
ESP.net all 3 poly engine mounts
Home made cooling plate
Mishimoto Radiator + mishimoto cap
Transmission
T2T4 LSD from accord Sir-T
Exedy stage 1 organic clutch
JTC short shifter
Shayspec solid bushing plate and left-right solid bushing
Exterior
JDM black housing one piece headlights
Retrofitted black housing E46 shrouds (Thanks Campbell)
JDM intersection light + harness
Hollowed nostrils + dipped black
EDM window visors (or jdm..got them from UK...so UK...)
JDM yellow fog lights
Modded OEM rear taillights with clear altezza turn signal
Dipped fog light covers
EDM rear lip
Shaved rear sides markers (like jdm rear bumper)
Value sport type 2 sides skirts
Sides skirts skid plate front & rear Apexmen spec
Value sports type 3 decklid wing
Shaved Honda badge on the rear trunk
Shaved Sr logo
Dipped black front Honda badge
Dipped black prelude badge
Kaminari front lip
OEM antenna plug
Stuff to come
-H23a swap
-Brand new seals and gasket
-Oil cooler kit
-Battery relocate
-Relocate fuse box in the glove box
-Wire worx harness
-rywire charge harness (quick disconnect)
-Wire-worx ground kit
-Rywire rad chrome overflow tank
-chipped P28 ecu
-Dyno tune
-Euro R intake (ported 68mm)
-68 mm TB
-Rosko fuel rail
-RDX injector
-Braided fuel line
-AEM fuel pressure regulator + gauges
-Prelude S prop valve (non-abs)
-ABS delete
-Cruise control delete
-EGR & IACV delete
-Custom fiberglass air duct to connect on type s intake
-Vibrant 2.5'' twin tip flat black muffler
-Energy urethane pro-bushing kit
-Suspension technique rear sway bar + urethane bushing
Some pics of the day when I got it 3 years ago.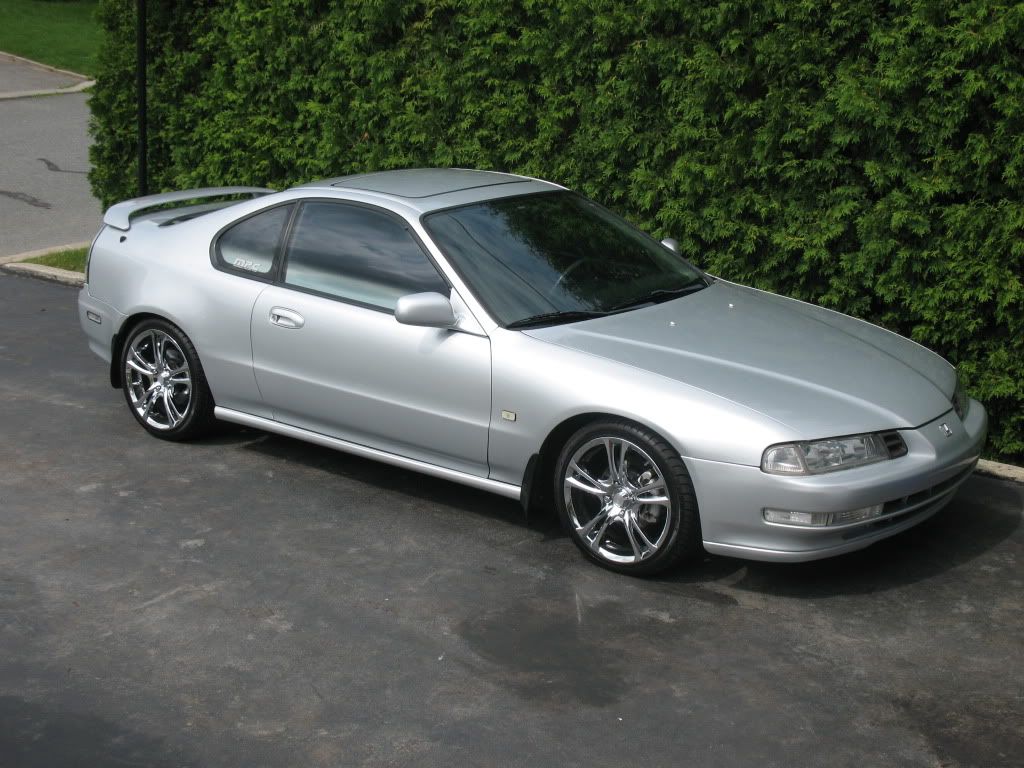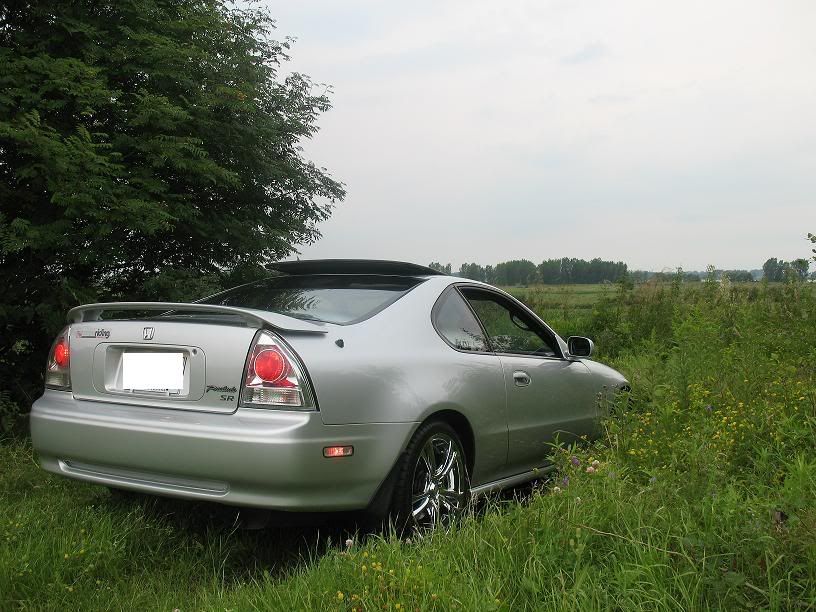 It was a little ricy so I changed things during the summer just after to end up with this: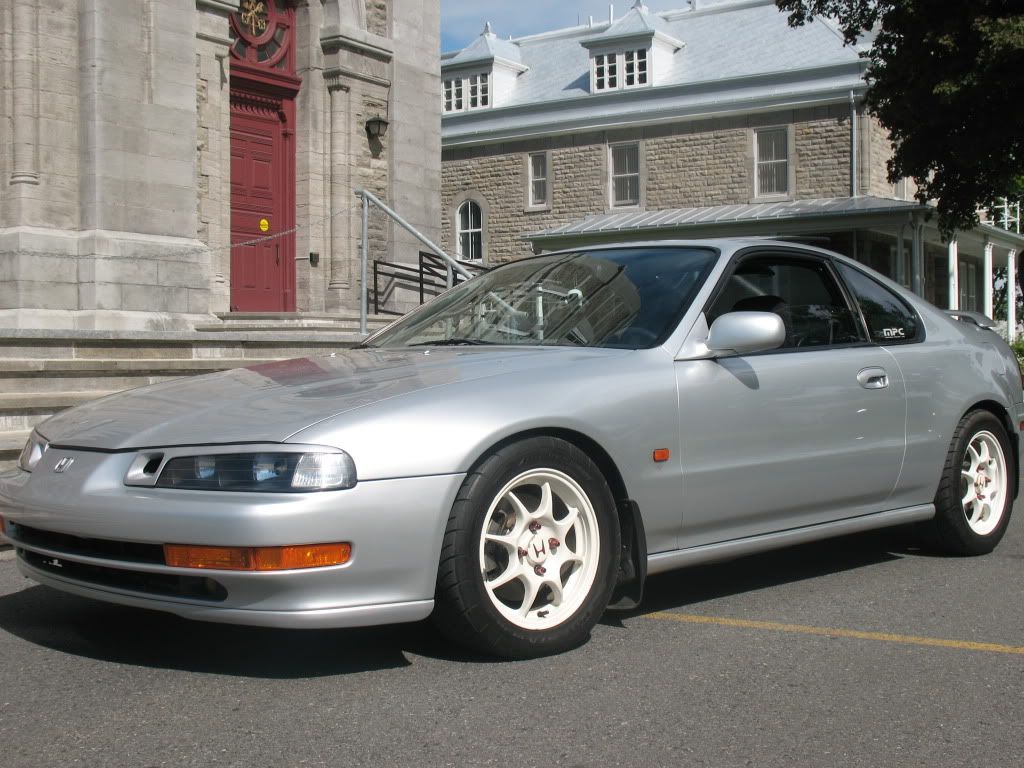 Im kinda in a hurry this morning..Update later!