For a long time now I've been quite annoyed with the stock engine torque rod, otherwise known as the "dog bone mount". It's job is to limit engine rotation as torque is applied to the wheels. For the most part it does a fair job but after awhile the bushings inside it get sloppy, allowing for excessive engine movement when taking off from a stop and shifting gears. And for what it does I've always thought it was just way too big, and it seems like it's always in the way when I'm trying to work on the engine. At first I thought the solution was to make a new smaller one, and that would be ok. But then I started thinking about how lots of other much larger engines don't have a torque mount at all, and they get along just fine. So why the hell do we need one? The answer is that we have BIG MUSHY ENGINE MOUNTS. Now granted, big mushy engine mounts make for a smooth quiet ride with minimal noise and engine vibration. But honestly my car is no longer smooth or quiet because of the stiff suspension and reworked exhaust. So what to do?
Find a new stiffer engine mount that limits engine rotation enough so that the stupid "dog bone mount" is no longer needed. And preferably find a way to do it that is relatively cheap and uses commonly available parts.
Enter the ubiquitous GM transmission mount from Energy suspension: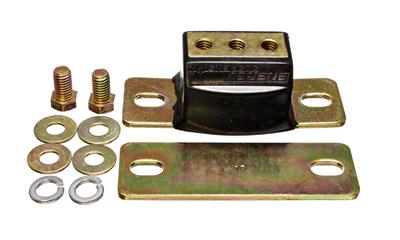 http://www.summitracing.com/parts/ENS-3-1108G/
These things are common as dirt and cheap because they're used on about a million different GM cars going back well into the 1960s. Even the local Autozone normally has them in stock. So how do we use it as an engine mount? Well the overall shape is actually quite similar to our stock engine mounts, a single bolt on top with two mounting tabs on the bottom. Except that the mounting tabs are not quite in the right place and it's a little too short. Hmm, what we need is an adapter. Something like this:
This is an adapter bracket I made up from 1" x 2" steel tubing and 1" steel angle. There are 2 square nuts tacked in under the top holes for the poly mount to bolt to. The side tabs bolt to the cross member using the stock mount holes and bolts. The stock engine bracket then bolts right to the center hole in the poly mount.
It's so simple I almost can't believe nobody has done it yet. Right now I only have this on the front side and I haven't tried it on the road yet, but it's already solid enough that the engine has much less movement when rocking the car back and forth in gear, even with the dog bone removed. Of course it does vibrate more at idle, but that's to be expected. And to me it's a small price to pay.
I did make a second one for the back and I'll be putting it on eventually but I want to try it with just the front mount and see how it does. Obviously I'll let you guys know when I find out.
Something appears to be missing...
C|