Discussion Starter
·
#1
·
Basically what happens is this:
Driving along about 5-10mins after starting off, the speedo needle jerks around. It doesn't matter what speed im doing, its done it at 20kph and also at 95kph. It'll drop down and jump back up, drop down, maybe sit on 0 for a few secs then jump back up. It doesnt seem to coincide with rpm or throttle at all though.
After a few seconds of this, the "S" light on the dash (ill include a diagram below) will start flashing all hell, and it never stops. If i pull over and turn off the car for 10seconds and start again, it seems to fix the problem altogether for that trip, so im pretty sure its not loose connections.
Now ive read every page in the manual that mentions A/T and dash lights (seriously not exaggerating) and there's no mention of this anywhere.
Basically the toggle switch for this mode is on the gearstick and thumb activated. I guess its "Over Drive", but Honda obviously settled for "SPORTS MODE GRAWWWR!!!!".
Another problem which may or not be related, is when im cruising between 75-110kph, my car seems to randomly "switch gears". I dont mean actually change into 3rd gear as the rpm difference isnt ever more than 200revs, but theres a definate judder and change in engine noise. It just likes to do it every now and then, sometimes more than others. I know its not difference in throttle there either.
Neither of these pics are actually my car, theyre just to give a general idea: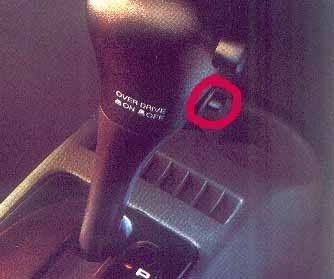 The closest thing i've found are these two articles:
http://www.preludepower.com/forums/showthread.php?t=295599&highlight=flashing+light+automatic
and
http://www.preludepower.com/forums/showthread.php?t=298810&highlight=flashing+light
But neither are exactly what i'm after.
The workshop manual is for american cars and from what i gather USDM and CDM versions dont have this Sports Mode or whatever its called. Im hoping someone can shed some light on my problem.
Also if anyone can explain exactly what this Sports Mode is or does...would be appreciated aswell, since i haven't found any significant difference in shifting with it on or off..maybe since its not working right...
_