Congratulations to PJF_Lude and Japskorre the July 2010 POTM winners.
PJF_Lude
Engine:
B20A6 - AUDM 9.4:1
Custom turbo manifold, dump pipe and 2.5" mandrel bent exhaust, hi flow cat.
Garrett T25 Turbo.
1 step colder spark plugs, NGK BCPR7E 0.8mm gap
Precision 440cc injectors.
Walbro 255LPH hi flow fuel pump.
Coolingmist water/methanol injection system.
Vision cam gears + gates racing timing belt.
H23 Alternator
Polyurethane filled OEM engine mounts.
P06 ECU - currently tuned with Crome. (In the process of writing my own tuning software)
Innovate wideband o2
Drivetrain:
D2J5 transmission with electronic VSS instead of cable.
Larger series 2 Flywheel
Exedy HD clutch
Series 2 front knuckles
Brakes:
DBA slotted discs
Goodridge stainless steel brake lines
QFM race pads
Suspension, wheels & tires:
16" Advanti Envy
215/45/16 Kuhmo KU36 motorsport tire
Superpro polyurethane bushings
Whiteline front sway bar
Whiteline rear sway bar
Cusco front strut brace
Cusco rear strut brace
Lovell springs
KYB shocks
Interior:
Series 2 gauge cluster and pod
Footwell lights
JDM Map light
Centre armrest
DC2 integra Type-R steering wheel
DC2 integra shift boot and shift knob
Mustardcat short shifter
Custom made floor mats
Exterior:
CD5 Accord lips all around
Colour coded (Gold/Black) license plates
Dark tint
Removed prelude lettering from rear centre garnish
Black hood
JDM foglights
JDM power folding mirrors
Partially debadged boot lid
JDM Window rain visors
Entertainment:
Alpine head
Alpine digital
crossover
and processor
Alpine amplifiers
Focal speakers
Custom lower door trims to fit deep focal splits
Compact drycell battery on custom bracket in engine bay
I've owned this Prelude since 1998, but have only started modifying it over the past 3 years. All work with the exception of the turbo manifold and exhaust system has been done by myself. Even the ECU tuning. Been a long hard slog, with quite a few little lessons learned. My goal for the project was to give it the power and handling that the body style deserves.
------------------------------------------------------------------------------------------------------


Japskorre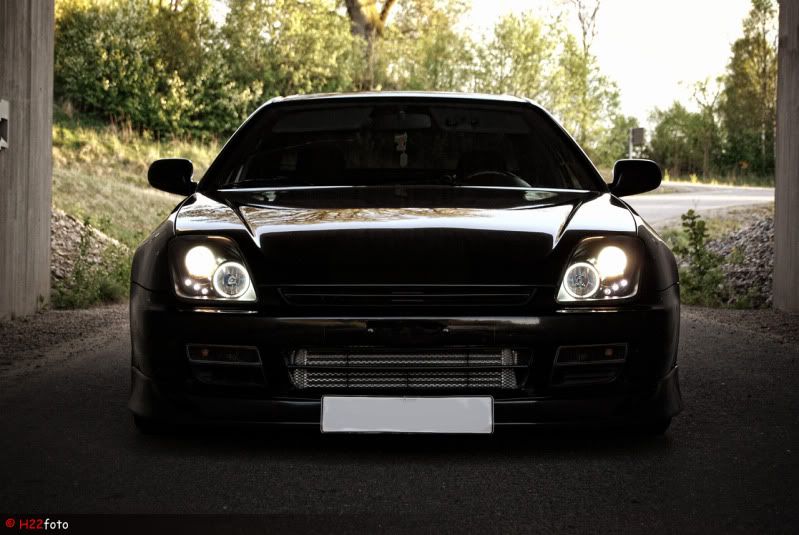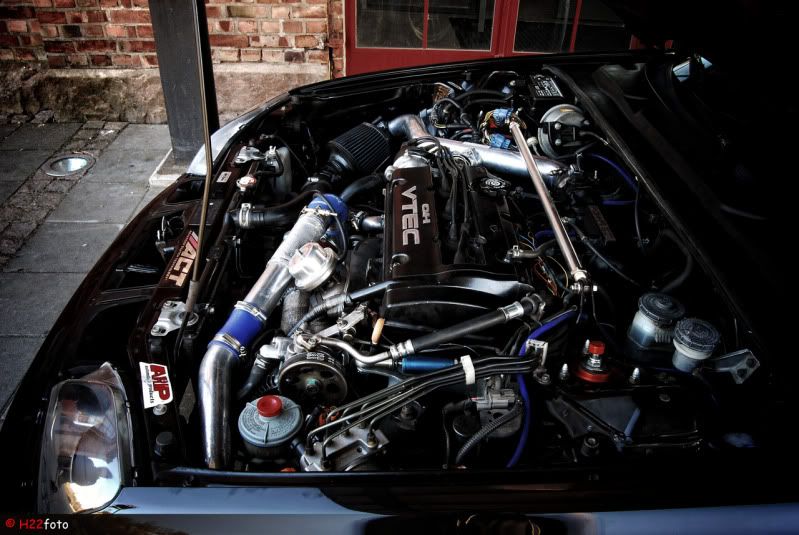 ENGINE & HEAD:
* FERREA 6000 series valves
* new seals everywhere
* Resurfaced head w/ slight port
* renovated Valve seats
* ARP headstuds
* ARP 2k series rod bolts
* H22a5 EUDM engine Base
* 5 speed
* NH592P painted block
* NH592P matte black VC and IM
* JDM Tourque Damper
* Removed AC
* ACT 6 spung spring disk
* ACT Heavy duty pressureplate
* ACT release bearing
* Pspec Shortshifter
* Relocated battery
* BOSH plugs
* Wiseco 8.5:1 pistons
* Eagle ESP H-beam rods
* Darton flanged Dry sleeves
* King main bearings
* King Rod bearings
* Cometic headgasket
* Turbonetics T3/T4 turbo
* Turbonetics Evolution wastegate
* Greddy Type RS bov
* Treadstone log mani
* Treadstone TR8 intercooler
* Treadstone 2.5'' polished IC piping
* 3" downpipe
* 3" custom catback
* 3" 100cells cat
* Treadstone oil lines
* Houses and clamps from BTracing, treadstone etc.
* RC550cc injectors
* OBD1 Injectorclips
* Resistors (4pcs) 10ohm 10w 5%
* Chipped P28 ECU w/ Crome
* OBD2a -> OBD1 Boomslang
* Oil sandwich plate
* wallbro 255 fuel pump
* Headwraps/shields
* Vtec, A/F, RPM, Tourque controller (Dissconnected VTEC controller)
* Custom Oil catch can
* AEM Dry flow Filter
* Samco houses and some blue vaccum houses
* Pipercross breatherFilter
Chassie/breakes/rims:
* Front upper strutbar
* Rear upper strutbar
* K-sport PRO Coilovers
* Diet. 1220kg
* Lenso Samurai 17" wheels
* 215/45 R17 tyres
* Brembo drilled disc front
* Stock rear breakes
Interior/multimedia
* Nokya shiftknob
* Swoosh AF/VTEC/RPM/TOURQE controller
* Swoosh Shiftlight
* Swoosh VTEC light
* Aluminium cluster mod trim
* NH592p painted centerconsole
* H-line nologo Oilpressure gauge
* H-line nologo Boost gauge
* AEM UEGO Wideband gauge
* Custom gaugepod
* JVC stereo
* 6.5" front
* 6x9" Rear
Exterior
* Wings West Frontlip
* Wings west Rearlip (Cut and modded)
* OEM Sideskirts from Honda
* Tinted windows
* Black front turn signals
* Painted calipers
* Emblem Shaved
* Eagle eyes Projector headlights
* Ksport coilovers
* Half black rear lights
* Black rear foglight
Tnx again for the POTM nomination!
Why should I become POTM?
Hmm, first off i've bought this car compleately stock back in 2007, it wasnt in very good shape, only good thing was that everything was working and the engine was in good condition. Started to make som slight mods w/ I/H/E and getting the paint back, later on the wwrs kit and oem skirts. I coulndt resist further build, so i went F/I and engine build.
Now its almost where I want it, som slight things to do next tho.
Much of my inspiration comes from this forum! and tnx to that my knowledge has grown, and still does. This made me feel that I could do everything by myself, wich I also did. so tnx to all PP members! Alot of money, time, and work has been spent on this lude, and I love the car! Hope you like it too.