Update to the thread
is a video for a Honda Accord that is the same procedure as our ludes, the differences will the way the tie rod is sitting but everything this guy does is the correct way to replace an Axle in our cars and most other cars as well.
Replacing an Axle in a Honda:
http://yootuubee.com/video/WSdSmH2xa...)-honda-accord
Here is another write-up organized by me through the help of other Luders experience. These pictures are for illustration only and are not an actual Lude, but still the same procedure.
I will update pictures and pertant information as I come across it.
And since this is related to "Lower Ball Joint Removal" here is the link to that thread:
Front Lower Control Arm Ball Joint *Write-Up*
I would also like to add this link for those who want to rebuild their - CV Joints -
Half Shaft - CV Joint Repack and Boot Replace
This write up is very informative and helpful to the do it yourselfer's out there.
**Write-Up**
1 Remove tire(s) - Lug wrench
2 Remove axle nut (have fun! easier with tire on ground and center cap removed for axle socket to fit through) 36MM for 90-91 or 32MM for 88-89
Make sure to take a chizzle or flat head screwdriver to bend out that little notch that is indented toward the groove on the axle. You will see what I mean when you take off your wheel cap.
(please note that depending on when and who changed out the axle last, the axle nut might differ in size - 32-36, so please check this before doing anything as to not waste time.)
You will need these tools, but an impact gun is always the easiest way to go.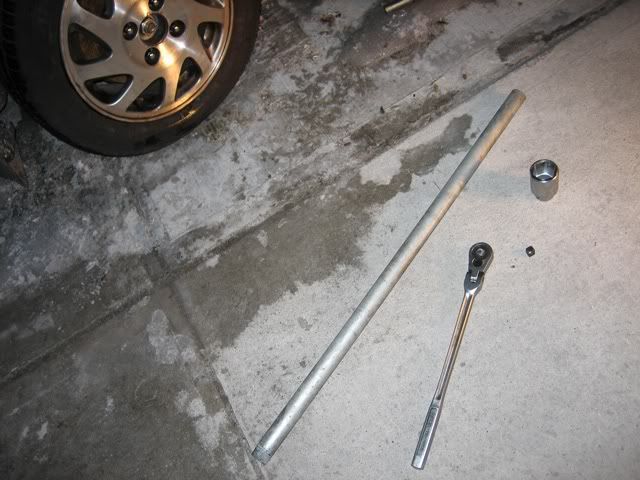 3 after jacking car back up, remove lower control arm balljoint nut - 17mm?
4 use tie rod end puller to undo lower ball joint (careful of threads!)
(This is also a
ball joint puller
, it is safer so as not to damage the ball joints, but if you are replacing the whole ball joint as well, you can use a
pickle fork
as well. Please remember this for illustration and is to show you how to use this tool, this is not the
actual ball joint
you are going to remove at this time, unless you decide to do it at the same time since you will have everything off.)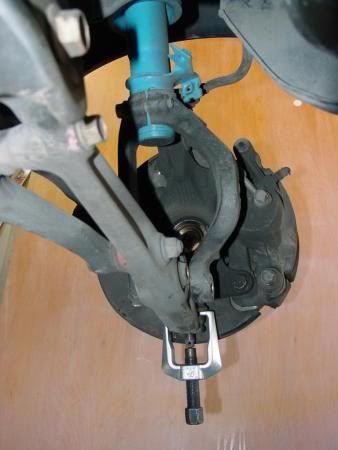 Pickle Fork Method, this is the acutual ball joint that will be removed while removing the axle.
5 undo bottom of shock from lower control arm - 17 mm...2 two of them since the bolt will spin - remove that bolt
6 separate the knuckle and slide it out the way while the axle slides out of it then pry the tranny side with a large flathead or prybar.
Please note, that you might have to take a solid peice of metal like the back end of a chizzle, and use it to pound out the axle if it does not come out easy.
When you start pushing it out it will look like the picture below, you will need to push it out, you might need a pry bar to help relieve tension on the supension to get out, but it will come out, so just keep working at it.
Do not over pound it if it is not moving as you will start to damage that end of the axle.
I hope this helps out everyone!
Sean