In order to answer all the recent questions and incorrect assumptions about building an H22 a motor ... and so people dont do it incorrectly by misssing a small step, I am putting up a Sticky post I posted on PreludeOnline. I hope this helps all of you.
__________________________________________________ __
EDIT: THE FOLLOWING IS THE INTELLECTUAL PROPERTY OF KEAHISTIGHT AND HIS LIKENESS. ANY AND ALL REPRODUCTION IN ANY WHOLE OR PORTION, MEDIA OR OTHER FORM IS AN INFRINGEMENT AND THE VIOLATOR WILL BE HELD ACCOUNTABLE AND PROSECUTED TO THE FULL EXTENT THE LAW ALLOWS. ANY REPRODUCTION MUST BE ACCOMPANIED BY WRITTEN, NON-ELECTRONIC, PERMISSION FROM ME. CHOICE OF FORUM IS RESERVED IN CALIFORNIA.
(In other words ... dont mess with me, I graduate law school this year)
__________________________________________________ ____
So you know some thing about my background ... my Turboness went like this ...
1. Greddy kit with blue box
2. Greddy kit with custom 3 in DP
3. Greddy kit with with custom 3 in DP on AEM EMS tuned by John Reed
4. Built motor on Greddy kit with AEM EMS tuned by J.R.
5. Built motor with custom Garrett setup on AEM EMS tuned by J.R.
I took no shortcuts on building the motor, used the best stuff and had one of the best tuners in the nation tune my motor. It is tuned for DD on 11PSI making 320WHP. I am driving to see John is Oregon this summer to put in my GT35R to try for 500WHP.
The post below was written by me and uses pictures I took of my motor during the build.
__________________________________________________ ________
Before anyone can get into discussing anything about a turbocharger one needs to completely understand how one operates. For a great description of how a turbocharger works please read the following:
http://auto.howstuffworks.com/turbo.htm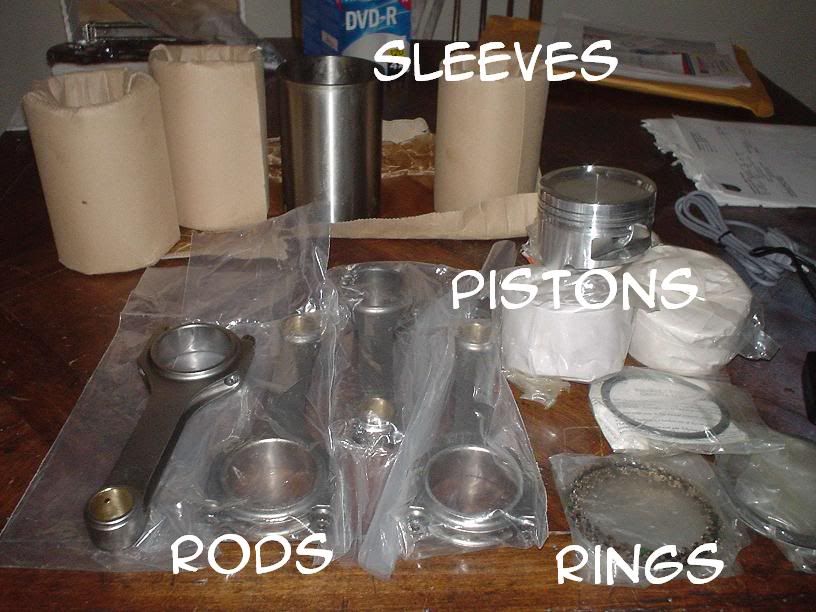 Engine Build
Because everyone else and the above article did a great job covering a turbo set up and operation, I am going to skip straight to the engine build with particular attention to the H22.
1. Sleeving:
(after machine work an average of $1,000)
A sleeve is the bored potion of the block in which the piston travels from BDC to TDC (bottom dead center to Top dead center). The sleeve also contains the explosion of the compressed fuel and air mixture. The sleeves in the H22 are FRM. When rebuilding a motor for boost one must put in forged pistons because of their increased tensile strength. A forged piston cannot travel against the wall of a FRM sleeve because it will flake the metal on the sleeve and cause massive problems. Because of this a cast iron sleeve must be installed in the block in order to handle the forged pistons.
The machine work for the sleeving includes completely disassembling the block and boring out the old sleeve material. The block is then stuck into a hot tank to clear it of any metal flakes and grime. The lip is then cut in the top to prevent the sleeve from sinking. The block is then heated to 323 degrees and the sleeve pressed in to place. This is done at the temperature so when the block is warm it will reduce the possibility of sinking. The block is then decked (made flat on top) and re-hot-tanked. The new sleeve is then bored and honed to the specs of the pistons that will travel within them. The block is then re-hot-tanked once more to make sure all the debris and flakes are gone. A microscopic flake can get cause a bearing to get thrown.
There are several companies that do sleeve work, Golden Eagle, Darton and JG Engine Dynamics are the best. Golden Eagle does a closed deck conversion to our open deck block (4 sleeves linked together at the walls for increased strength and topped by a closed top) while Darton offers both a Full MID conversion and a cast iron sleeve kit. (open deck is 4 separate sleeves with a metal block cylinder wall for support in place of the wall of the other sleeve with an open top) A closed deck is structurally more strong so can hold more boost but the cooling efficiency is decreased due to the closed deck. The open deck can hold less boost but is more efficient at cooling. An open deck is good to about 24 pounds while a closed deck is good to 40+. Keep in mind preludes have made 300 wheels on 12 pounds of boost.
I went with Darton cast iron replacement sleeves as I think golden Eagle is over-priced. Also, Darton has a lip to prevent sinking while Golden Eagle does not.
Golden Eagle: (Roughly $1100 Sleeves)
http://www.goldeneaglemfg.com/
Darton: ($700)
http://www.darton-international.com/
2. Pistons
(an average of $550)
In order to run more boost you will need to buy a set of forged pistons. In addition you will need a ring set, wrist pins and locks (to connect to the rod). The piston is the flat metal, round surface that compresses the fuel/air mixture and suffers the brunt of the explosion to create the power stroke. Some of the best companies that make pitons are CP, JE, Arias and Weisco. Select a bore size and compression ratio based off of a stock rod length and head gasket thickness.
A compression ratio is the amount the fuel/air mixture inside the cylinder is compressed. For example, our stock compression ratio is 10:1, compression is 10X or 10 atmospheres. When you lower compression ratio HP suffers as a result. In order to run more boost on PUMP GAS you need to lower the compression ratio to prevent dangerous engine conditions such as detonation, knock and running lean. For a rule of thumb: lower compression = more boost but less torque & longer lag time. Keep in mind the higher compression is the more difficult higher boost is to tune and the less forgiving the tune will be.
3. Rods
(an average of $350.00)
Connecting Rods serve as the connection between the piston and the crank shaft. The rod must have enough tensile strength to bring the piston and entire force of the explosion to a complete stop 4 times for every rotation!! There are several companies to go with for rods and by far the most common is Golden Eagle H beam rods. They rock.
4. Extras
($600-800)
EVERYONE OVERLOOKS THIS WHEN ESTIMATING COST!!
So now you have the sleeving done, a block sitting in front of you and your pistons, rings and rods, so now what? Well, there is no point to build the engine and skip on the rest. The ENTIRE engine should be new! Main and Rod bearings need to be purchased. OEM Honda are the best. The set sells for 200. They come in ½'s and are color coded so check your block for which ones you need. You will also want to buy ALL NEW SEALS, GASKETS & BELTS. Use all OEM as Honda is the best. Head gasket kit (200), rear and main seal (80), timing belt, timing belt tensioner, auto tensioner (140), crank pulley belt, AC and PS belt (80)… Get the works. I cant stress enough … there is no point to build a motor only to have a weak point because you skipped on a 3 dollar seal!! You may also want to get a water pump and oil pump (300 for both) for peace of mind so you know everything is new and you don't have any hidden costs later. The engine is out so DO IT ALL CORRECTLY!
P.S. Also do a new clutch
Use this site to get OEM stuff cheap:
http://www.hondaautomotiveparts.com/...catdisplay.jsp
5. Head work
(??)
Now your block is all together so what about your head? Machine work you will want to do at a minimum is a hot tank, valve job and resurface. Whether want to change the valves, springs, retainers, cams or get a port and polish is all up to you. I would change springs and retainers, leave the stock valves and cams and get a port and polish. This cost me around 800.
6. The process of the R&R, Build and drop
($1500.00)
So now you have all your parts and you want to go about the build. First, take your time to piece all your parts together and make SURE you have EVERYTHING before you start the build process. Interview several builders and choose one you trust as your engine is in their hands. I would also ask about a guarantee as very few will guarantee their engines in case some thing goes wrong. Go with one that does. An engine R&R (remove and replace) should run around $600-1,000. A build should run anywhere from $400-600. Have a rental on the side as your car will be out of commission a minimum of 2 weeks. Count on 1 day for a pull, 1 day for a tear down , 1 ½ weeks for machine work, 1 day for a build, 1 day for reinstallation and 1 day for the start process.
7. Stand Alone Engine Management System
($500-1,400)
Because you have completely altered your engine the stock ECU (or piggy-back) can no longer handle controlling your engine. You will need to buy a new engine management control system. The two most popular are Hondata and AEM PEMS. Hondata is less expensive, more user friendly but offers less control than the AEM system. You will also need to buy extras for data logging, a wiring harness etc. AEM PEMS is amazing … trust me. It can control everything … and I mean everything. It is very pricey and difficult to use but is by far the most complete system out. You do not need to buy any extras as it includes everything from a boost controller to being able to do gear dependant boost sampled at every 50 RPM. What ever system you go with make sure you spend the money to have it TUNED, TESTED and TUNED AGAIN! In addition to the hardware be prepared to spend anywhere from $300-1000 for a good tune. Save all your maps before you make changes so if you have something go wrong all the time is not wasted. remember, A "BULLETPROOF" ENGINE CAN EASILY BE BLOWN ON LOW BOOST WITHOUT TUNING!! TUNING IS THE MOST IMPORTANT PART!!
8. Turbo extras
Turbo timer:
Because a Turbo operates off of exhaust it reaches a very high operating temperature. This means it needs to cool down. Oil is the life blood of a turbo so cutting off its supply before it has had a sufficient time to cool can cause irreparable damage to it. A turbo timer allows the car to idle and maintain oil pressure after the key has been removed for a designated period of time in order to allow the oil to sufficiently cool the turbo and prevent damage. This is essential.
Boost Controller:
A waste-gate protects against over-boost. Because it operates of off a spring that opens to let off excess pressure to keep the turbo at a preset level, in order to increase boost you need to bypass this system. A boost controller is needed to effectively bypass this and increase boost. The best stand alone boost controller is the APEXi which sells for around 400. If you go with the AEM EMS this is offered as an integral part. You will only need to purchase a boost controller solenoid and wiring harness to make it work … well ... and understand the most complicated tuning tool ever created.
Blow Off Valve:
A Blow off valve (BOV) operates off of vacuum and releases the compressed air from the turbo when the butterfly valve closes. This relieves stress on you engine and IM. It also helps the turbo to maintain its spool so after the shift it can spool more quickly/efficiently. HKS and Greddy are the common ones. I can vouch for the HKS SSQV, it rocks.
Gauges:
A boost gauge is a must. Other options for second gauge are Exhaust Temperature (which is good for those in the hotter areas of the country), an oil pressure gauge (my personal recommendation and a great way to watch when the engine is warmed up and to monitor oil pressure/life-blood to the turbo for spikes under high boost) and various fuel gauges.
I hope that answers any questions about an engine build. If you have any questions feel free to post em' up and I will try to answer them the best I can.
__________________________________________________ ______________
The following was added:
MY MOTOR BEING BUILT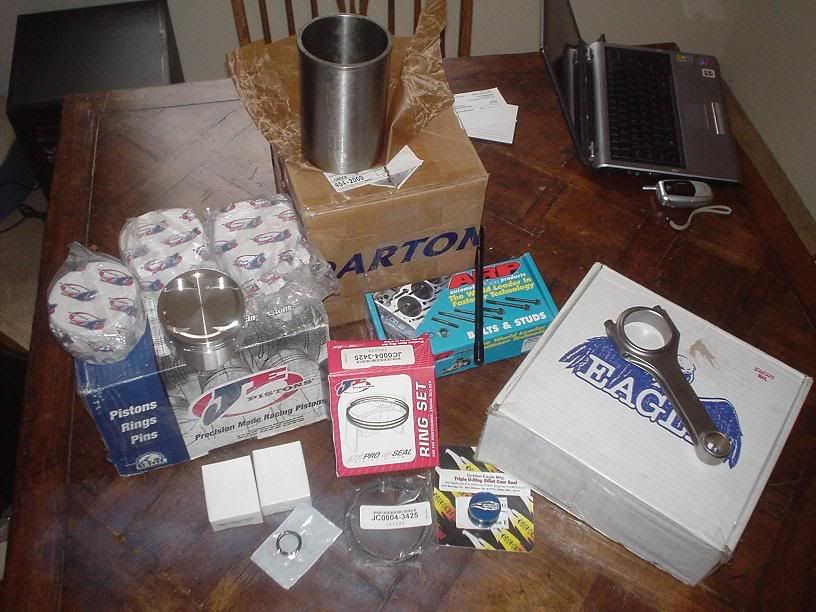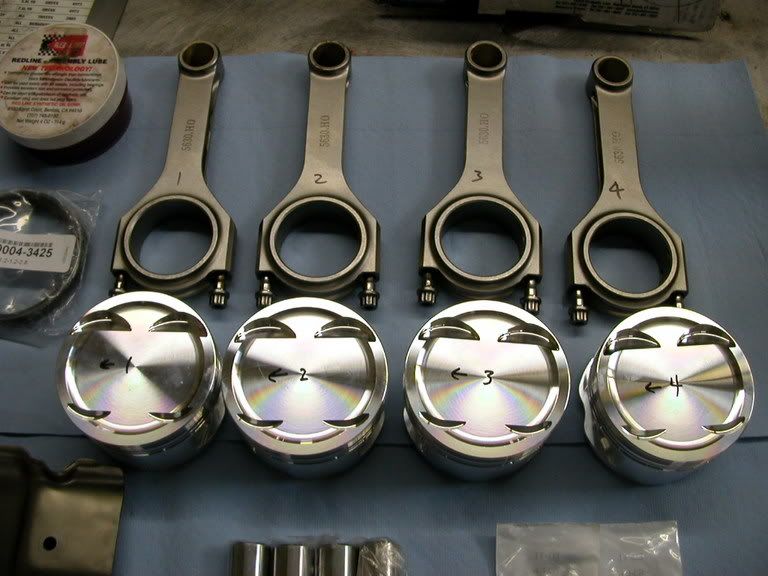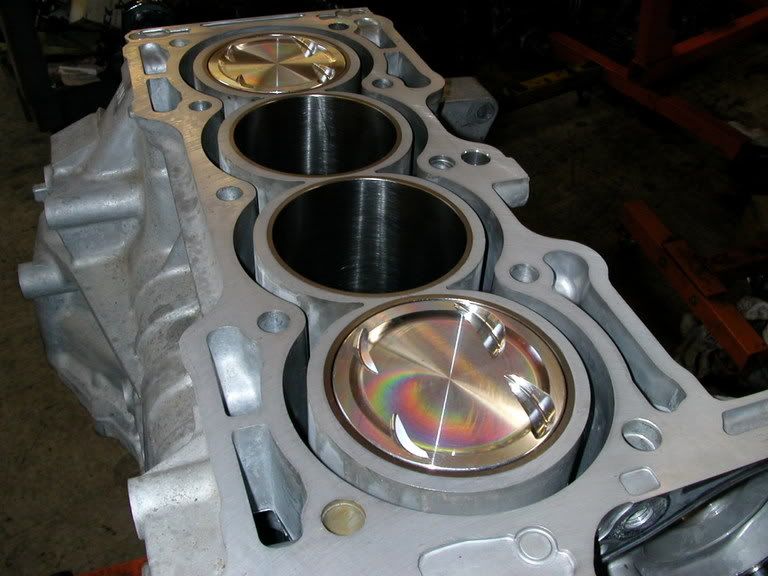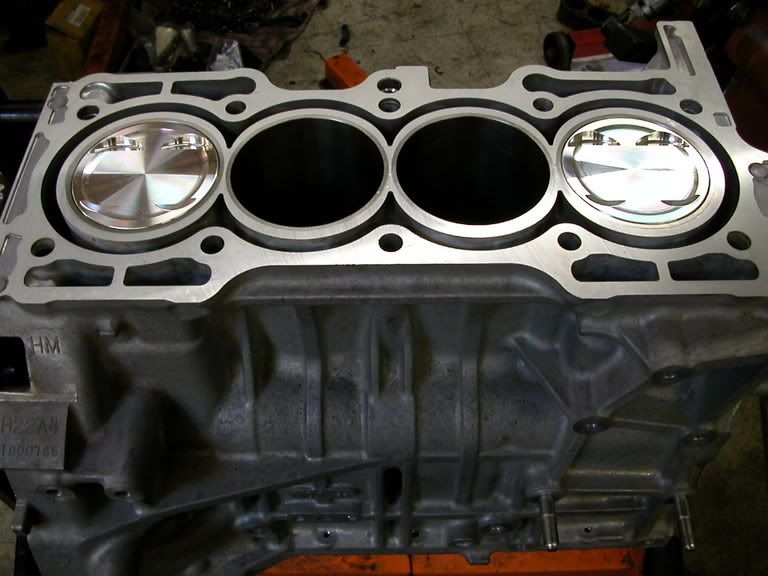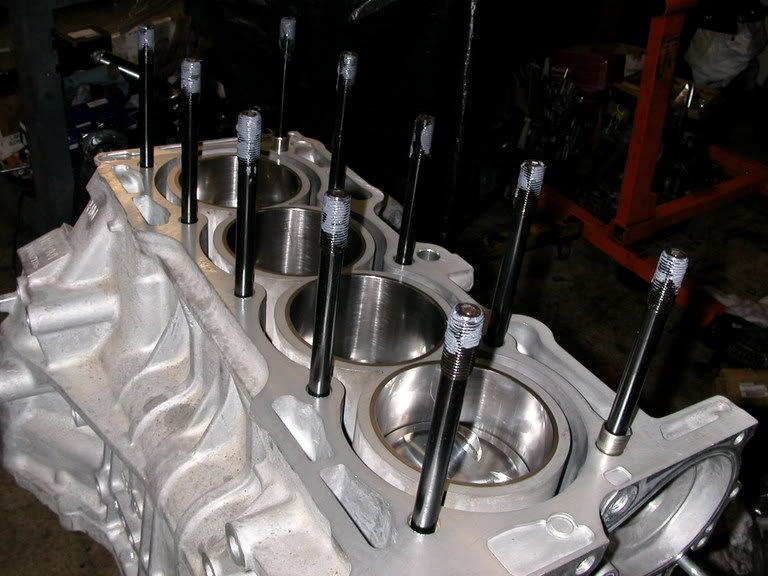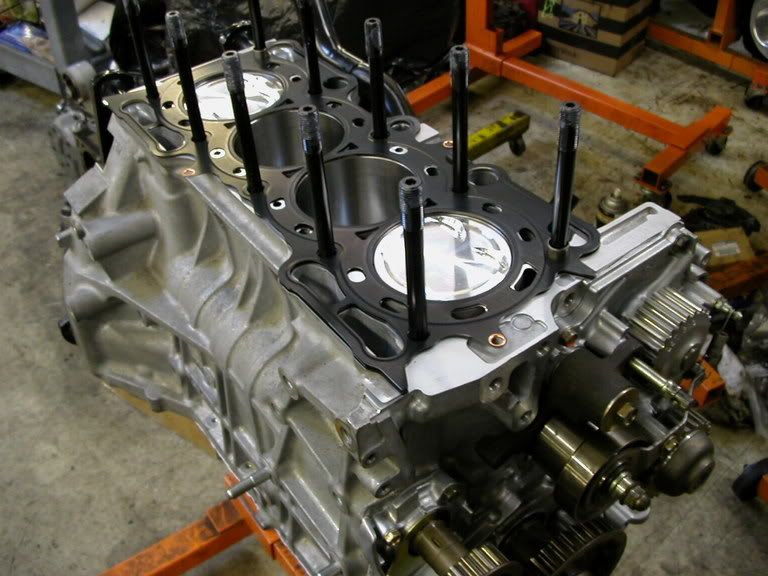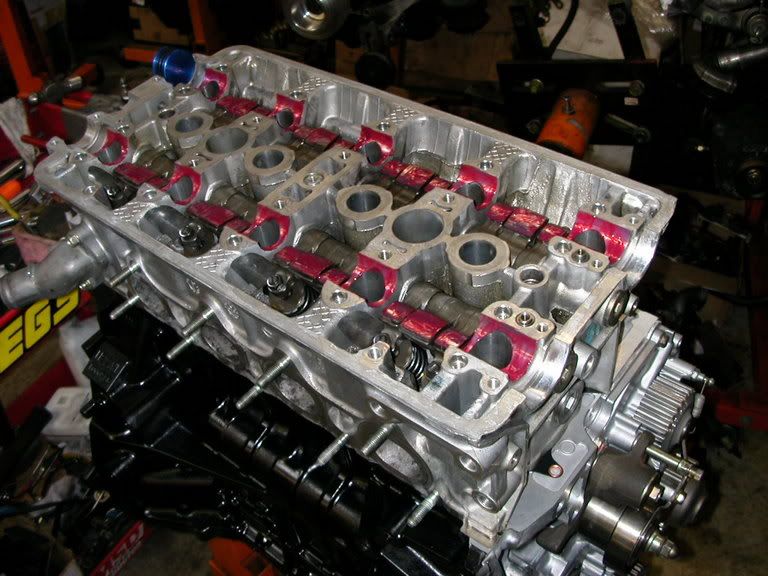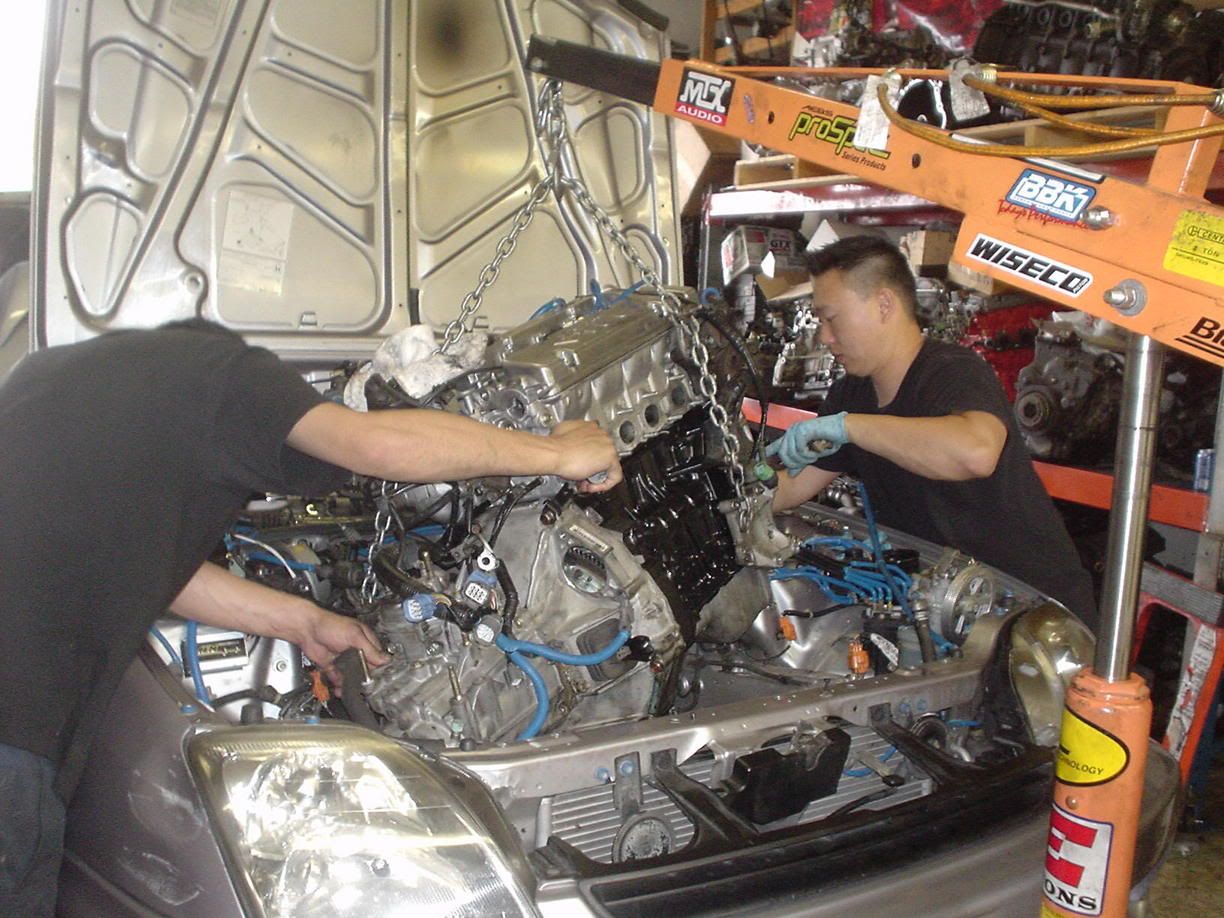 FINAL SETUP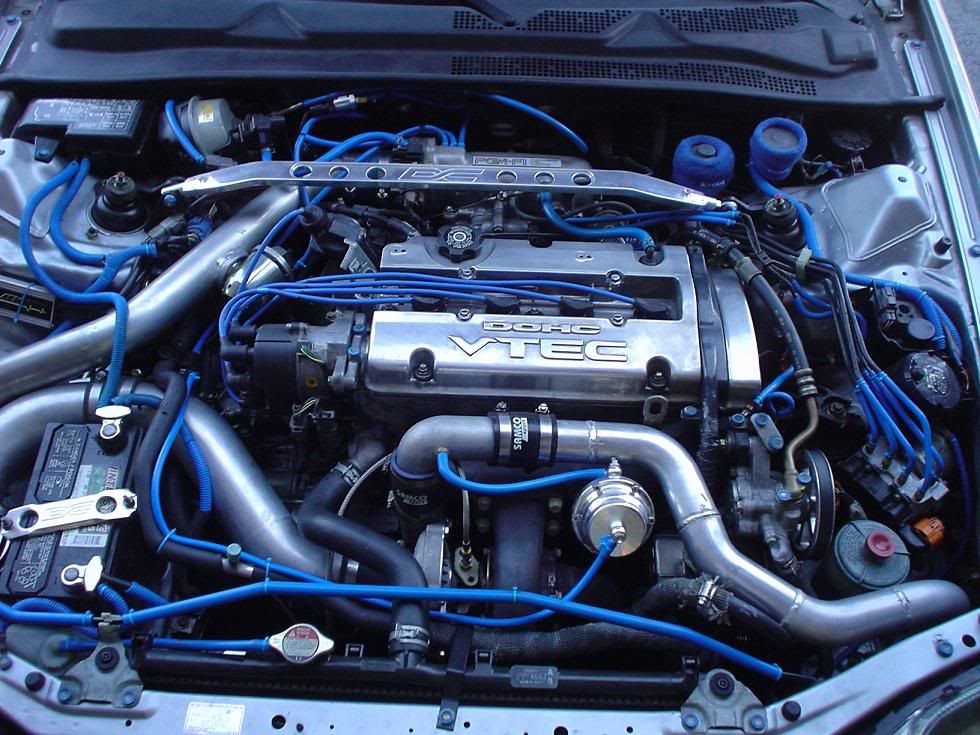 MY DYNO