***Disclaimer: Myself and the owners of PreludePower are not responsible for any damages caused by anything done within this writeup. If you are not comfortable about doing something - by all means do not attempt that step of the writeup. Some portions of this writeup are in need of updating and others could use improvement - for example; ways to extend the wires to the relocated fusebox. Take your time and do not shortcut anything.***
So i've been slacking for awhile now... Did this back in September and decided to finally post up some of the pics. Alot of other 'luders have done this but i've yet to see a writeup on it. Hopefully this will contain enough to be the final wire-tuck thread
This is a work in progress, I will continue to update this as I go. I have some new ideas i've yet to see
What parts you will need / body panels required to be removed based on what you are tucking:
Battery Relocation:
Materials -
10' of 2 gauge wire for power (if fusebox is relocated) 12' if fusebox is still in bay
4' of 2 OR 4 gauge wire for grounds
6' of 2 OR 4 gauge for starter and alternator extensions (if fusebox is relocated and you decide to extend the lines vs replacing alltogether)
(x) amount of lug ring connectors/ butt splices, depends on how you hook up to your battery and if you use a distribution block
shrink wrap / or RUBBER electric tape
regular electric tape
What needs to be removed -
passenger door sill
glove box
back seat
passenger side back seat panels
trunk mat
Driver side shock tower:
Materials -
(dayco) 80210. It's 5/32 i.d. x 6' windshield washer hose. (i got mine from pep boys) for egr solenoid
zip-ties
What panels need to be removed -
IF removing fluid reservoir and relocating relays, remove front bumper and driver-side fender.
Passenger side shock tower:
Materials -
zip-ties
What panels you will need to remove -
-none-
Fusebox:
(if NOT done with battery relocation)
Materials -
electric tape
ring lugs / butt splices for power and alternator wires
5' 2 gauge wire for battery feed
3' 2 OR 4 gauge wire for alternator
What panels you will need to remove -
glove box
- Would like to also thank Biglegs with his tips for the fusebox relocation that will be included in this write-up
I'll include pictures as I do more
Everything is pretty self explanatory, I've got some step-by-step pictures and will try to keep everything in some sort of order
What you will start with (intake depending)
Finished:
Passenger shock tower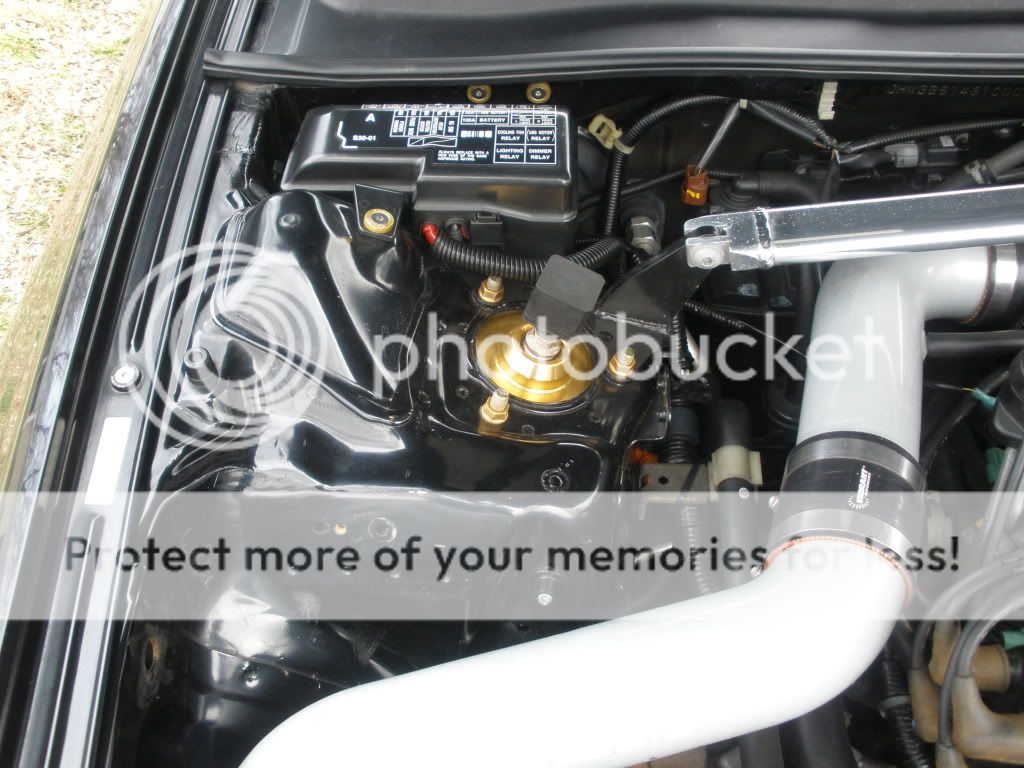 Driver shock tower
Depending on how far you want to go with this - you will have to remove the bumper and driver-side fender
Dizzy
Horns
Firewall
Fusebox
This will require you to extend or completely replace the starter/alternator wires going to the fusebox and replace the battery wire unless you did a battery relocation where you already have a longer wire - use your best judgement on this part since you will be passing these wires through the firewall, last thing you want is to cause a fire if something comes loose while driving.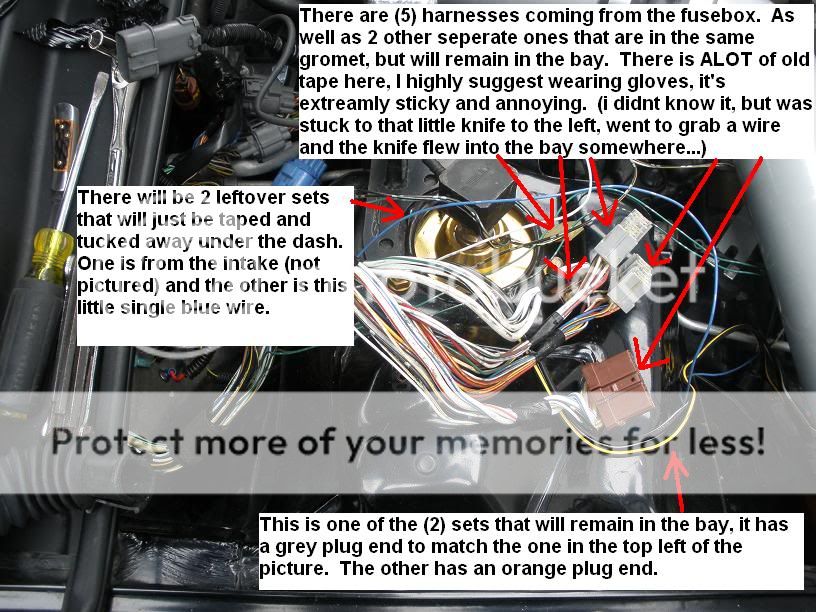 Battery
----------------------------------------------------------------------------------------------------------------
extra odds n ends i've done since the original post:
Before and after:
How to get there:
Alternator wire:
Remove the battery so there's no charge - then remove the alternator wires and pull off the top plastic cover. Wrap the wires with some high heat tape for a little extra protection and run it over the side motor mount and around the oil dipstick. Zip-tie it to the bracket towards the bottom/front of the alternator and call it a day
Power Steering hose:
Remove bracket on top of the Valve cover - wrap the metal part in some tape, and push it down between the timing belt cover and shock tower. Then take the extra slack and carefully push it down the bracket on the backside of the head.
Slimfans: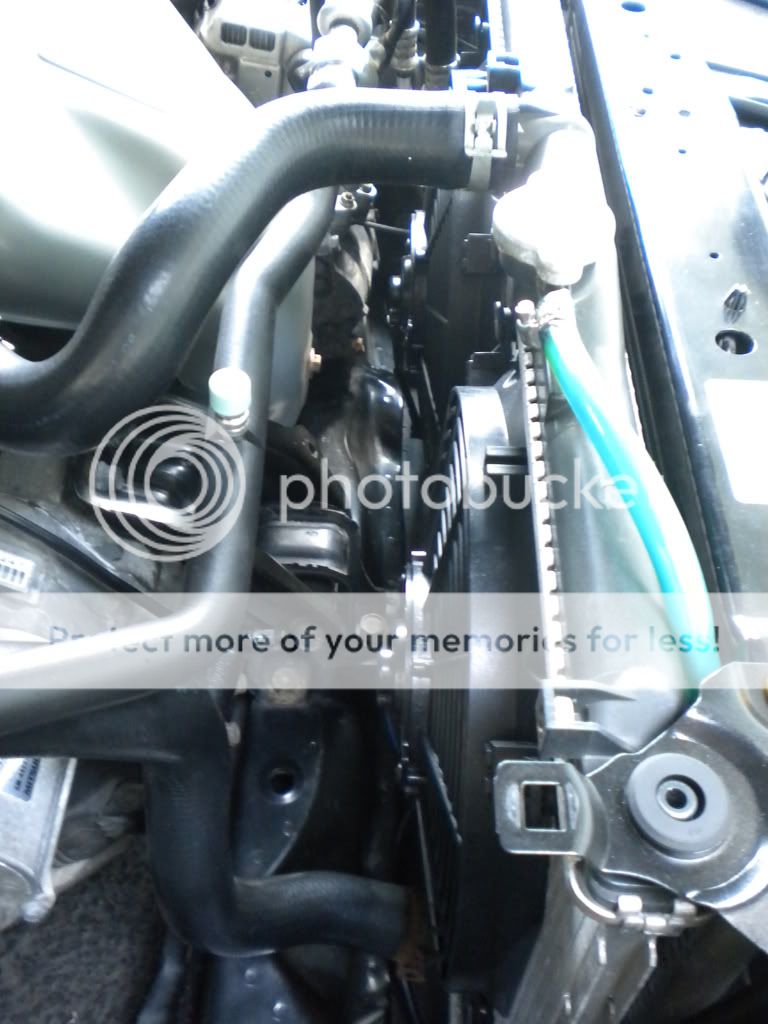 Traction bar installed: