Quote:
Originally Posted by
Honda-R
What direction should i mount my e46 shrouds on my FXR's...it seems that is i put the round part on the top where the solenoid is on the bottom it might not cover the solenoid completely....but if i put the round side on the bottom where the solenoid is and the flat part on to it dosen't cover the top part all the way.
Different people do this different ways. Personally I have found it works much better if you put the flat part on the bottom. You'll have to trim some of the flat part away so it will seat down deep enough over the solenoid. Also you will have to cut some of the upper part of the headlight reflector away so the bezel can seat down all the way on the top. Then I just cut the "round" top part of it off straight and level with the top of the reflector, then cut a piece of thin aluminum flashing to cover the gap in the top and use high temp silicone to glue it to the bezel and also to the reflector, this works to cover the gap and also makes your bezel MUCH stronger attachment so it will never loosen up on you.
You can see how I did it for the most part in these pictures: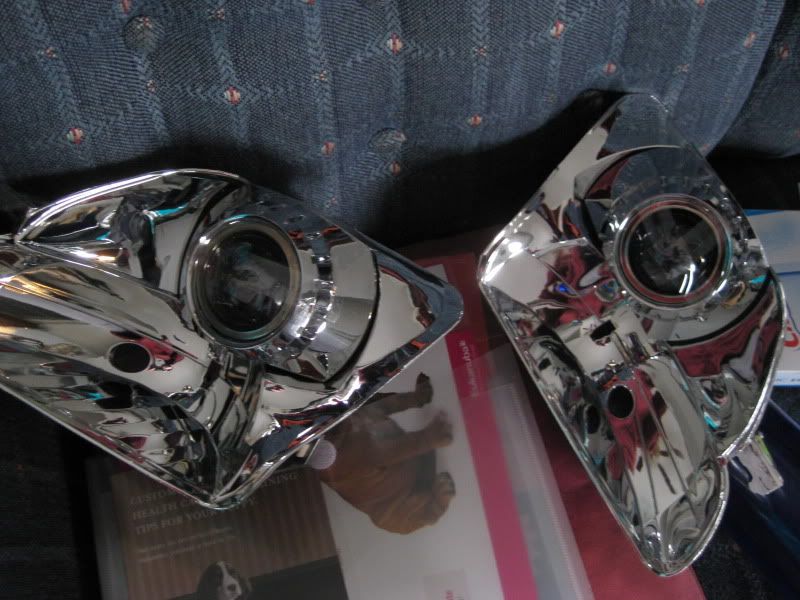 Notice that the flat part is on the bottom, you can see a tiny bit of the FX solenoid but once in the headlights you can't see it.
In this last picture see how I dremel cut the round top part of the E46 bezel to follow the exact curvature of the headlight reflector on top.
__________________
Building your custom HID Projector RETROFITS since 2005! PM FOR DETAILS.

Former 5th, 4th and 3rd gen Prelude owner. Current: 2004 Toyota Tundra V8 DC 4x4, '00 Civic LX beater, '06 Yamaha FZ6S, '07 Victory Kingpin - Still a Prelude enthusiast!