Picture time! Here goes!...
The 3 lines to the valve on the left strut tower...it had a little bogging on steady cruise until I did the lines this way...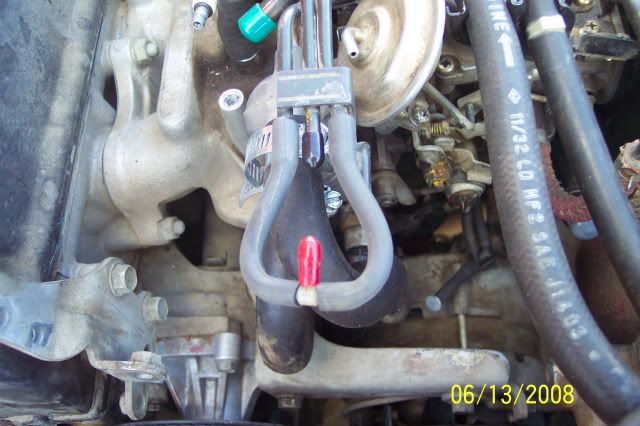 This is what I did with the power valve coming up from the carbs...rerouted to manifold vacuum. Doesn't necessarily have to go to this particular port as long as it's straight manifold vacuum...
The vacuum lines/plugs on left side of the front vacuum port manifold...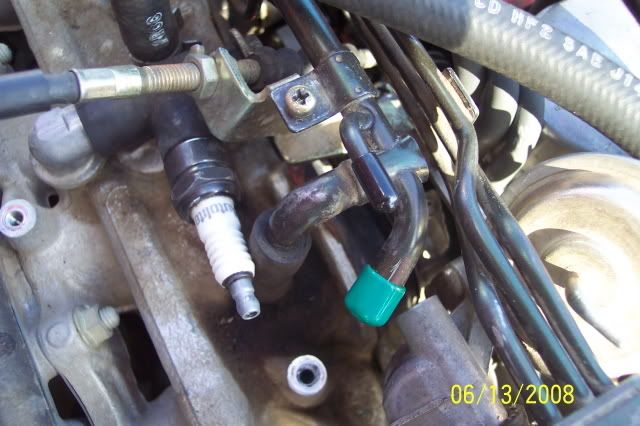 Left side of the air cleaner...
Right side of the front vacuum manifold (notice only the EGR valve in the background)...
Had to reroute the vacuum line for the heater controls also. Gotta leave the canister in for a vacuum tank...
Better view of the rerouted power valve line. If there's not a plug on the end of the manifold in the picture, the lines on the other side of there can be pulled off also...
Right side of air cleaner...
The two lines to and from one of the thermovalves (the other under the carbs is unhooked and left open on mine). That third line on top is the one I hooked up to the distributor for the vacuum advance...
An overall shot. Not a great pic due to the sun, but it gives a little bit of an idea of how much I removed...
The two tubes coming out of the exhaust manifold I cut off and welded shut, as well as the tube going into the intake for the EGR.
Now, she runs like a champ! In fact, this is the best she's run since I bought her! One thing I did notice, however, is a decrease in mileage. I haven't done the figures yet, but I'd say my mileage dropped from 33-36mpg in town, to about 28 or 29mpg. A pretty drastic drop, but that's due to two reasons. 1st, the power valve opens much sooner running off manifold vacuum instead of being opened by the control unit. A plus side to that, though, is increased power from the get-go due to extra fuel being allowed in!
The 2nd reason, it's running so great I can't help but mash the gas at the drop of a hat and assault the green lights with a frenzy! LOL
If anyone has any areas that they need a more detailed pic, let me know and I'll get them as soon as I can for ya!