http://www.bpinitiatives.com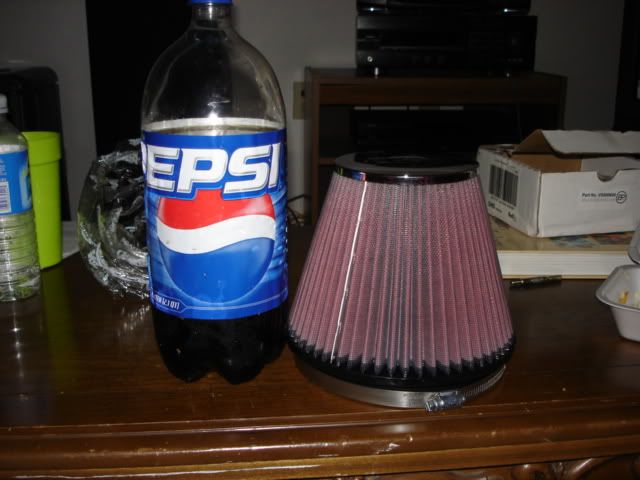 pepsi sucks, but thats all hungry howies had :P
lamp shade?? hahahahahaa
Pro's:
First all this is very cheap. about 50 dollars shipped and about 40-45 dollars for the filter. I got the filter through amazon.com. Bryan recommends K&N Filter part# RF-1048. If you already have a short ram intake, this product is very easy to install. Just like installing a new air filter. I'm sure the same concept applies for a cold air, but i have been wanting to cut my intake to a short ram for a while now since this IS florida and it rains damn near everyday. I'm going to have to cut the filter shorter to get the stack on, but the grinder i was using was kinda awkward and thats the shortest i could get it.
From his site:
* Injection molded from PA66 Glass-filled Nylon, the same material family used for GM, Ford and others for radiator caps, induction systems, intake manifolds and other engine bay components
* Optimized Flow Stack geometry to maximize air flow rates
* Light weight design reduces overall weight compared to metal counter- parts and reduces mechanical stress on existing air induction system and mounts
* Each Flow Stack is optimized for use with specific K&N filters to maximize flow rates
* The use of Nylon significantly reduces heat soak, or the amount of heat absorbed by the velocity stack and then transferred to the air
* The Flow Stack is universal in application, limited only by the space requirements of the air filter and the ability to couple the Flow Stack to your air induction system
Cons:
I cant really think of any. It's so cheap and the theory makes so much sense that i just couldnt think of any reason why not to get it. plus i needed a new filter.
First impressions:
i had to cut my CAI to a short ram so obviously it was louder. I put the flow stack on and it growled a bit more. Power wise, i cant really tell if i gained anything. I dont want to misinterpret sound for power so i'm going to wait for the next time im on the dyno, which should be at the next Florida Prelude meet in mid October.
Although i didnt feel much of anything, the power feels more consistent and "smoother" for lack of a better term.
All in all, i'm pretty satisfied with my purchase. I was in serious need of a new filter and i figured another 45 dollars for something that really could only help would be worth the try. I'll keep everyone updated when i go to the dyno.